Features
The Leadership Factories, Part 1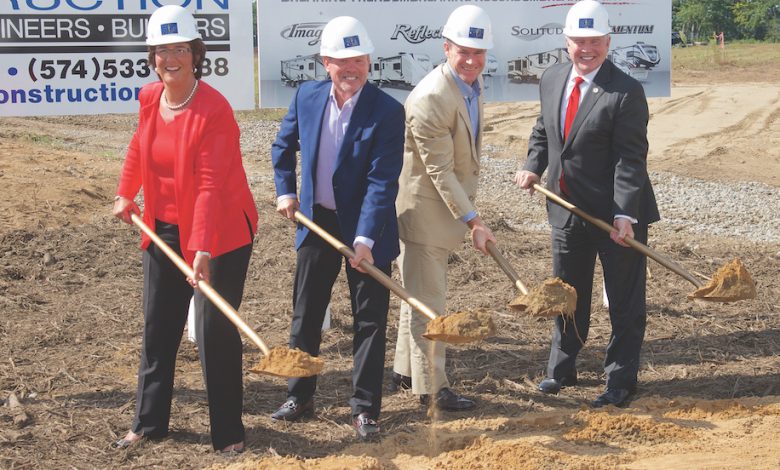 This article is from our older website archives. Some content may not be formatted or attributed properly. Please
Contact Us
if you feel it needs to be corrected. Thank you.
Editor's note: The CEOs of the two largest RV manufacturers in the U.S. – Thor's Bob Martin and Forest River's Pete Liegl – got their start at Coachmen Industries. Meanwhile, at least 10 future presidents of RV companies worked at Keystone RV. These pillars of the RV industry from these two vital companies inspired the title of this series: The Leadership Factories. This month's article focuses on Coachmen as a cultivator of industry leaders; the May issue will focus on Keystone RV. 
When Thomas H. Corson and his brothers, Keith and Claude, started Coachmen Industries in 1964 in a 5,000-square-foot garage in Middlebury, Ind., little did they know that their fledgling business would one day become a Fortune 500 company, a pillar of the RV industry nationwide, and perhaps just as notably, an incubator for a bumper crop of future RV executives.
The list of RV industry executives who cut their teeth at Coachmen Industries over the years is long and notable, including the likes of Thor CEO Robert Martin, Forest River CEO Pete Liegl, Grand Design CEO Don Clark, Coachmen RV President Mike Terlep, former longtime Dicor President Gregg Fore and former Thor and Grand Design top executives Ron Fenech and Bill Fenech.
The RV industry was burgeoning in northern Indiana in the mid-1960s when the Corson brothers got their start in the business.
Claude, regarded as the idea man among the three brothers, was credited with the idea of putting the Middlebury building to use by going into the travel trailer business. Keith was put in charge of production. Tom quit his successful job at The Associates investment firm to join his brothers and became the man responsible for finance and marketing.
In the first year of operation, Coachmen produced 12 travel trailers, 80 truck caps and one truck camper.
Coachmen forged ahead of the competition during the "Go, Go" years of the late 1960s through innovations, such as its "The Buck Stops Here" warranty. Back then, RV manufacturers offered a warranty only on what they actually con- structed. Coachmen removed the inconvenience for dealers and the retail public by taking responsibility for everything included in the RV manufacturer's products.
"If we built the product, we would guarantee everything," recalls Tom Corson. "The primary impact was on the dealer, but we just did some things for the benefit of everybody."
In 1969, Coachmen Industries went public and joined the American Stock Exchange; the company joined the New York Stock Exchange in 1978.
In addition to creating a highly successful company, Coachmen also produced a bumper crop of top-notch leaders, several of whom went on to run other RV businesses. Which prompts the question: What was so special about Coachmen?
Corson says the company's formula was actually remarkably straightforward.
"We were always honorable with our people as well as our customers and everybody else," he says. "In addition to those skills, we always gave them (key employees) a share of the wealth we had and we tried to continue our products in a way that would benefit not only our customers, but also our dealers and ourselves. We came up with ideas. We stood behind that."
Now 91, Corson is proud of the legacy that Coachmen's RV business (now part of Forest River) has spawned. He coined the term "Coachmen College" to describe that environment that evolved at his former company.
"I look around and see who's doing what and heading these companies. They're all guys I brought in and trained," he says. "We tried to help them be successful and if they decided to move on, that's something we couldn't help. That's OK. I have no bad feelings about that."
Michael R. Terlep: 'Coachmen College' Student Now Helms Division
After graduating from Purdue University, Mike Terlep started at Coachmen RV on May 15, 1984, with the intent of making some money to help finance going to law school.
However, fate intervened and he stuck with Coachmen. He rose through the ranks, from sales coordinator to district sales manager to assistant vice president of sales to vice president of sales to vice president of sales and product development to general manager to president of Coachmen RV and ultimately to president of Coachmen RV Group.
Now 57, Terlep's nearly 35-year tenure at Coachmen surpasses that of his former mentor, co-founder Tom Corson.
"Tom was a natural, extraordinary leader. People wanted to follow Tom," Terlep says approvingly.
"Coachmen was the leader in the industry and attracted talent, provided a great training ground, provided opportunities as the company was thriving and growing, and yes, it did have a thorough vetting process … but you still had to get the right people through the door for the vetting process to work," Terlep says.
Those right people included Lawton Tinley, who was a purchasing manager, district sales manager and then general man- ager for Coachmen, who now runs all Forest River Cargo divisions (the largest cargo trailer manufacturer in North America); Bob Wasieko, who once worked with Lee Iacocca at Ford and later became president of Coachmen for a time; Gregg Fore, who went on to found Dicor Corp. and to serve as RVIA president; and others who are currently general managers in the RV industry, including Mike Bear, Doug Lantz, Troy Schultz and Tom Kaylor (now retired).
Terlep's tenure also overlapped that of Pete Liegl. Liegl, who declined an interview for this story, held a number of key positions during his 11-year career with Coachmen, the last as president of Shasta RV.
Former Coachmen President Ray Johnson viewed Liegl as "a key leader and an incredible talent," according to Terlep's recollection. "I might add," says Terlep, "that it was always my understanding that Keith Corson also held Pete in very high regard."
The 1980s and 1990s were "golden eras" for Coachmen as these managers led the company to new heights, achieving Fortune 500 status.
"Over the years, I came to realize that one of the consistencies of our company was that we did not always do things right; however, we always strived to do the right thing. And the values and principles upon which our company was built were more than mere words written on a poster … there was a commitment to them," Terlep says.
In June 1997, Terlep was named president of Coachmen RV. He reported directly to Tom Corson's daughter, Claire Corson Skinner, who had ascended to the top position of Coachmen Industries upon her father's retirement.
The company faced challenges in the years that followed, including an attempted hostile takeover by Thor Industries, litigation involving the failed attempt to produce fold-down campers under the Coleman brand name, and by defective materials in some of its products.
Skinner departed the company in August 2006.
In November 2008, as the Great Recession deepened and Coachmen Industries shares traded as low at 57 cents a share (down from $20 a share a few years earlier), management decided to spin off the RV Group from its manufactured housing business as the company's fortunes faltered. In December, the company sold the RV group to Forest River for $42 million.
At the time, Liegl offered Terlep a six-month contract to continue to run the RV company. Terlep has remained in that position ever since, growing the division to more than four times larger than it was at the time of the acquisition.
Having helmed Coachmen through a number of ups and downs over the years, Terlep offers the following advice to future RV leaders: "Never lose sight of the value of people you manage, beware of excesses, and take care of the customer."
"Coachmen was (and still is) a company very driven, while remaining extremely committed to its principles, integrity and values," Terlep says. "Because of its highly driven and fiercely competitive nature, it provided a great environment for learning and growing. Some of my greatest lessons and mentoring came from the people I worked alongside and to some degree, competed against. It made all of us stronger and better."
He says the best book he ever read on how to run a business was "Lead Like Jesus", which makes the case that leaders should not lead based on pride or fear.
Unlike most of the people cited in this series, Terlep has stayed on with Coachmen throughout his adult life.
Why?
"Dedication, commitment and loyalty," he says. "Loyalty is a two-way street and over the years I felt a strong commitment – not only to the company and the brand – but to the people who make up the company and the brand. It has always been about the people and it always will be about the people."
Don Clark: Three Employers, Three Great Results 
Decades later, Don Clark still remembers the interview process that propelled him into the RV industry.
The interview, which occurred in 1983 at the Coachmen Industries offices in Middlebury, lasted six-and-a-half hours and involved meeting with several department heads. The extent that the company went to find young talent made a lasting impression on the 23-year-old Clark, who had not yet graduated from college.
He ultimately joined the company at a starting annual salary of $12,490.
Coincidently, in that same year, Coachmen's annual sales soared to $450 million, earning it a spot on the Fortune 500. "Back in the day, Coachmen was a very well-respected company that was transitioning from an old line, old guard company," Clark recalls.
"One of the things Coachmen did very well was recruit. They would recruit young people and teach you the ABCs," adds Clark, who did not grow up in Elkhart County and so was not very familiar with the RV industry. "They were recruiting a lot of young guns and developing a young bench. Back then, they had hired people like Mike Terlep, Ron Fenech, Bill Fenech and myself all about the same time.
"They had a good training program. Oftentimes, companies will invite you to the team, put you in the pool and say, 'Swim.' Coachmen was good at teaching me how to swim," he says. "It was a company that gave me the tools to succeed, but didn't succeed for me. I had to take initiative if I wanted to succeed at Coachmen."
Clark remembers that CEO Tom Corson would take time to discuss his views on business with young staffers such as Clark, who found the opportunities insightful.
Even though Coachmen lost money two years straight following the 1979 gas crunch, the RV maker survived the downturn and returned to profitability in 1981.
It was in this post-recession period that Clark joined the company. Even at an early age, Clark fashioned himself somewhat of an entrepreneur, so sessions with Corson and other Coachmen managers such as Gregg Fore, Sid Johnson and Felton Cullifer (then the head of corporate procurement and Clark's immediate boss) were invaluable.
"Tom Corson was just inspiring – he was an originator, an entrepreneur, so I naturally gravitated toward that side of the business," Clark says. "To be able to sit down and talk with him about how he started the business and why he started it was great. He told me that business goes where it is invited and stays where it is well cared for. All through my career, that's one of the guiding North Stars I have listened to."
Clark progressed through material procurement into sales, which became his specialty.
Recognizing the value of people in business became another guiding star to Clark.
"Oftentimes, people possess the DNA (to be successful) but you need a leg up you need an opportunity to be surrounded by strong people so that you can learn from good examples," he says. "I've always thought every opportunity is a learning opportunity.
"In my 17-year career at Coachmen, I learned from people whose decisions were strong, pro-people decisions," he adds. "I would watch people make decisions that were so insightful."
He also learned "not to beat the dog." He remembers a situation where he said to himself, "If I'm ever in management, I won't be that way."
Clark thrived in sales. In that era, Coachmen divided its sales responsibilities by region, rather than by brand, so by the late 1990s, Clark had become manager over all the territory west of the Mississippi River, including most of Canada.
Meanwhile, the Fenech brothers had left Coachmen and joined a new startup company, Keystone RV.
"When the Fenechs left, it was difficult for me," Clark says. "Ron, Bill and I became very close friends and not having them at Coachmen was kind of a personal loss."
The brothers lobbied Clark to join them at Keystone.
"Keystone was still a startup and it was hard to leave a company that I had been at for so long," Clark recalls. "Coachmen had become my home by that point in time. I was respected within the company and Keystone was a risk; it wasn't a sure thing."
Clark took a leap of faith and joined Keystone, where he and the Fenechs helped Keystone experience great success.
Postscript: In 2011, Clark and Bill and Ron Fenech left their positions with Thor Industries and resurfaced a year later with their new company, Grand Design RV. It became the fastest-growing company in the history of the RV industry and was sold to Winnebago Industries for $500 million in 2016.
After leaving the RV industry, Bill Fenech returned a few months later with a new company, Barletta Boats, and brother Ron eventually joined the board of Lippert Components.
In 2016, Ernst & Young honored Clark with its Entrepreneur of The Year award for the Hospitality and Leisure category in the Ohio Valley Region.