Features
The Leadership Factories, Part 2
This article is from our older website archives. Some content may not be formatted or attributed properly. Please
Contact Us
if you feel it needs to be corrected. Thank you.
Editor's note: The CEOs of the two largest RV manufacturers in the U.S. – Thor's Bob Martin and Forest River's Pete Liegl – got their start at Coachmen Industries. Meanwhile, at least 10 future presidents of RV companies worked at Keystone RV. These pillars of the RV industry from these two vital companies inspired the title of this series: The Leadership Factories. This month's article focuses on Keystone RV as a cultivator of industry leaders; last month's story highlighted Coachmen.
Keystone RV is in no way a clone of Coachmen RV – the company that Keystone founder Cole Davis worked for in his formative years in the 1980s and that trained so many future Keystone executives.
Quite the opposite.
"We built Keystone as a negative image of what Coachmen was," says Davis, now age 70, retired and living in Arizona. Davis does not dispute that Coachmen hired and groomed quality employees in its early years – as other industry leaders shared in Part 1 of this series – but he says things changed as the company matured. "In the early days, when Tom (Corson) and his brothers ran the company, they treated dealers as friends and developed relationships with dealers," he says, adding, "Over time, that changed."
Davis had his own share of ups and downs along the way.
When the top management position opened at Coachmen's manufacturing facility in Perris, Calif., in 1987, Davis got that assignment, which provided valuable experience in running a factory. He says he appreciated the opportunity he'd been given to excel in a new endeavor.
On the flip side, Davis says he had frequent run-ins with Corson's daughter, Claire Corson Skinner, who had returned to the family's business in 1983 and three years later was named president of the company's largest subsidiary, the flagship Coachmen RV unit.
When Davis told Skinner that it would take several years before the Perris plant would be profitable, she was not pleased. He says he was subsequently fired for his candor.
When Coachmen dealers protested Davis's dismissal, Davis says that Skinner asked him to come back to work and head the West Coast sales operation.
He refused.
Davis later worked at Dutchmen and ultimately landed a job running a small Thor Industries' RV plant in Michigan. Unfortunately for Davis, the plant was failing, and on May 1, 1996, Thor CEO Wade F.B. Thompson ordered Davis's firing.
Despite those setbacks, Davis was driven to succeed. After his dealer friends urged him to start his own company, he did just that, buying a failing manufacturing business in Goshen, Ind., and renaming it Keystone RV.
"The speedy growth and success of Keystone evolved as a response to weaknesses I observed at major manufacturers – primarily Coachmen, Fleetwood and Skyline," Davis says. "My own frustrating experience at Coachmen greatly influenced me."
Always an entrepreneur, Davis saw plenty of room for improvement in how the bigger RV manufacturers were running their operations at the time.
"These were top-down organizations where product decisions were made by execs out of touch with dealers," he says. "Sales departments were given products to sell that were designed in a vacuum with little or no customer input. They were manufacturing-driven companies where demand for production efficiency outweighed product innovation and customer desires." As a result, he says, "This led to a lack of innovation where changes had to wait for the annual model change. (There was) zero responsiveness to dealers' demands for corrections of model year design mistakes and lack of flexibility in responding to competitors' product innovations."
Dealer-Driven Model Succeeds 
With the backing of a group of investors, Davis launched Keystone RV on May 26, 1996. From the beginning, Davis says he put into practice the concept that "the dealer should drive the product development process. Manufacturing and engineering needed to respond to dealer-driven product innovation – and not be roadblocks. Sales is the communication conduit between the dealer and manufacturing/engineering."
One of Davis's core beliefs was that "sales personnel spoke for the dealer and our company needed to apply all its resources to provide the products the dealer wanted. The same with changes. When a product needed correction, we responded immediately – not waiting for the annual model change."
His four core beliefs that became part of the Keystone culture were:
We work for the dealer.
Sales is the dealers' spokesperson.
Manufacturing/ engineering is to be responsive to these product demands.
Corporate ensures the necessary resources are available and applied.
This culture still exists at Keystone and spread throughout Thor Industries by Keystone RV disciples and copied by many startups, according to Davis.
Keystone Attracts Next-Gen Leaders 
Soon after Keystone's founding, Davis reached out to friend and former Coachmen colleague Bill Fenech to join him at the new venture. Fenech left a good job at Coachmen to take over sales at Keystone and became a one-man sales department.
"He's one of those guys dealers love," Davis recalls. "He works his butt off. He knows the product inside-out, the dealer's needs, and works all the shows and trains the salespeople. I begged him to come over. He was giving up a good job for a big uncertain."
Fenech's arrival was crucial because he was followed a year later by his brother, Ron, who "brought almost all his sales people with him. That's how we got Bob Martin," Davis recalls. Coachmen veteran Don Clark joined a few months later.
"We just attracted a lot of good people. Everyone wanted to work at Keystone," Davis says, adding that he believes the RV maker continues to attract top talent to this day. "We could pick and choose. On the sales side, it was based on your relationship with your dealers. It's not hard to figure out who's a hard worker and relates to dealers and tells the truth. That's who we collected. It emanates from the top. A Ron Fenech will hire people like a Ron Fenech.
"We gave our division managers all the room in the world," Davis says. "As a division manager, you could do whatever you wanted. You want to build pink units? You built pink units – but at the end of the month, they had to be sold. You had the autonomy to do whatever you wanted."
The business model proved so successful that other Thor companies would copy the plan long after Davis was gone and provide a blueprint for success across northern Indiana that continues today.
"I thrive on growing organizations, expanding, looking for opportunities and expanding upon them," Davis says. "Ron and Bill are the same way."
Success Beyond All Expectations 
Davis's business model exceeded all expectations. In 1997 – the company's first full year in business – sales reached $40 million. One year later, sales nearly doubled to $70 million.
The plan from the start was never to make a load of money and then sell the business, according to Davis. He explains, "My plan was to make enough money to survive so everybody who worked for me could have a job. I never went out to conquer the world. That (goal) came after Bill and I got over the hump. After we brought Ron in and started Montana (fifth wheels), our manufacturing was clicking. We revolutionized the way some things are done.
"I remember sitting with Bill Burton at 1st Source Bank, who was trying to lure our business away from Lake City Bank. I remember telling him, 'We are going to dominate the towable business!'"
Burton laughed.
"I am dead serious," Davis responded.
"In 1998, I realized how weak the players were – companies like Fleetwood and Coachmen. We were taking all their business away and there was nothing to stop us," Davis boasts. Keystone's growth rate subsequently accelerated dramatically, from $134 million in 1999 to $250 million in 2000 to nearly $500 million in 2001. Keystone's flagship brands, Montana and Cougar fifth wheels, had become the No. 1 and No. 2 brands, respectively, according to market data firm Statistical Surveys.
Meanwhile, Keystone was ranked No. 2 in Inc. magazine's top 500 listing in 2001, based on its fiscal year 2000 performance.
The growth spurt was too much for rival Thor Industries to overlook. In 2001, Thor approached Davis about a sale and Davis hesitantly provided financials to Thor execs Wade F.B. Thompson and Peter Orthwein right before the Sept. 11 terrorist attacks on the United States.
"They didn't think we could make that much money," Davis recalls, somewhat gleefully. "When we agreed to a deal, Wade leaned back in his chair in his office in New York City and said, 'Cole, you're the most expensive personnel mistake I ever made in my life."'
On Nov. 9, 2001, Thor announced its acquisition of Keystone for $151 million.
For a while after the sale, Davis served as Thor's chief operating officer and board member, but after Thompson died in 2009 Davis left the RV business permanently.
Davis contends that Keystone's overnight success "contributed greatly to the demise of … companies that could not adapt to Keystone's responsiveness to dealer product requirements, manufacturing flexibility and innovation."
Bob Martin: 'The Big Yankee' Earns Thor CEO Post 
Like Don Clark, Bob Martin remembers his interview for a sales trainee position at Coachmen Industries in the summer of 1993 was "a very rigorous process," lasting more than a week.
Martin, who had graduated from Purdue University the previous spring, had no traditional work experience. Once hired, Martin did everything from driving the tour bus, running errands, buying food for sales staff at trade shows to setting up and tearing down for those shows. He remembers on cold, snowy days the trainees were assigned to go out and inspect odometer readings on finished motorized units that were parked out in the snow – a task he likened to pledging a fraternity.
Nevertheless, as a trainee, "I learned everything from a pop-up to a diesel motorhome. It was a well-rounded experience. From Ron and Don up to Mike Terlep and Tom Corson – they taught you to do business the right way. They had a great training program how to sell, interact with dealers and do business the right way with honesty and integrity. There even was a mantra on our computers: 'Our word is our bond.' It was a great place to learn."
Martin became a district manager and was assigned to several states in the Southwest, including Texas where dealers called him "The Big Yankee." Martin became one of Don Clark's better salesmen.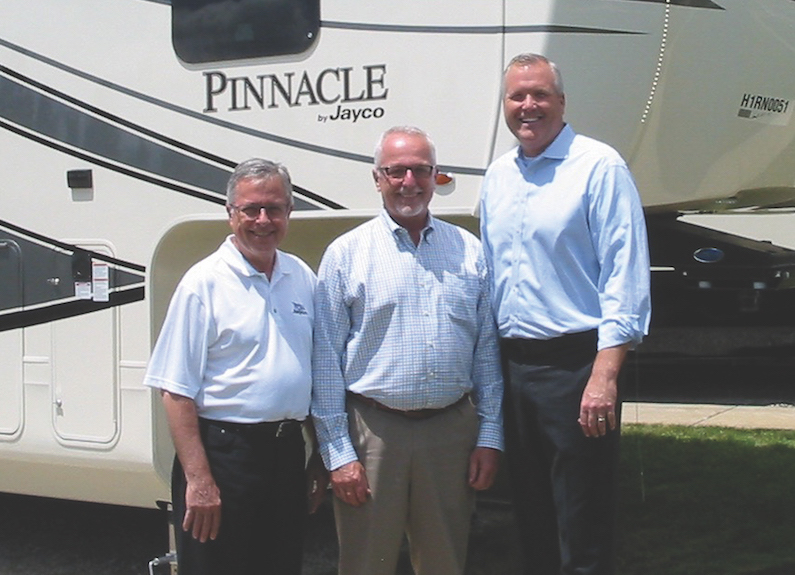 Bob Martin is pictured with Jayco executives and brothers Wilbur (left) and Derald Bontrager following the July 2016 announcement that Thor was buying Jayco for $576 million.
In 1998, Martin was going to take a job at Forest River and called his mentor, Ron Fenech, for advice. Fenech had left Coachmen six months earlier to join his brother at start-up Keystone RV.
"Well, if you're leaving Coachmen, I consider you fair game," he said, and Fenech offered Martin a job at Keystone.
Martin joined Keystone as part of the original Montana and Cougar sales group. Another member of that early team was Chris Hermon, who would eventually become president of Heartland RV. Others on those early teams that would excel and go onto presidencies included Aram Koltookian, who is now president of KZ, and Jeff Runels, president of Keystone.
At Keystone, Martin became national sales manager for the Cougar brand and his leadership skills flourished. He later served as chief operating officer before succeeding Ron Fenech as president of Keystone when Fenech took over the newly created position of RV president of Thor Industries.
Martin calls his Keystone experience, "an amazing ride. Every year we doubled our sales. It was like a rocket ship. This small company had a different way of developing product. They designed a product the retail public was looking for. It was designed from the bottom up.
"We were so quick to develop product … it was easier to sell products they were asking for. Many industries don't use that customer input as much – they have design groups that think they know what people want. That's why every one of our (Thor) companies has a product manager who is focused on that product.
"Now, Keystone is one of the very top companies in the industry, from quality to production to customer service. It has been amazing to watch all that happen through the years to where sales are now well over a billion dollars."
In 2014, Martin was named president and CEO of Thor Industries.
"I never dreamed I would become CEO of Thor Industries," he says. "I thought I would retire as president of Keystone. It was a great 'ultimate position.' Not until through necessity, with Ron leaving Thor and the passing of Wade (Thompson) did I consider it."
Now 49, Martin finds himself once again a "trainee," but this time learning about the art of acquisitions from Orthwein, who, Martin calculates, has made more than 100 acquisitions for Thor and other companies during his long career.
"He is my mentor. He's an acquisitions specialist. I'm doing things now for Thor I never dreamed I would be doing."
Now, Thor Industries is taking an additional step in preparing the next generation of Thor and industry leaders. Thor has designed a business refresher class at nearby Notre Dame tailored for Thor management. Some 30 to 40 people have attended.
"We try to promote from within," says Martin, so this course works hand-in-glove with the real-world experience at the Thor companies.
Matt Zimmerman: A Student of 'Five Teachers' 
Matt Zimmerman was working in sales at Worldwide RV in Elkhart when he was first introduced to Keystone management. The two-year-old company was starting two new towable lines, Cabana and Tailgator, and needed a district sales manager.
Zimmerman interviewed with the two Fenech brothers, who soon offered him a job. It was a no-brainer for the 23-year-old Zimmerman and he accepted their offer, starting on March 1, 1999.
Zimmerman was instantly impressed by the culture at Keystone and proud to be an employee. The underlying theme was: "do what's fair and reasonable, give people a chance to succeed, do the right things and you can always be proud to wear a Keystone shirt," Zimmerman recalls. "We all want to work for companies like that. It's that quality of people and the culture that we still have to this day."
Zimmerman joined a company that had almost instant success. Still, "the reality was we could never speculate what we were joining was soon to be such a major player in the industry." Though Thor doesn't reveal sales for individual companies, Keystone is believed to be Thor's largest company with annual sales exceeding $1 billion for each of the past several years.
During his 20-year career at Keystone, Zimmerman, now Keystone CEO, has reported directly to five of the men featured in this series: Cole Davis, Ron Fenech, Bill Fenech, Don Clark and Bob Martin. He considers himself "a student" of them all.
"Part of what I believe makes a successful company is great systems and processes. It starts with great leaders in the beginning that make personal growth part of their overall management plan and coaching them along the way," he says. "I have been fortunate to have worked for each of them and had the opportunity to learn from them."
Each of the five brought a unique style to the industry, according to Zimmerman.
"Bill Fenech was a very energetic, high-energy leader. He taught me always to be 'up' and 'smile through the phone.' Don taught me about strategy. Ron was also a good strategist – but to a whole other level. He would tell me, 'As good as it seems in front of you, look beyond that.' He would say, 'Walk before you run.' He was right.
"Bob Martin has been just really inspirational in his leadership roles," adds Zimmerman, who's been 'a student' of Martin's the longest among the quintet of leaders. "He's taught me how to focus on the big picture. He is very encouraging. He is the guy who you can sit down and have a conversation with. He's a good listener and able to guide you through common sense in fair and reasonable approaches. He's the guy in the boat rowing with you."
Zimmerman adds, "I want to believe Keystone and Coachmen not only have grown great leaders for our industry – think of their leader- ship qualities from a community aspect. Their outreach goes beyond just their businesses and into their communities. That's the real takeaway: If these great companies weren't here, where would our communities be?"
Clark Marvels at RV Industry Talent 
Don Clark, who has been a key leader at three of the great RV companies (Coachmen, Keystone and Grand Design), continues to marvel at the success of his colleagues past and present.
"Matt Zimmerman was a young man when I was at Keystone. I saw a tremendous amount of ability and raw talent in him. He was an up and comer. I was blessed with having people with a lot of raw talent like Matt and Bob Martin at Keystone. I knew Bob was going to be something greater, but he needed the platform to grow.
"I hired Nate Goldenberg when he was 19 years old. Today, Nate is one of the top designers and sales executives in our industry. He came from Keystone, joined me at Dutchmen and now he's over here at Grand Design. He's another protégé of what a company can develop."
Looking back now, Clark maintains that companies like Coachmen and Keystone have played an important role, not just in the lives of the people who worked there, but also "moved the needle for our industry through those people."