Features
Legacy Brand Looks Ahead to New Beginnings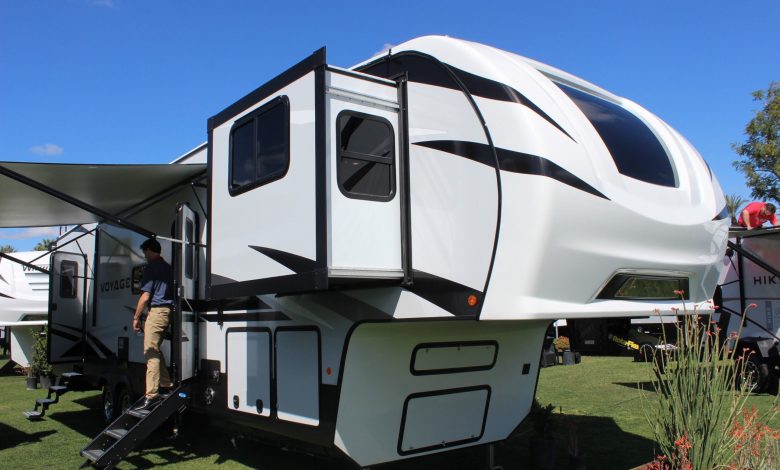 Winnebago has always had something going for it that its competitors couldn't match: The Flying W logo and the name Winnebago are practically synonymous with RVing.
In fact, there are those in the general public who use the name as a generic term for a motorhome.
But if anything was made clear during the company's dealer meetings in mid-March, it was that Winnebago isn't about to live on its past glory. Instead, CEO Michael Happe has been given marching orders, to as he put it, "become relevant in the towable segment."
Achieving those goals isn't just dependent upon the two major acquisitions Winnebago made over the past couple of years that brought Grand Design and Newmar into the family. Those companies – known for building top-quality RVs – largely remain their own business units and best practices will be shared among the group, according to Happe.
Winnebago – both the parent company and the RV brand – will grow and thrive on its own merits if Happe has anything to say about it.
"Our flagship brand – Winnebago – remains a critical, vital piece of our portfolio and one that we will continue to make major investments in to be successful in the future," he told dealers gathered during an opening breakfast at the JW Marriot Resort. "I joined Winnebago Industries in 2016 for two reasons. No. 1: The opportunity to restore market and financial great-ness to a great American iconic brand in Winnebago Industries. And second: The opportunity to lead personally and cultivate a servant leader culture at our company that would ultimately separate us from our competition. We have made strong progress in the past four years, but we have much work to do."
Standout Towable Lineup
Perhaps the most evident area where progress has been made was on display in the towables section during the dealer event.
Winnebago's towables long have taken a backseat to the company's more recognized motorhomes, but at a time when the motorized segment of the RV market is shrinking, Winnebago has stepped up its game in the towable segment.
This was especially noticeable in the smaller, more affordable end of the towable lineup.
Where Grand Design's products set the standards in fifth wheels, Winnebago's newest versions of the Minnie and Micro Minnie, as well as the newly introduced Hike, made a big splash and had dealers lining up to get a look at the interiors.
Vice President of Winnebago Towables, Scott Degnan, says he credits much of the success of the new lineup to new production facilities that Winnebago has added.
"That was really a key component to getting Winnebago Towables product right in terms of quality," he said. "The old plant was never designed to push through the volume and quality we were trying to get through there."
At the smallest end of the travel trailer brands is the Hike, which seemed to make the biggest splash among dealers in attendance.
The Hike is a teardrop trailer that was given a soft introduction during Elkhart Open House Week but came on strong at the dealer event with five floorplans built for outdoor active lifestyles.
The floorplans range from 17 to 22 feet and have a variety of interiors including a bunk model and a pair of couples' coaches, but as much as anything, it's the exterior that catches the eye.
The trailer features a large angled Flying W logo along with the Hike name. It has a patent-pending powder-coated steel exoskeleton designed for climbing on and strapping on whatever equipment grabs the owner's fancy.
It features 15-inch off-road tires with a 41⁄2-inch lift kit to promote getting off the beaten path.
In addition, there is a standard receiver in the back of the trailer.
"This will be great for kayaks and paddleboards as well as bike racks on the standard receiver in the back," said Adam Christoffersen, product sales manager, Winnebago towables. "The exterior that we're promoting for an active lifestyle doesn't mean they sacrifice any of the features or amenities they want when they come home in the afternoon or the evening."
Designers made the most of the available space on the inside using lighter colors to make the space seem larger and brighter.
Christoffersen points to European influences in styling the cabinetry and accent pieces above the galley as nice touches for such a small coach.
"All have this modern interior styling," he said. "Our design team did a very good job."
What's more, the Hike was created in mind with the desires of a new generation of RVers who aren't willing to make some of the sacrifices to comfort of previous generations, according to Christoffersen. For example, designers of each of the small floorplans have made certain to include a dry bath, as the new consumer is not a fan of the wet bath.
The MSRP for Hike models begin in the upper $20,000s.
Several speakers and product representatives at the event mentioned that this year's models were incorporating a number of changes that came from customer feedback. Although new to the lineup, the Hike is no exception.
Christoffersen said that at Open House, Winnebago representatives not only took one-on-one feedback from dealers on the Hike, but also did an anonymous questionnaire. That feedback was positive and dealers indicated they wanted to see more of it, he said.
As a result, much of that styling was brought into the next two sizes of trailer: the Micro Minnie and the Minnie.
The Micro Minnie features 11 floorplans including ones with bunk beds, Murphy beds and twin beds. By adding a center shelf and cushion, the twin beds can be converted into a king bed.
"Smaller doesn't mean cheaper," Degnan says. "Just because it is smaller doesn't mean we are cheapening the product. They say great things come in small packages and this is an example of that."
MSRPs for those units also start in the upper $20,000s.
At the larger end of the scale, Winnebago continues to offer the Voyage travel trailer and has introduced fifth wheel toy hauler models that feature a zero-gravity back door for ease of opening and closing.
"The Voyage fifth wheel is our stake in the ground for Winnebago Towables in the fifth wheel category," Happe said.
The Voyage 3436FL fifth wheel is Winnebago's second floorplan coming to production. There will be three more as Elkhart Open House Week approaches. All are built on the W Series foundation in partnership with Lippert Components.
The chassis features a Rotoflex pin box, a six-point Level Up system, true dropframe storage, a redesigned upper deck and 7,000-pound axles. One entry door includes a MORryde Quad SolidStep and assist handle. Systems are controlled by Lippert's One Control, which is being marketed as the W Connect system.
The signature front living room takes advantage of the extra space provided by the W Series foundation by offering extra headroom. Opposing sofa sleepers both can be out at the same time. Theater seating faces a power-controlled TV lift and large fireplace.
A second entry door into the bedroom makes the bedroom and bathroom accessible in travel mode. All of these features are the result of direct customer feedback, according to Christoffersen.
The MSRP for Voyage begins in the mid- to upper $50,000s.
Interior Design & Motorized
When it comes to Winnebago Class A motorhomes, tradition is the name of the game, right?
Not so much with the coming year's models.
The exteriors remain distinctly Winnebago, but a new emphasis on interior design has given a new look and new life to the Forza lineup. Forza has five floor- plans, including two new ones. But it's not so much the features that make it stand apart as it is the color and the high-end residential feel.
John Bonczyk, director of product management, said the team brought in West Coast designer Kim Mann, who has more than two decades of experience in interior design. She started with color schemes and went on from there putting a new feel into the legacy brand's motorhomes.
"We had Vienna Maple and Honey Cherry. We also dove into getting rid of the raised panels," Bonczyk said. "That's not what people are putting into their kitchens and into their homes, so why are we building coaches with something you wouldn't put into your home?"
And that became something of a theme for motorized interior design, right down to the Intent 30RAE accessibility enhanced Class A. New color schemes are Walnut – a darker color, but nothing like traditional RV brown; Driftwood – gray with less wood grain; and a nearly white Sonoma scheme.
Forza also makes use of luxury vinyl plank flooring at the suggestion of a number of dealer customers.
And an entire living room floorplan came from customer suggestions.
"Listening to the voice of the customer, we had a floorplan that wasn't so useful," Bonczyk said. "The TV came out at an angle and had a problem with utilizing the captain's chair. We modified that based on customer input with a large TV, theater seating and a hidden storage behind the fireplace."
Bonczyk credits Mann with helping the design team become conscious of sight lines and symmetry.
He said Winnebago's new 9-acre production facility in Forest City, Iowa, also has made a huge difference.
"We've been restructuring how we define Class A's," he said. "We extended the line, and redefined how we process our Class A's, how we put our slide-outs together, how we sequenced the components on the coach. And we incorporated our final PDI into that line, so there's immediate feedback. If an issue is found, we can immediately walk it back."
At the other end of Winnebago motorized is a bit of back to the future. The Solis takes the old Volkswagen van with a pop-top camper and brings it up to date on a modern Dodge Ram chassis.
"The time seemed like it was right," said Russ Garfin, director of product management. "We're having a lot of active buyers that want something small and nimble that they can use in the winter or even the summer. This is a product designed to allow people to do that."
Solis is a price point below the Class B Travato and is built to be easy to care for. There is no onboard generator. Appliances are all 12 volt and it comes standard with 230 watts of solar, so the batteries will always be charged.
Instead of having struts to hold the cabinets open, the doors have magnets built in that will stick to metal points on the ceiling to keep the doors open.
Solis has a wet bath, has heat and ventilation in the bathroom and hangers in the shower. It also features a cassette toilet. The freshwater tank has a sight gauge so users can tell exactly how much water is left.
The MSRP is $101,000.
On the Upswing
During the dealer event, the COVID-19 outbreak was beginning to affect the economy and many businesses were cutting production or even shutting down for a time.
During his opening statements, Happe sought to reassure dealers that Winnebago is on strong footing and prepared for whatever lay ahead.
"We will celebrate 50 years as a public company in 2020," he added. "We have been a market leader on the motorized side, and we are still considered to have one of the most recognizable brands in the industry in our flagship brand Winnebago. We are a survivor in a highly cyclical business. There is an immense sense of pride by our employees in our legacy and a determined sense of resilience to adapt as we need going forward to survive and succeed."
Happe said he wants Winnebago to become a trusted leader in outdoor lifestyle solutions and to display a commitment to restore strength in its core business.
Degnan said he believes with the progress the towables division is making, that a good start has been made toward reaching those goals.
"You don't buy the Winnebago – you join Winnebago," he said, "and that's really the theme of Winnebago towables."