Features
Lewis RV Embraces New RVers
The Oklahoma City-based dealership works hard to help acclimate first-time RVers and hopefully make them customers for life.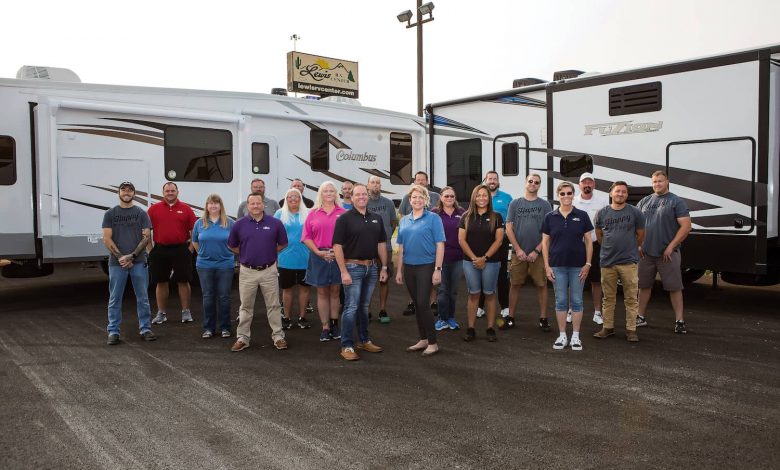 Like many RV dealerships across the country, Oklahoma City-based Lewis RV Center has had plenty of first-time customers purchase new RVs this year, many of whom were looking to travel and spend time outdoors while maintaining social distancing amid the COVID-19 pandemic.
Lewis RV Center co-owner Clifton Lewis says his dealership is embracing these newbie RVers while also actively working to give them realistic expectations so they can have a good experience with the RV lifestyle.
"These new customers don't realize RVing is a hands-on adventure. If we don't coach and train these new customers, we will lose them," he says. "If we do explain, coach, train and give the support to these new customers, I believe we will thrive, as they will have a good experience and tell their friends about the RVing lifestyle. So, our reach will be that much further."
Lewis' sister and co-owner of the dealership, Amy Rutherford, echoes this sentiment, adding, "We don't want to just sell a trailer and make money and go on with life. We want to build relationships with customers and help them create memories with their families as they grow up."
The dealership takes an in-depth approach to initiating first-time buyers into the RV lifestyle. It starts by spending between one and three hours (depending upon the RV) with each customer, giving them a hands-on "school" on how to work with their particular unit. In advance of that meeting, the dealership gives customers a worksheet with some of the most important items that dealership personnel will go over with them.
After the school, Lewis says customers are introduced to their dedicated service writer. That service writer then spends around 30 minutes going over the procedures of what happens when they have an issue and need to make an appointment to bring in their unit for service.
During that meeting, dealership staff sets a 60-day follow-up appointment.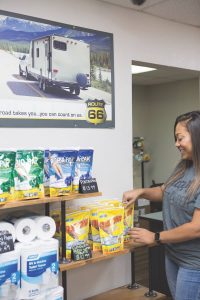 "We don't sugarcoat things. We tell them they will have issues that will arise," Lewis says. "We provide them with a worksheet that they can email to us all at once or periodically up to their appointment so we can address the issues when they bring it in. We tell them to expect things to happen, but we are here to take care of you when they do. By doing this, they are prepared for things to happen."
Additionally, the dealership provides all customers purchasing brand-new units with one year of Tech24, which is a Route 66 dealer network program for which the dealership pays the first year's dues. The program gives customers a number they can call 24/7 in case any issues arise. Plus, the dealership provides customers with its company text message number that is monitored up until 11 p.m. each day to offer help, assistance or for scheduling appointments.
For both new and existing customers, the dealership organizes quarterly camping trips where they can ask the dealership's owners or technicians questions they may have about the operation of their RV or just to learn more about RVing. Lewis says this allows customers to become friends and its gives Lewis RV the opportunity to make customers part of its family.
And to further build customer loyalty, Lewis RV has initiated a program called Talk Camp. As part of that program, if a Lewis RV staff member stops at an RV camping site and sees an RV with the Lewis RV decal on it – or if they recognize one of their customers – they will stop by and chat – from a safe distance, of course – and give the customer a "thank you" card and a $5 or $10 gift card.
Adjusting to the New Normal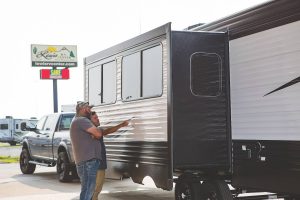 As with pretty much every dealership across the country, adapting to the new normal resulting from COVID-19 has required Lewis RV Center to make some changes in how it does things, the co-owners acknowledge.
To help address any concerns about sanitization, Lewis RV has a sanitation team that cleans and wipes down all the rental units, as well as all new and pre-owned units that go out the door.
The dealership also had to implement social distance and face mask requirements and focus on using body language to convey a smile. Dealership personnel also had to learn to speak louder to be heard through face masks, according to Rutherford.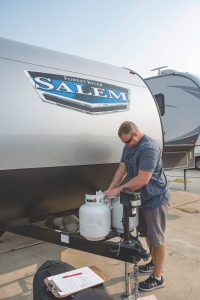 Another change the dealership had to adapt to was wild swings in its inventory levels. At one point this year, Lewis RV had sold practically every unit it had and was down to nine units – a boon that was completely opposite of the drop in sales they initially expected once state and local governments imposed business shutdowns in the face of the pandemic.
"When COVID-19 hit in March, I think like most dealerships, we kind of panicked. We weren't sure of what was going to happen and began working to move out our inventory," Lewis recalls. "Then April exploded and caught us by surprise. The floodgates opened for customers wanting to get out and about and travel."
Normally, Lewis says, the dealership keeps about 150 units in stock. However, when the dealership's inventory was almost gone, the management team began calling around and begging reps for the RV makers to send more units. However, he says, those efforts have been hampered by the fact there is a shortage of OE parts that is limiting the amount of units manufacturers can build and ship out.
"We are still waiting for products. … We are currently at 34 and have around 200 on order," Lewis told RV PRO in late September.
Most dealers across the country are facing a similar predicament, according to RVDA President Phil Ingrassia, who says a survey of dealers nationally shows most dealers only have about 20 to 30 percent of the inventory they normally would at this time.
"Post-COVID, once things get back to normal, we hope the basic demand for RVs is still. going to be there," says Ingrassia, adding that it's imperative for dealers to make sure first-time RVers have a good experience in order for the RV industry to continue.
RV Rentals Prove Profitable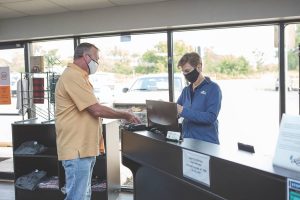 One business venture that Lewis RV Center started late last year has proven to be very fortuitous in hindsight – starting an RV rentals business.
The rentals program was the brainchild of Rutherford, who dedicated three RVs to the new business: a Class C motorhome and two travel trailers.
At the time, the goal was simply to help the dealership diversify its offerings and earnings and potentially bring in some new customers. When establishing the rental business, Rutherford anticipated the three units might get used 35 percent of the time.
Little did Rutherford and Lewis know at the time that this move would prove its worth many times over just a few months later – as people across the U.S. looked to travel without having to get on an airplane or cruise liner and without having to stay in a hotel.
Since March, all three units have been reserved and rented out each week, according to Rutherford. As a result of their rental experiences, Rutherford says, a couple of those renters decided to buy trailers.
"We weren't expecting the demand to be so big," she says, "And we've seen a very large segment of customers since the end of June that have come in to rent for the main reason of trying to decide if this is the lifestyle they'd like."
Rutherford says they thought rentals would fall off once school started. However, RV rentals are booked through November, although not at full capacity, as earlier in the year.
"What's interesting is that its more from couples in their 50s that are new to the industry and are interested in becoming an RVer," Rutherford says.
Having proven its success, the dealership plans to double the number of RV rentals it offers from three to six moving forward.
Creating a Family Atmosphere Pays Dividends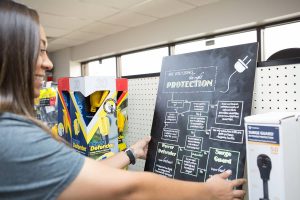 While it might sound a bit cliché, Rutherford and Lewis say creating a family atmosphere in their dealership has helped them attract new business, both from those customers who are brand-new to the RV lifestyle and those who were on the lookout for their next new RV.
Diane Stevens and her husband, Ron, first learned about Lewis RV earlier this year when they began searching for a new travel trailer. The particular model they wanted – the Keystone Bullet 330BHS – was very hard to come by. So, they expanded their search to several different states before coming across Lewis RV.
Although the dealership did not have the desired travel trailer in stock, Stevens says, the sales staff notified the couple that they already ordered three from the factory and they could purchase one of those. Most of the business was transacted over the phone, with the Stevens ready to buy sight unseen.
Stevens says the dealership even worked to have the travel trailer ready in time for the Labor Day weekend vacation, which the couple really appreciated.
"Everyone was so helpful … even the maintenance people were so nice," she recalls. "We wish so badly that we lived there (in Oklahoma), or that they were here (in Colorado) because we would recommend anybody to buy from them. The way they treated us felt like home and they really are attentive to all of the customers."
Tammy Herzog, who purchased a Keystone Hideout from Lewis RV earlier this year, echoes that sentiment. After purchasing a new trailer from the dealership, she realized it didn't fit under the RV port in her home.
"They (the dealership) were willing to store it for a couple of months while I got the RV port adjusted to the right height. And afterward, they called to make sure I got it home and got it parked OK," she says, adding, "It was like a family atmosphere versus that of (a large dealership)."
The dealership's efforts also have been noticed by those within the industry. Last fall, the Oklahoma City-based dealer received the Larry Coker Commitment Award from the Route 66 RV Network. The award, which is the group's highest honor, is given annually to the dealer who goes above and beyond to promote the dealer network's goals, which includes taking care of the group's customers.
"Larry Coker was an ambassador for the Route 66 network and a big reason why it grew and received the attention that it got," says Lewis. "It's just humbling as a small business when you're recognized by a top award from your peers."
Dealership is a Family Affair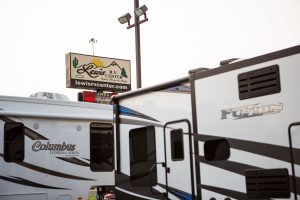 Lewis RV has been a family-owned and family-run business since its inception in 1963. It was started by Lewis' grandfather, Charles Lewis. The idea to start an RV business began to take root while Charles Lewis was still in the U.S. Air Force. He purchased an RV to take his family on a camping trip and enjoyed the RV so much that he shared his experience with everyone back at base. This, Lewis says, led his grandfather to sell his RV to a friend.
"He picked up a couple more and sold those, too, and decided he could probably make this a career," Lewis says.
The business became a family affair with Charles' wife, Delores, and his son, Chuck, all working to make it a success.
"Our father, at (age) 14, became his technician and started working for him," Rutherford says. "Then, in the '80s, they went into a partnership."
Their father, Chuck, and mother, Liz, took over the dealership in 1990; their grandfather passed away in 2009. Lewis and Rutherford also took turns working in the family business as they grew up, before venturing out on their own to do other things: Lewis served a three-year tour in the military and Rutherford earned a teaching degree and taught for two years. In the end, they came back to the RV industry.
During this time, their father worked hard to grow the dealership before eventually retiring in 2012. At that time, Lewis and his sister took over. Their spouses also work at the dealership.
"In the beginning (we were) a little scared, but excited. It's hard enough for a second-generation business to continue. So, us being the third generation, we wanted to make sure we could build on their success and make it greater," Lewis says. "Lewis RV Center was built on making our customers feel like family. We have continued with that as one of our main foundation points."
To continue building on that foundation, Lewis and Rutherford became involved with organizations providing training and other assistance for the dealership, such as Route 66, Spader Management 20 Groups, A World of Training, and the RV Dealers Association's RV Learning Center.
"We have learned so much through the offerings of these resources that have been invaluable. That, coupled with the relationships we have gained with other dealers through these resources, have helped us get to where we are today," Lewis says.
Mapping Out the Future
Moving forward, Lewis says the dealership, with about 30 employees and 18 service bays, is positioning itself for additional growth for 2021. As such, it has already signed a lease agreement for a bit more than 1 acre of land adjacent to its existing property, which will give the dealership additional space to retail 30 to 40 more RVs.
Lewis says the dealership initially planned to buy more land at the beginning of the year, given that the business is landlocked in its current location, but those plans were sidelined when the pandemic hit.
"In hindsight, we wished we'd continue with our plans," he says. "But we will continue to look for an opportunity that fits."