Features
Lighting That's in Your Control
With different color options, dimmers, and the ability to light up every nook and cranny, ITC has taken RV lighting to another level.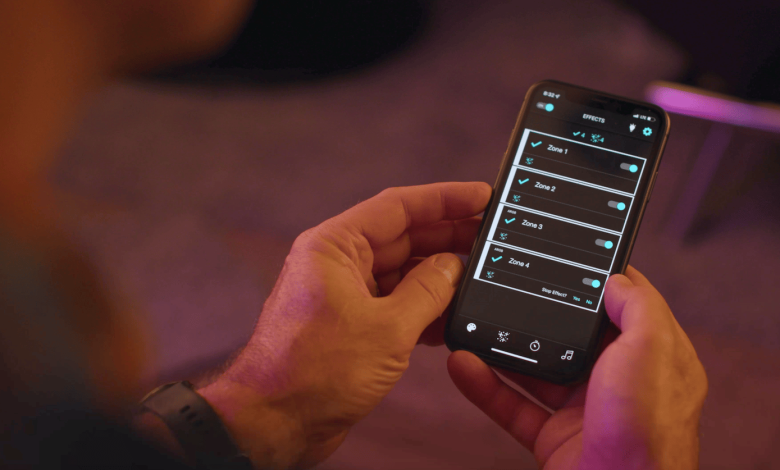 The best way that ITC employees have found to remain innovative in a competitive market is to put themselves in the end user's shoes.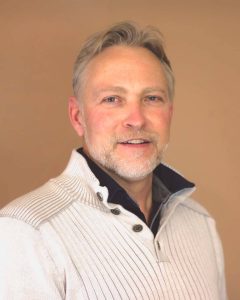 "If I was an RV owner, what would I want?" James Nowak, ITC's RV business manager, poses hypothetically.
With a long history in the RV and marine markets – ITC was founded in 1982 – the company is known as a place where someone can come in with a concept sketched on a paper napkin, and they will collaborate to make it happen.
"We're the ones people come to in the RV and marine industries when they want something different," Nowak says.
ITC's core products include RBG(W) lighting, light control, DC power and charging solutions, vehicle components and accessories, global manufacturing and distribution, and design and engineering.
"We do everything from courtesy lighting – steps and courtesy lights – to decorative lights and commodity overhead lights," Nowak says.
ITC works with many OEMs in the industry; there are approximately 400 RV customers the company works with in the United States, Australia and Europe, Nowak says.
"You name it, we're probably working with them," he says.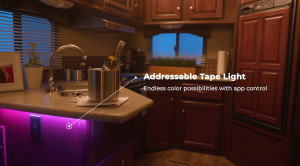 Recently flexible lights – such as those used around bed frames or the toe kick areas under kitchen cabinets and more – have been very popular. This type of lighting helps emit a warm atmosphere when, for example, it is used on upper cabinets behind the crown molding to create up-lighting on the walls, Nowak says. The popularity of being able to control such lighting with dimmers or different colors has had mass appeal.
"You can use your imagination and do whatever you want with those," he says. "We've been doing that in marine, and it's been wildly popular."
Nowak says there's been a change from OEMs that has been building in the use of decorative lights such as pendant lights and sconces.
"We've watched it over the last four or five years, and a lot of OEMs have looked into putting overhead lights in those spots," Nowak says. "It's about cost savings overall."
While decorative lights are still heavily desired in the high-end Class As, Nowak says it's the costs associated with tooling the lights, storage space in warehouses, and shipping costs and/or delays that have made them harder for OEMs to use as prevalently.
Putting the User in Control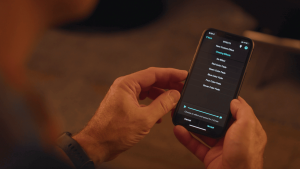 What is incredibly popular right now is controllable lighting – specifically technology that allows users to control lighting from their fingertips.
"What we're seeing a lot of end users want these days is they are looking for technology – they want the same options as in residential homes and vehicles," Nowak says. "It's the control – setting timers, dimmers, colors.
"They want it available on their smart devices so they can control it outside the unit or away from the unit. They want what they have at home."
Nowak says this level of control used to be seen as a luxury item in the RV industry, but now it's become part of the norm – it's a standard feature that customers expect.
ITC has a lighting app, but they are working with OEMs and other groups in the industry to standardize the communication between the smart systems that are used in each unit across the board.
"There are already a large number of OEMs and suppliers such as us that are working on this," Nowak says, "making all the lights and the central control system speak the same language."
ITC has already been a part of making this standardization – or one common "language" – a reality in the marine market and Nowak says they have seen a lot of success there.
"By 2023, we'll be well on our way to have these plug and play," he says.
More Than Just Lights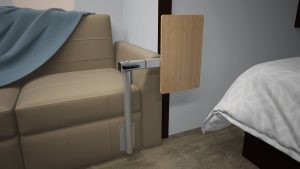 In addition to various types of overhead, courtesy, reading lights and more, ITC features a number of products for the RV industry outside that arena including drink holders, cabinet hardware, solutions for charging phones or other smart devices, and table systems. The ability to maneuver a table in a unit is an added convenience for any RV owner. The company's Rectangle Table Top, for example, can be removed easily and comes with illumination capabilities and different colors/finishes.
Nowak says articulating table systems that allow users to swivel and rotate a table as needed have been very popular – as have the color and light control options for these table systems. Next year the company will introduce a MOD table system that articulates and swivels, can mount on the wall and floor, and can be tilted in 15-degree increments all the way to 90 degrees.
"You can lock it in place, so it won't swing around," he says. "There's a lot of new convenience types of options these days."
ITC Company Facts
Headquarters: Hudsonville, Michigan
Founded: 1982
Focus: RBG(W) lighting, lighting control, DC power and charging solutions, vehicle components and accessories, global manufacturing and distribution, design and engineering
Industries: RV, marine, automotive, specialty vehicles, workplace, architectural
Interesting fact: Automotive lighting is a growing market, with Nissan and Subaru as current customers, says James Nowak, ITC's RV business manager.