Features
LiquidSpring Introduces Revolutionary Four-Corner Suspension Upgrade for Gas Motorhomes
Sponsored by LiquidSpring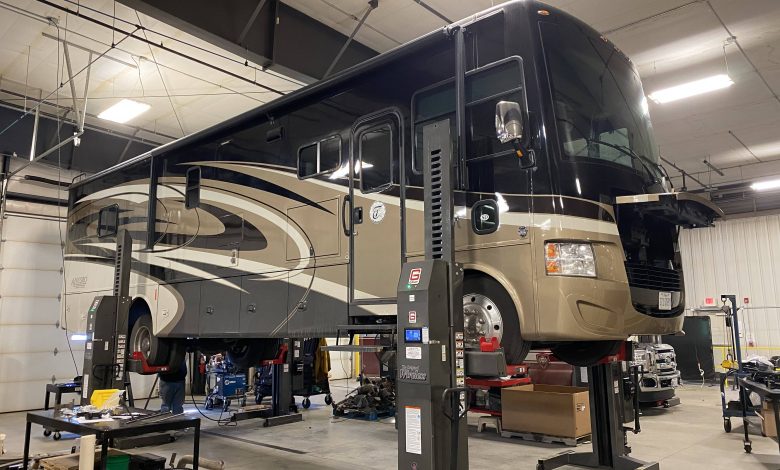 The leader in innovative smart suspensions, LiquidSpring is pleased to announce the release of its full four-corner system upgrade. Available for the Ford F53 chassis, one of the most popular Class A platforms, the suspension system provides both significant ride and handling improvements to the entire coach. A LiquidSpring suspension offers a "luxury ride" and "sports car" handling by solving historic driving problems like variable loading weights, rough road conditions, turning instability, wind, and other challenges.
Available as a factory option for some manufacturers for the model year 2022, it is also obtainable for retrofit on 2011 model year F53's and later. In addition, Class C drivers will be pleased to know the 4-corner system is also available for Ford E-450/550 chassis.
"The four-corner upgrade is the next evolution in gas engine coach performance. It changes the entire dynamic of a truck chassis to rival and even in some cases surpass the ride quality and handling of a diesel pusher," said Wayne Wells.
An industry expert, Wells has more than 30 years of experience in perfecting motorhome performance and serves as the RV Market Lead for LiquidSpring. While according to Wayne, the rear-only suspension previously offered by LiquidSpring provides an estimated 70 percent performance improvement from a factory offering, he could not emphasize enough the added value of a four-corner system. "I have literally gotten hundreds of calls from customers in anticipation of this. It's not just the 'icing on the cake,' it's the ice cream inside and the 'Happy Birthday' to the owner."
Class A manufacturers Tiffin and REV Recreation (Fleetwood and Holiday Rambler) offer models with LiquidSpring suspensions as a factory installed option. However, most Class A gas models with the F53 chassis are eligible for an aftermarket upgrade at LiquidSpring's factory in Lafayette, Ind., or one of the many service centers located throughout the USA.
Two of the largest complaints from front-engine motorhome drivers are wind turbulence from passing semi-trucks and sectioned roads with raised joints; both of which cause strong feedback that the driver must respond to and are experienced from the front of the vehicle. The four-corner upgrade will provide better cancelation by attacking the problem earlier than the rear suspension alone. Wayne Wells echoed this thought: "While the rear suspension alone has a strong following, most of our customers are highly interested in adding a front suspension as well for further improvement. After test-drives, customers have said it is a significantly noticeable upgrade in ride quality."
Another unique advantage provided by this LiquidSpring upgrade is four-wheel "overheight" capability. The opposite of kneeling, overheight offers maximum ground clearance while at slower speeds and allows the vehicle to clear road obstacles such as minor debris or damaged road conditions. This includes gravel roads which have been washed out by rain, a common situation in rural areas that often requires more height to clear the road level changes without bottoming. The overheight feature can also be used to help clear parking lot exits and other elevation changes which can lead to dragging and possible damage to the undercarriage. Additionally, kneeling is enhanced by a LiquidSpring system and allows the entry step to be closer to the ground and not having to raise the coach as high when leveling. For more information, please visit www.liquidspring.com.