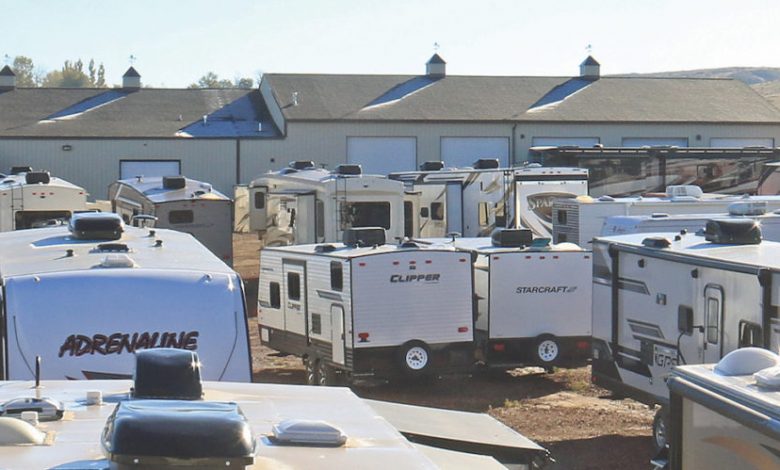 In 2003, when Dalton and Chari Frederickson founded Dalton's RV in Sheridan, Wyo., they were stocking and selling one RV at a time and paying cash up front for that inventory.
Success for the couple's dealership didn't come overnight, but it did arrive with the passage of time – thanks to a continuous focus on customer service, conservative fiscal values and strategically seizing opportunities to expand.
Today, the mom-and-pop dealership has two locations: its flagship dealership in Sheridan, which recently underwent a renovation that doubled its size, and a new 5,000-square-foot retail location in Buffalo, Wyo.
The renovated store in Sheridan now encompasses 13,000 square feet and five service bays, up from about 6,000 square feet and two service bays previously. It sits on 6 acres.
The Fredericksons also opened a second location earlier this year to serve the needs of RVers venturing into and out of Yellowstone National Park and the Bighorn Mountains. The new location allows Dalton's RV to diversify and increase its revenue – which currently sits between $3 million and $4 million a year.
Sweat Equity & Hardscrabble Years 
The Fredericksons are no strangers to the RV industry. They got their start in 1992 working for Frederickson's brother, Carl Wayne Frederickson, who owned Bozeman, Mont.-based Big Sky RV.
"He taught me how to be salesman: Be good to people; tell the truth, do the right thing and everything else kind of comes together," Frederickson says of his brother. "I worked for him for 12 years."
In 2003, the couple emptied out their retirement fund and moved 300 miles from Montana to Wyoming in search of a place to stake their own claim. They settled in the city of Sheridan, which had heavy RV traffic because of its proximity to the Bighorn Mountains. They took out a lease on a corner lot next to a gas station and set up shop in a 14- by 20-foot cabin. From the beginning, the couple followed the principle of paying as they went, so as not to overextend themselves financially.
The two worked as a team to ensure the business was successful and that they made ends meet, with Chari Frederickson sometimes taking on jobs in nursing and teaching to make ends meet.
"Times were tough, and I'd think, 'OK, I gotta do something to keep things moving forward at least on the home front,'" she says. "When I threatened to do that it seemed like things turned around real fast."
When they needed more capital to buy supplies, they saved up the money and, if needed, borrowed from family members and then paid them back with interest.
Initially, they started off selling RVs on consignment. Before long, Dalton Frederickson says customers were coming to them to buy new RVs. The problem was they didn't have any to sell.
So, they used the profit from consignment sales to purchase their first RV to sell. They did this repeatedly, and eventually were able to pick up a line through an RV manufacturer. Soon, Dalton Frederickson says, customers began coming in for parts and service.
"We sold parts off of the trailer we lived in. We sold the spare tire off of it," he quips.
Because the need for parts was so great, he says, they eventually borrowed money from his mom to help build their parts supply. In one month, they sold $10,000 worth of parts.
"We paid that money back with 10 percent interest to my mom and we've been selling parts like that ever since," he says. Initially, Dalton Frederickson would drive 600 miles round trip to pick up an RV from the manufacturer and then drive it back to their shop to save money on freight. When he returned, the couple would prep the RV for delivery to the buyer. "Then we'd take that check to the bank and go and do another RV," he says. "My brother taught me that if you throw your heart over the fence, your body follows."
After more than a year in operation, the couple decided to move their dealership to a 6-acre plot of land close to a major highway to give the store greater visibility.
Prior to purchasing the land, where the dealership still sits, the couple worked hard to save up the $100,000 down-payment they would need.
"My wife worked pretty tirelessly putting together the SBA loan and then we got the facility built," he says.
Last year, the Fredericksons began looking at opening a small retail store to serve RVers on vacation to the area. Chari Frederickson says they had been eying the location for years and jumped to snap it up when the gas station was foreclosed on by their bank.
"We put together an offer and they accepted it," she says.
RVers frequenting this new store are stocking up on supplies, making this location great for business, according to Chari Frederickson.
"They're not coming in and buying a $2 part; they're coming in and doing some 'fill the cabinet' shopping, so to speak, for things like toilet paper, AC shrouds and hitches," she says.
She says if RVers come with minor service needs, the dealership can accommodate them, but that the store is not set up for service work at this time. Down the road, she says, the couple may look at converting existing space on the property into a service bay.
"But right now, we don't have the manpower to do it," she says.
Still Room for Mom-and-Pop Dealerships 
Although Dalton's RV is bigger than it used to be, it still pales in comparison with many of today's mega-dealers.
Dalton Frederickson acknowledges the challenges of competing with much larger dealerships that can offer lower prices on new RVs and aftermarket accessories, thanks to their bigger purchasing power.
"You get closer to the buying process (with the customer) and sit down at the desk and they pull up information on their mobile devices and say, 'Well I've got this unit in Indiana that's $2,200 less. Can you match that price?' Well, no. I paid the driver $2,200 to get it here," he quips.
However, these same individuals from local to the area often come back to him when they're not getting the customer service they want and expect from the larger dealerships, he adds.
Another problem facing Dalton's RV is one that bedevils many a dealership: Finding and retaining local talent, including service technicians. A shortage of employees has limited the dealership's ability to take on more service work, but Dalton Frederickson says he prioritizes serving customers who purchase from his business – and that those customers have rewarded him with repeat business over the years.
Customer Tonya Aksamit agrees, saying she appreciates the level of customer service Dalton's RV provides. She says she's been doing business with the Dalton's RV for about 10 years, when her family first decided to purchase a camper.
"We're on our second camper with them," she says, adding that a few years later they traded that camper in for a new, larger one. "We keep going back and buying from them because we love their personality and they always remember your name."
Aksamit gives the dealership big kudos for its focus on customer service.
"My most memorable experience was this past summer, when we came off the mountain because our camper had a leak," she recalls. "Dalton told us to not to unhitch it and to wait where we were. He came and fixed it and we went back up the mountain that same day."
As another example of the Dalton's RV going above and beyond, a while back some customers were having an issue with the thermostat in their new RV, so Chari Frederickson drove out of her way to meet them at the campsite to help correct an operational error. The next day she drove by to make sure everything was still going well with the campers.
"Why did a I stop again? Because they were my customers," she explains.
While serving those who bought from the dealership is the dealership's first priority, Dalton Frederickson says he doesn't like to turn anyone away and will attempt to help RVers who are traveling through if they experience a problem with their unit.
"If we have people floating through here that are on their way to Yellowstone on their trip of a lifetime and their refrigerator quits, we'll stay here 'til 8 or 9 o'clock at night, put them up out back and repair it … to keep those people having a good RV experience," he says. "And I would only hope that if my customer who bought from me is on the trip of a lifetime and they're in Minnesota and they have a problem that the Minnesota dealer would take care of them."
And while Dalton's RV takes an old-school approach to customer service, the dealership takes a thoroughly modern approach to marketing, using the services of DealerSpike for its website search engine optimization and search engine marketing.
"I'm kind of old-fashioned and I don't really understand it – but the new buyers are definitely coming to us this way," Dalton Frederickson says.
Leaving a Legacy 
The Fredericksons hope to pass on the success they've enjoyed as business owners to their daughters, and are taking steps they believe will propel them toward this goal.
Dalton Frederickson says he'd like to double the dealership's current employee base of 11 within the next six to eight months. Assuming efforts at employee recruitment are successful, he says he believes the business can double its revenues moving forward.
"We were both raised on farms," he says of himself and his wife. "We didn't come from a lot. But we feel we've been really blessed to be able to build this business. This year will probably be our most difficult year in 15 years, but … we're gonna make it; we're gonna survive."