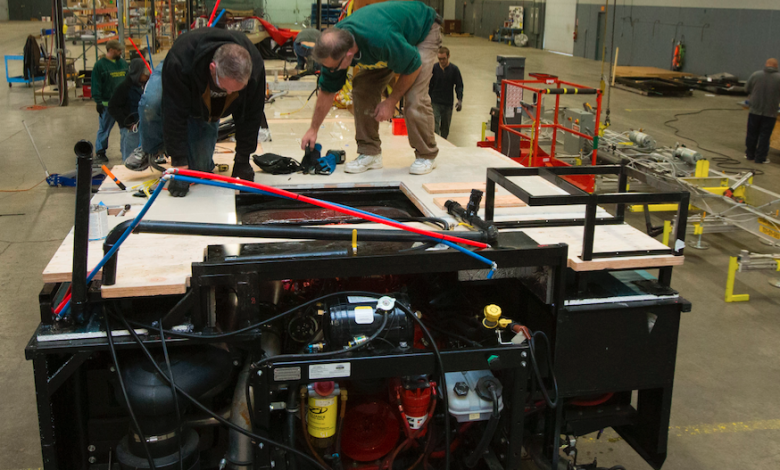 This article is from our older website archives. Some content may not be formatted or attributed properly. Please
Contact Us
if you feel it needs to be corrected. Thank you.
Editor's Note: The following story comes from RV PRO's January issue. To read more, including our Best of Show selections from the National RV Show, click here. 
Major RV manufacturers are rediscovering the western United States.
It's been a while in the making.
During the Great Recession, larger RV makers in the West such as Alfa Leisure, Fleetwood, Monaco, Weekend Warrior, Country Coach and National RV either went belly up or sold to other companies that relocated their operations to the Midwest
Even as the former heavyweights left, the West continued to be a hot market for RV sales. Which makes sense, given the relatively mild year-round weather and a population that is geared to outdoor recreation.
With roughly 2,000 campgrounds in California, Washington and Oregon, it's no surprise that major manufacturers – looking to trim freight costs to Western dealers and bring customer service closer to RVers – are following the money and moving back.
Winnebago Sets Up Shop in Oregon
Winnebago made its foray into the West with its acquisition of Junction City, Ore.-based Country Coach in November 2015.
The RV maker acquired Country Coach's facilities and intellectual property in November with plans to invest between $15 million to $20 million. Not an inexpensive move, but it made a lot of sense for Winnebago, according to General Manager John Millis, who was named GM of the new plant in January.
"One of the reasons we wanted to come to Junction City was the history of the RV industry that was here before the recession hit," he says. "There's a lot of skilled labor here that built high-end diesel products. That labor is still here, and we are certainly using that labor to the full benefit of building our Grand Tour 45-foot RLs."
Still, the Junction City campus is starting slow, according to Millis.
Production began in February, but special training was required to build the diesel-driven Winnebago motorhomes. Also, some of the fixtures and larger machines and parts necessary to build the Grand Tour motorhome were built at Winnebago's main facility in in Forest City, Iowa, and shipped to Junction City. That includes such things as laminated walls that have been shipped to the Junction City plant for assembly.
The Junction City plant isn't just building the Grand Tour for the West, however. Production there is "for our dealers throughout the country," according to Millis.
"They will be available to any dealer in the country," he says. "This will give more capacity in Forest City to build other Winnebago products there."
Winnebago also will add the Journey motorhome to its list of products from the new plant. Plus, Winnebago plans to revive the Country Coach brand at a later date.
The Grand Tour and the new plant paired up pretty well, according to Millis, who notes Winnebago did not have a 45-footer in the Tour lineup.
"We've added the 45RL, and they have worked well for us. Forty-five footers have been in demand in the industry," he says.
New facilities, however, don't translate into a change in production processes. The engineering and the manufacturing process are essentially identical to Forest City. The only departure is the flow-through the facility in Junction City, but Winnebago has duplicated its tools and brought its operations from Forest City to the new plant.
Selecting the Grand Tour 45 for the new facility was an easy decision, Millis says. Dealers were asking for it. Plus, the facility already had in place much of what Winnebago needed for the production of a 45-foot diesel motorhome.
"It was used for many years by County Coach and we acquired the materials, assets, the property and the intellectual property of County Coach," Millis says. "They had a nice facility already established here for manufacturing."
The plant had the necessary square footage, layout and other facilities such as a paint shop.
"Ninety-five percent of it was in place," Millis says.
Having a ready labor force was a big plus. Winnebago has hired 100 employees so far, but that number is expected to increase as production ramps up. Most of the workers worked for the Country Coach before the RV manufacturer closed its doors in 2009, a victim of the Great Recession.
"All of them have built motorhomes, but they have not built one the Winnebago way," he says.
A few months ago, Winnebago did an analysis of the workforce in Junction City and found about 14 years' average experience with RVs.
"That gives you an idea of the skilled labor force that is available to us in that area. We are very happy where we are at with the experience level," Millis says.
Cruiser RV Makes a Home in Idaho
While Winnebago is rolling out its high-end motorhomes, Cruiser RV will be focusing on the other end of the spectrum out West, according to Jay Mohamed, general manager of Shadow Cruiser.
"From Day One it's going to be our Shadow Cruiser," he says. "Our West Coast partners that we have now, that is what they are familiar with, it's already working. It's not broken, so you don't want to fix it. It's that kind of deal."
For the past 14 years, the RV maker has been shipping its Cruiser products to the West Coast from its headquarters in Howe, Ind.
"The ultra-lite in the travel trailer brand is the beat of the market," Mohamed says. "It's priced right, and gets good volume. It basically comes with all the bells and whistles. It's set up to be simple for the dealer and for the customers and is so easy to buy. They can get it any way they want it."
Cruiser should know. It's been building lightweight travel trailers since 1988. Cruiser was acquired in January 2015 by Heartland RV, a subsidiary of Thor Industries. That deal is expected to pay off for both Thor and its Cruiser division.
Indeed, Heartland is already producing trailers for the West Coast out of its Nampa, Idaho, facility and Cruiser will be manufacturing the plant's second product. Hiring is underway for Cruiser.
"We've been getting ready for the past four months," Mohamed says.
The first Shadow Cruiser 280QBS travel trailer is expected to roll off the line in mid-December.
The 248,000-square-foot Nampa facility is located on 25 acres and is well situated for the West Coast, according to Mohamed.
Cruiser, he says, looked at several sites and the Nampa site "seemed to be the best site that would benefit everybody from our Canadian partners to our Southwest partners. It kind-of works well for everyone."
It didn't hurt that the building was already there and owned by Heartland.
"For us, it was just a matter of time. The ultimate plan was to get out there. We were hoping to announce it and get out there earlier, but we didn't want to rush anything," Mohamed says. "I think dealers will appreciate us waiting and making sure it's right and that the product is what they want from the facility."
Jayco Has Decade-Old Roots in Idaho
The benefits of building RVs out West are no secret to Jayco.
The Middlebury, Ind.-based RV maker has been building RVs in Twin Falls, Idaho, for about 10 years, according to Joe Thompson, vice president, operations and corporate purchasing.
"We first went out and leased a facility on Washington Street, then built the facility that we are in nine years ago," he says. At its completion, Jayco had a 154,000-square-foot facility. The first unit built there was a Jayco Jay Flight 27BH travel trailer.
It's the manufacturing home of 14 different models of the Jay Flight travel trailers. Out of the plant, Jayco produces 24 units a day on one manufacturing line.
"In fact, our demand exceeds our capacity," Thompson says. "We're looking into expanding, but there's no timetable; it's a little too early."
Jayco does, however, own acreage adjacent to its plant that can still be developed.
In the meantime, Jayco has worked hard the past two years on increasing its daily output by 35 percent. That resulted in a streamlining of the plant's product offerings, Thompson says, "So we had a limited number of models that we were going to produce and have larger run sizes and focus on increasing our efficiency.
"I wouldn't say we are at the top right now," he adds.
The plant employs 225 people. In addition to the manufacturing line, Jayco has a mill room facility and other smaller, department activities.
With the area's low unemployment rate, Thompson says the RV maker has a solid base of employees, "but we're always looking for ways to increase our retention rate and attract new employees who are interested in our industry."
RV PRO January Issue Online
To read more about the trend toward westward expansion, or to view our Best of Show selections from the National RV Show, access our January issue online, here.
January Issue Highlights:
Makeover Energizes RVIA Show Attendees
FCCC Bringing Back the Super C
Aloha RV North Adopts to Changing Times