Features
Making the Connection: Choose Yours Carefully
Sponsored by Marshall Excelsior

The Importance of Knowing Your Pigtails & Hose Assemblies
Commonly known as a pigtail, those small hose assembly pieces that connect a propane cylinder or tank to the LP pressure regulator are an essential piece of propane operation. But, as in most things in life, there is more than meets the eye with this hose assembly. Several different types of pigtails are available to offer different features and advantages.
Consider the following key attributes to look for when choosing a pigtail to ensure ultimate safety, protection, and long-lasting quality.
The hose barb fitting – The use of a seven-barb fitting instead of the common five barb provides more support and security for the ferrule to attach to

Full hose ferrule vs crimping ring – the use of hose ferrule reduces possible leak points, because the ferrule allows for the capture of five barbs instead of three to reduce possible leak points

Thermoplastic vs. Rubber – Thermoplastic hose offers a wide variety of added value over their rubber counterparts. Thermoplastic hose is built with a higher level of contact strength between the layers of core, braid and jacket. Thermoplastic was created to tolerate low temperatures and consistent flexing even at very high temperatures.

ACME Nut (connects a propane tank to a regulator) Safety Features:​
Excess-flow – designed to limit the flow of propane should an excessive leak exist anywhere in the propane system. When the tank is opened, the excess flow device closes, allowing only a small amount of propane vapor to enter the system. Once pressure builds up, confirming that no leaks are present, the excess flow valve opens back up, allowing full flow.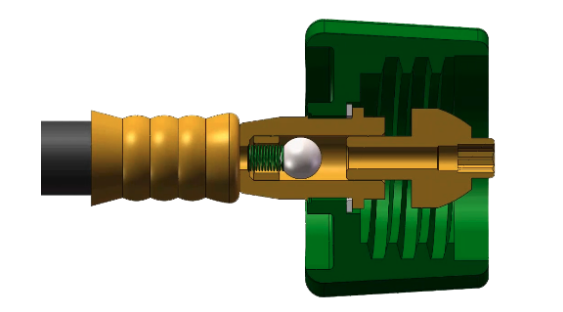 Thermalink – This is a heat-sensitive solder joint between the nipple and the hose end. It stops the flow of propane in the event of a fire. Temperatures over 240 degrees will cause the solder joint to melt and allows the nut to move back about 1/4 inch, which closes a check valve inside the cylinder valve, totally shutting off the flow of propane. This innovative feature helps mitigate the danger from a fire.
For more information, please contact a staff member from Marshall Excelsior Co., or AP Products (see contacts below). Both teams are happy to help troubleshoot any issues with your propane accessories or suggest the best equipment for your propane needs.
Phone 269-789-6700
Email: [email protected]
AP Products (MEC Sales Rep)
Phone: 517-278-8521   Toll Free: 800-417-2477 x 291
Email: [email protected]