Features
Momentum Propels Grand Design Forward
The RV Maker's Momentum line lives up to its name, climbing to the top tier of toy haulers. The company credits its success to its focus on quality, customer support and being a true partner to its dealer base.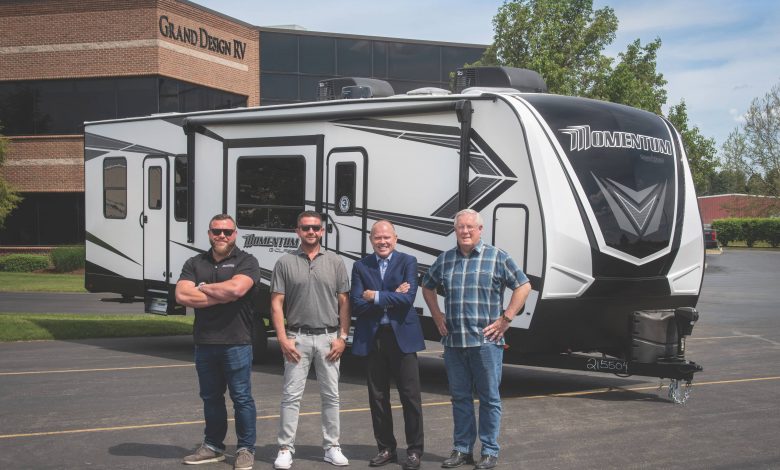 When president and CEO Don Clark co-founded Grand Design RV nearly 10 years ago with brothers Ron and Bill Fenech, it was because they had an itch they wanted to scratch.
"We wanted to build a different kind of company," Clark says of the threesome, who had already enjoyed long careers in the RV manufacturing industry. "The industry was so good to our families that we wanted to help move the needle in a positive way. We didn't want to look back at our careers and have the fear and regret of 'woulda, coulda, shoulda' – so we struck out on our own and started our own company."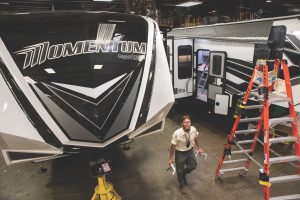 Throughout their careers, the partners formed professional relationships with some of the industry's best dealers, many of whom became friends.
"We told them we had a clean slate and asked, 'In a perfect world, what kind of partnership do you want with an RV manufacturer?'" Clark says.
Many dealers replied they wanted a "true" partnership, which when distilled, meant they sought a high-quality product that turns fast with a fair profit and a trusting relationship.
"It's hard for dealers to make a profit today because many manufacturers rely on a business model that's not conducive for fair margins," Clark explains, pointing to "cloned" products that leave dealers competing with one another in the same markets.
Middlebury, Ind.-based Grand Design RV (GDRV) wanted to change that.
"When Grand Design signs a dealer in a marketplace, we'll do business with one dealer – and one dealer only," Clark says, explaining that avoids driving prices down among competing dealers.
Grand Design has intentionally limited its products to five brands, whereas other manufacturers similar in size have many more. As such, Clark says the company has a "laser focus" on its brands, each of which successfully "attacks" a market segment.
"We're not going to be all things to all people – we focus on the major segments of our industry and target our products where our dealers live, eat and sleep," he says.
Grand Design was acquired by Winnebago Industries in 2016, which Clark says has allowed it to grow more rapidly with success.
"Because of the exceptional success from the retail consumer for our products, we needed to expand our capacity to meet the demand," he says, "and being part of the Winnebago Industries family has enabled us to grow at a much more efficient rate if we had not been part of something bigger. Also, with our growth, we've had the benefit of drawing upon Winnebago's executive leadership team – each one an expert in their respective fields."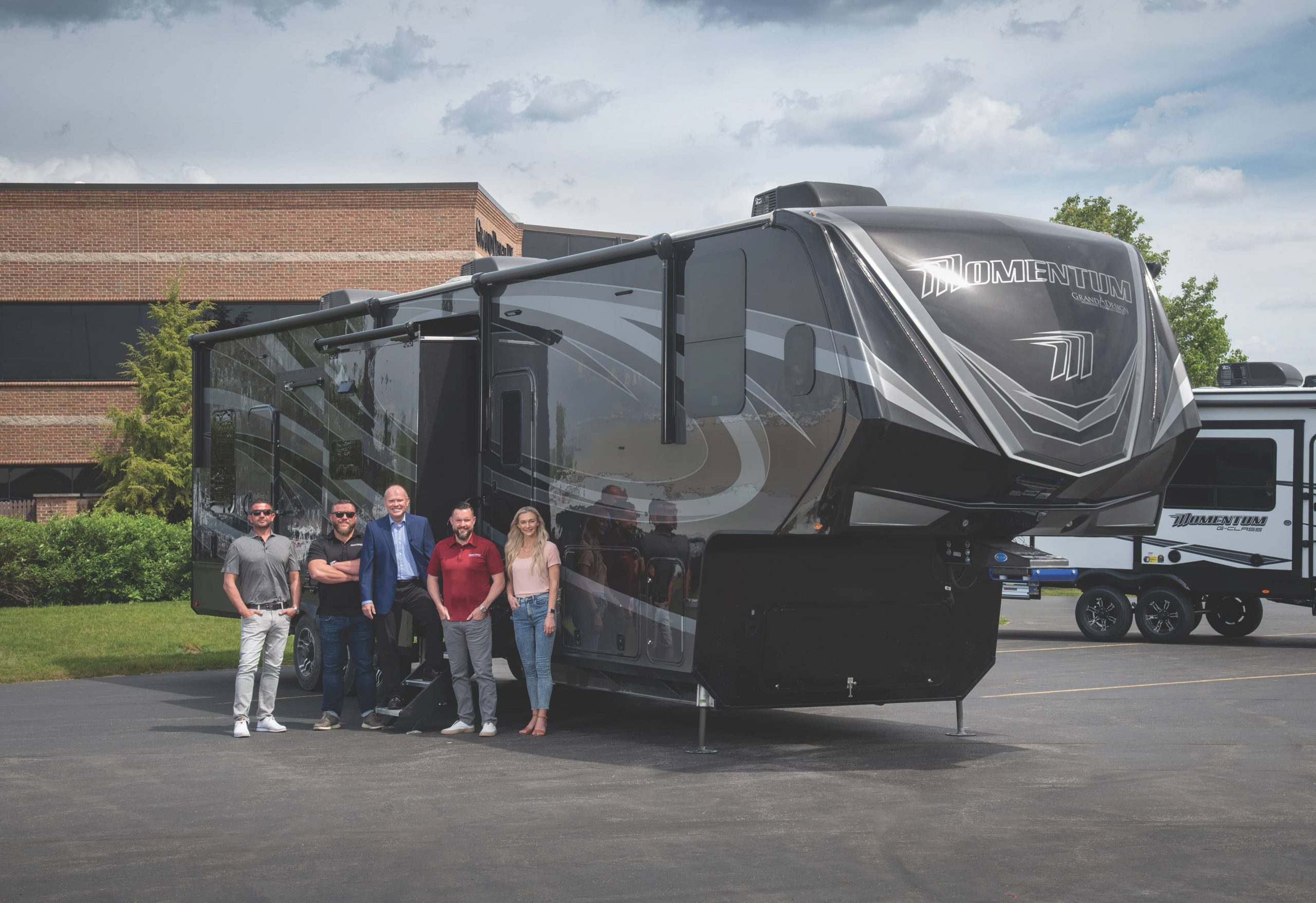 Momentum: Tops in Toy Haulers
The Momentum travel trailer and Momentum fifth wheel are the company's successful entries into the toy hauler segment. The Momentum fifth wheel was the second brand Grand Design introduced on the heels of its initial offering, the Solitude – targeting the same high-end space of offerings.
"The Momentum is a heavily contented coach that appeals to the discerning buyer. In many ways, it carved its own path in the industry at its price point," Clark says. "We didn't just want to appeal to the customer that had toys. We also wanted to appeal those who wanted extra space utilization that they could customize inside the garage – they didn't want it to look like a garage."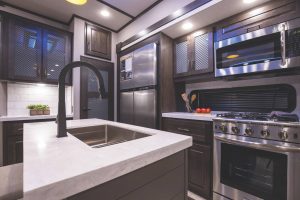 He points out that, in the very early days of toy haulers, California-based RV maker Weekend Warrior was the pioneer of the segment. "It was racy looking with graphic flames on the exterior and was – for its time – a difficult product to compete with," Clark says. "But, as time progressed, so did consumer preferences, and while some people might like the racing stripes, we wanted to appeal to the bulk of buyers."
He says Grand Design listened to its dealer partners and found that toy hauler consumers liked the more aggressive exterior styling, but also an interior that was similar to a mid- to higher-end home with warm earth-tones while still also offering contrast in the interior's flow – a common theme now in Grand Design products.
"The interior catches the eye of the customer right away – and we wanted that with the toy hauler. The Momentum was developed with a lot of the conveniences of their homes with a garage – though our garage has a warmth about it that can be used for toys or additional space."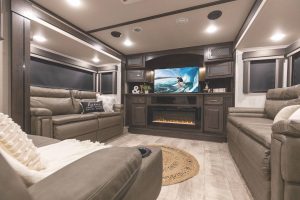 The Momentum fifth wheel is in the 75th percentile for price point, so while it's not the least expensive in its field, Clark says Grand Design discovered that a product that's well-built and designed – and that comes with features customers seek – will find a place in the marketplace.
"It's humbling, but I'm proud to say that Momentum has become the No.1-selling toy hauler fifth wheel in North America in a very short period of time," he says, pointing to numbers from market data firm Statistical Surveys.
Momentum's Newest Models, Developments
Grand Design recently introduced a new Momentum floorplan, the 395MS, which is a more refined version of the original 395M, according to Lance Lees, product manager for Momentum. "We listened to our customers, who wanted better opposed seating, a more functional kitchen area, as well as better access to the bedroom and bathroom. Since we first introduced it, it's taken off like a rocketship."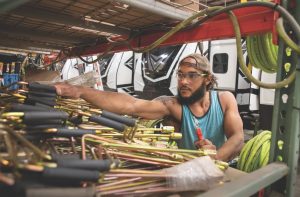 Another popular Momentum fifth wheel toy hauler floorplan is the 376THS, which is a 41-foot, five-slide unit. A smaller floorplan will be introduced – and although Grand Design is keeping a lid on the floorplan's specifics for now, Clark says, "We have taken the best features of our flagship, Solitude, and blended them into a toy hauler that widen the brand's customer reach. It will target a much-need segment. Frankly, it was the retail customers that helped bring this product to life. We'll unveil it at this year's Open House."
Compared to the larger Momentum M-Class fifth wheel, the Momentum G-Class is built with Grand Design quality and design at a price point that's $8,000 to $10,000 lower to appeal to a wider segment of buyers.
The Momentum travel trailer is a newer product than the fifth wheel version, and was introduced to fill a demand for a toy hauler that's smaller and lighter in weight to also broaden dealer customer bases.
"We didn't anticipate the success it would have in the market," says Clark, adding that it's in the top four of toy hauler travel trailer brands for retail year-over-year growth. "The growth has been staggering – there's demand for a smaller toy hauler that can be towed by 3/4-ton or half-ton trucks among first-time buyers."
Brands Focused on Quality
When Grand Design was launched, its owners didn't want to risk their longstanding relationships with its dealer partners over the years. The introduction of its first product, Solitude, was an important first step toward winning them over.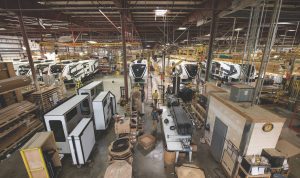 "There's only one opportunity to make a first impression," Clark says. "We could have easily started with the industry's biggest segment – the lower-end, stick-and-tin entry-level travel trailer – but that would have established us as a budget-driven manufacturer."
Instead, Grand Design's goal was to promote the mystique of a luxury, quality-minded manufacturer, which manifested itself in a high-end fifth wheel for full-timers, based on retail customer feedback and input from dealer partners.
"We literally knocked on RVers' doors at campgrounds to ask questions and take copious notes. We wanted them to have a say in the design of our products, of which quality was a large thread in every conversation," Clark says. "And dealers would tell us that they didn't want to be the last 50 yards of our production line."
Dealers, he says, told the company's founders: "'Give us a product that we can easily PDI and deliver to our customers' – and we took that request seriously."
As a result, Grand Design began pre-delivery inspecting every coach it built, which was easy in the beginning when it was manufacturing about two units a day but became more chal-lenging as the company ramped up production. Still, Clark says Grand Design was determined to remain true to its intentions.
"Initially, we were disappointed in what we were finding in PDI, so we made sure the PDI department reported directly to the vice president of service operations, Jerry McCarthy, rather than to manufacturing."
He adds that the PDI departments have an intimate relationship with the plant.
"When they find something that has been manufactured incorrectly – and instead of waiting up to 90 days for the problem to arise in warranty – it's addressed in real-time on the spot, within the hour," he says.
The PDI process has more than 300 points of inspection, which includes running all mechanicals to ensure they are in working order according to specs, as well as all electronics.
"It's not just a cursory, cosmetic inspection," Clark stresses. "Our dealers and their service centers will tell us that a Grand Design unit can be more efficiently delivered to a customer than any other brand on their lots."
He adds, "We don't have a transactional relationship – it's a holistic and organic one."
Customer Support After the Sale
For assistance with service after the sale, Grand Design has a mobile technician service that Clark says is unique in the industry. Master technicians travel in a Grand Design graphi- cally wrapped truck that's equipped with welding equipment, parts and materials.
"We'll send the units out to customers who have unique service opportunities for us – perhaps for a dealer that isn't equipped for the repair or requires assistance, as well as deploying them at rallies," he says.
The master techs are instructed to never leave an RVer stranded on the road – regardless of brand.
The mobile techs also stop at campgrounds when they happen by them on the way to a dealer, Clark says.
"They knock on doors of GDRV owners and ask if there's anything they can help them with – and when the techs leave, the visit creates a buzz in the campground with neighboring RVers. It creates a lot of goodwill.
"We put so much emphasis on our service operations, and we have one of the strongest and best operations leaders in Jerry McCarthy, whom I've worked with for three different companies. The back-end of our business is a big reason we have such a large fan base," Clark says.
Connectivity with Retail Customers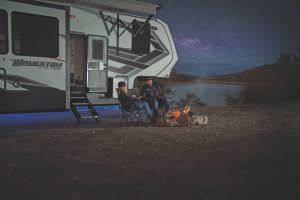 Grand Design designers, product and general managers constantly travel to large regional RV shows, as well as dealer lot events to develop and maintain close relationships with both its dealers and retail customers. The RV manufacturer also participates RV rallies for Grand Design customers.
"We've developed this cult-like following with our customers," Clark says. "Our slogan, 'GDRV Customers for Life,' is more like a mission statement – we settle for nothing less."
Grand Design expects to have 24 rallies this year, including one in Michigan at the time of RV PRO's interview with Clark that drew more than 500 RV owners.
"They aren't sponsored by GDRV; they hold them on their own and we participate whenever we can," Clark says of the events
There's also a national rally each year hosted by Grand Design.
"Of all the places GDRV customers could choose from, they travel to Middlebury, Ind., so they can have a connection with the company," Clark says.
Other mediums that provide customer interaction include forums and blogs.
"We also listen to any and all suggestions – we stay in tune with our customers," he says.
Turning Customers into Cheerleaders
GDRV also has launched "Grand Design Nation," which is an extension of its website, for its community of RV owners, says Tommy Hall, director of marketing.
"It's where we house the majority of communication to our owners through our customer ambassadors and influencers, who are predominantly in social media," he says. "It's community outreach that allows our family of owners to see what's happening at Grand Design and those who use and enjoy our products.
"Grand Design Nation has also evolved with participation from consumers who are interested in owning one of our RVs – it gives them a chance to get to know us," Hall adds. "Our dedicated owners can be our best salespeople."
Many first-time buyers who likely wouldn't have had interest in the RV lifestyle pre-COVID have now adopted it, according to Clark.
"They discovered it at such an astronomical rate. It's such a great time to be in this industry with newfound enthusiasm from the retail consumer to explore America," he says, adding rhetorically, "What better way to do that than in an RV?"
Listen to RV PRO's Podcast Interview with Don Clark here.

In a few short years Grand Design RV has made serious inroads in each market segment it has sought to tackle, most recently with its Momentum toy hauler. (Photos by Steve Toepp, Midwest Photographics, unless otherwise noted)