Features
MORryde Ramps Up
The company's ramp doors and other products for toy haulers, like those for the larger RV market, are all about creating a better experience for RVers.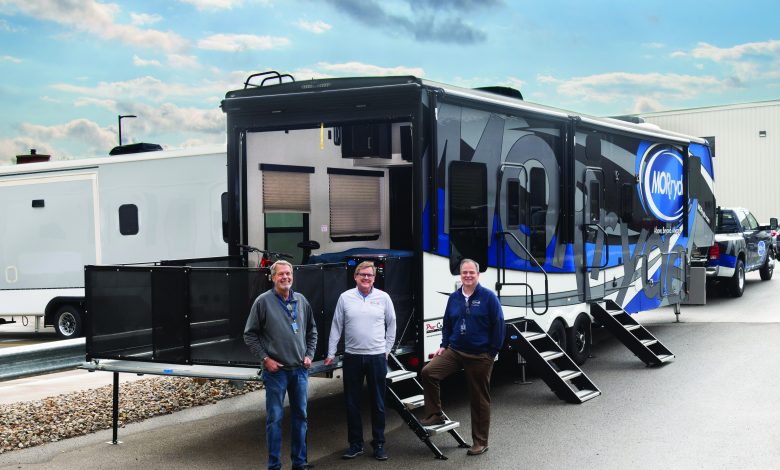 This article is from our older website archives. Some content may not be formatted or attributed properly. Please
Contact Us
if you feel it needs to be corrected. Thank you.
When Bob Moore, Sr., bought the patents that helped him launch MORryde in 1966, he wasn't necessarily thinking about RVs, toy haulers, or any of the other markets that the company serves today.
Instead, Moore was thinking about was solving people's problems and getting them what they want.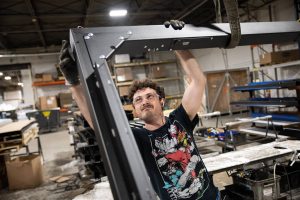 More than 50 years later, the approach is still the same – although today the Moore family has almost 1,000 employees and a staff of product development engineers to ask the right questions, find the best answers, and get new products into the marketplace. Or rather, marketplaces, given that the company serves both OEMs and the RV aftermarket, as well as a variety of transportation industries.
Smoothing the Way
These days, MORryde offers enough different technologies for diverse market segments to launch a variety of lengthy conversations. However, according to Jack Enfield, the company's sales and marketing manager, it all began with one particular type of design.
"MORryde got its start when Bob Moore Sr., purchased the patents to rubber sheer spring technology," explains Enfield. "From there, he went about designing suspension systems, and the first one was used for a trailer to haul trailers. It basically helped protect the transport of trailers to dealerships."
The rubber sheer spring incorporates rubber's natural ability to isolate and absorb road shock into a suspension system, thus making for a smoother ride.
From suspension system upgrades, the company expanded into other metal fabrication, such as chassis modification and the uplift market. Today, MORryde is a prominent metal fabrication company in North America.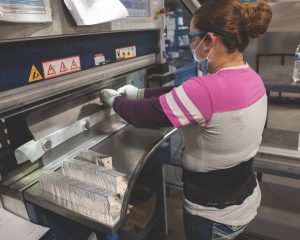 "He (Moore) just kept looking for other applications," says Enfield. "That led to school buses and motorhomes and travel trailers."
Today, under the direction of the senior Moore's two sons, Bob Jr., and Rodney, the company offers accessories for Jeeps, transit buses, motorhomes and towables. Leading the way in the latter category are products such as rubber pin boxes, gooseneck adapters, and suspensions.
One of its more popular items for both OEMs and the after- market is television mounting systems.
"We have a drop-down TV mount that's popular in the toy hauler market," says Enfield. "Typically, they put the TV up very high in the back of the garage area because they're pulling toys in and out. With this mount you pull on the chain and the mount drops down, lowering to the viewing height. And, when you're done, you can put it back and lock it in place."
Other popular items MORryde makes for the towable market include steps, cargo trays and reel spoolers.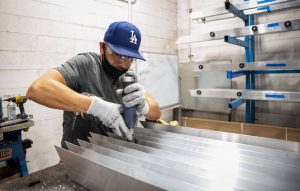 However, nowhere is the company's ability to solve users' problems more evident than in its development of the Zero-Gravity Ramp Door. An OEM standard for many models of toy haulers, it can be paired with the company's Park 'n Play Patio Rail Kit and the aftermarket PatioEX inflatable tent system, designed to not only make the movement of toys in and out easier, but to extend the off-the-ground living space, as well.
Focus on Simplicity
The development of the Zero-Gravity Ramp Door followed as bumpy a path as an off-roader could appreciate, for all its market popularity today.
Joe Carroll, MORryde's product development manager, notes that ramp doors had a reputation for being notoriously heavy. His engineering team was actively experimenting with an alternative when the Great Recession hit in 2008.
"At that point, we went into survival mode and shelved the product for a period of time," Carroll says. "We knew it had a lot of nice features, but it was a premium product and not right for the downturn."
As the economy began to strengthen and unit sales picked up, the MORryde team once again brought the ramp door to the fore, taking it out to toy hauler manufacturers for their input.
"We asked them about the features and there were several who said they thought the timing was good for something new and different," Carroll says. "They also believed it would be easy for the consumers to get the value of it."
He compares its operation to that of a laptop cover.
"You can literally open it with one finger," he says. "We go to a lot of shows and we have even young children opening and closing this big ramp door."
The ramp locks and unlocks with a key and operates in two positions: as a ramp or raised to 90 degrees as an extra room.
It was that extra room area – the patio – that prompted the company's next development, the Park 'n Play Patio Rail Kit. Carroll says other ramps had rails mounted directly on them, adding to the weight and inconvenience of having to move them out of the way before the toys could be unloaded.
"We were building the framework to support the zero-gravity ramp, and so we started working on a line of patio rail kits that mounted to the steel structure that holds the ramp in place," Carroll says. "They open like a barn door, if you will. They just swing open; you don't have to lift them off."
However, once the ramp is in its 90-degree position, the rails can be pulled out and attached to it to make a porch or patio for off-the-ground seating. Although ideal for a nice, sunny day, the product development team soon turned its thoughts to days that are rainy, or chilly, or buggy.
Some people tried to solve the problem utilizing a traditional tent with poles and ropes that proved difficult and time-consuming to set up and take down. MORryde's team knew to be successful it had to be a product that was easy to assemble.
Carroll says the solution to that problem hinged on research that turned up a Port Glasgow, Scotland-based company, Vango Group Ltd. Vango manufactures inflatable tents and awnings utilizing its AirBeam technology.
"The CEO of Vango actually flew to the States to tour the factories here in Elkhart because they don't have large toy haulers in Europe," Carroll says. "Our focus was on simplicity because we knew the success of our patio kits was that they are easy to set up and take down and added to the quality of the RV experience."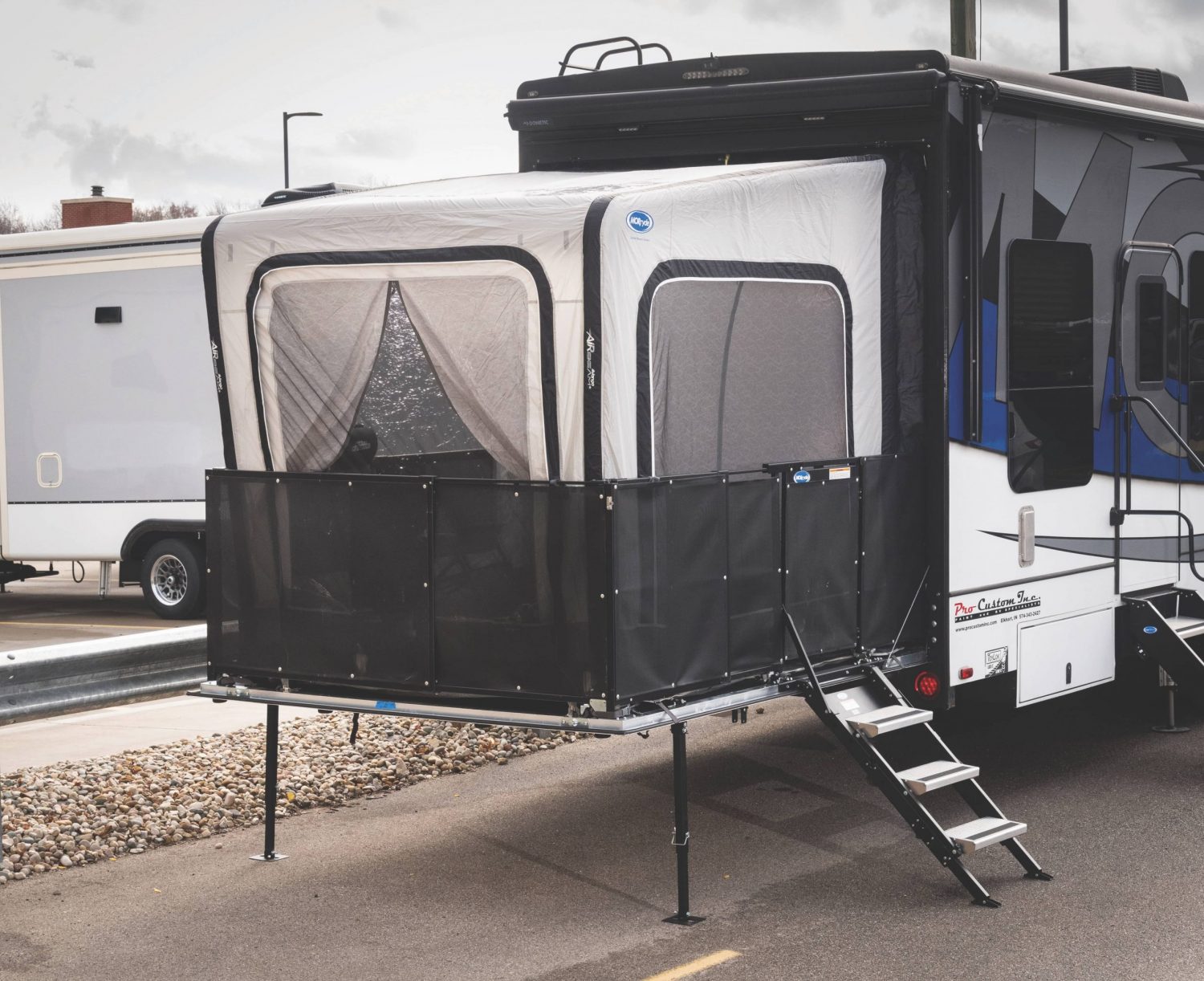 Even so, it took a little more than two years to develop what became the PatioEX, ironing out questions about how the aftermarket product would be inflated and attached to the rail system and how it could be conveniently stored in a duffle bag.
"You can set it up in about 10 minutes," Carroll explains. "It's got a screen window and privacy curtains. The kids can put down an air mattress and sleep out there. It's tent camping off the ground in a three-season environment that's expanded the livable space on the toy hauler."
Making A Better Experience
Today, the Zero-Gravity Ramp Door and Park 'n Play Patio Rail Kit are found on toy haulers from some of the industry's top manufacturers, as well as coaches and motorized toy haulers.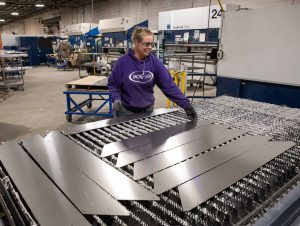 Carroll says OEMs that utilize the ramp door include Alliance RV, Forest River, Keystone RV, Dutchmen, DRV, KZ RV, Heartland RV and the Thor Outlaw. He says that most of the toy hauler manufacturers utilize MORryde's ramp door.
"And, when you move into the premium Zero-Gravity door, we have the lion's share of the market," adds Enfield.
Because the ramp has been on the market for a while, Enfield says much of the support MORryde provides to the OEMs is in marketing. "We'll partner with them in whatever manner they want," he says. "Our marketing department can provide items like custom literature, and we do videos. MORryde also attends shows and rallies where we're talking with consumers. A lot of it is helping the OEMs explain what it means to them and their customers. We're trying constantly answer that question for them."
Of course, MORryde also does factory training to the level a manufacturer wants, both with the ramp doors and the patio rails. Enfield adds that the installation of the patio rails is quite easy.
As for the PatioEX, a lot of that two years in development was coming up with a design for a product that could be set up intuitively. Because it's an aftermarket product, Carroll notes that it isn't limited exclusively to toy haulers with the Zero-Gravity Ramp Door.
"You can use is with somebody else's product, but you do need a patio rail kit," Carroll says. "That defines the boundaries. If you put up the screen room and have nothing to block it, you can't lean against the sides because it attaches with magnets. It wouldn't be strong enough to hold somebody safely."
He adds that it's designed for an 8-foot garage, and subsequently won't work with smaller units.
Will these products see changes as time goes on? Carroll says the rail kit has seen several evolutions since hitting the market in 2014. "That's when we redefined how to utilize the product by attaching it to the steel structure rather than the door itself," he says. "We're on our fifth or sixth generation with that. We're always looking at
our own products and asking: 'How can we make them better?'"
Although the two men can't say anything about other products for toy haulers that might be in the pipeline at MORryde, Enfield notes the company has opened a new plant, the 14th building across its five campuses in the Elkhart area, "and we're looking at expanding even further."
Naturally, COVID was a concern earlier last year, but as an essential business, the company kept going.
"The owners tried to take the long view and said, 'OK, let's see where things go,'" says Enfield. "We (avoided) widespread and massive layoffs – and that proved to be a pretty wise decision, because shortly after things kind of settled down, we went into expansion mode and then it was just a matter of ramping up production."
Now, he adds, it's simply amazing how popular the RV lifestyle is proving to be and how it has fit into people's response to the pandemic.
In the meantime, Carroll says MORryde will continue doing what it does best: Answering the product needs of RVers.
"We try to prioritize and identify the things we're most excited about, or our customers are most excited about," Carroll says. "We're just on a path to try to see if we can bring products to market at a price point that's palatable for the consumer. It's all about: How can we make RVing an even better experience?