Features
Mountain Movers
Despite a lack of prior experience, husband-and-wife team Joe and Gina Starett have built Mountaineer RV & Outdoor Center into a power player in the West Virginia RV dealer market.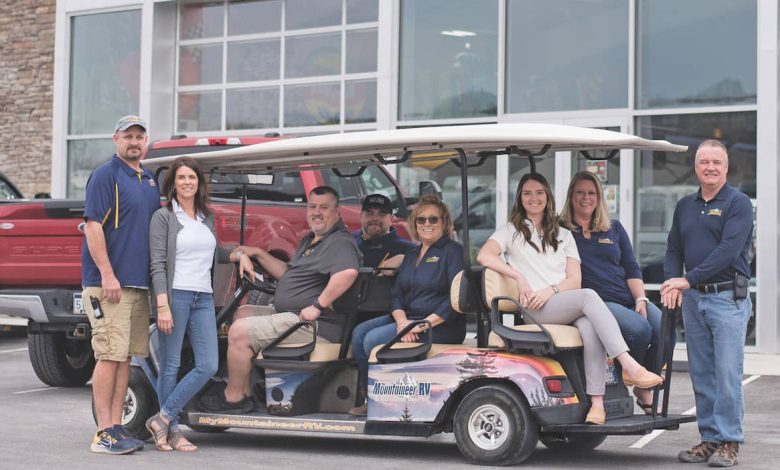 Gina and Joe Starett aren't typical RV dealership owners.
They don't come from a background of RVing, or a legacy of generational dealership ownership, but they know customer service and it shows in all aspects of their dealership. From service to sales – even the products they carry and how they're displayed – all are designed with the customer in mind.
The couple previously operated an oil and gas business, which they sold in 2015, and Joe Starett fully stepped away from the business in 2016.
"At that time, we thought, 'Hey, we'll just cruise.' We always had campers. I camped all my life," Joe Starett says.
It was then the couple decided to purchase a new RV for their future adventures. "We went looking for a camper. We went to the obvious places around here and even out of state," Joe Starett says. "We had a little time on our hands, so we went to Ohio and Pennsylvania.
"We had bought campers at places, but I just didn't have that right feeling. I didn't find the dealership or salesperson I was comfortable with," he says. "Going down the road, I looked at my wife and said, 'I'm going to start my own dealership.' She said, 'Are you serious?' I said, 'Yeah. How hard can it be?'"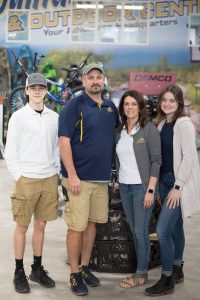 Both Joe and Gina Starett laugh at this part, reflecting on how much work running their dealership has actually been.
"He's a risk taker. He knows no fear. He goes and does it and I make it happen in the background," Gina Starett laughs.
Joe Starett started talking to representatives for various RV manufacturers in the summer of 2017. By spring 2018, the couple had a location. They leased an old office building, doing some work to create a store, a service bay and more.
June 20, 2018, was the dealership's first official day of business. The location had one service bay and reached a maximum of 77 units on the lot at once.
"We very quickly outgrew that location," Joe Starett says.
The couple shut that location down and moved to their current location at Interstate 79 and Jane Lew, where they have greatly expanded. They purchased 13 acres and built nine service bays, two body shops, an outside detail bay that can house two units at a time, plus a 15,000-square-foot parts and RV showroom in the new dealership building. The new location opened Sept. 27, 2021.
"We have seen a far higher percentage of growth than we anticipated, even with the interstate location. I'm an accountant, so I conservatively estimate expenses higher and underestimate income," Gina Starett says. "Beginning in February, we saw crowd levels we never expected."
The couple have seen such an increase that there are plans to expand the parking lot and possibly build a service lot to accommodate customers. Accommodating customers is always at the forefront of the Starett's business approach.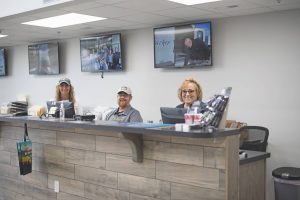 Keeping It Customer-Centric
As customers who spent time in dealerships themselves, Joe and Gina created "The Mountaineer RV Difference," which is a statement for how each customer should be treated when they come through the doors.
"The second you step into Mountaineer RV & Outdoor Center, you immediately become part of our family," Joe Starett says. "We are dedicated to creating an atmosphere that makes everyone feel welcome. We go above and beyond to meet our customer's needs, sharing our knowledge and passion for the outdoors and helping you find the perfect products.
"We want everyone to be treated warmly. If someone needs to be handed off to another employee, it should be done warmly and not pushy," he adds. "We try to find exactly what you're looking for. We don't have to sell a camper because it has age on it. We want to sell a camper because the customer wants it."
The customer-centric statement is posted at every workstation and is part of the onboarding process.
"The difference crosses over from sales into parts, service, finance – even administration. It reaches all levels. We ask that all of our employees really live by it," Joe Starett says. "When a customer visits us, we never want that customer to feel as if no one had time for them. We hope a customer has five employees who have said, 'Is anyone helping you? How can I help you?' during their visit."
When it came to the store, Gina Starett took it upon herself to make it more than just a typical RV supplies and parts shop.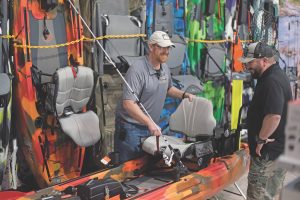 "I noticed that when we set up our location in Westin, the customer would come in and see all the hard parts: freshwater, blackwater, lighting, bug screens and propane. It's all great and we know people need that, but as a woman, none of that appealed to me," she explains. "I thought we had to dress it up a bit at the new location with things you wouldn't normally find. There are 10 aisles of just fun stuff that includes rugs, camping pet supplies, kitchen items, camping wrapping paper and more."
The couple recently expanded the parts department to carry marine parts and furniture. But they took it one step further, so customers could have a hands-on RV experience with those products thanks to two waiting areas completely filled with RV furniture, an RV entertainment center, an RV fireplace, and DISH Network.
"Customers are coming from two hours away just so they can try out and feel the furniture for themselves," Gina Starett says. "We have eight RV couches, five to six RV chairs, all different styles, including recliners, euro chairs, leather and cloth."
Service, Sales & Training
The dealership carries inventory from Forest River, Starcraft, Alliance RV, Prime Time, Braxton Creek and Keystone RV, with plans to add Winnebago motorhomes later this year.
Their method for choosing what products they carry?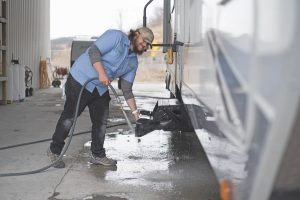 "It was pretty much whatever line was open at the time," Joe Starett says. "We didn't realize you have a circle radius. I spoke to a lot of reps who first told me if it was available or not. When it was all settled, we got in some great products and had a really good setup."
The couple had all fall and winter to look at lots of customer reviews and create an in-depth checklist to decide which product lines to carry. Joe Starett says customer reviews were the most important deciding factor in selecting RV manufacturers.
Beyond carrying quality brands, the Staretts have made a major commitment to investing in their people. The dealership employs eight technicians – two technicians in the body shop and six others who do PDIs, and work the service and warranty bays.
"We're hoping to expand that as we grow," Joe Starett says. "We take pride in our body shop. We have two bays designated for body work. We have the largest body shop in West Virginia. Our lead guy has 40-plus years of experience. We do work ranging on units from small travel trailers to Class A diesel pushers. If someone comes in and needs something that isn't made anymore, we fab it. We match paint. We do everything. We just added another hire in that department."
Meanwhile, the couple spent nearly $30,000 on training over one winter.
"One thing we believe in strongly is training. We have some Level 2 certified technicians and one master certified technician. We provide ongoing education. We want all our technicians to be Level 3 certified. We're willing to train them up," Joe Starett says.
The dealership also takes advantage of a grant program through the state of West Virginia that reimburses on-the-job training for new-hire incumbent workers that qualify for the program.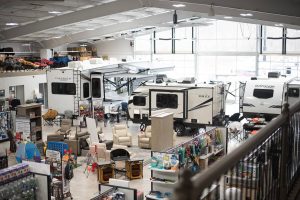 "We participate with them to help increase success for our employees and build their knowledge base," Joe Starett says. "The state provides a percentage of that money put out for employees, back to the employer, between 75 to 90 percent of employees' wages or training dollars are reimbursed back through the state for the ones that qualify for their program."
The dealership also has a designated detail bay and detail crew.
"It's something we pride ourselves on. Dennis is our detail lead and is very thorough and meticulous. He and his team run over the units with a fine-tooth comb," Gina Starett says.
A unique outdoor center is part of the dealership the Staretts have built. Before starting the RV dealership, Joe Starett participated in kayak fishing tournaments, winning two national championships. He brought this passion into the dealership, retailing the specific fishing-style kayaks starting in 2019. Mountaineer RV and Outdoor Center was the No. 1 dealer of that kayak in the nation, beating out California and Florida, for 2019.
"I know that kayak world and have the knowledge behind it," he says. "I've spent many hours in the water on it. I can help a customer tremendously. We do demos and even take the customer out on the water and let them try it out."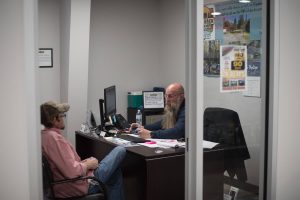 Looking Forward
As for the future, the couple would like to add an RV rentals business and expand to more locations, adding southern locations, so they can experience four-season selling.
"We have a huge desire and passion to see the family unit be pulled together through camping. We love our campers, and whether it's their first time buying or upgrading, we love that they're out there spending time together," says Gina Starett. "The family unit is taxed, and we love that they're getting time out there that's simple.
"Our business is also a ministry. We pour into our customers. We have prayer here often and we use this as a tool and a ministry," she adds. "We believe without a doubt that this is why we have been so successful in such a short amount of time."
The couple also imagine a day when their children, Emma and Hunter, will take over the business.
Eighteen-year-old Emma recently graduated high school and attends college while also running the dealership's social media and marketing initiatives. She's worked as a cashier, detailed units, done inventory and found her niche in marketing.
Hunter is 15 years old and works after school and during the summer. He started in detailing and will move into a parts runner position this summer so he can get a feel for the parts he's handling.
"He'll stock shelves, run parts. We want him to experience all facets of the business," Gina Starett says. "We do have hopes that they at some point can run the business and take it over so mom and dad can sit back and watch and enjoy."