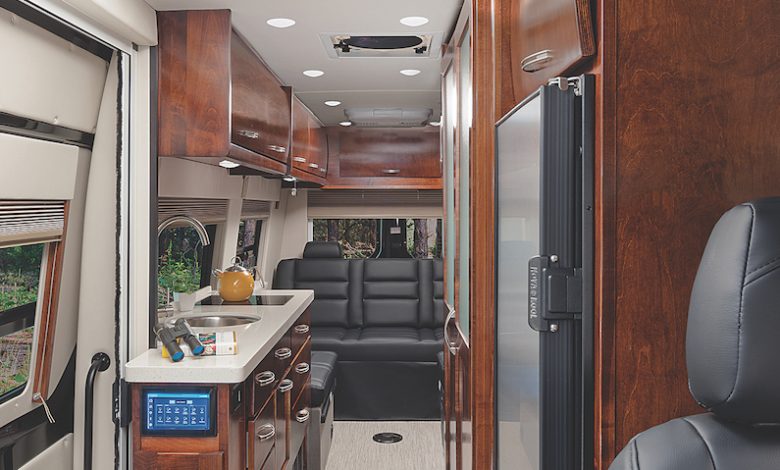 Class B motorhomes as a market segment are on the move. Consider that wholesale shipments to dealers are on track this year to nearly double what shipments totaled just five years ago, according data from the RV Industry Association. Year-to-date as of July, shipments to dealers are up 8.5 percent over the same period last year, RVIA data shows.
For its part, market data firm Statistical Surveys pegs the uptick in Class B retail sales at 140.2 percent in North America (the U.S. plus Canada) from 2013 to 2017.
(Editor's note: Stat Surveys doesn't make the underlying proprietary sales numbers publicly available.) 
Still, while Class B's are recording impressive growth, percentage-wise, the camper van segment remains a niche market when compared with its Class A and Class C brethren. Specifically, the 5,600 Class B's that are expected to ship to dealers for 2018 pale in comparison to the 24,600 Class A motorhomes and 35,300 Class C motorhomes that are expected to ship to dealers this year.
Despite being a niche market, the segment has seen a number of new players in recent years.
Once the domain of a small handful of players such as Airstream and Canadian RV makers Pleasure-Way and Roadtrek, newer entrants include Chinook (2016), Coachmen (2015), Dolphin Motor Coach (2017), Midwest Automotive Designs (2012), and Regency RV (2016). Additionally, EverGreen RV entered the Class B market in 2014 but shuttered its entire RV manufacturing operations in 2016.
The jockeying for position in the Class B market is partly reflected in the changing leaderboard for the Top 5 manufacturers over the past five years.
So, what's spurring the demand for Class B's?
For its part, RVIA touts Class B's as offering "big adventures in a smaller RV."
Manufacturers interviewed for this article echo that sentiment.
Class B's are attractive to "many of the Baby Boomers … who don't want to give up the lifestyle, but who also don't want to drive in a 42-foot diesel pusher or big Class A motorhome," says Nick Recchio, general manager of Coachmen Class B's. "They want something a little more simple and a little more nimble. An extreme amount of our customers are coming out of the Class A's for the Class B's. They are not willing to give up the RV experience – they just want to downsize."
Class B's tend to appeal to customers who appreciate their flexibility for everyday use, their relative fuel economy, and the fact that – compared to a big Class A motorhome – they are "less intimidating" to drive, according to Jake Stephenson, regional sales manager for Midwest Automotive Designs.
Whether the Class B market can sustain its growth momentum from the past five years moving forward remains an open question. For his part, Recchio remains optimistic.
"I truly believe that there is far more growth ahead," he says. "There are thousands of Baby Boomers that will be downsizing in the next couple years and what I am most excited about is the tremendous opportunity to earn the business of those first-time buyers coming into the Class B segment. They have high demands in both quality and technology and our Class B products are filled with both."
In addition to organic growth, representatives for RV manufacturers interviewed for this article expressed optimism that they will grow by taking market share from rival Class B manufacturers.
Regency RV 
With roots harkening back to the earlier days of van customization, Fort Worth, Texas-based Regency RV in 2016 introduced its own line of Class B's based on the expertise of owner Wayne Davis, who is something of a legend in the vehicle customization business.
Davis got his start in the 1970s as a restorer and customizer of classic American cars in Odessa, Texas, and by the 1990s his restorations were selling nationwide for record prices.
In 2004, his passion drove him to acquire Regency Conversions, which broadened his work into trucks and vans. A mere two years later, when he sold Regency, it had evolved into the largest volume up-fitter of vans, trucks and SUVs in the United States. In 2008, Davis retired, but found it wasn't for him, so in 2010 he jumped back in and in 2016 he entered the Class B market under the Regency, One Concept banner.
It's been a heck of a ride.
Sales are up 70 to 75 percent over 18 months ago, according to Ron Wiseman, regional sales manager for Regency RV.
"We have increased production in the last couple of years," he says. "The product has done very well since it has come out."
Much of the increase in Regency's Class B sales is derived from experienced RVers who are downsizing, mostly from the larger, luxurious Class A motorhomes, according to Wiseman. These are older, savvy buyers, who know what they want and have the money to pay for it, he says.
"There are a lot of owners are downsizing from larger motorhomes. That is one portion of our customers," says Wiseman. "And another large percentage is customers with adult children living across the country who want to visit family. It gives them the opportunity to visit their families and to enjoy the scenery as they travel. It's road-tripping and instead of being in a car, where you are limited in passengers and your belongings are in the trunk. This way, you can make a sandwich and use the restroom as you travel."
Regency offers its Xalta product in four floorplans. These motorhomes are built on the Mercedes-Benz Sprinter chassis with a V6 common rail direct injection turbo diesel engine and get up to 20 miles per gallon. They come with captain's chairs, leather furniture, American beechwood cabinets and Corian solid-surface countertops.
Additionally, Regency makes the Ultra Brougham, a B+ motorhome built on the Sprinter chassis. The Ultra Brougham is a couple's coach featuring a queen-sized Murphy bed across from a big-screen TV, two captain's chairs, stainless-steel appliances, solid-surface countertops, a large radius shower with glass slides and five generous exterior cargo compartments.
"We are a higher-end vehicle," Wiseman says. "We cater to the customer who likes the special craftmanship that we offer and the extra items that we add to the up-fit."
Among the more popular features in the Xalta is the twin bed. However, Wiseman says that's not the only feature driving Regency sales.
"We do well with everything that we offer," he says. "The twin bed is popular because of the sleeping flexibility. Our rear sofa floorplan is doing well because of the amount of seating available."
The Xalta and Ultra Brougham also offer attractive price points when compared to the luxury features typically only found in diesel pushers.
"You will find (these motorhomes) retailing in the mid-$130s to $140s. When you've got buyers who are paying $400,000 to $500,000 for motorhomes, this is very cost-effective," Wiseman says.
However, for those RVers who want a Class B motorhome at a lower price point Regency RV may soon be able to accommodate them thanks to its purchase of the National Traveller, a Class B built on a Dodge Ram ProMaster chassis, from Class B manufacturer Dolphin Motor Coach.
Regency said the National Traveller will continue to be produced at Dolphin's facility in Elkhart, but offered few other details when the acquisition was first announced in early September.
Midwest Automotive Designs 
It's hard to argue with high-flying sales at Midwest Automotive Designs.
With sales up 40 percent year over year, Midwest Automotive is on a Class B roll and expects the same kind of numbers in 2019, according to Stephenson, Midwest's regional sales manager.
The maker of the Daycruiser Sprinter RV Camper Van, the Weekender Sprinter RV Camper Van and Promaster Legend Class B RV Van, is performing well across the board, he says.
"They are all doing really well – from our most expensive pieces to our more economy-type pieces," Stephenson says. "It really depends on the customer. We are doing equally well across all of our product brands, and our sales are growing in all of our categories."
Midwest Automotive is seeing increases in sales for the same reasons as the rest of the RV industry, but Stephenson says the RV maker also is seeing a hefty increase in first-time buyers.
"It's partially that people are getting out of some of the bigger stuff and down to the more affordable Class B's. They get better fuel economy and more flexibility in the spots they can travel. I think that's the biggest part of it. If you have a Class A, you are limited to where you can drive it, too," Stephenson says.
First-time RV buyers who look ahead into their future are also snapping up Class B's as their entry into RVing, he adds. These customers are not too far from retiring and hitting the road is attractive, buying a vehicle that drives like a car and can be used – not just for RVing, but as a vehicle to drive every day, if desired – is a smart way for first-timers to get into the lifestyle, according to Stephenson.
Midwest is a Mercedes-Benz Master Upfitter and the majority of its models are built on the popular Sprinter chassis. To differentiate itself in that segment, Stephenson says the company offers handcrafted luxury and special touches, including the option of a state-of-the-art lithium-ion battery power system, that's tough for rivals to match.
As another option, Midwest also offers the ProMaster Legend on the Dodge ProMaster chassis, coming in at a lower price point while still offering the luxury, feature-rich ride that customers have come to expect from the RV maker, according to Stephenson. These features include an LED flat-screen TV, Internet Wi-Fi, luxurious seating and appliances, and a sharp fit and finish.
"I know that our product brings a level of finish that is really appealing to our high-end customer," Stephenson says. "For people coming out of the really expensive Class A's – or even out of the water with their expensive yachts or who fly expensive private jets – our units fit very well with those people."
Coachmen Class B's 
Forest River division Coachmen noticed the trend of buyers looking for smaller, high-end units and introduced its own version of Class B's in 2015.
The RV maker has already experienced the payoff, according to Recchio, the general manager of Coachmen Class B's.
"There has been steady growth since we introduced them," he says. "The Coachmen Class B division has registered a 61.8 percent market share growth this year."
The boom in Class B sales, he says, is a "perfect opportunity."
Coachmen's Class B motorhomes include the Galleria, built on a Mercedes-Benz Sprinter chassis and the Crossfit, built on the Ford Transit gas chassis.
The Galleria is a high-end diesel Class B available in three floorplans, all of which are equipped with a V6 diesel engine, five-speed automatic transmission, electronic stability program and blind spot monitoring/lane assist sensor.
The Galleria is equipped with a Truma Combi furnace/water heater system and an Onan generator. Interior features include a memory-foam power sofa, a residential high-rise faucet and sink, multiple USB ports in the living area, and custom-made solid hardwood maple cabinetry and includes radius cabinet doors, soft-close doors and drawers plus custom trim.
An optional feature on the Galleria is a lithium power system, which is proving popular with customers.
"A lot of our buyers are optioning our Li3 system," Recchio adds. "There are a lot of our competitors who talk about their lithium batteries. Ours is different. It is a lithium system, but it not only includes the battery, it includes an entire system that is designed by Xantrex. What is important is that it is designed by Xantrex. It knows how to communicate, and by having a system that communicates, you have a lot less problems than having different components from different manufacturers. We are getting tremendous results on the Li 3 option."
Meanwhile, Coachmen partnered with Ford Motor Co. for the Crossfit Class B's, built for RVers with an active bent. The gas-powered, V6 Crossfit comes in two floorplans.
As with the Galleria, the Crossfit features a Truma Combi furnace/ water heater and an onboard gas generator. Additional features include a low-profile 13,500 A/C, a Fan-Tastic fan with rain sensor, a 6-cubic-foot Nova Kool refrigerator, a two-burner LP cooktop, a 19-inch LED TV and USB ports.
Both with Coachmen's Galleria and its CrossFit, customers are primarily downsizing from Class A motorhomes, and to a lesser extent Class C models, according to Recchio.
"Typically, the Class C's don't offer the features that a Class A motorhome customer is used to. They do not have a lot of the features, amenities or technology that a Class B like the Coachmen B's offer," he says. "We share a lot of Class A technology that is not in Class C's."
Another element that is pushing Class B buyers, Recchio says, is the flexibility of Class B's.
"That's another thing with the growth of Class B's," he says. "We are helping people to find the adventures they are looking for. They don't have to go to a campground. A Class B can go anywhere. They can find the serenity that they are looking for."
What's more, Class B's also can be used as daily use vehicles and get decent gas mileage.
"Those are very big features," Recchio says.
The Galleria gets 18 to 21 miles per gallon, while the Crossfit gets between 14 and 18 miles per gallon.
"What customers are looking for is high-end Class A quality in a very small footprint," Recchio says. "With our custom cabinetry, automotive-inspired seating and all of the features that we offer, it is easy for a Class A buyer to come out of a feature-packed Class A into a Class B that is half its size and still get the features they want."