Features
Northern Lite Has Third Straight Year of Double-Digit Growth

If truck campers are the hidden jewels of the RV industry, then Northern Lite Mfg. could be described as one of its most precious gems.
The Kelowna, British Columbia, Canada-based manufacturer has been turning out clamshell-constructed, four-season truck campers since 1989 and has evolved into one of the niche market's top five builders.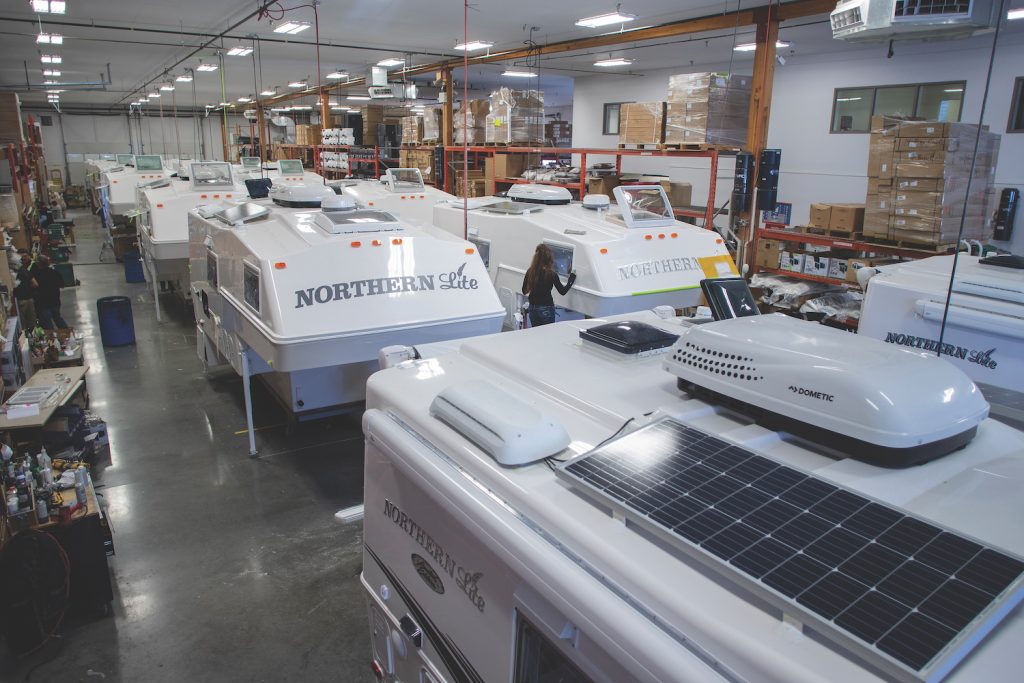 Northern Lite will end 2019 with its third consecutive year of double-digit growth and has much to look forward to in the coming year, according to Keith Donkin, president and part owner.
Donkin had just come off a very successful retail show in Hershey, Pa., and was attending the California RV Show in Fontana when RV PRO caught up with him in early October. A third event – the annual SEMA Show in Las Vegas in November – lay ahead, where Northern Lite planned to exhibit two models: one in the Off-Road section and another in the new Overland section. Both models were mounted on new Ford F-350 pickups with lift kits, modified suspensions and off-road tires.
Although Northern Lite maintains an active winter show schedule, this was the first year the RV manufacturer exhibited at any of these three shows. Donkin says he quickly became a convert to the autumn exhibition circuit by the end of the Hershey Show, which coincided with the company's return to RV Industry Association membership after an eight-year hiatus. Consumer interest for Northern Lite models was strong at these shows, which bodes well for the future, according to Donkin.
Truck Campers for Every RVer 
Northern Lite builds three brands: the entry-level Sportsman Edition, the Special Edition and the upscale Limited Edition. All are built using a two-piece fiberglass clamshell construction, which offers several benefits, including the elimination of unnecessary seams, its lightweight, and its low center of gravity, meaning it is not top-heavy. The company builds both short-box and long-box models.
Standard features across all three brands include thermal-pane windows and skylights, double-dome Fantastic fans, and heated tanks. Furnace systems are all ducted to the basement areas and heat both the camper floor and the tanks. The bottom floor of every camper is insulated as
well, and the RV maker double insulates under every cabover bed to help prevent moisture when winter camping.
Northern Lite is constantly improving its product lines to keep abreast of the evolving truck camper market. The company made several changes for 2020, including:
New optional Greystokes cabinetry and tables in Limited Edition and Special Edition models. A high-end cabinet shop in Kelowna developed Greystokes, which is a white oak hardwood that is stained gray. It appeals to RVers who want a more modern look.
Black Diamond tufted leatherette furniture in red and black or solid black.
Two USB and 12-volt charging stations in all campers: one near the kitchen counter and one by the television in the cabover.
Dometic S5 windows across the entire product line. Those windows feature a premium blind and screen assembly that allows for infinite positions and smoother operation.
New exterior gray carbon fiber graphics. The Northern Lite name on the front nose of the Limited is now raised chrome, as is the traditional goose logo.
Two 100-watt solar panels standard in all Special and Limited Edition models and a new 30-amp solar regulator with optional lithium battery and converter.
MSRPs range from $38,000 for the entry-level Sportsman to $51,000 for the Limited Edition. All Northern Lite products carry a manufacturer's one-year warranty, as well as a six-year structural integrity warranty.
The Limited Edition has been very successful and accounted for more than 50 percent of sales last year, according to Donkin. The Limited Edition was designed to be limited to 100 units, but Donkin says he has decided to continue the line into 2020.
"We are excited about our new 25-foot fiberglass travel trailer that will launch in 2020," he says. More details will come out over the winter.
Keeping Pace with Demand 
Northern Lite's workforce numbers 90 and is growing. So is its 40,000-square-foot manufacturing facility in Kelowna, British Columbia's third-largest metropolitan area, with an estimated population of 128,000.
"Our problem in the past was capacity," says Donkin. "After our fire in 2014, we rebuilt the factory with modern efficiencies and design, which allowed us to increase our production by three times. We're currently looking at completing another expansion that allows us to double our production.
"We won't double the size of our building, but we will add a fiberglass spray booth larger than our current one and additional space for CNC machines and expand our cabinet shop," he adds.
"We have enough line capacity already."
This growth spurt was underway even before private equity firm KV Private Equity became the majority owner in 2017, but Donkin, who remains a part owner, says KV "has been a great n partner. They've got strong growth plans and have a lot of capital to fund any of our growth plans."
Northern Lite makes its model change in late spring each year but maintains "a continuous improvement policy as well," Donkin says. "Many times, we make a mid-model-year change if we see a product or option that we think would be beneficial to the camper." There is no formal product unveiling, but the company announces major developments in the media, primarily in Truck Camper Magazine, the niche market's bible, with 18,413 active email alert subscribers, and via social media.
Successfully Competing in a Niche Market 
When asked who is Northern Lite's main competition, Donkin replies, "That's a tougher question."
He explains, "Our product, we feel, is very unique. There are only two companies in North America that build a clamshell design truck camper." (Bigfoot Industries is the other.) This factor alone helps Northern Lite stand out from the crowded field of truck camper builders.
Donkin says Northern Lite is the largest of Canada's three truck camper manufacturers and ranks in the top five of all North American builders.
Perhaps not surprisingly, the U.S. is Northern Lite's largest market. The RV maker also exports some product to Australia, a seasonal market, which surfaces each year in the fourth quarter.
Northern Lite has 16 Canadian dealers and 25 in the U.S. Of the 25, 17 of those are located in the West.
"In the past, the West Coast for everybody – in both the U.S. and Canada – was always the stronger area," Donkin says. "We're finding the East Coast is just about as strong now in both the U.S. and Canada and has really come on for truck campers. And we're seeing a lot of growth in the East and Midwest."
Indeed, Northern Lite has East Coast dealerships in Delaware, Florida, Maine, North Carolina and New Hampshire, in addition to Midwest outlets in Ohio, Minnesota and Wisconsin.
Donkin says achieving a set number of dealers to retail his company's product is not his primary focus.
"We really don't have a target number," he says. "We look for quality dealers and not every RV dealer can be a truck camper dealer. It takes a little more work and we strive hard to find the best fits for us."
RVIA Membership Pays Dividends 
Donkin says he saw immediate benefits to rejoining RVIA this summer.
"The shows were a big part of it," he says. "To be able to sell at Hershey, you have to be an RVIA member. You can show, but you can't sell unless you're a member. And the California Show pricing is better if you're an RVIA member."
On the other hand, Northern Lite remains a non-subscriber to Statistical Surveys because, with just eight states – Washington, Oregon, Idaho, Montana, Utah, Michigan, Ohio and Indiana – reporting truck camper sales, Donkin feels the data falls far short of telling a complete story. In fact, Stat Surveys doesn't collect any retail sales data on truck camper sales in Canada, which is a significant part of the overall truck camper market.
More detail is available on the truck camper manufacturers themselves, and some trends are readily apparent. For example, truck campers are a highly regional product in terms of their origin: 22 of the 24 most well-known manufacturers are located west of the Mississippi River, and 14 of the 22 are on the West Coast. Of the 14 coastal OEMs, California and Oregon lead the way with four each, followed by British Columbia and Washington, with three each.
Meanwhile, six of the 24 OEMs have no dealer network and sell factory direct only, according to a tally by Gordon White, publisher of Truck Camper Magazine, who shared his research with RV PRO.
With little data publicly available on the truck camper market, it can be hard to come up with an assessment on how the niche segment is faring. For his part, Donkin sees a bright future for Northern Lite, as well as for the truck camper market in general.
Since 2017, at least three manufacturers have halted truck camper manufacturing. However, five firms have entered the marketplace, according to White.
"I think truck campers have been a hidden jewel," Donkin says. "And because of the exposure to them, we're getting more people seeing this will fit their lifestyle better. I know down here at the California show we're getting a lot of feedback on the campers. There were four truck camper companies at the California Show, which was probably the most they've ever had."
What accounts for this growing appeal to truck campers?
"A lot of the Baby Boomers are looking at Class B vans and truck campers. They like the freedom you can get with those products and we seem to get a lot of that business because of the flexibility of a truck camper," Donkin says. "You can unload it and still use your truck as a daily driver, and your ability to pull a boat or ATVs or side-by-sides is a lot easier to do with a truck and camper than it is with a Class B van."
The stable Canadian currency this past year has helped, too.
"The whole industry benefits when we have a stable dollar. The current exchange rate is definitely good for Canadian companies and for U.S. companies, as well when we're not getting the big fluctuations," Donkin says.
While RV wholesale shipments industrywide for all RVs are down about 18 percent through September compared to the same time last year, Donkin sees a different story at Northern Lite.
"We've seen continuous growth in this year," he says. "We continue to see positive growth numbers and we don't see anything slowing that down."