Features
Parris RV Growing at a Breakneck Pace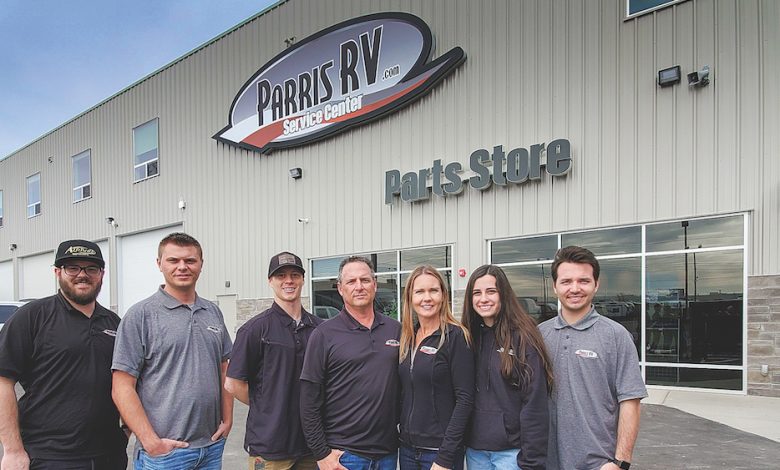 This article is from our older website archives. Some content may not be formatted or attributed properly. Please
Contact Us
if you feel it needs to be corrected. Thank you.
Parris RV's first eight years plays out like a seasoned veteran in a game of Monopoly – strategically buying up properties and reinvesting revenues into more real estate, ever-growing, ever-expanding.
And the dice keep rolling doubles.
The dealership's gameboard is Murray, Utah, a city about 8 miles south of Salt Lake City that sits centered in Salt Lake County among a plethora of automobile and other RV dealerships.
"It's the hot-spot to buy an RV," says owner Brett Parris. "We're basically at the intersection of Interstate 80 and I-15 in the most populated area of the state. Everyone is right here and we're in the middle of all of it."
Today, Parris RV employs 80 and last year's sales of 1,830 RVs accounted for more than $57 million in total revenues. The dealership now has two locations in close proximity to one another.
The dealership's success is all the more impressive considering the company's modest beginnings in 2012, when Brett Parris and wife Dori Parris entered the business after buying an existing small dealership. The dealership started with just four employees, including Brett and Dori Parris.
"We didn't have a lot of money," Parris says of the company's beginnings, which followed a 20-year career at another RV dealership, working his way up from the bottom to the top. "We sold our rental house, sold a car, and came up with about $100,000. We quickly sold a bunch of RVs with an $800,000 flooring line. We were down to $50,000 … and were on thin ice for a minute."
It was a New York minute.
The dealership sold 380 units in the first year, 600 in the second, 800-plus in the third, then 1,200 in the fourth. It soon acquired an adjacent small used-car property, which was remodeled and christened as its new sales center. An additional car lot was subsequently purchased, and its building leveled, further expanding Parris RV's footprint.
The existing RV dealership's facility and a shop also was bulldozed for more lot space. Soon thereafter, a vacant field across the street was bought, where Parris RV erected its first service facility.
In Parris RV's fourth year, it became Utah's No. 1-volume towable RV dealer and remains so. The second location was established four years ago with the acquisition of the former Terry's RV, which had been in business since 1969, and was then remodeled. The original location is referred to as "Murray North" and the second as "Murray South." "We've grown quite a bit," Parris says simply.
Overcoming Obstacles to Growth 
Expansion has continued for the dealership. Most recently, it purchased eight houses and an auto repair shop near its original location, Murray North – all of which were also leveled to become a just-completed 23,000-square-foot service and parts facility that features an elevator and office space on its second level. Its construction required new asphalt, drainage, curbing, gutters, sidewalks, power lines, street infrastructure, city zoning hurdles and negotiating.
"We basically changed the path of two city blocks," says Parris, who added that they also bought another building for service.
It wasn't easy.
"We had to negotiate with successful businesses that were reluctant to move and homes that people lived in and raised families. One time, it became a bidding war with another interested party. I just had to keep paying more and more. In another instance that involved three empty parcels, I had to fly to Las Vegas to meet with the owner and negotiate."
The city of Murray also presented its own unique set of challenges.
"They require infrastructure that you wouldn't believe," Parris says. "Land has to be deeded over to the city – which we had to pay to be deeded – sewers and storm drains had to be installed, sidewalks built, and property barriers erected with landscaping. All parking lots also had to be paved with required trees, camera systems and fencing.
"I stood before the city council numerous times seeking approvals and permits and hired an excellent engineering firm, demolition companies and contractors," he says. "It was really something."
The new service and parts facility came with a $4 million price tag. Over the years, Parris estimates the business has invested $13 million in both locations, from acquiring properties, remodeling and constructions. Given all of that work, Parris describes his duties as working both "on the business" and "in the business."
He credits wife, Dori, as being integral to overseeing the backend of the business and, as a licensed Realtor, acquiring all the properties for the dealership's expansions, as well as managing all of the general contractors.
"Dori works on the business non-stop," he says.
Centered on Service 
Taken together, Parris RV now has a total of four service centers with 22 techs and seven service advisors. There's a total of 27 bays between both locations.
"I've always been a salesperson and it's always been easy for me – flat-out, that's what I do," Parris says. "But tackling parts and service has always been a project. I knew that when we fired up that little dealership eight years ago there wasn't going to be a problem moving units and we grew so fast because people like doing business with us. But we couldn't keep up in service.
"We try very hard to give our customers the dream that they've purchased, and I don't want to sell something that we can't take care of, which is extremely important to me," he adds. "I realized we had to do whatever it takes to be the very best in service."
Parris says he considers parts sales as an opportunity to offer customers products and accessories who might also eye a new RV in the process.
Among the most popular parts brands he sells is Demco.
"They're a great hitch for the money. Personally, I have a Demco Recon on my F-350 for fifth wheels, as well as a Demco tow bar on my motorhome to tow my Jeep. They weren't given to me – I bought them because I like them, and we always steer our customers toward their products."
Having the right parts in stock also facilitates efficient and timely repairs so RVers can get back on the road, which is becoming increasingly important, according to Parris.
"An older gentleman once told me, 'When you buy an RV, you have to have a sense of humor and get a little toolset so you can put a couple staples in and turn some screws.' But the younger generation doesn't share that view – they want it done now. They don't want to wait and they get frustrated quickly," he says. "They believe everything should be easy because many things today are easy. When an RV comes in for repairs and has to wait for an open bay, diagnosis, then sits for parts to arrive – and sometimes it's the wrong part when it's eventually delivered – is not a good way to conduct business, but if I can have the right facility and the right techs, I can say I've done my part."
Technician training is largely conducted in-house by mentoring and on-the-job experience through shop foremen and veteran techs, says Dori Parris, who says the dealership also has a "QC" (quality control) stamp to make sure each repair and service is performed properly.
Brett Parris adds, "By giving it the best we can do in service, it allows me to do what I really love – sell RVs."
Sales, Sales, Sales 
The genesis of Parris RV's success is Brett Parris' sales-driven personality and Dori Parris' knack for operation and construction management. From the start, he says he had a handful of manufacturers willing to get "onboard" with the new business because he had a good reputation.
"I always tried hard to do a good job for them and represent them well," he says. "Being a partner is a big deal, because it's never all about 'me,' it's about 'us.' Without them, I don't exist, and without me, they don't exist."
He also assumes marketing and advertising duties, as well as designing and updating the dealership's website with his attention for detail – when he's not helping the sales department.
"I spend a lot of time taking turns and assisting our sales staff, as well as attending their sales meetings. People like to buy from a family-owned business rather than from a big corporate dealer that doesn't even have an owner around. If someone comes in with a problem, I'll call the manufacturer myself and get it taken care of."
Sales is part of the Parris family's DNA: their oldest son, Kyle, 26, sells RVs and is "really good at it." He started at age 16, washing trailers; Ryan, the younger son, at age 23, also is on the sales floor, selling RVs for the past three years; and the couple's daughter, Lauren, age 19, who is a sophomore in college, helps in the office part time.
Two nephews, Kaden, age 24, and Cody, age 29, also are on the sales team, both having started at age 18.
"They all love the business and using RVs," Brett Parris says. "And the boys all enjoy using toy haulers for their highly modified RZRs and UTVs. Not only do they love using them in the back country, they love selling them."
Toy haulers have become big business – the dealership sold some 500 last year – because many of its clientele spend a lot of time in the desert, too. Often, customers choose to accessorize their units with solar panels, lithium batteries, inverters and a wide variety of similar items.
Parris RV largely sells towables, although there are a few motorhomes sprinkled in. Rockwood is a perennial favorite of Brett Parris ("I absolutely love the brand"), for which the dealership sold 450 units last year. Lance also is a good seller and toy hauler manufacturers are numerous. They include Attitude, Stryker, Highlander, Iconic, Vortex, Sandstorm, Sandsport, Powerlite, all four XLR brands, Cyclone, and Gravity. Stryker is the dealership's No.1-selling travel trailer toy hauler, while Attitude is the best-selling fifth wheel toy hauler.
Pop-up trailers, such as tent trailers and A-frames, also have become a niche for the dealership and account for about 200 sold units annually.
Parris RV has departmentalized its accounting and all employees – from sales to techs to detailers – are incentivized through commission.
"Everyone gets paid off the bottom line of their department and can make more money," Brett Parris says. "No matter what they do, they're all paid on one form of commission. Right down to a detailer – if they want to punch a flag and clean an RV, then they can get a bonus for doing a good job, doing it faster and doing it right.
"We're committed to doing a good job and making it profitable. We have a nice facility, we pay well and have a good reputation. We're fortunate to have good people who want to come work for us," he adds. "If you're going to be in this business, why not be with the best?
"And any properties that become available? I'll buy. I'll just keep expanding."