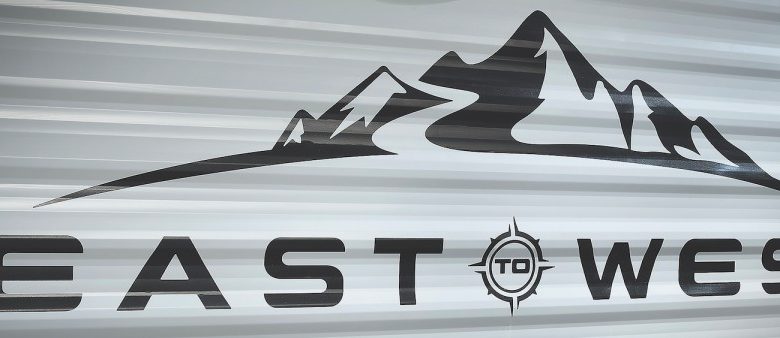 Lisa Liegl Rees grew up with the RV industry in her blood. Her father, Pete Liegl, founder of the nation's second-largest RV manufacturer, Forest River, would share with her countless stories about growing his business and would often entertain dealers in the Liegl home. The staff at Forest River was like a second family to her.
This exposure planted in her a yearning to run her own RV company someday.
That desire came to fruition in May 2017, when Rees incorporated East to West and North to South (often abbreviated as East to West for simplicity's sake) for the purpose of manufacturing stick-and-tin, entry-level towable RVs in a new way. Limited production of the first models under the Della Terra brand name began in January 2018 in a factory north of Elkhart, Ind., that she rented from her father.
In July of this year, Rees sold her company to Forest River and became president of its newest division. By then, work had already begun on a pair of 100,000-square-foot factories on a 90-acre site near the Elkhart Municipal Airport to house the new company. As of the first of October, Building 1 was almost complete and the production line and equipment were being set up. Building 2 was expected to be completed a matter of weeks later.
Rees projects employment in the twin factories to reach 325 and an annual payroll of nearly $17 million. The long-term plan calls for construction of two more factories on the site, bringing employment to as many as 650 workers.
Why locate yet another RV manufacturer in Elkhart County, where the labor market is already extremely tight?
"It's where the RV industry is," she says matter-of-factly.
As for the company name, which Rees abbreviates to East to West in her correspondence, she says a lot of thought went into it. The name "summarizes our sales strategy: We're starting in the East and hope to conquer the West, and obviously North and South, too," she says. "If you're building in Elkhart, Ind., as a startup, you start on the East Coast and get bigger and develop across the West Coast. That's where our name originated. It's the thought of the compass and being able to travel the United States."
Simplicity by Design 
If there is an underlying theme to East to West's products, it is simplicity by design. Instead of many floorplans and options, East to West is building just eight floorplans with one exterior color (gray-white with blue accents), one interior décor (an earth-tone brown) and very few options.
This approach should simplify the production process, and in so doing, increase the quality of the product and customer satisfaction, while reducing the cost of production, according to Rees.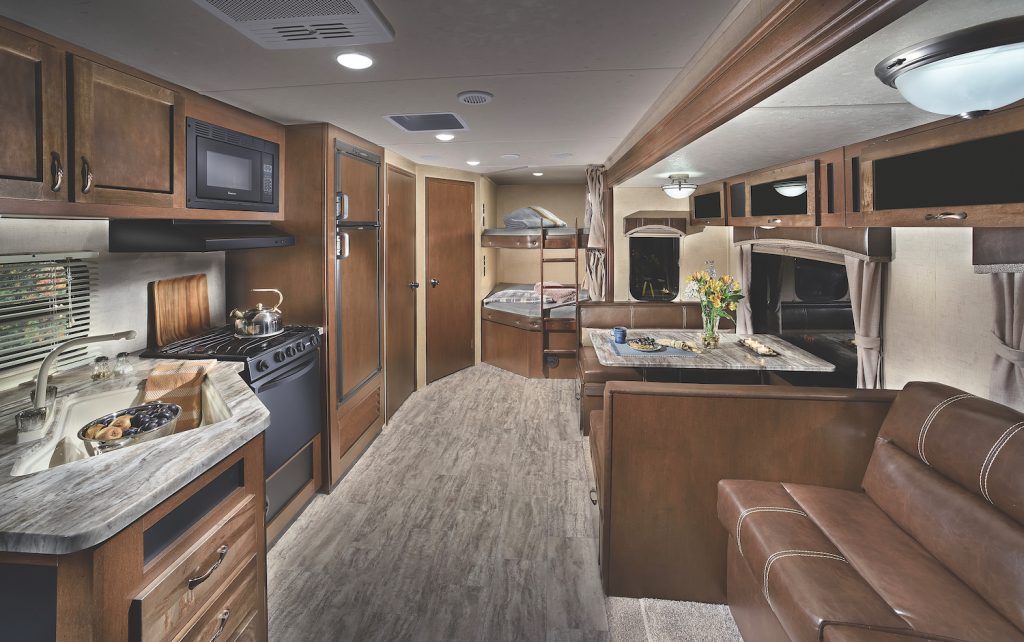 Della Terra trailers are designed with simplicity in mind: the RVs are offered in just eight floorplans with one exterior color and one interior décor.
Most features of the Della Terra (Italian for "of the earth") are standard, thereby simplifying the manufacturing process, she says. She considers the key features to be a true king-size bed with 9-inch inner spring mattress, an 8-cubic-foot refrigerator, a 15,000-BTU air conditioner and lots of overhead and pass-through storage.
"A lot of those features are options for other companies, but we've made them standard," says Rees, who has no formal experience in the RV industry but sports an unmatchable pedigree.
To let in light and offer a nice aesthetic, Rees says Della Terra trailers feature large windows on the sides of the slide-out, a side window that is 40 percent larger than the industry standard and a rear window that is 30 percent larger than the industry standard. The RVs feature a ceiling height of 81 inches.
Although the Della Terra is an entry-level model, it comes nicely equipped with a deluxe power awning, a three-step entry, an outside shower, a rear back-up camera, a floor-to-ceiling pantry, shaker-style cabinets, an island kitchen, a 48-inch-wide dinette, a deluxe fireplace, wood-framed doorways, full storage under the king bed, and a USB port on each side of the bed. It is prepped for solar.
Della Terra box lengths start at 23 feet, 11 inches and go up to 33 feet, 3 inches on the eight floorplans. The UVW starts at a bit less than 5,000 pounds and tops out at 8,745 pounds, giving an array of options that cater to versatility.
MSRPs start at around $20,000, depending upon options.
Adhering to the Five Pillars 
Beyond the simplicity of the East to West brand, Rees contends the team that surrounds her and the company's Five Pillars (or guiding principles) will differentiate East to West from other RV manufacturers. Those principles pertain to: sustainable manufacturing, corporate and social responsibility, culture and values, quality and construction and commitment to its customers.
"Our team is the No. 1 thing that makes us different," Rees says. As of mid-September, she had chosen Eric Sharp, a 30-year industry veteran, as her general manager; Chris Bowers as production manager; John Gallagher, a one-time Forest River manager, as sales manager; and Pam Bowden as sales coordinator. Two other women, Lindsey Espiritu and Natalie Naquin, who worked for Rees in Chicago, round out the team at present.
"As you can see, another nice feature of East to West is the great female-to-male ratio," she says. "We have a wonderful team that has been so patient and willing to work so hard through the challenging start-up phase. I also certainly need to recognize the plant and production people as they have worked so hard to make this dream a reality.
"As a team, we think outside the box, which will further differentiate us in the future," she adds. "You'll hear in the industry: 'We've been doing it this way for 30 years.' So, I'm always thinking: 'That's great … but how can we do it different that hasn't been done for 30 years?' That's our mindset and philosophy."
Rees started out in 2017 as an independent manufacturer. In July of that year, her father purchased the two-building manufacturing facility sitting on 12 acres on County Road 7 that ultimately became East to West's temporary plant.
"I never really thought about selling at the beginning, but it was presented to us that it would be for the best for my team in particular and for the brand to be part of a larger company, such as Forest River," Rees says. "Now, he (dad Pete Liegl) is my boss. The team at Forest River welcomed us with open arms. That's been really helpful for my team and me. Before, we were on our own. This really is a benefit to us. If I had to sell to anybody, Forest River would have been my only choice."
For now, Rees is doing all of East to West's brochures and materials. She produced a 10-minute video that became available in August showing Della Terra's key features. In tandem with her sales team, she also reaches out to dealers to develop a relationship with them. It's not all that difficult because Rees has come to know many of the Forest River dealers over the years.
She credits East to West's social media presence with helping attract retail buyers at the outset.
Early feedback from dealers and consumers is they like the limited floorplans and standardization, Rees says.
How the (East to) West Was Won 
The decision to build RVs was not a spur-of-the-moment one, but rather came after what she considers a diversified career. Rees, 36, graduated from Butler University in Indianapolis in 2004 with a degree in marketing. She moved to Chicago, where she spent the next 13 years in retail sales. Her experience includes U.S. sales and brand manager for Esteban Paris, buyer for the Chicago Bears Pro Shop (part of Delaware North Companies) and marketing and project manager for Outsider Inc. For the past five years, she owned French Studio Imports, whose product was home fragrances, which she distributed throughout the U.S. and Canada.
While her experience has been in retail, Rees says her intent was always to start her own RV company someday. Indeed, throughout her retail career, she often pondered how the lessons she learned could carry over to the RV industry.
Rees says she developed valuable experience in purchasing abroad, sales, product development, multi-media marketing and developing distributorships – all key to running an RV company. She worked with retailers as well as consumers.
She says she saw that when she reduced her line of fragrances, it simplified the decision-making process for her customers, and her sales rose. That led her to think about the RV industry and how limiting floorplans and offering just one exterior color and interior décor could cut costs and improve the bottom line.
From time to time, she would talk with her father about starting her own RV company, but not until two years ago did he begin to take her seriously. She broached the idea of shortening the product line in the RV industry and he thought the idea had merit, she recalls. "That's how the East to West concept came about."
As she tells it, "I had been talking for years about doing my own manufacturing business. I had imported so many products that I wanted to be in charge of my own product development and manufacture something that I thought was sellable.
"That's why I ended up manufacturing RVs, because it was something that I always wanted to do: to be in control of the products we produced, being involved in product development, bringing a price-point product to market and working very hard building an RV that is aesthetically pleasing to both men and women. I also think that is one thing the market is lacking – the woman's touch – so that's another thing we're trying to bring to the market through our brand."
The pieces fell into place nicely over the past two years.
Meanwhile, East to West got an added boost this summer when the Elkhart County Council granted a tax phase-in for East to West's $6 million building project. The Economic Development Corp. of Elkhart County recommended a five-year tax phase-in for real estate, based on how the project scored in its metrics. The county's declaration makes the property eligible to receive tax abatement on real estate improvements.
Council members expressed interest in the project when the tax request came before them this past summer.
"This is a pretty exciting project as far as I'm concerned because … it takes a new look at the way the manufacturing of the recreational vehicles is being done," says County Councilman Dave Foutz, referencing the streamlined production process. "I think this could be a watershed event here in this area, on how we do business. I think it's really exciting to be a part of it."
First Year Goals
Rees has set some reasonable goals for this first model year.
"Right now, I want to establish our dealer network and improve upon our initial launch. We're taking our consumer-dealer feedback very seriously," she says. "We're now a division of Forest River, but we're so small we can implement changes right away, so one of the things my team and I are doing is calling dealers and asking them: What do you like and what do you not like about East to West and Della Terra? We're implementing their suggestions as seamlessly as possible.
"We tried to bring some upgrades to the Expo that dealers said we could improve upon. Going into next year, we just want to continue to develop the quality and construction of our product to make it an easy sell for our dealers," she adds. "Every day we ask: How do we improve ourselves? Our brand? And our company?"
A Millennial, Rees is incorporating production processes that prioritize environmental sustainability.
"Obviously, because we're just new in production, it's really a work in progress," she says. "We're always looking for ways to be more sustainable in using our scrap and getting that reduced.
"Our goal is to become more sustainable over time. If you go to an RV plant, you'll see scrap and you certainly don't want that excessive waste. I just think it's something now that we've all become more aware of," she says. "We don't want that waste."
She acknowledges that RV builders a generation ago weren't aware of the environmental impact of waste and benefits from recycling, so she's hopeful East to West can make a statement in how it approaches this challenge.
Like Father, Like Daughter
RV PRO's interview with Rees concludes with a final reference to her father and his impact on her. She is asked to respond to an observation by Forest River colleague and longtime family friend Doug Gaeddert, who compares Rees favorably to her father: "Dogs don't raise kittens. She is a pistol, just like Pete!" he says.
After a chuckle, Rees responds, "Oh, Doug! Like my dad would say, 'Everybody has their positives and their negatives.' I hope I carry the positives from my father. I am pretty aggressive. Maybe too much, but I have been raised by my father and live in Chicago, so I may be a little bit tougher than I used to be.
"I hope I can run my business the way he has. He is definitely an inspiration to me," she adds. "Learning from my dad, he's been teaching me his whole life, whether in business or life. What I've learned from my father is incredible; he's been a great mentor to me – not just about RVs, but about business and life in general."