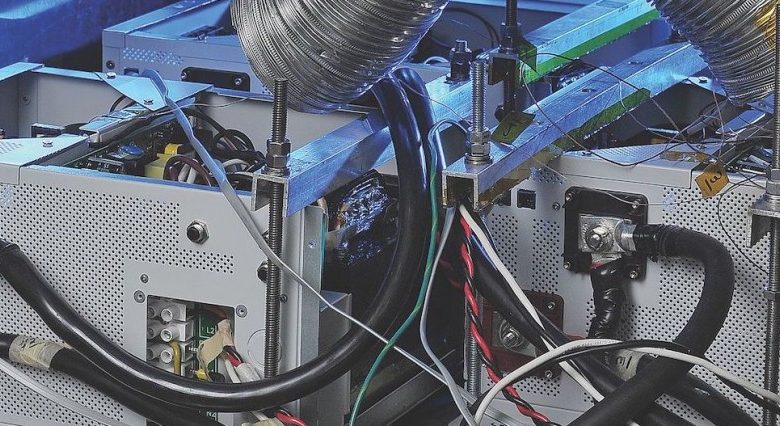 BURNABY, British Columbia, Canada – When RV power supplier Xantrex created the Freedom 458, it was something of a mixed blessing.
The inverter/charger, which debuted in 1992, was so well-built and designed that it became synonymous with Xantrex's brand offerings. As a testament to the product's durability and longevity, there are RVs on the road today that still run on the Freedom 458.
That may not seem like a bad problem to have. However, being tied so closely with one product can paint a company as a one-trick pony.
Not content to rest on its laurels, Xantrex is actively working to bolster its lithium-ion system (the Freedom eGen system) and it intends to debut its own line of solar panels later this year – all while expanding its offerings in the Freedom inverter/charger line.
Two years ago, Xantrex took an evolutionary stride with the release of Freedom X inverters. The more compact models were specifically designed to offer extended surge power, which made them well-suited for handling loads associated with residential-style refrigerators found in many of today's RVs. Those features have helped Freedom X gain adoption in lines from multiple RV manufacturers including Forest River, Jayco, Keystone RV and Highland Ridge.
"It was wildly successful with rapid adoption from OEMs throughout 2017, so we quickly realized that we found a winner," says Richard Gaudet, vice president of Xantrex. In late August 2017, Xantrex released four more versions of the inverter – the Freedom X 1000W and 2000W, and the Freedom XC (inverter/ charger) 1000W/50A and 2000W/80A – which were created in Xantrex's headquarters in Burnaby, British Columbia.
"It had great success that we're very excited about," says Albert Shuen, product manager at Xantrex. "Designing a product that has performance, that is design sensitive for its cost and reliability, addresses the customer's issues – those are all important inputs to consider with a successful product. A product that hits the spot on cost, performance, ease of use – they are all various aspects that we look at in coming up with the products."
With Freedom X, Gaudet says, "we found a product that didn't need to be just a 1,200-watt inverter to power residential refrigerators in the RV OEM market. This was a product we could use as a foundational platform to expand into other power categories, to fill-in the other voids and create differentiated value for other customers."
Innovation Hub 
In 2010, Xantrex expanded into a new, four-story building. Tucked away in Burnaby's tech center, a few miles outside of Vancouver, its design and job culture perhaps shares more in common with a Silicon Valley startup than an established manufacturer of products to the RV and marine industry, as evidenced in part by the several EV parking spots located out front.
Inside the building, a foosball and pool table are located in the cafeteria and a dedicated yoga room is on the fourth floor, all of which fits the overall tone of collaboration and the end goal of harnessing a workplace culture that creates innovative products.
Touring the offices, it's possible to see a hivemind at work: Honeycomb cubicles in the office areas are peppered with Star Wars Legos and hints of employees' personalities, like stuffed animals. These personalities regularly mix with breakfast potlucks and ice cream socials where ideas can come to the forefront over conversations.
"It's a great collaborative environment," Gaudet says. "You want to make sure it's comfortable and that there are social activities that they can do. The biggest positive thing I've seen over the years is making sure the innovation is in the right places. … That's where I've seen a real positive transition for us is going from an organization that's engineer-driven in the mid-1990s to being a customer-driven organization today."
As an example of that, one of the warranty support calls Xantrex commonly gets is for drained batteries, say, when a truck driver powers on too many things overnight and then can't start up the engine the next morning. Although it is the driver's fault, Xantrex takes that feedback and then performs certain customizations for that customer with the next shipment. Now, the customer is able to program limitations for their drivers, so they won't cause the same battery drain issue. Also, OEMs can dictate what those power cut-offs are.
X Factor at Work & Play
Launched in 2016, the first model of the Freedom X inverter was specifically designed for RV OEMs with unique features including enhanced protection to reverse polarity and new AC terminals for easy installation on the assembly line.
Mitul Chandrani, Xantrex's marketing manager, says that a large part of Freedom X's creation was the rising desire for residential-style, alternating current refrigerators.
"The whole premise of Freedom X's development really started with this trend in the RV industry," he says. "(Shuen's) task was to come up with an inverter that would power almost any kind of fridge."
Many inverters, Chandrani says, can't handle the spike surge of a residential refrigerator on its upstart. So, there were various aspects to consider when creating the Freedom X.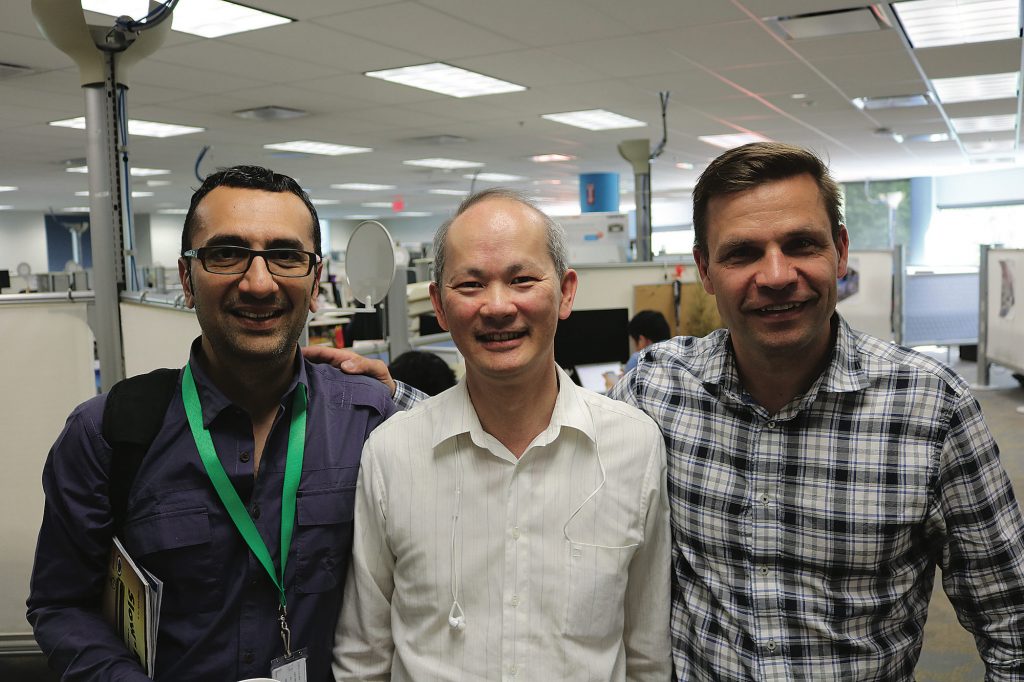 Xantrex team members Mitul Chandrani, marketing manager; Albert Shuen, product manager; and Aleks Vilis, program manager, are all heavily involved in the development and promotion of the company's Freedom inverter/charger line.
The key to Freedom X products is that it will surge for a full 2 seconds, which will mitigate a trip in power. The "spike" lasts for about 5 milliseconds. Once past it, the appliances continue running smoothly. The more expensive Freedom SW models can surge to two times the output power for five seconds.
Shuen points out that balancing tech and costs and product can be a struggle at times. But Engineering Manager David Miller says it's a matter of "baby steps" when rolling out new design components.
For the inverter, the RV technician had to first use a screw to open the terminal and lay down the wire inside, and now Xantrex will increase the throughput by having a spring-loaded finger terminal.
"All the installer has to do is put the wire in, snap the terminal down, and he's done," Miller says. "It's torqued the right way; he doesn't need any specialized tools on his line."
Customers also asked for integration of communication abilities with the products in the RV, which is now being added to their products for a broader range of RVs. The Freedom XC PRO series, currently under development, will have advanced communication features including the RV-C integration. And the Freedom X 3000 model – the sixth in the series that was released this month – supplies up to 3,000 watts.
"Purely from a customer demand, customers were like, 'When you gonna have that? When you gonna have that?'" Shuen says, hands in the air, smiling. "And it's like, 'Coming to a theater near you soon!'"
External temperature also affects power performance, with many inverters quitting at anything beyond about 104 degrees Fahrenheit. However, Freedom X can withstand about 140 degrees, according to Shuen.
RV Makers Laud Freedom X 
Ben Johnson, national sales and product development head at Highland Ridge, raves about the performance of the Freedom X. He notes that when Highland Ridge put the Freedom X and two other inverters to the test in 2016, the results were eye opening. In that test, three identical trailers with the same type of battery and residential AC fridge – but with a different inverter brand – were plugged into shore power until the batteries were fully charged. Then, the shore power was cut off and the residential fridge was allowed to run until the batteries were fully drained.
The result?
One inverter brand ran the fridge for 18 hours, another for 23 hours, but the Freedom X ran the fridge for more than 30 hours – a 72 percent difference in runtime.
"Our results, plus independent testing, were eye opening," Johnson says. "The choice became crystal clear. We chose the Freedom X inverter because it far outperformed other inverters in every way. In the end, we know the Xantrex Freedom X will provide a better experience for our customers."
Dave Northcutt, sales manager for the Quantum, Synergy, and Compass brands at Thor Motor Coach, is similarly complimentary of Xantrex products.
"I have a long history with Xantrex products because they have been installed on most motorhomes since the early 2000s," he says. "I think the biggest difference with Xantrex is their technical know-how and understanding of an RV's electrical system. They design their own products, and with their team of engineers at their technical hub in Elkhart, Ind., their dedication to supporting RV manufacturers is evident."
Stress Testing for Durability 
The company's products are put through what Miller, Xantrex's engineering manager, calls highly accelerated stress tests. The first one in the lab is called the HALT chamber, where inverters and other products are bolted down onto a table and vibrated intensely to such a frequency that renders it invisible to the naked eye. But photographing and videoing it under a strobe light reveals the significant height distance it's traveling along.
The test playground also includes a humidity chamber, as well as a salt and fog chamber. Finally, products including inverters are stressed by running them in temperatures as low as minus 85 degrees Fahrenheit to highs of 158 degrees. These chambers push products to the brink.
"It's a small lab, but it does a really big job. … That's what builds reliability with customers," says Miller. "(The simulations) allow us the ability to check out different manufacturers, different products, and, again, find the weak point. … This will give you the reality. It will allow you to accelerate (the lifespan) and see it for yourself."
Batteries & Beyond 
At the same time Xantrex was developing the Freedom X, it also was ramping up its lithium-ion batteries.
"It's our new thrust," says Shuen, the product manager. "But we want to do it right; do it safe."
"Our customers were demanding the product last fall, so we were in a rush to get it out," says Aleks Vilis, program manager of the Freedom eGen lithium-ion system. "More than just a battery, it's a whole system we provide. It's the alternator, the batteries, the harnesses, display module. Now, we are offering solar, too. But for the launch in the fall, we had a long list of tests."
The system features the first-ever UL 1973 listed lithium-ion battery bank, which Shuen says is notable because UL 1973 is the safety standard for battery for use in vehicle auxiliary power.
The core components consist of the Freedom SW 3012 inverter/ charger, intelligent battery management system, lithium-ion battery module and monitor, multi-stage voltage regulator, auxiliary alternator, and Conext ComBox to relay how the system is operating to end-users via a tablet App. The system also allows for solar panel integration, for which Xantrex intends to roll out its branded variety by the end of December.
Currently, Forest River's Coachmen offers Xantrex's lithium-ion battery system on select Class B motorhomes.
"We had the appetite of a few key OEMs that really wanted to be early adopters," says Gaudet, VP of Xantrex. "They were willing to pay for a solution because it's not an inexpensive system … because you're moving away from a dirty generator to an inverter with a more sophisticated, tied-in, closed-loop solution."
By partnering with the early adopting OEMs, Xantrex worked out such things as installation kinks. And the Freedom eGen feedback has been overwhelmingly positive.
Nick Recchio, general manager of Forest River's Class B division, lauds what he calls the freedom that comes with the Freedom eGen on Coachmen's Galleria Class B.
"No more do you have to be plugged in. No more do you have to rely on the generator," he says. "(The system) is solid, simple and safe, and our customers are just dying for it right now."
Getting the Word Out 
Recchio's comments are the kinds of statements brand marketers love to hear. And to make sure customers hear them as well, Xantrex pursues a multifaceted marketing program that focuses on stressing the brand's proven reliability.
"Just like we say that a product needs to be different, distinct, I think it also applies to marketing, to an extent," says Chandrani, Xantrex's marketing manager. "We work to create a space in the mind of the audience. Not only space for your product, but preference for your brand."
The company's end goal is to build better reliability with Xantrex consumers. Some customers have used the same product for the past 15 years. Chandrani guarantees that Xantrex's marketing messaging occurs on all mediums that the company's audience uses, enabling customers to better understand the importance of power and ways of conserving it and distributing it intelligently. His brainchild, the "Tech Doctor" web series on YouTube, garners steady views on both trade and consumer ends.
"I try to focus on the education aspect," Chandrani says. "The best way to get your brand recognized, respected and considered, is when you're able to spin the story in an educational format. That's been my focus all these years."
Through this lens, Xantrex is charged to bring to fruition what Xantrex VP Gaudet espouses: "Keep innovating and listen to your customers, and success will follow."