Features
Premier RV has This Couple Back in the Game
After a years-long absence from dealership ownership, an industry veteran and his team launch hometown Premier RV.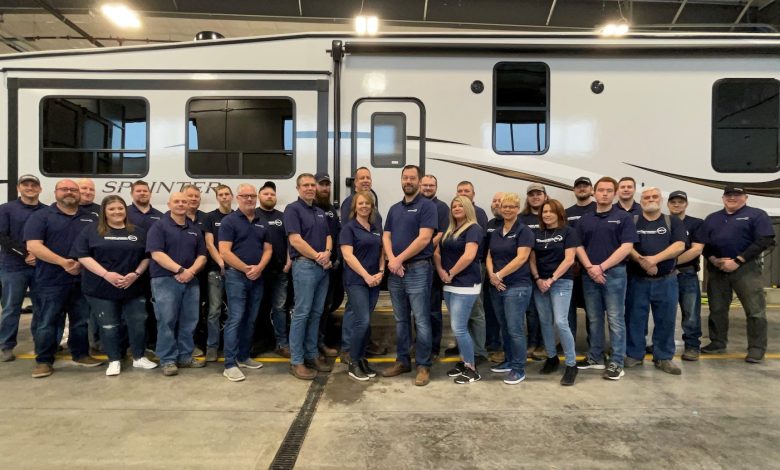 After a hiatus of a just a few years, husband-and-wife team Brad and Brandy Thompson are back in the game. Owning and operating a business is nothing new for Brad, who was previously a part owner of an area dealership that was sold a few years ago in his hometown of Blue Grass, Iowa. After buying land in the city in December 2021 – and a year-and-a-half of construction delayed by COVID disruptions and challenges – Premier RV launched with a grand opening followed by an open house in early May.
Along for the ride are many of Thompson's industry veteran former team members, including vice president Jason Rettler, whose 30 years of experience was tapped to assist in facility planning and building a staff based on "culture first."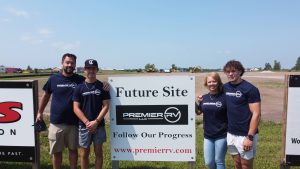 "We've had fun putting staff in place and building our culture," Brad Thompson says. "Everybody knew the 'why' when it came to doing something and how one department affects another. It brings the team together and it really shows when a customer walks through the door and they see how we all work together for them – the customer is our 'why.' We're very fortunate to work with some of the best people."
Premier RV began putting together its crew early on, slowly establishing its management team as facility construction experienced setbacks. "We worked out of our house, interviewed people and began to bring management on," he says.
Thompson eventually had his core of 15 people working out of an apartment area, while the sales crew operated from trailers during the winter months. Today, the dealership employs 30 people, all of whom receive benefits that include full medical and a 401(k) with company match.
"We take a lot of pride in being able to say that we have more than 360 years of combined RV industry experience," Thompson says, "which not only includes our management team of 10, but also our technicians. From a new dealership standpoint, it's much easier when you have people with that kind of experience.
"We really empower our managers to lead, and there's a lot of transparency with our business financials so that there's true and serious buy-in throughout all departments. When an employee gets dialed in, the profits will come – team first, and everything else will follow."
Up & Running
Construction was completed in March, which was made possible by partnering with a local bank for financing and a business plan based on previous experience. The new 25,000-square-foot facility sits on a 9-acre facility – with a nearly additional 5 acres available for expansion – and houses a state-of-the-art 53-foot paint booth and 14 service bays. Total cost was more than $4 million.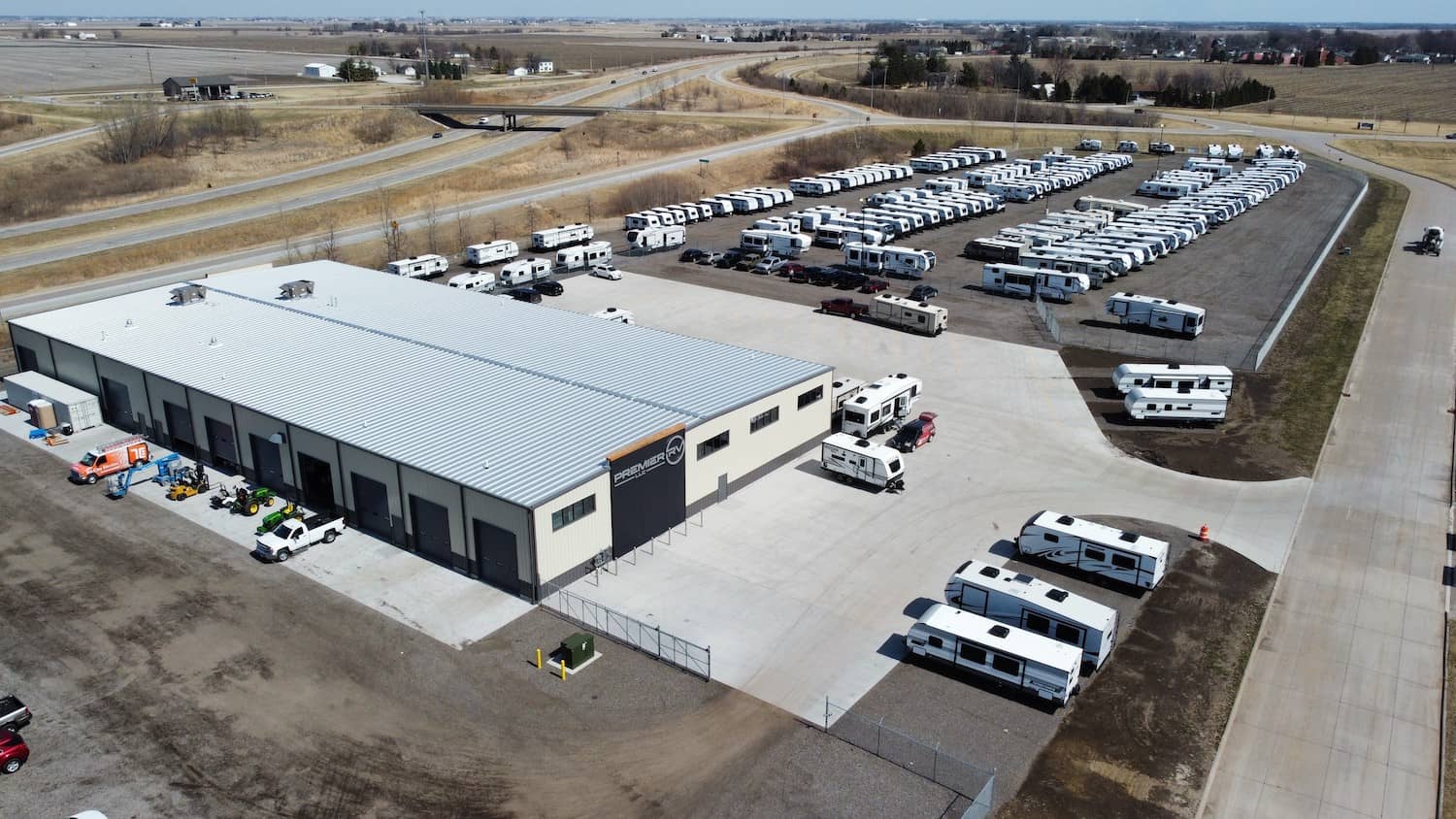 "In addition to being a great-looking building, we also wanted its design to be very efficient," Thompson says. "When someone walks through the front door, it has a very open and modern feeling, and our showroom, parts store and service desk are visible within 2 feet of entering. It's a very customer-friendly layout and large enough to feature more than 20 units for in-house winter shows. We kept the design simple and inviting, based on 'what our customers want and deserve,' which is our slogan."
Starting a dealership without any former experience in the business would be a tall task, Thompson says, but even for industry veterans, one can't predict the unpredictable.
"Jason and I have talked about this often. There are a lot of things you can pre-plan for, but there are always challenges, too, that are encountered. I've looked at probably seven different potential sites for the dealership and many hours only to find out they wouldn't work for different reasons, including zoning concerns. COVID, people getting sick and labor force issues have been out of our control – the construction delays, too. You just have to have faith that God has a plan for you and that everything's going to work out.
"The decisions that we've made throughout the entire process, staffing and procedures, are all based on what's best for the customer."
Building Inventory
Premier RV presently has 160 units, which range from KZ, Venture, Keystone, Ember and Dutchmen. The dealership's game plan is to sell between 350 to 500 RVs for its first year. While there have been supply chain challenges, Thompson says previous manufacturer relationships have helped stock the lot.
Due to the supply chain issues and scarcity of RV inventories, Thompson and his team began stocking units in August of last year. However, inventory access appears to have made improvements, he says, noting that within the past few months inventory levels have improved to the point that they are close to what they were five years ago.
"What's been really eye-opening for me are the different price segments over the past four or five years, which have changed and evolved. For the used market, many that we sell are sold within a day or two, largely because there aren't many units for sale out there, but also because the newer segment of an entry-line coach, for example, is 40% to 50% higher in price than what is was before. I believe the used market will continue to be strong into the future.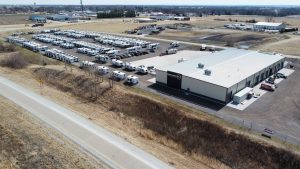 "We're right where we want to be in inventory going into the season. Our manufacturer partners knew the type of dealership we've run in the past as a customer-focused and service-based business, which helped picking up new and ongoing lines—we're happy to say we're a full-line venture in Keystone. And we just recently added Dutchmen and Ember to complete our line-up. We want to cover all bases and have something for each customer demographic."
Manufacturer warranties and value-add services were litmus tests for Premier RV partnering with them. "Those are big, important keys – we didn't want to commit to a line without knowing that they're fully committed on parts and service. We were very excited to have KZ and Keystone because we know what they offer on the backside of things. It's critical that we make our customers happy when there's an issue with their RV."
A Focus on Service
As the RV industry has experienced record-busting sales in recent years, all those units still must be serviced, which is an area that Premier RV chooses to intently focus on.
"We've already had requests for larger service and repair estimates come our way," Thompson says. "Just like everyone else, we try to find the balance between servicing our customers and offering great products. We're very excited about our staff of six technicians, including a body tech."
Two of Premier RV's techs are master-certified and another two are close to obtaining their certifications. "We have a great mentoring group so that as we grow, we can bring new technicians in and spend time to train them properly," he says.
As dealerships vie and compete for new service and repair talent during an industry-wide technician shortage, Thompson and his team take the long view and intend to "grow their own" techs with an eye for adding to its team – not with just a job, but a career.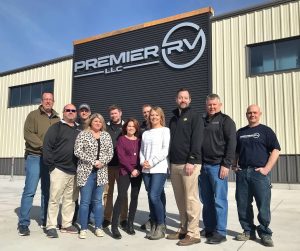 "Hiring a certified tech in today's market is very difficult. But we've had success in the past by developing a technician career chart ­or – tiers – so that an entry-level tech starts off in our prep department and, as they become more seasoned and their skillsets increase, we 'mentor them up' with a senior technician. Not only do we want them to get certified, but master-certified, within a five-year span."
Additional training is received through online resources for certifications as well as training for techs to remain master-certified, either via in-house or with a vendor.
Throughout the training and mentoring process, Premier RV lays out a basis of compensation that can "make for a very exciting career with us," Thompson says, noting that obtaining technicians has "become more competitive than ever" in the last five years.
As a new dealership, he estimates that half of its service is internal and warranty work, while the remainder is external with large repair tickets. "If someone has an issue, our goal right now is to have them scheduled for an appointment within two weeks. We'll diagnose the unit, order parts and our service team will update the customer twice a week."
Parts & Retail
The 5,500-square-foot parts and retail department is stocked largely with "must-have" parts for most common repairs, more so than accessories at this point, and numbers approximately $150,000 in inventory.
"One of the surprises for me getting back into the industry is the customer demand for solar – not just one panel, but numerous panels – that allow them to be totally remote and not at a campground or site. It has really taken RVing into a whole new direction, and it's definitely a trend that we're seeing throughout all customer demographics," says Thompson, adding that trailers 25 feet and smaller, particularly from Ember, are popular with off-the-grid campers, and now he's seeing the same with fifth wheels.
To stock inventory, he has had a relationship with NTP-STAG for numerous years that now continues with Premier RV. "They were instrumental in setting up the retail store for shelving and merchandizing – they provided guidance throughout the entire process. They're phenomenal."
What's Next?
"We ready to go for the season," says Thompson, noting that leveraging social media throughout the construction process helped get the word out about its opening. "Facebook, in particular, helped build our clientele."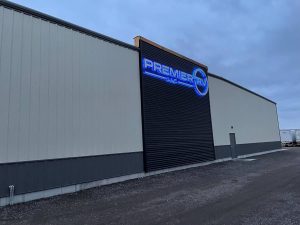 While consolidation is an industry trend, he says independent dealerships are an important and vital part of the industry's fabric. "There's still a place for a dealership like Premier RV that's locally owned and managed. Customers can come in and recognize faces – we don't want turnover here. More than two-thirds of our facility is dedicated to service and there's a reason for that, because we want to keep the customer happy and do things that hopefully some of the chains can't."
Where does Thompson see Premier RV five years from now?
"We've designed a very good-sized facility on land that we can grow into – we want to be much larger. If we do things right, and we're able to service the customer with our management style and focus on our culture, then we're right where we want to be."