Features
Progressive Dynamics to Debut Three Inverters
The mission of Progressive Dynamics as it relates to serving the company's end users is remarkably straight- forward, according to Mike Walters, the company's vice president of sales and marketing.
"The goal is to keep people out camping and not having to worry about their power equipment – because when you're out of electricity, you're out of fun," he says.
With that goal in mind, the Marshall, Mich.-based company that designs, manufactures and services it products is constantly looking to innovate its line of power-related products, according to Walters.
The most recent example of this is the planned debut this month of three new Progressive Dynamics pure sine inverter models offered in 1,000-watt, 1,800-watt and 2,000-watt capacities.
"We're pretty excited about them because of their increased efficiencies," says Walters, who notes the company has previously been manufacturing a 1,000-watt pure sine inverter since 2018.
"What we've done with these new inverters is to make them even smaller and more efficient. With the inverter being smaller, it runs cooler, which makes the efficiency that much better. And when the product is smaller, you can also put it in a lot more places," he says. "So, that's always our goal, to make things smaller when we can.
"Also, these three inverters will all have CAN'ed capability in the near future. In other words, the inverters will speak to a panel to give information about what the battery status is and how much voltage is being put out by the inverter, and that sort of thing."
Walters says three new product launches at nearly the same time is a fairly big deal for Progressive Dynamics. Those product launches are yet another example of Progressive Dynamics being attuned to the needs of its customers, according to Walters. "The biggest thing for us is that we work closely with the OEMs. Since we are so close to Elkhart, the hub of the RV industry, it's easy for our sales team to go down and visit with everyone and find out what's necessary to meet their needs," he says.
The company's initial focus will be getting RV manufacturers to begin installing the new inverters in their coaches, but because of the products' many features and benefits, Walters says he fully expects the inverters will make strides in the RV aftermarket as well.
Improvements Enhance Product Quality 
Meanwhile, Progressive Dynamics has continued to make quality improvements to its existing power product lines. One notable example of this is the incorporation of technology from German supplier WAGO to ensure that wires inside of its power products stay connected to terminals. The WAGO's connectors form a solid, sturdy connection between wires and terminals without the use of screws.
"The way it works, it puts pressure on the wire – because it's spring-loaded lever-action connection – and by putting pressure on the wire it never has a chance to loosen up," Walters says. "And so that makes for a much better connection. Also, the guys at the OEMs don't have to torque any wires – that's a big deal.
"So, we started an initiative to eliminate screws everywhere we can. We have eliminated connection screws on all of our 4500 Series All-in-One converters. Our next step is to eliminate all the screws on our busbars, which is another screw connection," he adds.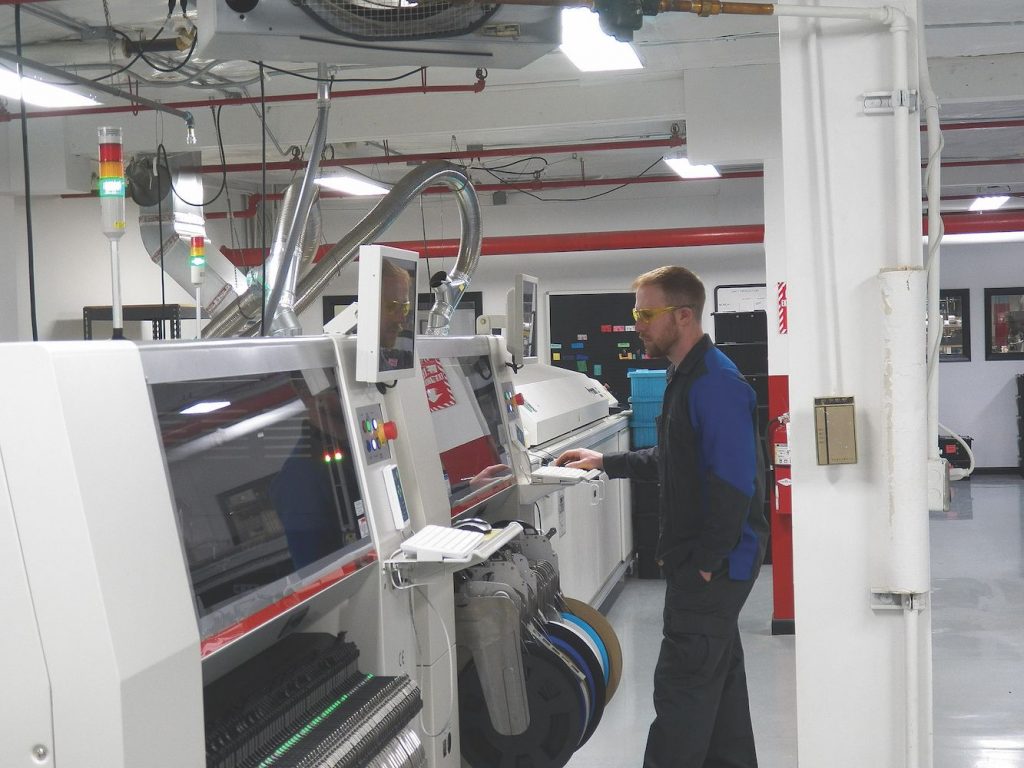 Progressive Dynamics is making investments in capital equipment and is reconfiguring operations at its manufacturing facilities in Marshall, Mich., in order to increase production efficiencies as it prepares to debut three new pure sine wave inverter models this month.
Meanwhile, Progressive Dynamics has replaced screws with WAGOs on all of its 30-amp transfer switches, such as the PD5110010Q model, which comes complete with a cover for added protection against dirt and dust.
"Our goal in all of this is to make it a lot more positive for the OEM and to take out a lot of trouble," Walters says. "Because one of the things about not having a cover on a transfer switch is that dust and dirt can get in there and get in the way of the contactors, and also the same thing happens with the screws and the wires."
And at the same time Progressive Dynamics added the WAGO to its All-in-One converters, it also added a switch that lets the system easily switch between working with traditional AGM batteries and newer, more energy-efficient lithium batteries.
"We are now the only converter on the market that is set up to be in the lead-acid (battery) mode, but you can move the switch to 'lithium mode' and you don't have to change out the converter to do that – all you have to do is flip the switch," Walters says. "So, the people that want to upgrade to lithium can now do that. And the OEMs are taking advantage of this because there is an advantage for the people that are buying their coaches. So, I believe they are going to market this pretty aggressively."
For the moment, lithium batteries are more expensive than traditional AGM batteries, but Walters says Progressive Dynamics believes more and more OEMs and end customers will embrace lithium batteries moving forward, so the company is well-positioned with the addition of the switch that makes it possible for the converters to work with AGM and lithium batteries.
"I will tell you that once you have a lithium battery in your coach you probably wouldn't have anything else because it is so much more efficient, runs longer and charges faster than a lead acid battery," he says. "That it's really something that – once they experience it – they're going to love it. …
"And another thing to consider when deciding on what type of battery to purchase for your RV is you get 700 to 800 charges out of a lead-acid battery, while you can get 5,000 charges out of a lithium battery, so they last a long, long time."
Supporting OEMs & End Users 
Anticipating increased demand for its various power-related products, Walters says Progressive Dynamics has embarked on a major initiative that is adding capital equipment to its existing 160,000-square-foot manufacturing facility in Marshall, Mich., and reconfiguring certain operations to increase production efficiency, such as its Surface Mount Technology (SMT).
Meanwhile, additional efforts to support end consumers are ongoing. Specifically, Walters notes that the company is continually updating its website to add more easily to navigate training videos and trouble-shooting guides. "We're trying to do as much of that as possible to help the end customer," he says. "Fortunately, our service department is here in Mar- shall, Mich., and these are technicians who work on the products. So, when the service person at Progressive Dynamics is talking with someone, they can have them bring up the video and show them: 'This is what you are looking for.'"