Features
Progressive Dynamics Developing New 2,000-Watt Inverter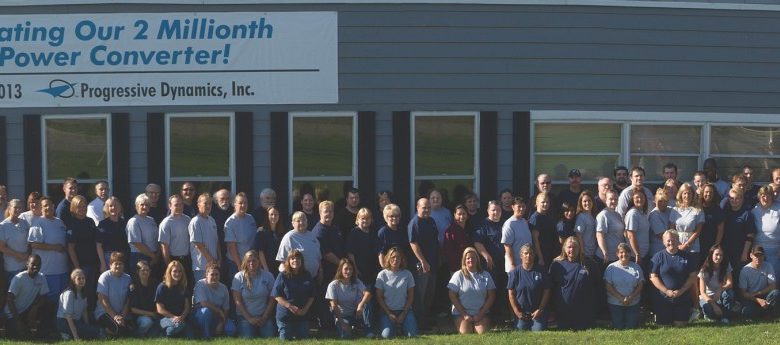 This article is from our older website archives. Some content may not be formatted or attributed properly. Please
Contact Us
if you feel it needs to be corrected. Thank you.
When a company is rooted in quality engineering, many ideas, designs and prototypes come and go. "Since our founding, we've engineered medical products and device warming blankets used during surgical procedures," says Mike Walters, vice president of sales and marketing at Progressive Dynamics. "Interestingly, we've also had the opportunity to partner with universities to explore fascinating techniques like power cell development."
Despite its success across various markets, Progressive Dynamics – a private corporation established in 1964 – remains steadfast in its product development for the RV industry.
In 1968, the first linear power converter/battery charger combination for the OEM market was developed.
In the decades that followed, Progressive Dynamics ventured into power centers, power conversion and lithium battery management systems for RV, marine and specialty industries.
"Our proven record of preventing battery problems has made Progressive Dynamics' power converters a quality standard for the major RV manufacturers," Walters says. Major RV OEMs have relied on the dependable performance of Progressive Dynamics for many years.
A commitment to core values and aggressive new product development is foundational to the company's ongoing success, both as an OEM partner and supplier within the aftermarket.
'Out of Power, Out of Fun' 
At the center of its new product development are the company's core values of excellence, continuous improvement, customer focus, positive attitude, honesty, integrity and accountability. When asked what has inspired such exponential growth over the past five decades, Walters points to product quality and customer service.
"When something isn't working just right in the coach, that's an inconvenience to the RV owner – (because) when you're out of power, you're out of fun. We work hand-in-hand with the RV OEMs to create and maintain that great customer experience from start to finish," he adds.
That experience begins with a high-quality finished product that, in many cases, comes fully integrated at the point of consumer purchase. While certain components are sourced globally, all design, engineering and manufacturing are done at the Marshall, Mich., facility, which Walters says is a huge advantage.
"Being in Marshall, we're a stone's throw away from the RV capital of the U.S. – Elkhart, Ind. – and our OEM partners. That kind of access is critical," says Walters. Another benefit, he says is, "Everyone who has a hand in product development is right down the hall from each other. The engineers can go right out on the floor to properly fit the components and products so that we as a company can be vigilant in selling exactly what we're advertising."
For Walters, it also circles back to continuous improvement throughout a product's life cycle. "We want to be part of the coach, but not sticking out in your living space. So, advanced tools and technology, like 3D printers, have helped us accomplish that," Walters says.
"Anything we can do to make units smaller is always a plus. Our engineers constantly revisit how we can miniaturize a product and its components, or how we can situate it in a less obvious way. We never stop doing that as heat destroys a unit over time. Making these products smaller and finding efficient ways to reduce heat inevitably increases the life span of our products," he says. "In fact, we've found ways to miniaturize the board itself so that it's a lot cleaner, faster and more precise than previous models. Now, we've turned our attention to miniaturizing the housing to match."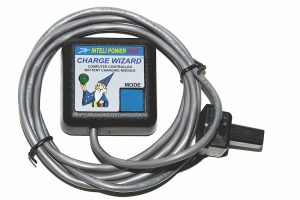 Progressive's converter/charger products have gone through any number of iterations since their development in 1968. At the end of 2015, the company developed the lithium-ion battery converter-charger to meet the stringent voltages required for properly charging and maintaining lithium batteries.
New Technology on the Way 
Since the company's 2 millionth converter milestone back in 2013, Progressive Dynamics has designed, engineered and manufactured a number of innovative new products, including the Intelli-Power Converter, which features reverse battery protection, high- and low-voltage protection and electronic current limiting. Walters explains that users can safely charge and maintain a battery for up to two to three times longer with Progressive Dynamics' patented four-stage Charge Wizard battery management system. Debuting in June 2019, Progressive Dynamics released a transfer switch with genuine WAGO connectors. Jessica Timberman, an inside sales representative at the company, says "by using WAGO connectors, this offers a more secure connection."
"Right now, I'd say 60 percent of our business is RV OEM and the other 40 percent is split between the RV aftermarket and specialty projects," says Walters. "The OEMs do a great job at identifying needs and future trends – remaining transparent with us about those findings.
"As an engineering-based company, we can quickly turn around blueprints and prototypes to test with our partners," he adds. "In this case, they came to us with an idea and we were able to deliver a superior product with WAGO connections."
Progressive Dynamics is in the midst of developing a new 2,000-watt pure sine inverter. Expect reverse battery protection, thermal-controlled fan speed, auto restart after power interruption, easy AC hard-wire hookup, remote control monitoring, DC lug connection and more.
"The efficiency is off the charts, and the cost is competitive," says Walters.
Advancement of lithium power products remains a top priority for Progressive Dynamics and its key OEM partnerships. Switching from lead-acid to lithium-ion offers several advantages: longer battery life, no freezing in extreme temperatures, lighter weight and 95 percent energy efficiency. Additionally, the on-board lithium batteries can be mounted in any direction, suffer no corrosion, don't require a fully charged condition for storage and are virtually maintenance-free. The lithium batteries also offer faster charging times – 99 percent in 2.5 hours versus up to 13 hours for lead-acid batteries.
"At the end of 2015, we developed the lithium-ion battery converter-charger to meet the stringent voltages required for properly charging and maintaining lithium batteries. They need special balancing circuits and chargers to prevent overcharging or discharging a cell beyond its specifications," says Walters. "These converter-chargers are designed for lithium-ion batteries that typically store three to four times the energy of a lead-acid battery within the same space, with less weight. The lithium-ion battery converter-chargers include reverse battery protection, electronic current limiting, low-line and high-voltage protection, as well as a variable speed intelligent cooling fan. These units also deliver filtered DC power to the lithium-ion battery to ensure the built-in electronic balancing circuits operate properly," he says.
Progressive Dynamics touts that Forest River used a single RELiON RB100 lithium-ion deep-cycle 100-amp-hour battery as a comparison with two dual lead-acid 100 amp-hour batteries commonly used in its RVs. The manufacturer applied actual electrical loads and simulated higher amp loads like those found in RVs. As a result of this test, Forest River chose to install Progressive Dynamics' PD4060LIK converter-charger and the RELiON RB100 lithium battery in its New Forester/Sunseeker Ford Transit series motorhomes.
The company also provides 12- and 24-volt power centers. These units are specially designed to meet the demands of lithium-ion batteries and share many of the innovative balancing and cooling features highlighted on the converter-chargers.
To complement its lithium-ion developments, Progressive Dynamics recently released its 4500 series Lead-Acid/Lithium Dual Switch Converter, featuring genuine WAGO quick-flip connectors.
"The new 4500 series can be used with either lead-acid or lithium batteries by simply flipping a switch," Walter says.
Building for the Future 
Customer care extends itself past the company's core values and new product development, though.
In an effort to be proactive, "We authorize our dealers to complete repairs and replacements. For example, in case of an issue, dealers can immediately swap out one of our converters on the RV, send it back to us at no cost to them and just worry about getting the customer up and running immediately," says Walters. "An added advantage for us is that we get to see firsthand what's going on in the field."
Progressive Dynamics' sales and marketing team dedicates a lot of resources to providing customers with product specifications, instructions and online eLearning tools.
"We have a new website that is scheduled to launch by first of the year. There will be even greater access to digital training, and educational videos," says Walters.
He says the company has taken its time to present the information in a way that will benefit all employees, dealers, the OEMs themselves and even end users.
"While RV OEM unit sales are off, our numbers are consistent because we're growing market share. We'll continue to innovate and refine our product offerings for our OEM partners and the aftermarket," says Walters.
"Also of interest," he says, "the non-RV market is growing about 40 percent. Think: catering trucks, cargo trailers and utility work trucks."
So much, in fact, that Progressive Dynamics recently received a Best Supplier of the Year award for excellence in support, service and sales by Intech Trailers, a cargo trailer provider.
Another area Walters believes will prove critical to Progressive Dynamics' future is the company's ability to improve its product components.
"We have to ask ourselves: If components aren't being used because of global conflict, then what's the alternative? We devote a lot of resources to thinking through those angles – another benefit to our RV OEM partners," he adds.
Despite the slowdown in shipments of RVs, Walters points to the advancements that have been made because of collaborations between Progressive Dynamics and the RV OEMs as a sign of a bright future.
"The coaches are improved, more sophisticated and a lot more user-friendly because of what we've accomplished together … and they're only going to get better," says Walters.
"The industry will rebound, as it always does," he adds. "The number of people who want to camp and see the country is only increasing. It's a family-oriented activity that pays dividends, which is great for this country and great for our business. We're an American company with American values, and we believe in American manufacturing – we're going to continue to do just that."