Features
Q&A with Chris Andro, 2021 RVDA Chairman
The top elected representative of the RV Dealers Association discusses his expectations for the remainder of 2021, focusing on opportunities and challenges for fellow dealers and the larger industry.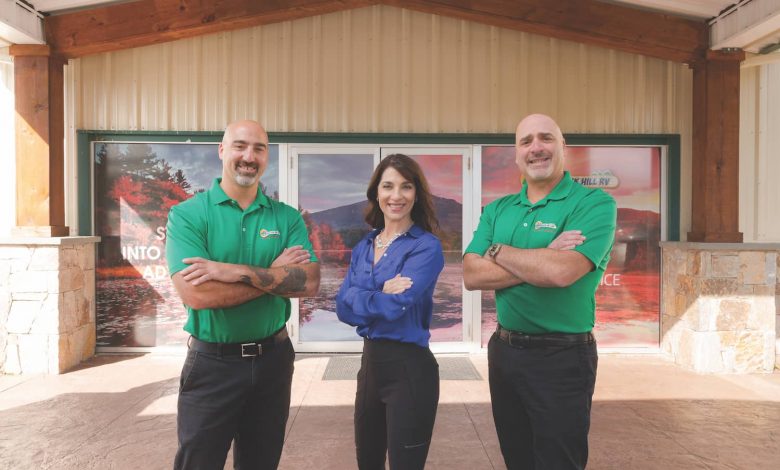 When asked to talk about his RV industry journey, Chris Andro always starts with a story. He tells how, as a young boy, his parents in 1976 founded Hemlock Camp Hill Resort in Litchfield, Conn., and his chores included campground cleanup.
He then tells how his life changed in 1985, when his family ventured into RV sales at the campground with the purchase of five Nomad travel trailers. The young Andro quickly discovered things were different when, after wrapping up his daily campground chores, his father looked at him and said, "Now wash those trailers."
Hard work and daily chores might drive some children away from the family business. But the efforts put Andro on a path to increasing responsibility and prominence in the RV industry. He left for college, but always with the intent of returning to the family business after he got his degree.
Meanwhile, the family dealership, Hemlock RV Sales, flourished and by 1989 outgrew its facility. The business moved to a new location near Litchfield, added a second Litchfield location in 1994, and soon after opened a third location in Berlin, Conn. The full-service RV dealership later merged all three locations onto a 17-acre campus in Southington, Conn.
Andro did return home after graduating college and has served the business as general manager since 2001, managing the dealership and selling many thousands of campers.
As he runs a thriving RV business with his siblings, he also finds time to give back to the industry he loves. Andro served as past chairman of the RVDA Convention/Expo Committee, is an active member of the New England RVDA, helped the industry reopen during the pandemic as part of RV Industry Relaunch Task Force in 2020, and now serves RVDA as its 2021 chairman.
RV PRO recently caught up with Andro to learn more about his RVDA role and what he sees for fellow dealers and the larger industry in 2021.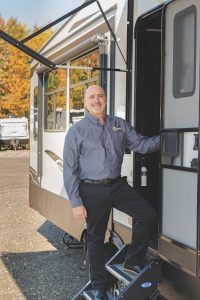 RV PRO: What events led you to the top elected position at RVDA?
Andro: A Connecticut delegate was retiring, and his son did not want to get involved with RVDA. My dad and this delegate knew each other well, so he asked if I was interested in being a delegate in Connecticut.
Later, RVDA started calling me to see if I wanted to serve on the board. It took a little convincing. I wanted to make sure I had the time. I didn't want to get so distracted that my business interfered with RVDA and RVDA affected my business.
Finally, I agreed because it's a worthy cause that I truly believe in. I have a great staff at Hemlock Hill RV. Their abilities, processes, and procedures – they're so good at what they do – allow me to step away and do my RVDA work whenever duty calls.
RV PRO: How has the pandemic affected your role at RVDA and dealers as a whole?
Andro: My priorities for my term as chairman changed dramatically with the pandemic. They shifted to making sure dealers do everything they can to keep the new business the industry brought in during some very unfortunate circumstances.
COVID pushed Americans back outdoors. Obviously, the RV industry plays a large part in that. I want to make sure the industry keeps the people who started RVing during the pandemic. This requires a focus on education, training, and getting our fixed operations and salespeople talking the same language and sending the same messages.
RV PRO: What steps will you take to help keep new business in the industry as described?
Andro: I try to direct the articles I write around that same message. It trickles down from there.
For example, I sit on a Repair Event Cycle Task Force with other dealers and industry leaders to discuss parts and service capabilities. I am very active with RVIA and have good friends on both sides of the fence – manufacturers and other executives. We are flying in the same formation.
I believe it's a matter of keeping things at the forefront of everyone's minds and working together to get better at what we do, and to minimize the contribution to Repair Event Cycle Time (RECT) in tandem with suppliers, vendors, and manufacturers. We are all in this together.
RV PRO: Describe the work RVDA and RVIA are doing related to RECT. Why is this work so important?
Andro: No one could have anticipated the supply chain issues we experienced during the pandemic. A lot of the issues were out of suppliers' control.
We may not solve these problems tomorrow, but we can take steps to address RECT. RVIA and RVDA have partnered to review the data and quantify it better. We do have information from different dealer management systems, and it is good information, but we're still uncertain where the data comes from and exactly what it means.
The task force will develop benchmarks, standard practices, and best practices around RECT. Whatever the actual RECT number is, it's got to go lower and needs to keep going lower.
In our dealership, for example, we know our RECT is well under what our data shows, but we don't always know that the data we're looking at is 100 percent correct. That's not a good or a bad thing. It's just where we are at.
We now have a task force, focused on getting the data correct, and that will happen quickly. We must address RECT. Anytime an industry portrays bad service, you are going to lose people.
But the work we've done in the last five years has been incredible. The changes we are seeing at the dealer level in getting parts quicker translates to faster turnaround for customers. Are we where we need to be? No. But I think we are seeing less and less lag time year over year. And the industry as a whole agrees we need to continue to attack this problem and lower RECT.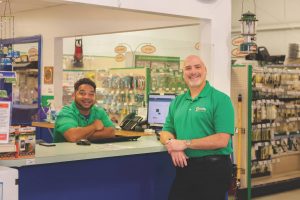 RV PRO: There are predictions of another banner year for RV sales. What do you see for the year ahead?
Andro: In 2020, we saw many people buying RVs that did not have trade-ins and had never camped a day in their lives. That trend continues and fills me with optimism for 2021. I sat on a Zoom call a few weeks ago, and every dealer on the call expressed the same sentiment. Manufacturer backlogs are the biggest they've ever been.
The pandemic will change how people vacation for the foreseeable future. While the vaccine makes a difference in everyday life, I'm not convinced that people are ready to jump on a cruise ship or go to a theme park for their next vacation. There's been a major shift in how people vacation.
Campgrounds are building. I attended a meeting recently where The National Association of RV Parks and Campgrounds said members expect to complete over 53,000 new campsites in 2021. That also makes me optimistic.
The biggest impact is the passage of the Great American Outdoors Act that passed last year. With this legislation, the government will close the gap on maintenance and improvements at national parks. That work is very overdue.
They will spend around $10 billion over the next 10 years to improve national parks and the ability of people to camp in them. That will open a bunch of campsites and inventory for our industry. That, too, fills me with optimism.
RV PRO: Do you foresee any challenges for the year?
Andro: That's always a tough question to answer in good times. Everything is just chugging along.
It's hard to pick out what needs to improve, but I think quality and dependability is something the entire industry must focus on. As our industry grows, the demands of the people grow. They will look for us to meet higher and higher standards.
We must keep our focus on innovation to meet those expectations. Fortunately, the industry has a reputation for innovation. Two to three years ago, an RV had one electrical outlet and maybe one USB port. Now, every time you turn your head, you encounter a USB port, and you can turn on your air conditioning or heating and put up your awning from your smartphone.
RV PRO: Gas prices are creeping up. In some areas prices are over $3 a gallon. Do you see this impacting the RV industry boom?
Andro: There's always a possibility. There is data that shows RV sales can go down when gas prices are extremely high. But I believe the U.S. economy is still strong and people have extra money available that they no longer spend on dining out, hotels, and airfare. I don't see higher gas prices impacting us in the short-term, but they could in the long term if prices get high enough.
RV PRO: What are your plans for the 2021 RV Dealers Convention and Expo slated for Nov. 8-12 at the Paris Las Vegas?
Andro: Right now, we're planning a hybrid meeting with a mix of in-person and online meetings to bring together dealers, manufacturers and RV industry business partners. The board directed us to plan an in-person event and include a contingency plan if we cannot meet in person.
By making it a hybrid event, we can pivot quickly should Las Vegas limit event capacities. As always, we will offer excellent educational tracks that drive home how great it is to be in this industry and how we can provide customers with a premium experience.
RV PRO: What do you do beyond the dealership to bring the outdoor experience to others?
Andro: Hemlock Hill works with the Make-A-Wish Foundation. I don't know how much money we've raised since 1999, but I know it's been well over $500,000. This year, we donated a trailer to a local child who had a wish request for a camper. It was so satisfying to see the look on that child's face when we presented the camper to his family. And it doesn't matter what it costs me – it's about making sure that one more person can get outside and experience what I was so fortunate to have in my life.