Features
Q&A with Lazydays' CEO William Murnane
The chief executive of the Florida-based, multi-state dealership chain talks about the pandemic, his company's strategic advantages, and some of his goals for the dealership group moving forward.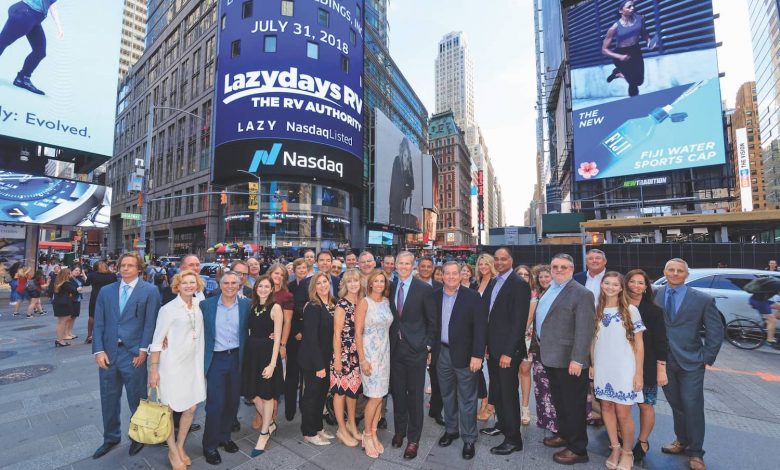 Over the past 10 years, Lazydays RV has grown from a single-site dealership in Seffner, Fla., to a publicly held network of more than a dozen (and counting) different dealerships spread across the U.S. which topped $800 million in revenues in 2020.
During that time, the dealership has grown its footprint to include 18 locations across the U.S.
The first six months of this year have been particularly eventful for the dealership, which is acquiring Burlington RV Superstore in Wisconsin and B. Young RV, with locations in Portland, Ore., and Vancouver, Wash. Also this year, the dealership acquired Chilhowee RV Center near Knoxville, Tenn., it added a second dealership location in Minnesota and it opened dedicated Airstream locations in Nashville and Knoxville, Tenn., as well as Ramsey, Minn.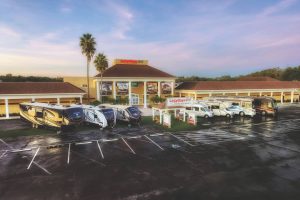 Those acquisitions and store openings have propelled Lazydays to the fourth-largest dealership group in the U.S. by number of stores. Recently, RV PRO interviewed CEO William Murnane to learn more about what's behind this rapid growth.
RV PRO: With your spate of recent dealer acquisitions and new store openings, Lazydays has become the fourth-largest RV dealer network in the U.S. What do you believe the future holds for the company as it relates to additional acquisitions?
Murnane: We would like to add four to eight dealerships per year, depending on the size of the dealership or dealership network. These can be acquired dealerships or "greenfield" dealerships like we did in Nashville. Four to eight is a target, which will typically be a combination of "greenfield" and acquired dealerships, but we're selective – so we won't add just to add.
Our goal is not just to get big. We want to add high-quality dealerships in strong RV markets, so we will be selective. We will also target strong management teams and strong brands.
Our goal is to be the best RV dealership network – not necessarily the biggest. Size is not our primary goal – our primary goal it is to be the best. We certainly want to serve our customers in as many major markets as possible, but it is more important to be the best RV dealership in every market we serve.
RV PRO: How often do you visit the Lazydays stores?
Murnane: I try to get out to every dealership at least once a year, but that isn't always possible.
RV PRO: Have you ever attended the Elkhart Open House?
Murnane: Yes. Multiple times. I love it and I'll likely be visiting Elkhart more often now that we have a dealership there. Open House is certainly easier than Louisville for the OEMs given they don't have to drag products to Louisville. I also try to get to Elkhart to visit OEMs once a year outside of Open House because Open House gets very busy. It's hard to have an in-depth discussion with anyone during Open House.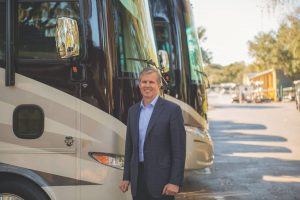 RV PRO: How do you feel about the company's prospects with Camping World and RV Retailer also bulking up on acquisitions? Do you ever find yourself bidding with these or other big networks for the same dealership? What do you look for when considering a potential acquisition?
Murnane: We don't discuss specific negotiations, but here's what I can tell you: There are approximately 2,500 RV dealerships in the country. Every major market has multiple dealers – often five to 10. We typically don't need more than one or two dealerships in a market. So, there's plenty of room for us and others to expand in the same markets. Our strategy and focus is probably different than others, so dealerships in markets that may interest us may not interest others and vice versa.
RV PRO: A 2014 survey identified Lazydays as the second-most recognized RV brand in the U.S. Lazydays also operates the largest single-site dealership in the U.S. So, what is your competitive advantage in the marketplace?
Murnane: There are a few things I can discuss. First and foremost is the Lazydays' brand and what our brand stands for. I think most in the industry would agree that Lazydays is one of the strongest brands in the RV industry and is very well-known by most RVers across the country.
Quite honestly, our very strong brand was most attractive to me when I agreed to take this job as CEO. This brand – our brand – is very, very powerful. We work hard every day to keep the brand strong. Next, we have an exceptional team of tenured managers and employees, and I think that's a significant competitive advantage. I believe we have the best technicians, the best salespeople, the best F&I professionals, the best advisers, the best support staff and the best managers in the industry, hands down, and it's a significant source of competitive advantage for us.
We have three strategic pillars that we focus on every single day. No. 1 is to provide a best-in-class customer experience. No. 2 is service excellence – we want to be the best in the country at servicing RVs. No. 3 is geographic expansion – we want to grow our national footprint so our wonderful customers are never too far from a Lazydays dealership or service center. A big motivator for our geographic growth is to bring us closer to our customers.
Our mission every day is to create customers for life who keep coming back over and over again and we do that by providing a best-in-class sales and service experience.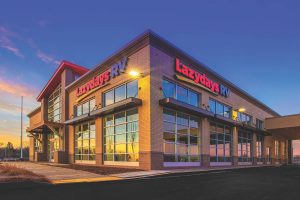 RV PRO: Does Lazydays have any businesses it seeks to emulate?
Murnane: There are a few companies we try to emulate, that we think have created a great customer experience. First is Publix, a supermarket chain located in the southern U.S. Publix stores are superb and anybody who's ever stepped foot in a Publix immediately knows exactly what I mean. The customer experience at Publix is very different than any other supermarket, and as a result, Publix's margins are higher than any other supermarket.
Another company we admire is Chick fil-A. If you've been to Chick-fil-A – especially at lunchtime – you know how amazing and efficient they are and what a great experience they provide. Chick-fil-A has a very simple product and process, but their execution is flawless and this creates a great experience for the customer every time. It is so impressive.
In the dealership space, we admire Lexus. They've gotten a lot of notoriety for providing a world-class customer experience. We have a long way to go to be as great as these three organizations, but we focus on this goal every single day.
RV PRO: Are there any other strategic advantages?
Murnane: I'm not sure if focus is a strategic advantage, but staying focused is very important to us. I know this sounds simple, but staying focused is a very hard for most organizations. We work really hard to stay focused on our three strategic pillars and what we need to do to accomplish them.
We are not what I would call a flavor-of-the-month company. Flavor-of- the-month companies like to change direction often, depending upon what is new, or trendy, or which way the wind is blowing. You know, this month we do X, next month we do Y, and so on. It's constant change.
I've witnessed a lot of companies constantly changing. We think frequent changes may be fun at some level, but it makes it hard for employees to understand the direction of the company and can be very confusing – especially if changes are frequent.
If you're going to be the best at something, it usually takes time, a big commitment and a lot of focus.
There was a book published in 2008 – "Outliers: The Story of Success" – in which author Malcolm Gladwell references the "10,000-Hour Rule." Gladwell viewed the rule as a key to achieving world-class expertise in any skill. If you're really going to be great, you really have to commit to it and be very disciplined about it.
I think our strategy and focus are pretty simple to understand, but simple can be very hard to execute because of the commitment and discipline it takes to be great at anything. This is a big part of what I think will ultimately be our strategic advantage.
Our success with customers is measured by consistency and predictability. Our customers want us to be consistent and predictable. Our best customers' experiences come when we do what we say we're going to do, when we say we will do it. It sounds simple, but consistency and predictability require tremendous discipline and focus.
RV PRO: Lazydays has formed strategic alliances with the three leading RV OEMs, which represent nearly 90 percent of the new vehicles that Lazydays sold in 2020. Do all your dealerships carry the same brands or does the mix vary by geographic locale?
Murnane: When we acquire a new dealership, they don't always have the same brands we have at our other dealerships, and preferred brands aren't always available in every market. We would love to have commonality across all our dealerships but it's going to take a long time to get there.
RV PRO: Lazydays has added an exclusive Airstream dealership in Knoxville, Tenn., and is adding similar dealerships in the Minneapolis and Nashville markets. What is the future for this concept?
Murnane: Over time, we hope to add additional Airstream stores. Airstream is a very high-end brand like Lazydays, so it fits well with our strategy.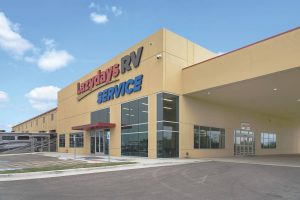 RV PRO: Many people likely want to forget portions of 2020, especially the start of the pandemic. In April 2020, you announced a 25 percent reduction in workforce, a 25 percent cut in salary for senior management, suspension of annual pay raises and suspension of the 401k match. Why did you undertake these measures?
Murnane: We were all very scared when the pandemic started. We took pay reductions and reduced our staff quite a bit. In addition, many employees were afraid to come in to work because of the pandemic, but they did because our customers needed us. We tried to put in all the safety procedures recommended by the CDC. We were very early adopters of Plexiglass, requiring masks and social distancing. We also eliminated face-to-face meetings for a long time.
But then, a few months later, we were asking many employees to work seven days a week and lots of overtime. Through it all, our employees never complained. They worked tremendous hours and there was a lot of stress. It was very, very hard.
I'm incredibly proud of this team how it stepped up. We learned a lot about ourselves and what we could do differently, what we're made of, and the intestinal fortitude inside us because we were committed to serving our customers.
There was a lot of great learning that came out of a very stressful and challenging situation.
RV PRO: Although Lazydays is a public company traded in the Nasdaq exchange, it has less than 100 shareholders. Just six entities own more than 50 percent of the outstanding stock. Josh Klein, writing for Seeking Alpha, calls Lazydays Holdings "The perfect blend of growth and value at dirt cheap prices." Why isn't the investment community more interested in your stock?
Murnane: I think we likely have a lot more than 100 shareholders. Not all shareholders are listed publicly. For example, there are more than 100 Lazy- days employees who own stock through our Employee Stock Purchase Plan (ESPP).
I also think the movement in our stock over the past six to 12 months indicates that a lot of people are interested in our stock these days. I certainly agree with Mr. Klein in terms of our ability to grow and our stock being undervalued. I don't take any issue with that. I agree with him 100 percent.
Recall that we pulled the equity offering last October because it didn't reflect the value we believed to be the fair value of the company. Regarding the Russell 2000 (Index), we certainly would be excited to join the Russell 2000, if given the opportunity. That would definitely raise awareness.
Editor's note: Since the time of this interview, Lazydays has joined the Russell 300 index.
RV PRO: From May 2020 to March 2021, Lazydays' common stock rose more than 900 percent – from less than $2 a share in May 2020 to the neighborhood of $18 a share this past spring. Can you ascertain how much of this is due to the overall bullish market and how much is due to your company's individual performance?
Murnane: I think there are two primary drivers of the increase in our stock price. In May 2020, we were significantly undervalued, so when you compared our valuation to other organizations – either inside or outside of the RV industry – we were just undervalued. Also, investors weren't aware of Lazydays. I think our stock started to move as our performance improved and as we hit more investors' radar screens.
In my opinion, we are not all of the way there from a valuation standpoint, but we've certainly moved in the right direction and have a higher multiple than we did a year ago. I think there is a lot more upside as we continue to grow and expand.
RV PRO: Is there anything else you wanted to add?
Murnane: Yes, I would like all RV dealers to know that we are in a growth mode. We want to continue to expand out footprint nationally. We're looking for the best dealerships out there in every market. We have a great reputation of taking really good care of not only the organizations we acquire, but the employees of the dealerships that we come with the organization. We are very honored to have these organizations become part of the Lazydays family.
As an example, I recently had dinner with Tim and Brenda Wegge, the owners of Burlington RV Superstore. They commented that they chose Lazydays to take over their life's work because they know that Lazydays is going to treat the Burlington employees ("family") well and that their "family" is in good hands going forward. This makes us very proud.
SIDEBAR: Lazydays' Evolution Since 2004
William Murnane, the man orchestrating Lazydays' brisk expansion across the U.S., also played a key role in rescuing the company from financial distress during the Great Recession.
In 2008, Murnane was a principal and operating partner at Wayzata Investment Partners, a private equity firm based in Minnesota, where he specialized in "operational turn-arounds."
Wayzata ultimately took on the role of "white knight" and rescued Lazydays by striking a deal with bondholders to eliminate its $137 million debt through a prepackaged Chapter 11 bankruptcy reorganization.
Before Wayzata entered the picture, Lazydays, then a one-site RV dealership based in Seffner, Fla., was owned by Bruckmann, Rosser, Sherrill & Co. (BRS), a New York City-based private equity firm, which had taken on substantial debt to acquire Lazydays from majority owner Don Wallace in 2004.
Under BRS ownership, Lazydays reported annual revenues of nearly $800 million through 2007, but net income fell steadily each year, falling to a $2.45 million loss in 2007.
"Lazydays had a lot of debt back then – too much, quite frankly. That's why it fell into financial distress," Murnane says in explaining why Wayzata stepped in.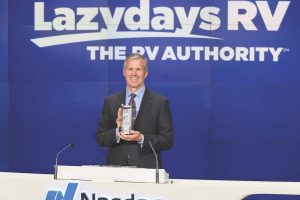 In 2009, Murnane worked with the management team of Lazydays to restructure its balance sheet. Out of that restructuring, funds managed by Wayzata Investment Partners became the majority owners of Lazydays after the restructuring was complete.
"The (bankruptcy) judge blessed the reorganization and said, 'Yes, this is the best thing for the company and its employees to help it survive. We're going allow the debt holders (and Wayzata was the largest of the debt holders) to exchange their debt for the majority of the company's equity,'"
Murnane says. "So, when Lazydays came out of that restructuring, which it did in 2009, the company didn't have any debt. The debt was gone."
As part of the reorganization, Murnane was named chairman of the board of Lazydays in 2009 but remained with Wayzata. In 2011, Lazydays made its first dealership acquisition, by acquiring the assets of Beaudry RV in Arizona from the bankruptcy court.
"In 2015 and 2016, the opportunities for distressed investors were somewhat limited, because of the strength of the economy at that time there just weren't many distressed companies, and I was getting a little bored," Murnane recalls. "I also was at an age where, before I retired, I wanted to run a company again, which is my passion and what I was trained to do. In late 2016, I recognized that Lazydays had a great growth opportunity. I had a vision of how to achieve that growth and I wanted the opportunity to execute on this vision. That's when I added the title of CEO and resigned from Wayzata Investment Partners."
In March 2018, Lazydays RV Center entered into a definitive agreement to be acquired by Adina Acquisition Corp. II, a special purpose acquisition company (SPAC). At the conclusion of the transaction, the combined company was renamed Lazydays Holdings. The publicly held company is listed on Nasdaq under the ticker LAZY. In honor of Lazydays joining Nasdaq, Murnane and the Lazydays management team rang the closing bell on the floor of the Nasdaq exchange on July 31, 2018.