Features
Q&A with NRVTA's Terry Cooper
Despite the COVID-19 pandemic, the National RV Training Academy's Big Red Schoolhouse continues to thrive and deliver much-needed technician training.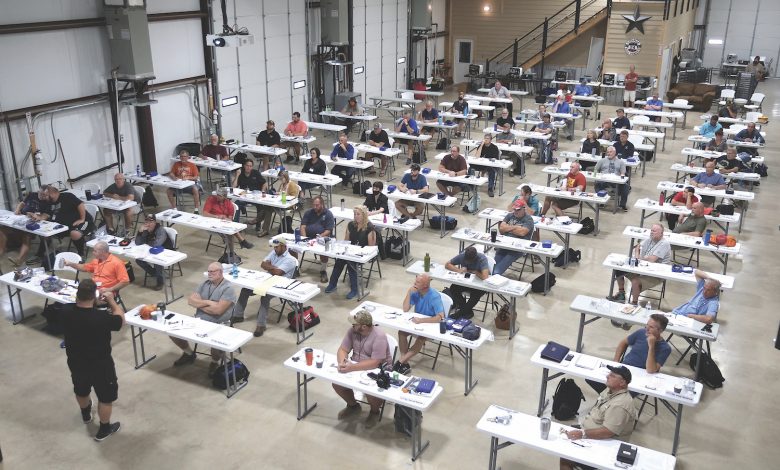 Terry Cooper, president and managing director of the National RV Training Academy, is keen on a certain local slogan in his part of the Lone Star state: "All roads lead to Athens" (Texas).
For Cooper, that road has been long and windy and the destination, uncertain.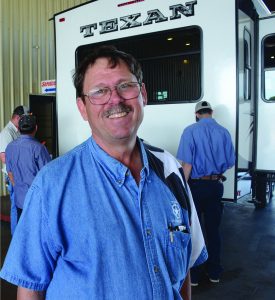 "I've had cars, I've had boats, I've had houses – and, man, that is so empty," he says of owning possessions for their own sake.
His journey has spanned from managing a Marriott hotel to becoming a master certified RV technician to teaching technicians in a vocational college to traveling the U.S. and teaching technicians while on the road. Cooper had plenty of life experiences before launching the National RV Training Academy (NRVTA) at the Big Red School House and Community Center in Athens, Texas.
What differentiates NRVTA from the RV Technical Institute in Elkhart, Ind., is the type of certification. Cooper says that NRVTA follows the curriculum used in the past by the RV Industry Association and the NFPA 1192 – a list of codes and standards for RV safety and inspection. While several levels of certification are obtainable, techs wishing to achieve RVIA certification are required to take that specific test.
Built in 2018, Cooper's NRVTA tech-training hub has become one of the most important things in his life. The 15,000-square-foot learning center includes climate-controlled service bays, three classrooms, and state-of-the-art equipment. In November 2019, NRVTA celebrated the anniversary of its first graduated class.
"Probably the most fulfilling thing I've seen is when you see that proverbial lightbulb come on over someone's head in class," says Cooper, noting that occasionally, he'll get emails from past students expressing gratitude for his mentorship. "If we don't make a difference, then we've lived a very selfish life."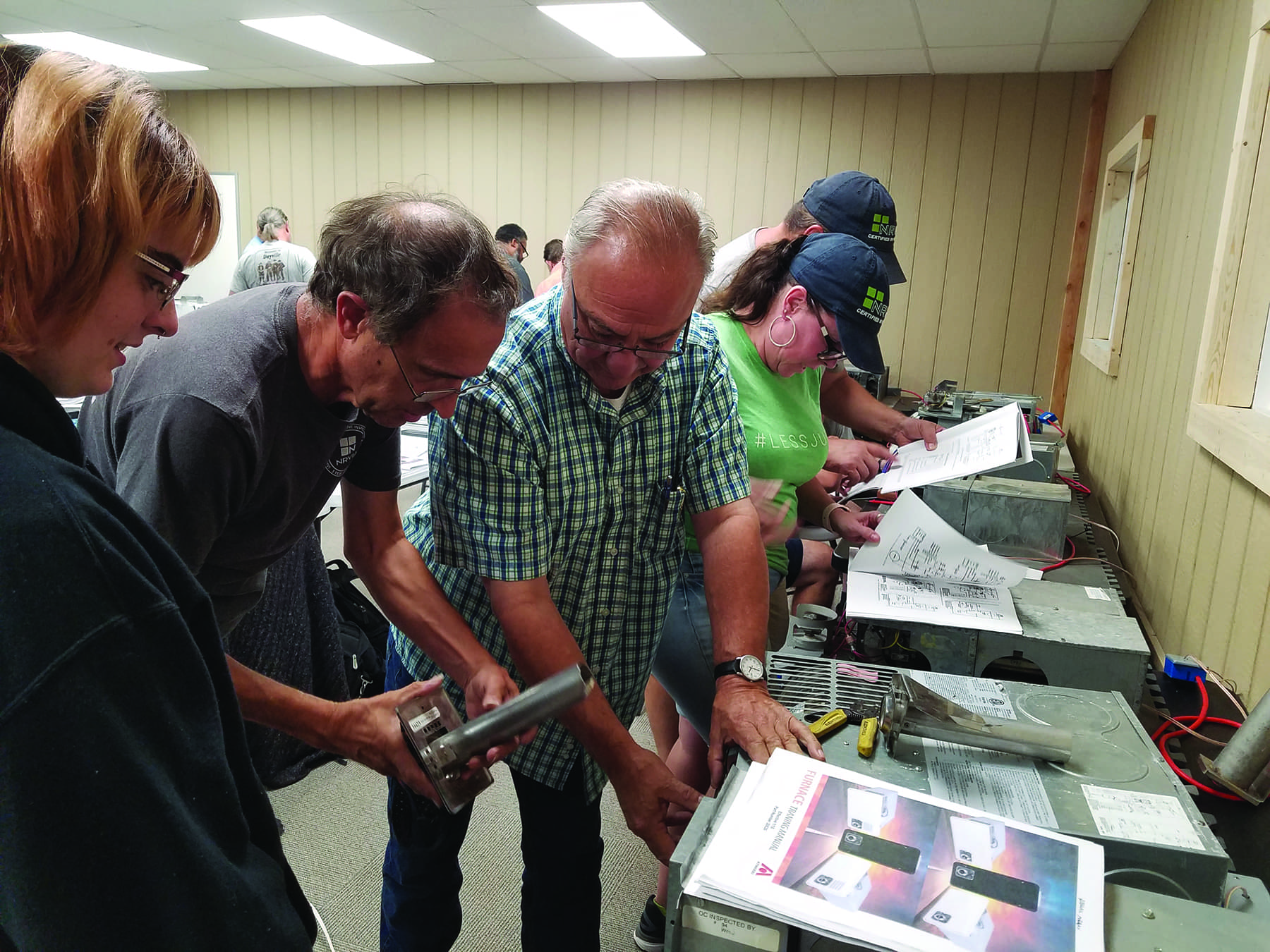 Cooper spoke extensively to RV PRO about his goals for NRVTA moving forward.
RV PRO: In November (2019), how big of a deal was it celebrating the anniversary of the first class to graduate? What sort of stories have you heard from the graduates?
Cooper: Some of the guys will go to work for dealerships. Some of the guys will go out and start their own mobile service business. And what's really interesting is a trend we didn't see coming: Mobile techs are developing relationships with the dealerships.
A lot of times, the dealership will call the mobile tech and say, 'Hey, I got this unit in here. Can you come take a look at it?' And the mobile tech comes in and goes to work for the dealer for that particular project. But dealers are also using that mobile tech as a trainer. Dealers will put one of their techs in the shop with that mobile tech, so they could cross-pollinate to help one another.
Some relationships are being developed that could very well help us alleviate some of the technician shortages at dealerships.
RV PRO: How did COVID-19 impact NRVTA initially?
Cooper: We were scheduled for about 25 to 26 students in this class. But our county commissioners said we (had) to shelter in place. But when we bought this place, it turns out we had fiber optic cables. So, we have high-speed internet on the campus. We're able to shoot signals so people here can stream movies and everything else. Now, the students that are taking the class, are taking what we call our 'homestead option.'
In other words, we recorded some classes when we were traveling around the country. We send the same books we'd use in class to their home.
We've been livestreaming with them, going over the material, kind of like a lecture class in college. And then we open it up for Q&A because we're using Zoom. This (technique) also gives us the ability to set up GoPro cameras (in other parts of the academy) so they can watch us do a propane leak test.
RV PRO: How do you feel now that the NRVTA campus is up and running, despite the temporary hybrid classes?
Cooper: You know, my wife and I had been on the road since 2011 as RV ambassadors, traveling and doing things out in the field. As ambassadors for Crossroads RV, we would travel around the country and do evaluations on the equipment – do a quarterly report. We'd put 20,000 to 30,000 miles a year on those units.
We would do rallies, RV shows. I would do a lot of training at RV parks. It got so that when we would come into an RV park, and they would give us 25 to 30 slots, that way we have a place for our students to stay because we were doing this training all over the country. (But as mobile home parks proliferated), park owners would say they don't have many sites available. People would come to class who were staying at another RV park.
We'd run into issues getting rooms. A lot of times we would get the community center or the rec room. And invariably we'd run into a situation where they'd taken that room and converted into something else. So, it was an income stream for them, but it wasn't a classroom for us anymore.
We said, 'We've got to change this. This ain't working.'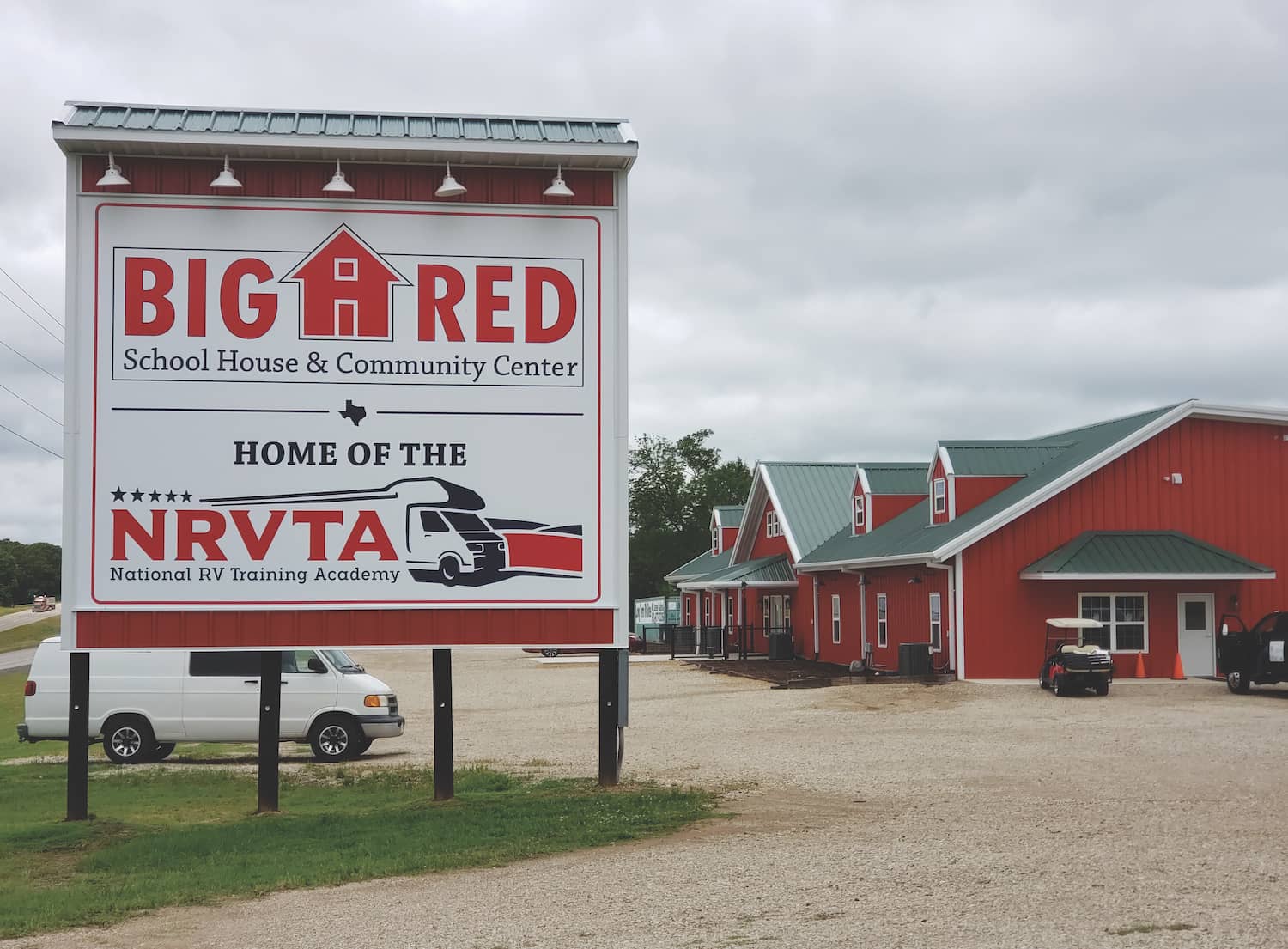 When I had talked to you guys (RV PRO) back in 2016, I'd shared with you guys what our plan was for the Big Red School House. Later, we came across this park here in Athens, which was right outside of Dallas.
We bought the park. It has 89 sites, six cabins, and enough land to where we could build a big training center. So, students come here, they stay here, come to class, and then for a lot of the hands-on, they will even use their own unit.
I had one student send me a note the other day. He said he took a chance leaving his dead-end job and came to one of our classes.
Now he's about three years down the road. He has four service trucks and they're paid for. He said he's in the process of buying 10 acres to build a shop that's going to be paid for. And he said he has no debt. And he said it was all because he now has a skill to make a living.
When you hear that, you just say, 'Wow.'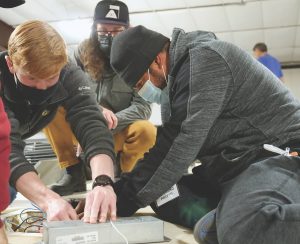 RV PRO: Where do you usually find your students?
Cooper: It was a struggle, sometimes, to get dealer technicians in here. But we have a lot of connections with Workamper News (a job resource for those in the RV industry). So, that's primarily how they come to us, including magazine advertising and Facebook.
RV PRO: So, they're coming to you before having dealership experience?
Cooper: Oh, absolutely. Yes. We have an awful lot of Boomers, and now we're beginning to see younger students. Because (of the COVID-19 pandemic), a lot of these young men and women are being laid off. So, they're switching over and coming into the RV experience.
Often, they're coming here to get their basic training because the dealers don't have time to take somebody under the wing and develop them on paper. They got to hit the floor running. Dealers will send them to us for the first five days, which is what we call our "RV maintenance course."
Remember when you took English 101 in college? Well, that's the way we treat that five-day-long RV maintenance class. We teach them the basics of RVs: electrical systems, about propane, the water system, and the appliances.
We've been blessed to have new equipment shipped to us – brand-new equipment from NTP-STAG and RV dealerships. Quite honestly, we got the latest and greatest. Can't argue with that.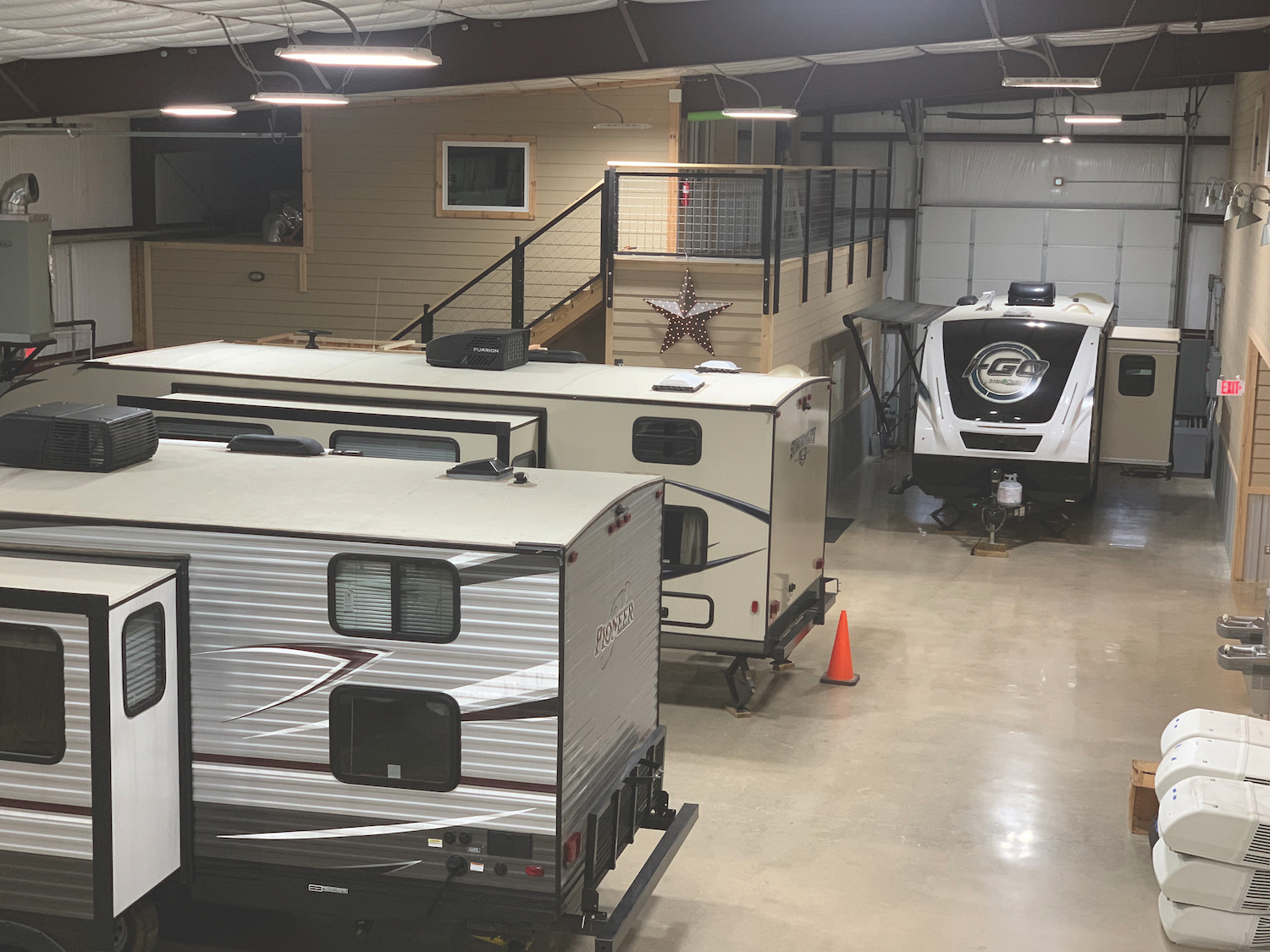 RV PRO: What was your reaction when you received the $75,000 in RV donations from Ron Hoover RV & Marine Centers?
Cooper: Now that knocked my socks off. I didn't see that coming at all. As a matter of fact, I'm looking at one of those units right now, out here in the service bay. Instructors are going to be using it tomorrow during a livestream.
Before that, one Texas dealer donated a unit; and then we bought seven units from FEMA (the Federal Emergency Management Agency) last year. I thought we were really outfitted.
And then when Ron Hoover showed up those really nice Forest River Flagstaffs with a whole bunch of bells and whistles. Now we're able to really teach what is out there today.
They've never been titled – they were brand, spanking new. So, these were not junk. When they showed up, the plastic was still on the couch and on the beds.
I did not see that one coming. I really didn't. Many thanks to Ron Hoover.
RV PRO: You've had quite the interesting journey, going from master certified technician to running a mobile RV training academy to the NRVTA. What have you taken away from this experience?
Cooper: Wow. Well, I started on the production line with Skyland way back in 1972, and I thought I'd never do that again. And when I left and went into the military, I thought I'll never work in the RV business again.
But there's something about the lifestyle. I always seem to get dragged back into it.
People used to say, 'Cooper, what's the matter with you? Why can't you keep a job very long?' Because the most I've ever stayed in one place is for seven years. You get itchy. The job is not challenging anymore.
So, when I look back, the RV was the common thread that was woven through the fabric. It was always there.
When we started traveling on the road (in 2011), it made me realize I could never really go back to being a corporate person. I had been a regional manager for Marriott and taking care of facilities, taking care of colleges and public schools. But I kind of feel like that little dog that got out of the backyard: 'Please don't put me back in that backyard again!'
There's a big difference between getting an inheritance and getting a heritage. I guess when all is said and done, yeah, I'd like my kids to have a little money from an inheritance.
But really, what I'd like to see, is a heritage where 10 to 15 years after Terry Cooper is gone, somebody could say, 'You know what, I went to an RV class and I learned how to do this and it made all the difference. It made all the difference.'