Features
Q&A with RVWA's Susan Carpenter and Denise Chariya
The duo discusses RVWA's first-ever symposium and other planned events for 2022, plus the Alliance's goals for the future.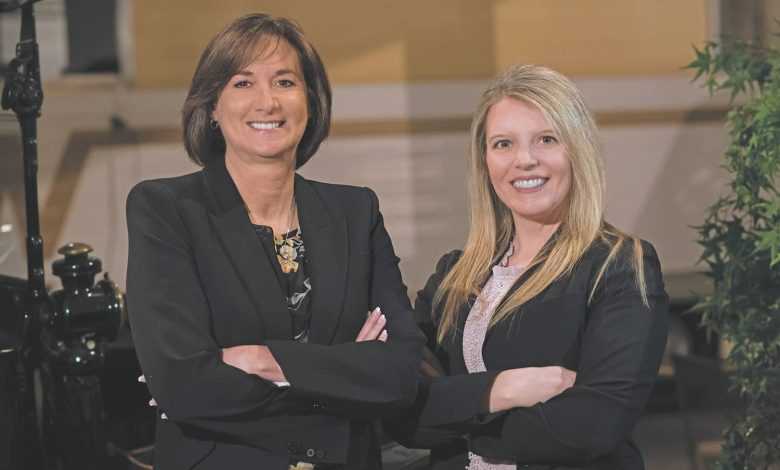 Even a global pandemic can't hold back the RV Women's Alliance.
The nonprofit group's number of members has swelled from about 200 when it started in 2019 to about 1,400 members (women as well as men) currently, representing more than 400 companies.
It's been quite a journey for the organization, the idea for which came about after RV industry members recognized that other outdoor industry groups had benefited from having a women's organization. Industry veteran Susan Carpenter has spearheaded the group since the beginning.
Initially, RVWA membership growth came at a slow, steady pace. When the COVID-19 pandemic struck in early 2020, shutting down businesses and in-person gatherings, it threatened to derail the progress the organization was making. Not wanting to lose momentum, RVWA leadership did everything possible to keep going, hosting virtual meetings for nearly two years.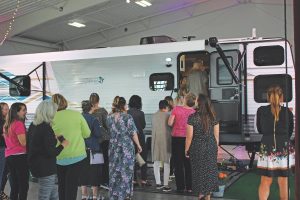 That included having RVWA members gather outside and in small groups to revitalize an aging 2007 Crossroads RV trailer, taking it from "Drab to Fab". The nonprofit group posted photos and videos of the rehab online, and as people checked those out, the organization grew.
As the pandemic recedes, RVWA plans to maintain a hybrid model of gathering, hosting in-person and virtual events designed for women in the RV industry across the United States, ensuring that educational and networking opportunities are accessible for the full membership.
RV PRO recently spoke at length with Carpenter, RVWA's president, and Denise Chariya, RVWA board member and marketing director at THOR Industries, to learn more about what's in the works for RVWA in 2022. Their answers have been lightly edited for grammar and style.
RV PRO: How did Drab to Fab change RVWA?
Carpenter: We really came into our own with Drab to Fab. It put us on the map.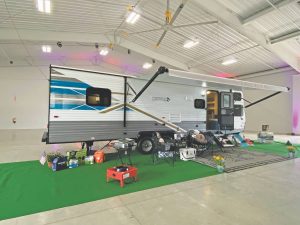 COVID-19 forced us to figure out an alternative format for education and networking. Often, we focused on the Elkhart area because much of the industry is based here.
But the pandemic forced us into other formats. This gave us an opportunity to loop in industry professionals located elsewhere. For instance, we brought dealers from all over the country into virtual groups.
Things worked so well that we plan to embrace a hybrid meeting model going forward. We see the benefit of creating virtual and in-person experiences so everyone can take part.
Though we may hold networking events locally, we're creating toolkits for RVWA groups in other areas to replicate these experiences. We also will hold our virtual book club three times this year. That is open to everyone.
RV PRO: RVWA plans to hold its first-ever symposium Oct. 11-12 in Chicago. What are your goals and hopes for that event?
Chariya: The mission of RVWA is to elevate, educate and promote women in the RV industry. That mission is the foundation of the 2022 Education Symposium and its educational events. The symposium will focus on leadership and provide attendees with different opportunities to connect.
It is RVWA's first large in-person event. We are holding it in Chicago to make it accessible for members all over the country. We designed the symposium to celebrate women within the industry while also giving them opportunities to learn and grow.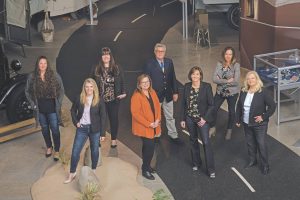 One of the greatest things about RVWA is we have members on the OEM, supplier, aftermarket and dealership side. The symposium provides all these groups with an opportunity to connect, see the challenges of others and learn how we can best support each other.
We also will hold our first annual awards ceremony at the end of the first day.
RV PRO: What educational tracks will the symposium offer?
Carpenter: There will be four sessions over two days – one each morning and one each afternoon. One session is called Effective Coaching, Communicating and Listening. The other one is called Idea, Inclusion, Diversity, Equity and Access.
We will split attendees into two groups for these sessions. One will comprise current leaders (somebody who has been in a leadership position for some time), the other emerging leaders (somebody who is new to a leadership role or wants to get into leadership).
Both groups will learn the same thing, but on a different level. What's nice is two people at different levels can participate in the educational tracks and later discuss what they learned. They both understand how to apply the material, just at different levels.
RV PRO: What is RVWA's mentorship program and what is your vision for that?
Carpenter: We see a tremendous opportunity to create a mentorship program that aligns people from diverse backgrounds and distinct parts of the industry. We want to facilitate connections and help our members learn from someone they don't work with day-to-day.
Many companies do mentorship programs, but we believe it's important to have an industrywide program that is not company specific to encourage cross-communication. You can gain knowledge and perspective when you speak and work with peers outside your company.
Chariya: We started with a pilot program but will formally launch our mentorship program at the symposium. To take part, members must fill out an application that helps us match people to mentors based on their career goals, the areas they want to work in, and the skills they hope to develop.
RV PRO: What else can people expect from RVWA in the year ahead?
Carpenter: We will continue our focus on education. Besides the symposium, we will also host workshops. We have at least two planned for the balance of the year, besides three book clubs and other educational content. All content will be available on demand after each event.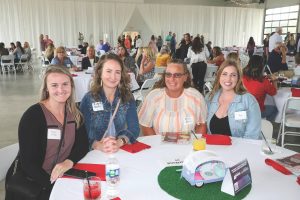 Last year, we held over 25 educational events or workshops virtually and had over 230 members participated. We want to continue to offer these opportunities. Education is a key component of the value we bring to our members.
RV PRO: How has the representation of women in the industry changed since 2019?
Carpenter: We did a second impact study in October; our first was in 2019. The study discovered a 16 percent increase in women in the industry since 2019.
There are many reasons for this. A lot of women lost their jobs during the pandemic, but still had to make a living. Our industry – which is booming – also did not slow down during the pandemic; thus, people gravitated toward it. This also presented an opportunity to bring in more women.
RV PRO: How can RVWA help newcomers to the industry?
Chariya: There are many people joining this industry without an RV background. RVWA is a great resource to help them learn. It's filled with people who can get them up to speed faster and help them learn how the industry works.
It's exciting to see the growth of women in this industry as RVWA focuses on elevating and promoting women. It is a testament to the work of the industry to represent women well.
Carpenter: It is important to RVWA that, as women enter this industry, we do what we can to give them a place to belong. The RV industry operates differently. It's difficult to integrate into it when you don't understand how it works.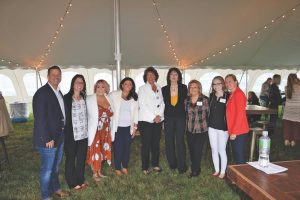 It's a vital part of our mission to give women the resources they need to succeed through networking and mentorship to develop a sense of community and a place to ask questions.
Chariya: We want to bring people to the industry, but we also want to help keep them in it. Our vision is to make the RV industry a place for women to thrive; a place where women can be successful, grow and feel supported.
RV PRO: What work remains as the number of women in the industry grows?
Carpenter: There's always room for improvement. As women look at their long-term goals, we want them to consider the RV industry.
To us, elevate does not mean we elevate women into higher paychecks. Rather, we provide a means to showcase women working in the industry every day.
We plan to introduce a profile of a woman in this industry twice weekly and put it out on our social media. We want to say, 'Here's Anna, and she does this job. This is her background, etc.' We hope doing so will inspire other women and lead them where they want to go.
RV PRO: What can the industry do to attract more women?
Carpenter: Our purpose is not necessarily to attract women to the industry. We have enough companies that will do that.
We want women who research the RV industry to know there is a woman's alliance. We want women to become members and stay in this industry because they recognize that it values women.
Chariya: We've made huge progress in the number of women in this industry. But a lot of longstanding relationships still exist at the higher level between men.
Providing a space for women to make connections is vital. We also know that women and men communicate differently. So, these opportunities and how they're set up must be different.
We strive to support women already in the industry and those entering it by supplying the right opportunities to make connections.
RV PRO: What are your plans for the RVWA book club in the year ahead?
Chariya: We have a committee that selects the books. Our goal with the books we read is to pick a topic that can apply to multiple levels of women.
We like agnostic, broader topics that can apply regardless of the part of the industry you work in. These book clubs are a fantastic way to start a conversation and have a lot of impact.
We select books one quarter ahead. Then, depending on the length of the book, we divide the book club into two or three evening sessions. We provide a discussion guide but also look for conversations to happen organically and turn into productive communication between members.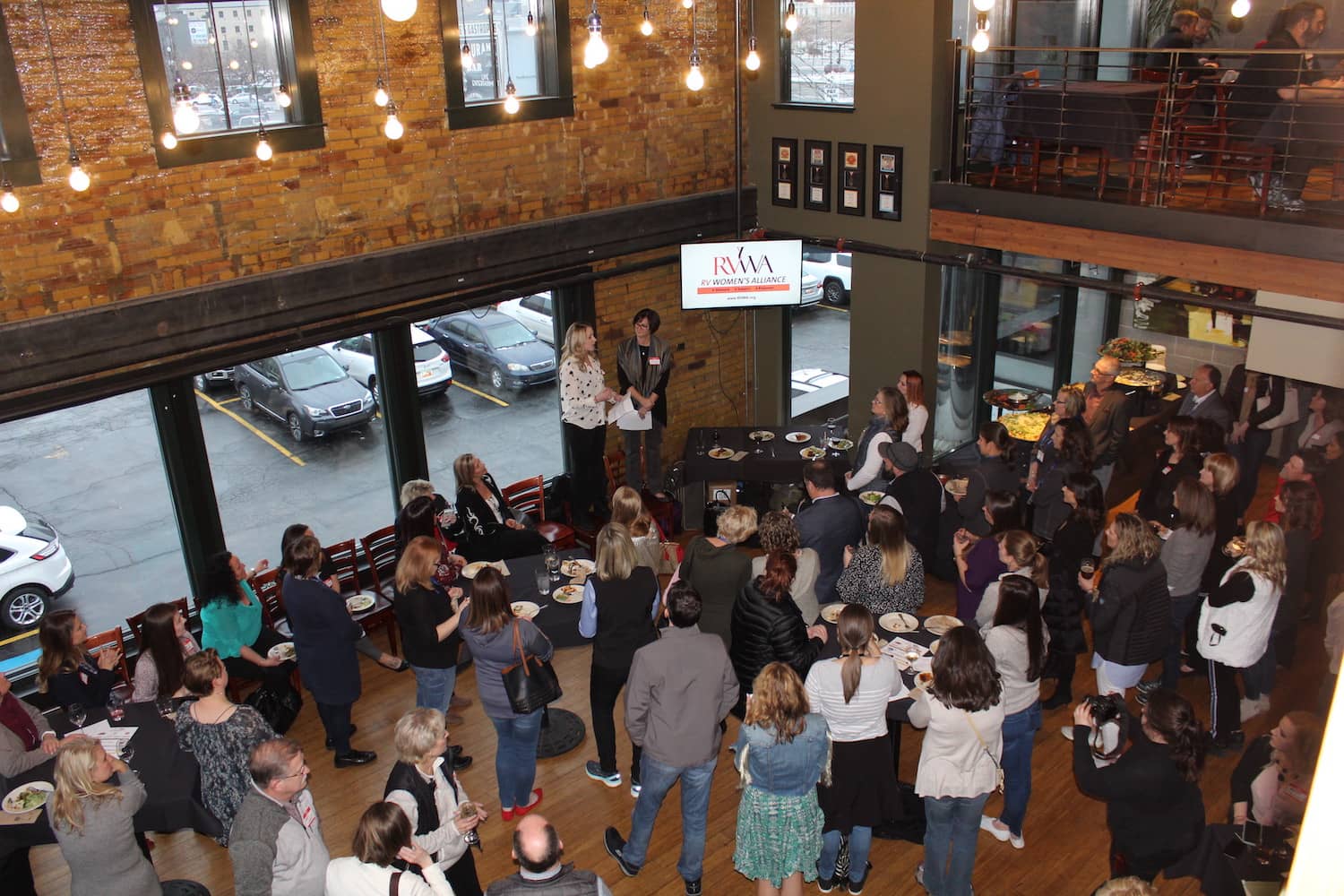 RV PRO: What kinds of service projects does RVWA have planned in 2022?
Chariya: We are really excited about our focus on service projects for 2022. We saw so much success in giving women the opportunity to work together in Drab to Fab.
We're looking to create more of those experiences through partnerships with organizations offering volunteer opportunities. Not everybody does well in a traditional networking setting. It's not always easy to walk into a room of obvious strangers and start networking.
But when you sign up for a Habitat for Humanity event – something we do every year – you sign up for a purpose. You talk as you work, and networking becomes organic.
RV PRO: What do you see ahead for the industry as high fuel prices, inflationary pressures, labor challenges and parts shortages proliferate?
Carpenter: Fuel prices don't have a significant impact on our industry. Those who love the lifestyle will still get out there.
With staffing, we're in the same boat as the rest of the country. As for the number of units we produce and sell, we will see a correction to a more sustainable number of units sold, rather than this hair-on-fire situation we've been dealing with.
We remain incredibly positive about the future. This puts even more pressure on RVWA to provide value. We exist to elevate and educate women and to act as a strong presence in the industry to ready it for the future.
RV PRO: How can people join RVWA or attend the symposium?
Carpenter: Anyone who wants to be a member and get on the early bird list for symposium tickets can visit www.rvwa. org.
If you missed our special "Women in the RV Industry" podcast, feature three women in the industry working in three very different positions, please click here.