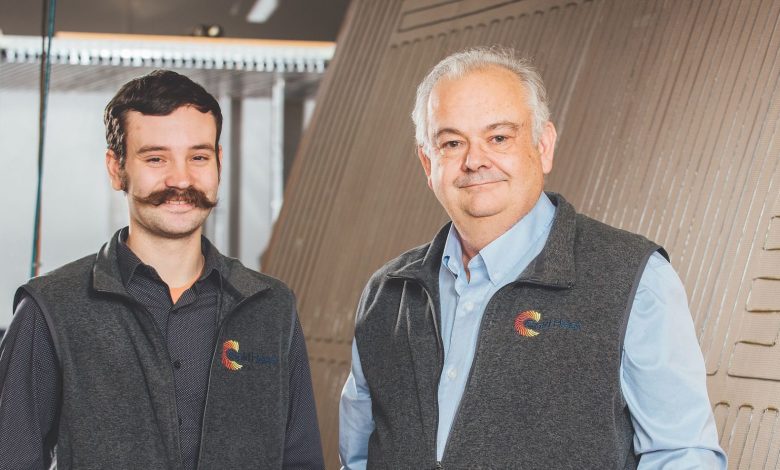 Companies often make radical changes because they're failing – or wildly succeeding.
At Gold Heat, success has been the fuel behind a couple of major changes over the past two years that are poised to drive the company – already supplying two-thirds of all radiant floor heating systems for Class A diesel pushers – to new heights.
In mid-2018, Ken Millard, the company's president and founder, opted to turn over much of Gold Heat's day-to-day operation to a general manager so he could focus on updating its service training, a move he views as integral to further expansion.
And, in a nod to common perception, at the end of last year the operation replaced the name it began under in 2002 with the moniker of its lead product.
Seeing the Expected 
The jury may still be out on the name change, and Millard admits there may be some confusion among would-be customers and even some disruption. However, by utilizing the Gold Heat name, what started life as Aries Engineering is finally conforming to how the industry has been viewing the company all along.
For example, the trade show booth has always been branded as Gold Heat, Millard says, but then the business would appear as Aries Engineering in the show guide advertising index, which also left people confused.
"We realized all our customers were referring to us as Gold Heat," he says. "I was at a rally talking with a guy for half an hour, having identified myself as Aries Engineering, the radiant-heat manufacturer. Then, the name Gold Heat slipped out and he said, 'Gold Heat. We love you guys.' Now, people are seeing what they expect to see."
The new name and an updated logo may enhance brand identification, but the real reworking of the company's foundation came with the hiring of Brian Bishop as general manager.
Bishop, an engineer with a master's in business administration, has a history with Millard. When the company was being organized in 2002, Bishop says he helped Millard raise funds to launch the operation.
Millard describes himself as a visionary capable of designing a product and the tools to make it, and then running the company – which currently operates with 14 employees, including three other engineers – in 7,000 square feet of space in Hillsboro, Ore., a suburb of Portland.
The difference?
"Brian is an expert in running a company," Millard says. "We're taking steps forward in product development and in serving our current customers better while bringing in new customers in new markets. I realized I could either run the company or I could devote my energy and focus to working on those improvements and initiatives."
Bishop describes himself as "a build- it-and-sell-it engineer."
"I'm a developer," he says. "My attitude is 'Great; you've made one. Now, let's make 1,000.' My job is to keep things from hitting Ken's desk so he can go do his thing. It's an awesome partnership."
Keeping the Line Running 
The two men are confident that Aries-turned-Gold-Heat has always had a great product – or rather two products. Although Gold Heat is designed specifically to provide warm floors under the tile of Class A diesel-pushers, the company's Black Gold does the same thing at a lower cost under the floors of towable units.
For much of its history, the company has focused on getting its electrically heated mats under the porcelain and tile floors of high-end units with enough power to support the slightly heavier floors, and it's done it well.
And, with an OEM customer list that includes Newmar Corp., Tiffin Motorhomes, Forest River, Foretravel Motorcoach, Marathon Coach and Thor Motor Coach, it's obvious it chose wisely.
"Thor is our most-recent add," says Millard. "They didn't even option us. They did a couple test coaches and bought Gold Heat as a standard feature on the Tuscany model."
The company has always been recognized for its support of its OEM customers and Millard sees no reason to change that.
"We flew out to Elkhart, we went to Thor's plant, we showed them how to install, we showed them how to troubleshoot, and we showed them what techniques people doing the thinset would have to change to be successful," says Bishop. "Now, they're turning the crank."
Gold Heat does its best to make sure it's easy to work with from the very beginning, however. Millard says his designers are frequently on a first-name basis with the designers of its OEM clients.
"An OEM will send us an AutoCAD floorplan, we drop it into our AutoCAD, and we design a mat for it and ship the drawings back," adds Bishop. "They approve it and we go forward. Even if there are a lot of floorplan changes, we only need a few days."
And, Millard stresses what comes back is more than just a check print that shows the heat map. The check print shows exactly how the mat should be positioned within the floorplan.
If there is a problem during the installation – say a mishap with a grouting knife – the company can respond quickly. In a true emergency, Gold Heat has been known to do a same-day turnaround, including shipping, although Bishop says that isn't always necessary.
"They'll say they need a new mat tomorrow, and we say, 'You have one on your receiving dock that's destined for Coach No. such-and-such,'" he says. "We'll tell them to use it and we'll backfill because we know they don't need that one until next Tuesday.
"We really help them problem-solve and keep the line running."
Millard is confident that buyers of more economical units are also recognizing the difference radiant heat can make to their units, and he says Black Gold is continuing to show more demand from the towable market.
"As opposed to the Gold Heat custom mats, Black Gold is very adaptable and well-suited to go under vinyl and engineered flooring," says Millard. "It's only a matter of time before customers demand, or an OEM decided to include Black Gold as a feature in high-end towables or gas Class A's."
In the meantime, as buyers become more feature-focused, Black Gold is picking up customers, primarily remodelers.
Update & Revise 
It's for that reason the company's emphasis in the last half of the past decade has been a move toward better support for its customers with a focus on service and training.
"We're expanding now to train dealers, service centers and remodelers on installing the products, supporting the products and generally enhancing the customer experience," Bishop says. "If someone wants to remodel and get a new floor, or change a floorplan and get radiant heat, we want to teach people how to do that and still have the product work."
One of its most-recent steps is joining with Newmar as that company puts on its service schools this year.
"We're also writing the curriculum to fit into the new RVTI (RV Technical Institute) mechanism, which is fairly intricate," says Bishop.
Because unit owners are going to service centers and remodelers with adding radiant heat in their sights, the two men are reworking the company's website to provide an information base to those people who are doing the retrofits to make sure they're successful.
"The point of the website is not to place orders," Bishop says. "The point of the website is to be a resource. We want to make sure people can get information about using the product, not those selling the product."
Millard is currently in the process of updating and revising the company's training materials into a series of videos so that when someone comes to a training class, they've already developed some familiarity with the processes involved.
"We're maintaining our commitment to fact-to-face training, when appropriate," Millard says. "But we're also adding videos and more print materials. There's a lot of effort right now in terms of improvement both on training and support."
Although there's no maintenance involved with either Gold Heat or Black Gold, there is sometimes a need for repair, and that's a special concern to Millard.
"We're so focused on our customers being successful that if we notice somebody is placing a lot of orders for repair kits, we'll call them," he says. "It's not just a matter of filling the order. We want to know what's up, what's going on and do they need more training?"
One item the company has developed in recent years is better diagnostics for determining just what is wrong. And, given the nature of RVing, it can be anything from the floor flexing and crushing part of a mat to someone errantly driving something through a Black Gold strip under a vinyl floor.
Bishop says good diagnostics are particularly important for Gold Heat floors, given it can be expensive to remove tiles. The company offers multiple methods for determining where a mat is broken and will rent out something called a "time domain reflectometer" to shops that don't have them.
"It times, at the speed of light, how long it takes for an electric pulse to go down and come back," Bishop explains. "We get those numbers and we can say 'Lift this tile; the fault is going to be there.' They don't have to pull up the whole floor.
"And, if somebody calls and says they repaired a mat once, but it was three years ago, we walk them through the job."
Looking forward, Millard says continuing to distinguish Gold Heat through its service and training before and after the sale is a major goal. And, if the RV industry – or a related market such as housing or marine – indicates it's open to another product, he'd be happy to address that need.
"One of the things I'm proudest of – beyond the products and the way I serve my customers – is the way the company serves my employees; that's very important to me," Millard says. "I'm excited to see what we can achieve in the next few years serving our existing customers and reaching out to new ones."