Features
Reflection Fuels Grand Design's Growth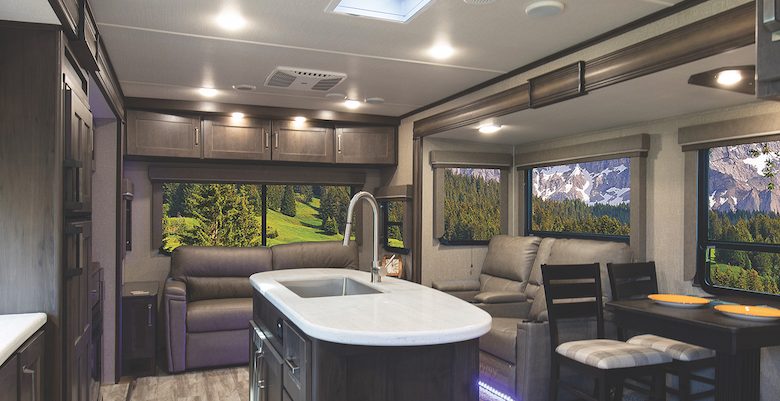 This article is from our older website archives. Some content may not be formatted or attributed properly. Please
Contact Us
if you feel it needs to be corrected. Thank you.
Since its inception in the summer of 2013, Grand RV's easy-to-tow, luxury Reflection fifth wheel brand has methodically climbed market data firm Statistical Surveys' leaderboard.
Introduced on the heels of the company's extremely successful Solitude extended stay fifth wheel, Reflection enabled Grand Design's dealers to expand their reach into the high-volume, smaller fifth wheel market. The new brand's interior living space, residential eye appeal and unique layouts quickly raised expectations in the marketplace.
The August 2019 issue of RV PRO can be read here.
Because Grand Design lumped its fifth wheel brands together for reporting purposes in the early going, Reflection didn't appear independently in Stat Surveys' rankings until 2015, when it debuted in the Top 5.
Reflection reached the No. 2 spot by 2018, surpassing the Keystone RV Cougar, the longtime runner-up. The climax to this steady effort occurred this past spring when Reflection captured the No. 1 spot in the March tally, dethroning Keystone RV's Montana, which had held the top spot for two decades.
To go from nowhere to the Top 5 in just five years is remarkable, especially in light of the herky-jerky, teeter-totter world of fifth wheels (see Figure 1).
Climbing the Ranks
Grand Design's overall fifth wheel market share stood at nearly 14 percent at the end of 2018 and was at 15.8 percent by April, according to Stat Surveys. In that same vein, all fifth wheel registrations were down 8.8 percent through April, even while Grand Design's sales were up 1.8 percent, according to Stat Surveys.
Grand Design's other two fifth wheel brands, Solitude and Momentum, also rank in Stat Surveys' Top 10: Solitude was No. 5 while Momentum was No. 8, as of April (latest data available).
"It's pretty humbling to see our company achieve the strong market share growth. What really makes this achievement rare is, we have reached our present fifth wheel market share with just three brands," President and CEO Don Clark says. "We feel honored and, frankly, awestruck that our customers have supported us the way they have."
While Grand Design's rise has been stellar, Clark says he has not made a big deal of the growth – and doesn't intend to moving forward. Noting the competitive nature of the RV industry, he adds that he wants his staff to remain vigilant.
"It never hurts to be concerned about who could be coming up behind you. Paranoia can actually be an effective motivator. It keeps our design teams sharp and avoids complacency."
"I made a point to congratulate my purchasing team, pro- duction team and sales team," says Reflection General Manager Micah Staley, who also took an overall low-key approach to the accomplishment. "That was about it."
He says the response from staff was along the lines of, "Really? OK! Great!"
"Now, we're the ones with the target on our back," Staley quickly reminded his staff. "We have to stay hungry. The stats don't matter that much for us. It's a scorecard for the industry but it's more important for us to have a product the customers are commenting on and requesting. We just want to stay disciplined."
Staley, who joined Grand Design in February 2013 to oversee the creation, launch and maturation of the company's first mid-profile fifth wheel, knows this veritable dogfight among the top OEMs will likely continue as long as RVs are built.
For the record, Reflection held onto the top spot in the April Stat Surveys report, topping Montana by about 1 percentage point in market share.
In parent company Winnebago's financial report for the nine months ending May 25, the company noted fifth wheel unit deliveries in the quarter were up 13.9 percent year-over-year and 3.7 percent for the nine months. Grand Design's fifth wheels account for the yeoman's share of Winnebago's fifth wheel business, which also includes Winnebago Towables.
And, notably, despite Grand Design's success in gaining market share, it remains in third place in the overall fifth wheel business in terms of retail sales. Stat Surveys put industry-leading Thor Industries market share at 51.6 percent in April, well ahead of runner-up Forest River's 26 percent share and Grand Design's 15.3 percent.
Reflection Targets Market Demands
From the company's origination, Grand Design has focused on building around the needs of the buyer for all its models – and Reflection has been no exception.
"It's been a success right out of the gate," Staley says.
Reflection targets a specific price point, $52,000 to $68,000, meeting a specific need and purpose, according to Staley.
"We try to keep the floorplans very simple but effective and very strategic, and we build around the idea of dealers maximizing their turns and margins," he says. "Collectively, as a brand, we shoot for three turns a year, but these are model specific."
Dry weights on the eight floorplans range from 8,615 to 12,474 pounds. Features on all eight floorplans include a gourmet kitchen, ductless flooring, universal docking station, split baggage doors, Arctic four-seasons package, unobstructed pass-through storage, aluminum entry steps, one-touch auto leveling, deep-seated stainless-steel farmers sink and a tri-fold hide-a-bed. Every Reflection comes with a class-leading, three-year limited structural warranty.
The 150 Series, introduced in April 2017, is a smaller unit (6,945 to 8,496 pounds), usually a single slide-out and focuses on the half-ton towable market. Available in five floorplans, the 150 Series retails for between $42,000 and $50,000.
Grand Design customarily does a product revision every autumn and last year "purified our lineup," Staley says. The process led to the discontinuation of two Reflection floorplans and one 150 Series floorplan.
"This year, it was time to give our lineup a facelift and adjust our look. We did a full interior and exterior makeover, from wallboard and flooring to countertops and hardware. You name it. Very few things didn't get touched.
"The biggest change was to our 150 Series. Now that Solitude has a new S Series, we had a price range gap that Montana and High Country were penetrating, and we weren't. We've made a conscious effort to make the 150 Series more rounded. For years, we (the RV industry) have been focused on size as indicative of the price. There are people who want smaller units but don't want them built cheaply."
So, the new 150 models feature painted front caps, roller shades, automatic leveling systems and other big-ticket features, "because we know there are (sales) opportunities in the $40,000 to $50,000 price point. That's the biggest area we could improve the Reflection fifth wheel's market share," he says.
Product revision is actually a year-round process at Grand Design.
Staley maintains an on-going list, much of which consists of personal "gut feelings" and product feedback from dealers and retail customers he meets at the annual owners' rally. Before a change is enacted, he asks himself if the change makes sense, will a change put Reflection out of a targeted price point and a host of other key questions.
"Everything we do has to be precisely calculated to keep the brand's integrity, so we don't stray," Staley stresses.
In that same vein, he chuckles over the fact that some product improvements come as a direct result of owner feedback he receives at those annual rallies. When a customer expresses surprise at the change, Staley will reply, "You're the reason we changed."
The opportunity gives Staley joy and a sense of accountability to his retail customer.
Grand Design began shipping 2020 models on June 5. A few dealers popped into Grand Design's sprawling facilities this summer and caught glimpses of the new models, but most dealers will see them for the first time at the Elkhart Open House Week, starting Sept. 23.
During the industry slowdown which began in late spring 2018, Grand Design has developed about a 5 percent growth in its dealer body.
"We have identified some open markets and capitalized on it, always keeping in mind being respectful of existing dealer's territories," Staley says of the expansion.
That attention to the concerns of dealers and customers has earned the brand an RV Dealer Association Quality Circle Award every year since Reflection's creation.
Good Growth Prospects Ahead
Despite a proven track record, Clark says Grand Design has no plans to launch a fourth fifth wheel brand. Instead, he says, "What we've done the last year-and-a-half is filled our brands with the Momentum M Series and G Class and the Solitude S and Reflection 150 Series. We've lengthened the customer reach. Now, with these three brands, our dealers can reach a broader array of customers. We don't want to cause confusion on our dealers' lots. Each brand has a specific customer and specific story to tell."
In the meantime, Clark and parent company Winnebago Industries are responding to continued success of Reflection and its sister products in another manner, reminiscent of the industry boom of recent years: Grand Design is adding production space. Notably, few OEMs are taking such an aggressive approach in today's market.
"We have plans underway to provide Reflection additional capacity," Clark says. The company broke ground earlier this year for a 175,000-square-foot expansion for Solitude production. This expansion will free up existing space on Grand Design's north and south campuses for Reflection and other brands. Completion and the subsequent space allocation are planned for early in 2020.
Dove-tailing with that observation, Clark adds, "Our growth has been predicated on retail demand, which causes dealer demand and us meeting our customers' request. If it wasn't for our relationship with Winnebago and the confidence that both CEO Mike Happe and the executive leadership team have in Grand Design, we could never have grown as fast as we have. They have been incredible partners in supporting our growth."
Staley adds, "We will continue to live by the company's business model and focus on where the customers are going – not where the competition has been. We're not going to worry about what Montana is doing; we're just going to continue to focus on how to make a better product."
Despite all the uncertainty enveloping the RV industry over the past year, consumer confidence in May was at its highest in 15 years. That vote of confidence bodes well for the RV industry and fortifies people such as Clark.
"I think the RV industry is a very resilient industry. We've been on a record-breaking pace for the last nine years," he says. "It would be unrealistic to think that there would not be a leveling off. That's what we're seeing now. But I believe I heard it is anticipated this year is still projected to be among the top five years in our history. I'm fine with leveling off at where we are. Grand Design is well positioned to capitalize on the market's position as well as positioned to continue to gain share during the industry's next growth cycle."
Clark says Grand Design will grow "responsibly" by keeping pace with retail and wholesale demand. And he dismisses talk about chasing No. 2 scoreboard player Forest River and its 35 fifth wheel brands.
"Our goal is not to be the biggest manufacturer in the industry. Our business model will prevent that," he says, noting that Grand Design doesn't build cloned products or stock multiple dealers competing against each other in the same market. "Our business model is a differentiator for us. We came out 6-and-a-half years ago with it and have not strayed from our guiding principles. It's become our DNA."