Features
Running Out of Room in the 'RV Capital of the World'
Manufacturers in Elkhart County and surrounding areas are scrambling to expand to meet demand.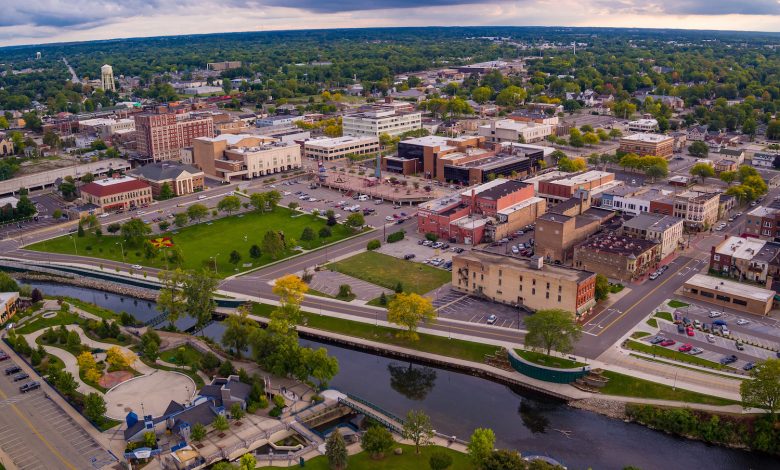 Steven Clark, general manager of R. Yoder Construction in Nappanee, Indiana, says that at this point, he'd welcome a little bit of slowdown in the RV manufacturing business.
Elkhart County, Indiana, has long been dubbed the "RV Capital of the World" as home to most of the nation's major RV manufacturers – and its economy is on fire. The region is already a sea of pre-manufactured steel buildings, and with RV shipments at record highs, it needs even more pre-manufactured steel buildings to keep up with what seems to be an insatiable demand.
Yoder and other construction companies, developers and brokers say they are swamped.
"Right now is the busiest most of us have ever seen it," Clark says. "I've heard more than one RV (manufacturing) business owner say, 'I could take a little bit of a turndown.' In fact, I have heard that multiple times in the last week."
His company erects steel buildings from 20,000 to 220,000 square feet. Its current projects include structures for Aluminum Trailer Co., inTech RV, Right Angle Steel & Fab and Smoker Craft.
"When we're talking to owners to build, it's pretty consistent feedback. 'When do you need to be in there?' And they say, 'Yesterday.' … It's like, 'I need to get in there right away, because every day I'm not, I'm losing money. The opportunity cost in this situation is one of the factors that's driving construction," Clark says.
Post-Pandemic Snap-Back
Initially, the pandemic crushed Elkhart County's economy, driving its unemployment rate to nearly 28% – one of the highest in the nation at the time. Now it's down to 0.9%, according to a February report in The Goshen News, and one of the biggest challenges employers face is finding labor.
"It's been unique and surprising," says Clark, an attorney who also sits on the Elkhart County Council. "Everybody realizes the demand is unsustainable and unrealistic. … Nobody wants to see a significant recession, but a little bit of a slowdown wouldn't hurt."
Levon Johnson, president of the Greater Elkhart Chamber, says his group works to address the limits on the growth his community is butting up against.
"Our great restriction point isn't just people. It's a place for them to live," he says. "One of the strengths of Elkhart has always been affordability. And we continue to be more affordable than most of the country, but it's definitely a different market than it was two years ago."
Already, an estimated 35,000 people commute to regional employers every day, driving an average of 45 minutes. Higher gasoline prices make the commute more difficult. Developing more housing will be critical for the region to maintain its growth trajectory.
"The challenge right now is that housing hasn't kept up with demand," Johnson says. "But we're making [a] great deal of investments in quality of life to keep Elkhart a desirable place [to] live."
In the meantime, RV manufacturing is driving employment growth not only for itself, but also in all of the service sectors that support the local population. Additionally, Amazon is building an 800,000-square-foot fulfillment center that it says will employ 1,000 workers. Economic development officials are excited that the Amazon hub will diversify their economy, but it also represents a potential drain on a largely tapped local labor force.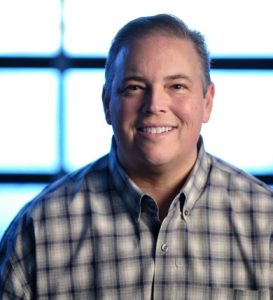 "A lot of people were against that project," says Brent Miller, president and principal of Endeavour Construction in Elkhart.
"A lot of people tried to fight it," he says. "They didn't really want it. We don't need somebody like that coming in here and pulling stuff [labor] away. But Amazon is coming anyway."
This Boom & What's Next
RV manufacturers shipped more than 600,000 units in 2021, according to the RV Industry Association (RVIA). That's a 19% increase over the previous record. In the first quarter of 2022, the industry hit another record. In March – the tally available as of this writing – the industry shipped 64,454 units, an increase of 18.7%.
About 85% of the RVs manufactured in North America come from Elkhart. And the companies here aren't just expanding to meet the current high demand.
"Companies are expanding their ability to innovate in the RV space," Johnson says. "There's a need for investing more in automation and robotics, becoming more innovative in how RVs are made. RV companies are also becoming more intentional about their carbon footprint."
RV manufacturers are also building for a distant future, even knowing the near future could bring somewhat of a downturn.
"There will be another big boom," Clark said, "and they want to be positioned to capture that. They don't want to be trying to build the next plant to keep up."
Decades in the Making
It may be the golden years for Elkhart today, but its dominance in the RV industry goes back to the 1930s.
In 1936, retailer Wilbur Schultz, who had a great knack for promotion, bought Elkhart's Sportsman Trailer Co. from a man named Milo Miller. He grew the operation swiftly and soon had two plants with more than 250,000 square feet, and he boasted production of more than 1,500 trailers in 1937. By 1939, he grew his company to become the largest manufacturer in the industry.
Suppliers and even more manufacturers soon followed his success. The area's railroad links, highways and central location between major markets accelerated the trend.
Today, the county's manufacturing list reads like a who's who in the RV industry: Winnebago, THOR Industries, Forest River, Gulf Stream Coach, Jayco, East to West and North to South RV, and many others.
This history is preserved at Elkhart's RV/MH Hall of Fame. The museum represents a spillover from manufacturing to tourism.
"Our tourist industry has grown up around that," Johnson says. "Almost all of the companies allow for RV owner groups to come see how RVs are manufactured from start to finish, get the history and interact with other owners of their brand of RV."
It's like the affinity groups for Harley Davidson or sports car enthusiasts, he explains. "It really creates great bonds, stories and friendships that truly last a lifetime."
The Road Ahead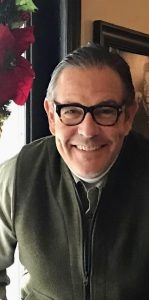 So far today's RV manufacturers have successfully navigated economic obstacles: inflation, rising interest rates, supply chain bottlenecks, soaring fuel prices. Demand for RVs is still on the rise, and manufacturers still need more space. It's a good problem to have, but that doesn't mean it's been easy.
"Last year was superheated and really not too comfortable," says Robert Thatcher, a project manager, estimator and real estate broker for FM Construction Co. and FM Stone Commercial in Elkhart.
His company is focused on the pre-engineered steel buildings that dot the county, but it's also involved in office and retail development, as well as expansions and renovations.
"At one point, our pre-engineered steel building providers had ceased accepting orders," he says. "We were 36 to 38 weeks out to receive a package, which is too long, seasonally. We also saw dramatic pressure on price points."
Companies that wanted to expand suffered extreme sticker shock from skyrocketing commodity prices and crimped supply chains.
"We certainly worked through all those matters," Thatcher says. "But we've been a little more selective in the jobs that we were ready, willing and able to contract for and execute for."
With any luck, the market will pull back just enough.
"I do think we're transitioning from a superheated market with shortages to maybe a much more of a manageable, healthy market," Thatcher says.
But the economic forces that are threatening a slowdown are having a weak effect, so far, because the pipelines are still full. Miller at Endeavour Construction says some companies are still erecting buildings that they needed quarters ago.
"Somebody might have ordered a building a year ago, and they are finally getting a building now," he says. "Those lead times have come down. Some of the cookie-cutter buildings you can get on 12 to 16 weeks, some of the custom buildings can still take five to six months. But it's better than where we were."
Like many Elkhart County businesspeople, Miller welcomes what he sees as a coming slowdown – but not a sharp downturn.
"In my 28 years (in business), the last several years have brought the most activity I've ever seen. It's been insane," he says. "Everybody's dreading it, but everyone knows we need a little bit of a downturn to get back to normal again."
But normal won't likely mean a sharp increase in available industrial or warehouse space.
What the industry has learned over the past cycle is that manufacturers shouldn't sell buildings during a downturn. It's better to mothball them if necessary and stay prepared for the next boom.
"The whole industry has changed so much with big companies like Winnebago and Forest River, and these guys are so well-healed, they're not going anywhere," Miller says. "They learned their lesson. They're not going to let go of real estate."
PROJECTS ABOUND
As the RV boom continues, the groundbreaking and expansion announcements keep pouring out of Elkhart County. Here's a sampling:
Genesis Products, which makes RV components, is building a new 78,000-square-foot plant in Goshen, Indiana, that it expects to complete by December. The company says the expanded production facilities will create more than 60 new jobs.
Way Interglobal, which supplies appliances, electronics and furnishings for RVs, is preparing to move into a new headquarters later this year. Its new building includes 800,000 square feet of warehousing, showroom and office space, and it will be one of the largest buildings in Elkhart.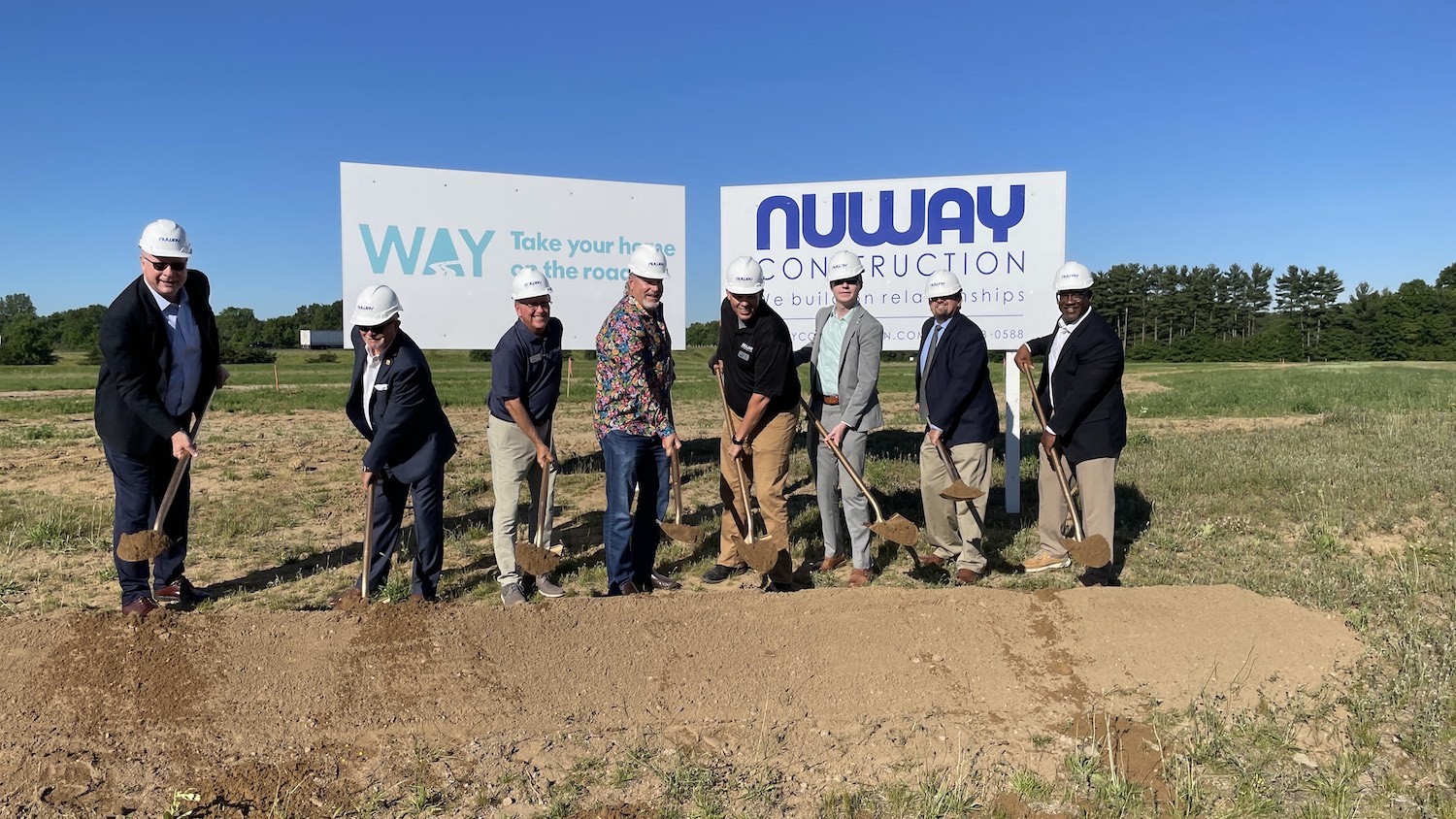 Ranger Distribution, which supplies wire, electrical, plumbing and building products for the RV industry, will soon be moving into a new 68,700-square-foot building to expand its warehouse and production capabilities.
MJB Wood Group, which makes industrial wood products, is moving into a new 500,000-square-foot facility on a 37-acre lot near Bristol, Indiana.
Duo Form, a thermoform plastics maker that supplies the RV industry, has added 41,700 square feet to expand its warehouse facilities.
Trim-Lok, which makes seals and trims for vehicles, announced plans to move into a new facility in Elkhart that includes 150,000 square feet of manufacturing and warehousing space, and an additional 5,500 square feet of office space.
inTech RV, a custom trailer and RV manufacturer, is opening a 150,000-square-foot facility for its RV, motorsports and custom trailer operations.
NUWAY CONSTRUCTION'S PERSPECTIVE
Nuway Construction has served multiple markets in the Michiana region since 1975. The company focuses primarily on pre-engineered metal buildings, with projects ranging from 1,000 to 800,000 square feet.
"Since our inception, we have worked with many companies in the RV industry, both designing and building well over 30 RV manufacturing facilities," says Nuway President Andy Nesbitt.
Nuway has held a long-standing partnership with Grand Design RV, Nesbitt says, recently converting more than 80 acres of the manufacturer's campus into nearly 1.2 million square feet of production, warehousing and office space. Nuway is leading the expansion
of Ranger Distribution's facilities in Elkhart, and just broke ground on a third building for Genesis Products in Goshen. The company is currently working on multiple buildings for Winnebago Industries and Keystone RV.
"Our latest project to date is the new Way Interglobal headquarters we're currently building in Elkhart. This 800,000-square-foot building – set to be completed this fall – will have 54 truck docks, 20,000 square feet of offices and a state-of-the-art showroom," Nesbitt says.
Despite a slowdown in the RV space, demand for larger and more complex buildings continues to grow.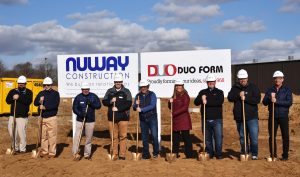 "Several years ago, a 100,000-square-foot building was considered large. Now we're seeing demand for 200,000- to 300,000-square-foot buildings. Companies are also more inclined to make conscious design decisions to prioritize employee comfort," Nesbitt says. "Over the last few years, the typical RV building has become about 50% larger and taller, due to an increased use of mezzanines and crane systems. Buildings are now designed around the manufacturing process, where  in the past, the manufacturer would work with the building they had. … There has also been more discussion about sustainability in recent years, and we have worked with many of our customers in the RV industry to incorporate more sustainable construction options."
Nuway completed multiple plants requiring climate-controlled conditions and began incorporating environmentally conscious technologies in its recent projects, like geothermal heating/cooling and solar energy.
"We expect a bit of a slowdown in the next 6 to 12 months, especially for some of the smaller projects. But we believe that companies with long-term strategies will continue to move forward with their projects," Nesbitt says. "The RV industry is nothing if not adaptable, and we are ready to meet the construction needs of the industry as it changes, whatever those needs may be."