Features
RV Auxiliaries Promote Diversity, Inclusion and Volunteerism
The RV Women's Alliance, Care Camps and Black Folks Camp Too are all striving to make a positive impact upon the RV industry in their own unique ways.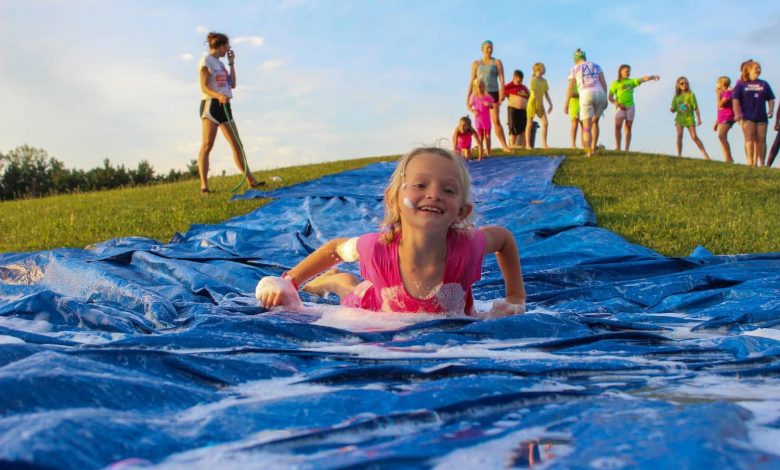 RV industry professionals often discuss the need to work harder to appeal to more diverse audiences and prepare for the next generation. However, how to do that perplexes some. Here's how three RV auxiliary groups approach appealing to and educating specific populations both as co-workers and as customers.
RV Women's Alliance
Before the RV Women's Alliance's official launch event March 13, 2019, organizers expected 100 people might attend, curious to learn more about the group's plans. Instead, double that amount attended, ready to network.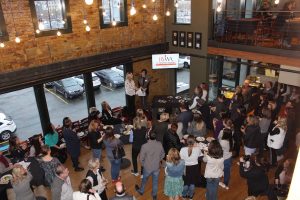 "There was a line at the door," says Susan Carpenter, RVWA president, remembering the event at Squatters Pub in Salt Lake City in conjunction with the RVX: The RV Experience trade show. "I had so many women who came up to me who said they had been looking for a group like this. … The timing was right."
Or perhaps overdue. Carpenter says the group's last study shows the RV industry is about 20 percent behind the national average for women working in industries, something that likely doesn't surprise most industry professionals.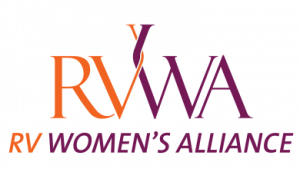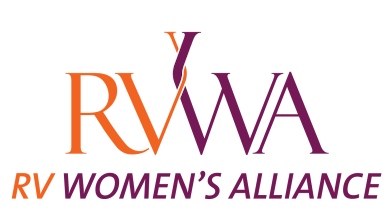 RVWA's mission is to "Unite, Inspire, Recruit and Develop" a more diverse workforce by supporting women (and men) with education, resources and opportunities. RVWA now boasts more than 1,300 members – 10 percent of whom are men – from nearly 400 companies.
"As an industry, we have done a good job of advertising the RV lifestyle," says Carpenter, an industry veteran who serves as manager of aftermarket operations at Mishawaka, Ind.-based B&B Molders. "We need to do a better job of promoting the industry and helping women be successful."
RVWA grew to 400 members by early 2020 and started strong with several in-person events and a popular webinar by Deborah Gardner, author of "How to Sell to Men Without Wearing a Low-Cut Dress."
The nonprofit group planned to network heavily at trade shows and its own events last year, until the COVID-19 pandemic forced Carpenter and the other members of RVWA's board of directors to regroup and offer weekly Coffee, Lunch, and Learn sessions online each Friday. Experts' discussions ranged from improving negotiation skills to what customers would like to tell the RV industry, the latter of which was led by Peggy and Tony Barthel of StressLess Camping, an online educational platform. As many as 100 people could attend each session, which were later posted on YouTube. The sessions ended in June.
A recent RVWA survey found members wanting more content focused on personal development and networking. RVWA's education committee is in the early stages of planning to establish such programs.
RVWA also recently launched RVCareerHighway.com, an industry-specific job site. RVWA sponsors may post jobs at no charge. Members are charged reduced rates, while nonmembers pay $75 and up for each listing. RVWA will begin recruitment efforts on college campuses soon and is working with RV Technical Institute.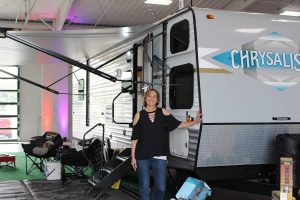 By far, though, RVWA's most high-profile activity in the past year is Drab to Fab. The project, which was the brainchild of Carpenter, saw more than 80 volunteers and more than 40 sponsors work together for 10 months to refurbish a 2007 CrossRoads Zinger trailer christened the "Chrysalis".
It was unveiled June 23 at RV/MH Hall of Fame in Elkhart, Ind. RVWA later hosted a sweepstakes for the trailer to raise money for the organization.
Membership with RVWA is offered at no charge. Instead, funding support comes from sponsors, including Lippert, Camping World, THOR Industries, Forest River and RVIA.
"Surrounding yourself with the people who are just as passionate as you are important," Carpenter says. "You need a strong group of people to move that needle."
Care Camps
Care Camps serves some of the youngest potential campers and their families – while also doing good deeds. The nonprofit organization supports 135 special oncology camps across Canada and the U.S. that provide camping experiences for children who have cancer and their families.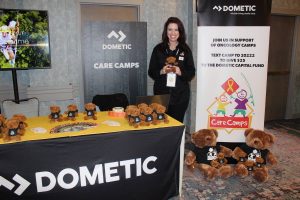 The camps operate independently, and Care Camps provides funding so the children – many for the first time and from families who could never afford it – receive cost-free camp experiences. While Care Camps has its roots as a Kampgrounds of America (KOA) charitable cause and KOA campgrounds participate in fundraising, Jennifer Mercer, director of development, says the charity is now actively partnering with many independent campground owners, as well as other campground systems. Care Camps is now supported by philanthropic partnerships from RV industry leaders such as Forest River, THOR Industries, Patrick Industries and new partner Lippert.
Care Camps has raised more than $18 million since its inception in 1984. The number of children diagnosed with cancer continues to grow each year. That, combined with the greatly improved odds for survival in recent years, have led to a dramatic increase in the number of kids who need support. The cost of camp has also increased to an average of $1,850 a week per child for the medically supervised camps, leaving a large shortfall in funding to adequately fund these camp programs.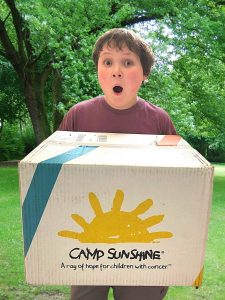 KOA Rewards Program covers Care Camps' administrative costs with a cumulative $2.2 million raised, allowing all other donations received to go toward the camping experiences. More than 42,000 children and their families were served by Care Camps in 2020. When the COVID-19 pandemic threatened to end the fun for the immunocompromised campers last year, desperate camp directors took action.
"All the camp directors across North America came together as one group and really started brainstorming how they could serve these kids in a bigger way during the pandemic," Mercer says.
Their solution was to offer interactive virtual camps, coupled with Camp-in-a-Box sets sent to each child. The 2-foot by 2-foot boxes included s'mores kits, outdoor scavenger hunts, sidewalk chalk for art competitions and other goodies to bring laughter and smiles to kids everywhere.
"They were so excited, and there were boxes within the boxes," Mercer says.
Each day brought new surprises for the kids.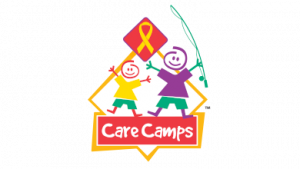 "It just really brought joy in the midst of a hard time for the kids," says Mercer, who adds that some camps offering programs for the whole family were able to host in-person events because family members quarantined together. Also, children who would normally be too sick to attend camp were able to participate in virtual camps in hospitals throughout the country.
Camp counselors found virtual camp created an opportunity to offer year-round programming, instead of only a week or two of activities. That's how frequent Zoom cabin chats with counselors were born; some one-on-one with a counselor and some in groups.
"Most of the camp counselors are former cancer survivors themselves," Mercer says. "Most of them are kids who have grown up going to camp and they couldn't imagine their lives without camp.
"You hear over and over again, 'Camp saved my life,'" she adds. "Kids talk about feeling depressed and suicidal and just really struggling. And when they go to camp, they get to be with other kids who understand what they are going through. And the camp counselors understand what they are going through, because most of them have walked this journey themselves."
Care Camps raised $1.88 million – just short of its $2 million goal – in 2020.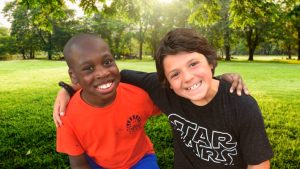 KOA donates between $500,000 and $1 million each year, according to Care Camps' annual report. Forest River donated more than $250,000 last year and gives $1 for every RV, cargo trailer, pontoon boat, shuttle bus or commercial bus sold. Each vehicle is adorned with a Care Camps sticker to raise awareness. "Camp creates joy. Camp creates happiness," Mercer says. "Parents say that they sent their patients to camp and they got their kids back. They got smiling, happy children to come home at the end of the week.
"The same thing applies to the virtual camps and the Camp-in-a-Box experiences. This time, parents actually got to see what was happening at the camps, which was really fun," she adds.
There are always more children who want to attend camp than Care Camps can financially support, according to Mercer. Most families connect to the camps through oncologists or hospital social workers. There also are online support groups for families who have children with cancer.
It's not all fun and games, however.
When Care Camps first started, many of the children attended camps once before they died, and the focus was on providing them a bit of joy in the short time they had left. Today, nearly 80 percent of children survive cancer, but many are left with emotional trauma, according to Mercer. Camps provide an ongoing way for kids to overcome their challenges and become resilient adults, she adds.
Mercer says the children often don't talk about the cancer treatments. Rather, it's what their battles have done to their families.
"After cancer, these kids deal with such fear of the return of their cancers," she says. "It's overwhelming – the fear, the depression, the sense of guilt they have.
"Many of these kids have a new lease on life, but many of them say they also feel responsible for destroying their families, because approximately 90 percent of these parents of kids with cancer end up divorced as a result of the trauma that they all go through."
The average camp needs about $50,000 in support. Care Camps' goal is to raise more than $2.2 million in 2021 and work with new partners to create the next generation of camping enthusiasts who embrace the healing power of the outdoors. There are a mix of virtual and in-person camps this year, and each camp's medical director makes the decision.
"Some camps focus on kids in remission," Mercer says. "Some camps are taking care of kids (who) are still in active treatment, and those camps are going to be less likely to be able to operate in-person during a pandemic."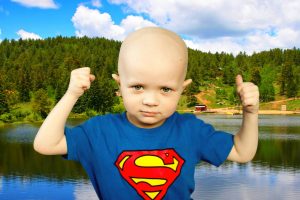 Care Camps needs more dealer participation and support across all outdoor specialties. However, Mercer says some dealers may be reluctant to help because they don't recognize the benefits.
Care Camps created a tip sheet of easy ways to help the cause beyond simply writing a check. They include adding $100 into  the sale of each RV and sharing with customers that the $100 will go to support Care Camps.
Mercer says research shows customers will spend more if they know the money is going to a good cause. Other tips include hosting weekly barbecues or ice cream socials to raise money and asking customers at each sales and service appointment whether they would like to join the dealership in making donations to Care Camps.
"When you talk to these kids about what camp means to them, they tell you camp changed their lives," Mercer says. "These kids need a lot more partners to come onboard and ensure every child facing cancer has the opportunity to experience the healing power of the outdoors."
Black Folks Camp Too
It's not just nonprofits working to bring diverse groups to the industry. Brevard, N.C.-based Black Folks Camp Too is a marketing-driven business on a mission to make it easier, more interesting and more enjoyable for Black people to go camping.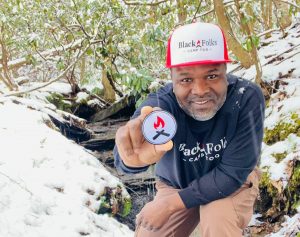 Earl B. Hunter Jr. says he knew nothing about the RV industry nor camping in general until he joined Brevard-based manufacturer SylvanSport as vice president of sales in 2015. He quickly noticed he was often the only Black industry representative at outdoor events and RV shows. Hunter says he didn't want to be seen as the only Black person in the industry – especially as he and his family grew to embrace the lifestyle.
"My family and I would go to RV campgrounds, and sometimes we would pretty much be the one Black family there," he says. One extended trip in the U.S. and parts of Canada with his young son, Dillon, included 49 campgrounds in 20 states and provinces. During that trip, they met only one other Black family.
That was the genesis for Hunter to form Black Folks Camp Too in 2019. Hunter's entrepreneurial mind realized that many Black families are missing out on opportunities to enjoy the great outdoors – and that the industry is missing out on a huge opportunity to make more sales by focusing its efforts on its existing customers – 90 percent of whom are white.

"This is about unity in the outdoors, and you can't have unity or can't have diversity and inclusion in the outdoors until you invite more Black folks into the outdoors," he says.
Black Folks Camp Too's core belief: Once Blacks begin enjoying the outdoor lifestyle, this will help break down barriers to create more inclusive communities and stronger relationships overall.
Hunter started within his own network of friends and family, sharing his stories of camping and taking them on camping trips. He continues to take people on camping trips, and Black Folks Camp Too's website offers content about the best places to camp, the best ways to camp and provides other camping resources.
However, Hunter says there are obstacles to overcome associated with historical segregation laws that kept Blacks and whites separated and generational fears by Blacks about venturing into the woods.
"Our great-grandparents told our grandparents, told our parents, told us, 'Don't go (into) the woods; that's not where you are supposed to go,'" he says.
There's also a basic lack of knowledge by many Blacks today about RVing and the RV lifestyle, according to Hunter.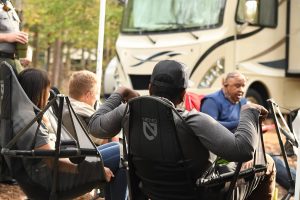 "We don't know how cool RVing is; we don't know how amazing it is," he says. "And so, because we don't have any knowledge, we don't know how to buy RVs."
It doesn't help that the RV industry has historically done little to invite the Black community to participate in the RV lifestyle. Hunter says the industry typically spends 80 percent of its time on its current customers, which are typically the white customers. Hunter instead suggests that the industry spend 60 percent of the efforts on maintaining current customers and 40 percent on attracting new customers.
"You have to ask yourself, 'Why haven't you?'" he says. His answer: The industry doesn't know how to reach them.
Hunter says Black Folks Camp Too has spent significant time and resources gathering empirical data about what keeps Black people from spending time in the great outdoors as well as how to reach them.
To do its part, Black Folks Camp Too offers the Unity Blaze – a campfire symbol the organization created to promote diversity and inclusivity. Members of the RV industry wanting to partner with Black Folks Camp Too can display the Unity Blaze symbol to show support for the organization's goal of welcoming everyone to enjoy the great outdoors.
The Unity Blaze's motto is "Treat everyone, everywhere, equally."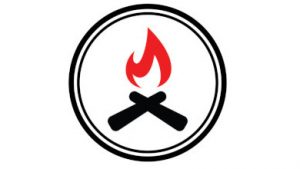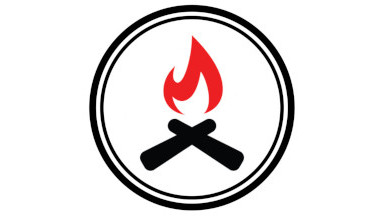 Boulder, Colo.-based Colorado Teardrops became Black Folks Camp Too's first RV manufacturing partner a few months ago. It is putting the Unity Blaze on all of its trailers.
Several other businesses and organizations have embraced the message of the Unity Blaze as well, including state parks in North and South Carolina and select dealers. Additionally, Leave No Trace, one of the outdoor industry's premier nonprofits, has partnered with Black Folks Camp Too with the goal of making the outdoors a more welcoming place for everyone, including Blacks.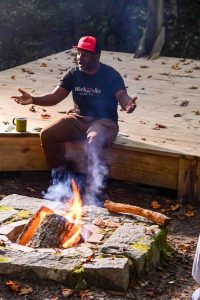 Hunter says that money raised from the sale of Unity Blaze logos and patches funds a variety of initiatives, all of which are focused on educating Blacks about the outdoor industry and lifestyle and building a more inclusive outdoor space.
"No matter your race, your age or your gender, we all have something to say around the campfire," Hunter says. "Well, the thing is, we all can't have anything to say around the campfire unless we get everybody around the campfire."
In recognition of its efforts to bring greater diversity and inclusivity to the outdoors, Black Folks Camp Too is being honored this month with a North Carolina Wildlife Foundation Governor's Conservation Achievement Award.
Moving forward, Hunter anticipates adding 100 or more partners this year and 500 or more in 2022.
"We are not trying to twist your arm to go and promote and to drive the narrative in regard to Black folks in the outdoors," he says. "This is to twist your heart to understand that you have an opportunity … to bring unity to the industry and garner a lot more revenue in the process."
Read More About These Organizations: