Features
RV General Rises Through the Ranks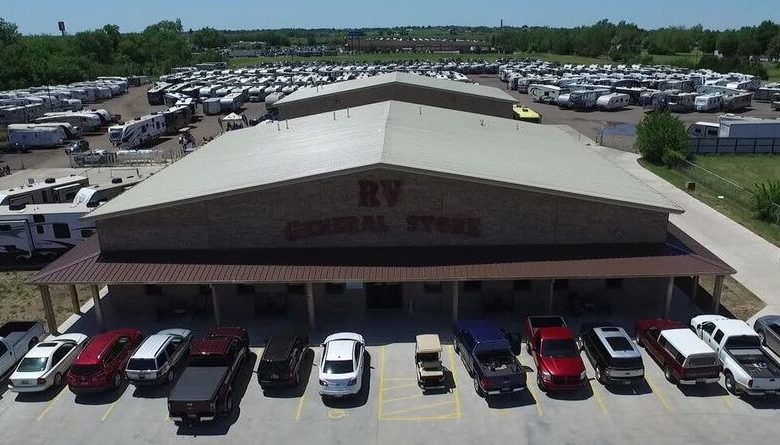 This article is from our older website archives. Some content may not be formatted or attributed properly. Please
Contact Us
if you feel it needs to be corrected. Thank you.
When you're not the biggest fighter in the match, you have to find creative ways to stay competitive. Maybe it's quickness. Maybe it's intelligence. But regardless of the solution, finding one is a necessity both in sports and in the RV business.
Barry Bender, Darrin Abel and Brian Yarnell, co-owners of Newcastle, Okla.-based RV General Store know this daily battle well. They have created some unique opportunities to keep the dealership top-of-mind with customers.
While RV General Store benefits from more than three decades of brand awareness and a great reputation among its growing base of customers, innovative opportunities to market and promote the dealership have become a great source of pride for the entire team, according to Abel.
"(Marketing and promotion) is an area that we take great pride in because our success in this area points directly to our ability to think outside the box and do what others don't, or won't," he says. "Here in Oklahoma City, we are only three hours away from both the largest motorhome and towable-only dealers in the U.S. And, of course, there's always Camping World. We do not have the massive advertising budgets that these other dealers do, so we have to do things that will make the RV-buying public take notice of us."
RV General's veteran ownership team is comprised of (left to right): Brian Yarnell, Darrin Abel and Barry Bender.
Bender notes some of the most successful marketing and promotion efforts at the dealership also have been some of the most unconventional. For example, the dealership partners with the top sports radio station in Oklahoma, providing two custom-branded mobile radio studios that the station uses for pre- and post-game shows for the Oklahoma Sooners and Okla­homa State Cowboys football games.
"In addition to the tens of thousands of football fans that see these trailers in person each week, we get dozens of on-air mentions during the broadcasts each game as well as on the station throughout the week leading up to the game," says Bender. "I really cannot put a dollar value on the level of exposure this gives us statewide."
And significantly, in March 2018, the dealership became an official partner with Texas Motor Speedway (TMS) in Fort Worth. The speedway – which hosts two NASCAR weekends and one Indy Racing League (IRL) weekend each year – pro­vides RV General Store valuable exposure with race attendees, who are often crossover RV customers, according to Yarnell.
"We have branding on the infield and direct marketing access to not only the 2,200 RV owners in the infield, but also the 3,800 additional RV owners who camp outside the track," he says. "40 percent of Texas Motor Speedway patrons reside north of the Red River, the border between Oklahoma and Texas, so it was an easy decision to get our name in front of so many RV owners.
"In addition to this sponsorship agreement, we have a long-standing partnership with The Speedway Club at TMS where every customer who purchases an RV from us gets the oppor­tunity to attend the next upcoming race at TMS on us," Yar­nell adds. "This partnership gives us and our customers special access to the garage areas and pits on race weekend. We've been fortunate to have met some awesome people through our involvement with NASCAR."
Finally, and further exploring the strong connection between RV customers and racing fans, the dealership had the rare oppor­tunity to sponsor a car in the O'Reilly Auto Parts 300 Xfinity Series race, in which driver Ryan Sieg drove the No. 39 RV General Store Chevrolet.
"We were the primary car sponsor for the race and it was an experience unlike any other we've had seeing a car with our company logo on the hood compete in a nationally televised race," Abel says. "Ryan qualified in 20th and finished in 20th, but the buzz that we created by sponsoring a car has been worth far more than the money we spent on it. We plan on continuing this sponsorship program in 2018."
Abel and NASCAR driver Ryan Sieg are pictured in front of the RV General Store Chevrolet, which the dealership sponsored in the O'Reilly Auto Parts 300 Xfinity Series race.
Tough Times Forge Dealership
All three owners are veterans of the RV business. Bender purchased the dealership from its founder in 1998, and Abel and Yarnell joined Bender at RV General Store in 2009.
The three recall years of slugging it out with some of the biggest dealerships in the country – which happened to be located within a few hours' drive – to survive and thrive in a constantly changing RV market.
Abel, who spent seven years as a finance manager with various dealers before joining Bender as part of the core leadership team at RV General Store, says that through that struggle, they also naturally developed a loyalty to those who helped them stay alive.
"When we were the smallest dealer in the Oklahoma City market, we had to scrape and claw for every (product) line we could get – often getting passed over by manufacturer reps because they didn't think we were big enough to matter to them," Abel says. "In 2010, Keystone gave us a chance and offered us the Sprinter line. We remain extremely loyal to our friends at Sprinter to this day because they were willing to grow with us."
Similarly, the dealership has built strong relationships with the other lines it carries, including Thor Motor Coach, Vanleigh fifth wheels, Dutchmen Voltage, Starcraft, Coachmen towables and Class C units, as well as several Forest River towable lines.
Yarnell, who joined the dealership in fall 2009 – after spending nine years in the auto industry as a finance manager and sales manager – notes that the dealership also has bene­fitted from making some savvy and well-timed business moves.
For example, from its founding in 1982 in Norman, Okla., the dealership had always carried a broad mix of both motorized and towable product lines. But at the end of 2006, Bender made the fateful decision to drop the dealership's motorized lines.
Anyone who lived through the next few years in the RV busi­ness understands the timely nature of that decision.
"Had (Bender) not done that, RV General Store might have become one of the many dealers that did not survive the Great Recession," Yarnell says.
And just like knowing when to get out of a product line or market can save a business, knowing when to get back in is equally valuable.
"In 2014, we cautiously re-entered the motorized market and have continued to grow our market share," Yarnell says. "According to Thor Motor Coach, Oklahoma City is the No. 1 Class C market in the U.S. and our Class C sales would certainly support that claim. I would say that over the past 24 months we run 85 percent towable to 15 percent motorized in new unit sales."
Even today, as RV General Store has become a dominant force in its region, the innovative mindset and constant nimbleness has remained a core part of its competitive advantage.
"Because we used to be the smallest of all the dealers in our market we always had to think outside the box to be noticed," Yarnell says. "Now that we've grown to one of the larger dealers in the market we are now one of the first dealers in the market to be offered a new line when it comes available."
However, even as RV General has become a major player, the dealership's scrappy, innovative culture persists.
Parts Ordering Associate Kelsi Norman assists a customer.
Foresight & Innovation Pays Dividends
With the leadership team's collective industry experience, the team saw the RV industry downturn and overall recession of 2008 and 2009 not as a problem – but as an opportunity.
"We saw an opportunity to grow, so we opened a second loca­tion about 20 minutes away along Interstate 44 in south Okla­homa City," Abel says. "As the economy rebounded, we just kept growing. Eventually, we outgrew both our locations.
"In November 2014, we purchased 20 acres and began devel­oping our new super-store location. We relocated to the new location when the service building was completed in May 2015. We closed the original location in Norman the following month. Even though we've been here in the new location for nearly three years, we are just now getting everything dialed in like we want it."
While privately held RV General doesn't release financial details, Abel says the dealership's revenue has grown more than 230 per­cent since 2013 and more than 1,600 percent since the trough of the Great Recession in 2009.
RV General's Will Skiles and Yarnell review the dealership's online inventory.
In addition to completing the new dealership facility in 2015, the dealership recently acquired an additional 2-acre lot next door, increasing Interstate-44 frontage by about two-thirds and moving more critical inventory into view of passing interstate traffic.
"Before, most of our units were behind the service building, so even though we usually have more than 200 units in stock, sometimes customers would drive by and think that the handful of units we'd have on display out front was all we had to offer," Bender says.
That expansion has positioned the dealership for future growth – both in business trajectory as well as physically at its new location. Bender notes that the physical building was designed with future growth in mind, including expanded space for paint and bodywork.
"We built the service building in such a way that it would be very easy to expand by simply adding on to the end of the building," Bender says. "All of the necessary utilities (city water, sewer and electric) are all stubbed out right there at the corner. We expected to have to add on to the service building within five years of opening, but I believe that will happen much sooner."
All told, on those 20 or so acres, the new dealership includes six indoor services bays, each with 50-amp service, water and access to an internal sewer dump, according to Bender. The dealership also has an additional 10,000-square-feet of outdoor concrete service pads that can accommodate an additional 15 units. Within that service space work seven service technicians, three at flat rate and the rest on an hourly pay system, with the goal of transferring all to a flat-rate system by the end of 2018.
A Parts Dilemma
While overall growth is strong to exceptional, that isn't to say that RV General Store isn't facing many of the same strong headwinds that are facing dealerships across the country. One example is competition with online retailers – including RV accessory specialty sites and giants like Amazon and its Amazon Prime free shipping program.
"If we, as dealers, thought it was a problem when customers would shop for an RV on our lots then go home and order it from an Internet dealer in the Midwest who offers to ship the RV right to their home, how much easier will it be for them to pull up Amazon on their iPhone while standing in our parts department and have the part waiting for them almost when they get home?" asks Abel. "For this reason, we are in the pro­cess of eliminating many of the SKUs we used to keep in stock in favor of focusing more on OEM parts."
Service Technician Michael Selman performs an electrical system's test on a Thor Motor Coach Citation.
The dealership keeps a fully-accessorized RV either in the showroom or right outside that the parts associates can use to demonstrate aftermarket items to a customer firsthand, he says, noting that the RV will showcase items including slide toppers, window awnings, upgraded mattresses, satellite dishes and ser­vice, solar systems and wheel covers, among others.
"We have an Arrow Distribution warehouse right here in Oklahoma City and there is a NTP-STAG warehouse in Dallas that delivers to Oklahoma City daily," he adds. "If we do a good job of presenting these items to the customer when they purchase their new RV we don't have to keep multiples of everything in stock. We can usually have the item the next day in plenty of time for delivery."
And, in a sign of the times, Abel adds, "And finally, we can take the 'if you can't beat 'em, join 'em approach and just begin ordering some of our products directly from Amazon. Our shelf price will still have to be higher than what the cus­tomer can get on their own, but it will at least help protect our profit margin."
Barring drastic, and unlikely, action: "I think the parts and accessories landscape will be forever changed," Abel adds. "Sure, we will always have those customers who want the instant grat­ification of seeing, touching and holding the specific part they are wanting prior to purchasing it, and some of the parts require installation, which the dealer is in the best position to offer."
Despite these tectonic-style shifts occurring, Abel and the team remain as optimistic as ever in the future success of RV General Store. Besides, it's the industry the leadership teams know as well as any, and they still enjoy their days at the dealership.
"Most days here at RV General Store truly are fun," Abel says. "Each day presents a different challenge, but we prefer to view them more as opportunities. I honestly cannot recall a single day in the last eight years where I have woken up in the morning dreading coming to work.
"For me, one of the most rewarding experiences the RV industry has allowed me is the opportunity to build strong friend­ships with other RV professionals across the country. It is nice to be able to build friendships with factory reps, managers and owners from other dealerships and other industry professionals."
And having fun while building those relationships, Abel says, is the secret to a successful career over years and even decades.
"I once worked for RV Hall of Famer Larry McClain, and I'll always remember something he used to say: 'One rarely succeeds at anything unless he has fun while doing it.'"