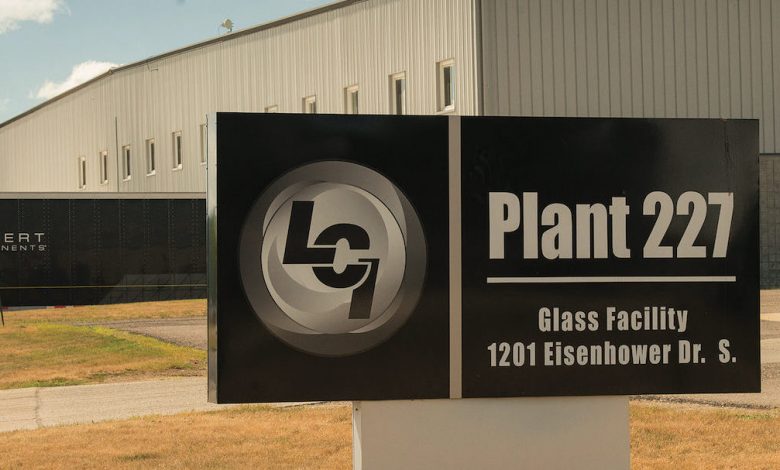 As windows on coaches become less of a functionary portal and more of an opening to the great outdoors, Lippert Components is updating its offerings to reflect those changes.
Specifically, Lippert is focused on becoming an industry leader in glass window innovations while also growing its already substantial offerings in the segment, as evidenced by its acquisition of Hehr International's glass windows business earlier this year.
More Than a Pretty Face
There's no question that glass windows hold a huge segment of the RV market. The reasons for that, LCI officials say, are that glass is both durable and good-looking.
"A lot of it is aesthetics," says Troy Whetton, Lippert director of sales, RV windows. "What the windows do is break up the sidewall, and of course, they're also for ventilation and letting in light. The natural light that comes into your coach or RV is really an added feature."
That's a key reason that the company has been working hard in recent years to develop a front windshield for towable RVs, according to Whetton.
"That's something that's starting to trend and has been for the last couple years: The idea of a front windshield is to get more daylight in," he adds.
Brian Edwards, general manager for one of LCI's Goshen, Ind.-based plants that manufacture windows for the RV market, says right along with that goes durability.
"Plastics have been tried, but they're not quite as durable," Edwards says. "The acrylic scratches easier, it can fog up, and it suffers wear-and-tear over time from dust and dirt. Glass is just a lot more durable as a product."
He says that while the manufacturers of acrylic windows note the large sizes in which their product is available, glass is no slouch when it comes to the larger sizes demanded by some of today's OEMs.
"We can make them 72 inches by 48 inches, which is pretty large," Edwards says. "However, we can also go bigger, depending on the design. For instance, some OEMs are putting patio doors on their units now, as well, aluminum patio doors, and we're going 72 inches by 80 inches. Some triple doors are 20 inches by 80 inches. It just depends on the need."
Perhaps what makes glass most attractive to many of the OEMs, however, is that glass windows are easier – and subsequently less-expensive – to fabricate than acrylic windows.
"The tooling costs aren't nearly as high because you can cut glass in any shape or size you'd like," Edwards says. "We can replicate just about any hole cutout that's in a unit. They aren't just stuck with a few sizes that have been produced."
There also are some inherent safety concerns that glass addresses quite well. Edwards notes that just as in a car, pickup or SUV, motorhomes incorporate two types of glass: laminated glass for the windshield, and safety glass for the remainder of the vehicle.
"The windshield is laminated, so if it breaks, it will break into larger pieces but stay together," he explains. "There's a plastic sheet in between two pieces of glass. The side windows are tempered glass. If one of those gets broken it breaks into small pieces."
How important is that?
Well, when Lippert debuted its contoured glass and window-framing advancements in October 2016, on Forest River's 2017 Rockwood Flagstaff travel trailers, the emphasis was on easier installation of the towable's "windshield," but the glass also is laminated for safety and strength.
Game-Changer vs. Dollar-Saver 
Whetton says LCI is well-aware of the interest in acrylic windows because of their lighter weight. The company offers its glass products in Europe through its Ireland-based Taylor Made Glass Products, and so it knows the hold acrylic has on that market.
"We've been hearing statements here in the last eight months or so of more interest in the acrylic side of things," Whetton says. "We're investing within our company in the European market, but there are also concepts that we're looking at, so we can stay ahead of that here."
The main thing, of course, is that weight is not nearly the issue here as it is in Europe, where gas prices can run three times higher. Instead, he says OEMs in this country remain focused more on the bottom line.
"Certainly, it's an issue that's come up in the past, and we're trying to be proactive and see how it could fit in the future," Whetton says. "We're looking at things we can bring to the market that might be a game-changer for our customers. Still, everybody here is trying to figure out how to shave a dollar or two here and there to lower the cost of their units, and that does affect us a little bit. When we bring something new to the market, the first thing we're asked is: 'What's the cost?' So, we have to develop things that are cost-sensitive to the market, too."
There has been evolution in glass windows over the decades the RV industry has advanced. In the old days, the windows were square, much like those found in a regular home. However, cracking in the fiberglass shell of the units as the corners were cut led to the development of the radius windows, which coincidentally, are also faster to manufacture.
Today, the market is split between framed and bonded – or frameless – windows.
"You're going to see more of the bonded windows in higher-end units," says Whetton. "We're still trending a bit toward the frame side of the window market, but we're trying to push the bonded windows, again mainly because of their aesthetics." One of the advantages Edwards sees to the company's acquisition of Taylor Made, and more recently of Hehr, is that it expands Lippert's product knowledge.
"Obviously, they have different customer bases, as well as different products and product knowledge," Edwards says. "We're able to teach them some of our process improvements and expand their business and help them grow. There's always something to be learned from consolidation."
One area where more bonded windows may show up in the future is in the aftermarket. Although neither Edwards nor Whetton is oriented toward that segment of the market, both say that glass windows have a presence there.
"People are always looking for upgrades," Edwards says.
"Especially with the bonded product we manufacture, people may want to upgrade from the old windows in whatever unit they've bought – just jazz it up a bit and go from a framed window to a frameless one."
However, going into the aftermarket for windows can be more than just a matter of aesthetics, Whetton says. He estimates that 90 percent of what Lippert sells in the OEM market is single glazed windows, but some RV owners may want more.
"We offer an insulated glass," he says. "If somebody wanted to go to the aftermarket side and get insulated glass, it would cut down on noise in the unit, and reduce condensation, similar to taking your home to insulated windows."
Plenty of Potential 
With a greater emphasis on windows as a styling element in RVs of all sorts, Whetton says he is excited by the work Lippert is doing to improve the technology of glass windows.
Both he and Edwards agree that in the past much of the window design came from the OEMs as part of their overall updating of particular models.
"The majority of the improvements we've made since I've been with the company have come as recommendations from our customers," Edwards says. "We don't always do exactly how they want it, but we can make improvements based on either issues they've had or recommendations they've come up with."
Whetton describes it as working together with the OEMS. However, he says that's changing, mainly due to efforts by Lippert to take more of a lead in the product line.
"We have a team of engineers and a full research-and-development team where we're trying to be proactive and come up with new and interesting concepts we can introduce into the market," he says. "We're working on several different projects."
The change has come over the past six or seven years, Whitten adds, and while the company is still happy to work with the OEMs and their product managers, there is a new focus on having LCI develop its own ideas and concepts.
While it's certainly not on everyone's lips, a good example of LCI's commitment to new window technology is the 2016 introduction of the contoured front window glass at Forest River, which was mentioned earlier.
Its main feature: Using a clamp ring that adheres directly to the coach, eliminating a gluing process not commonly utilized in the industry and replacing it with more industry-standard installation methods but for contoured glass.
One yet-to-be-realized possibility, Whetton says, is a lighter glass product.
"We have some things in the works that we hope to introduce in the near future," he says. "While I don't see any major, major changes happening over the next three years or so, we could come up with something that could be a real game-changer."
In the meantime, both men are confident glass windows are going to be a solid part of the RV market for years to come. As Edwards notes, the demand for glass windows has continued to go up right along with growth in the industry.
And, Whetton believes his product will hold its own against its acrylic competitors on into the future, or at least "until they can get the price down a little bit."
The bottom line, he says, is that acrylic will probably be a niche product that will serve OEMs building lighter units in what he calls the European style.
"I really don't think you'll see acrylic be a hit over here, at least over the next few years," Whetton concludes. "The glass industry is a great industry, with so much potential out there, and in so many different areas."