Features
RVs for 'The Road Less Traveled'
Forest River's XLR division is building toy haulers for the next generation of RVer, and adding new features all the time to meet their needs.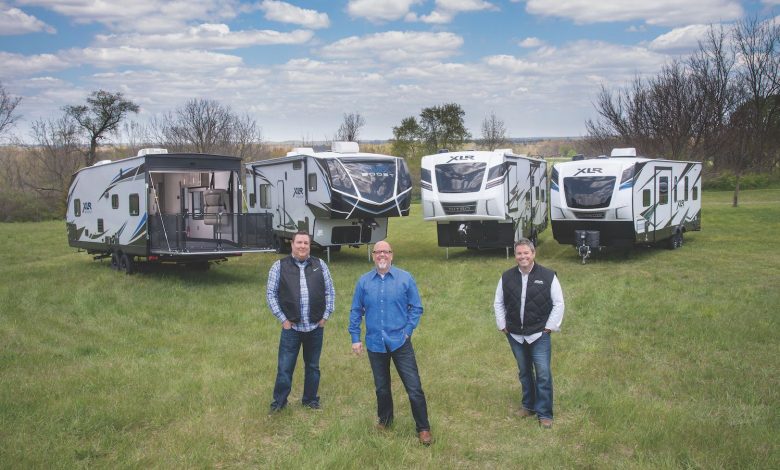 Toy haulers have experienced a transformation in recent years, from being largely a "NASCAR-looking" product and utilitarian RV to something new with a host of expanding recreational purposes for outdoor adventuring.
"The segment has been growing into a new demographic of buyers who seek to use them in new ways," says XLR General Manager Brent Stevens. "They don't always necessarily have 'toys.' We cater to a lot of different people, and that's why in the past year we've redefined who toy hauler buyers are – they're unique from the regular RVer."
New to Forest River XLR is the division's tagline, "Action Camping", which was developed to encapsulate the new breed of customers, according to Stevens. The division also debuted a new logo at last year's Elkhart Open House Week intended to rebrand the company as the segment redefines itself.
"Our customers take the 'road less traveled.' They can camp on their own if they want and be self-sustaining with generators, large water capacities and a patio on the backend, if they want to," Stevens says. "Our toy haulers are built so they have the ability to take their interests they enjoy with them."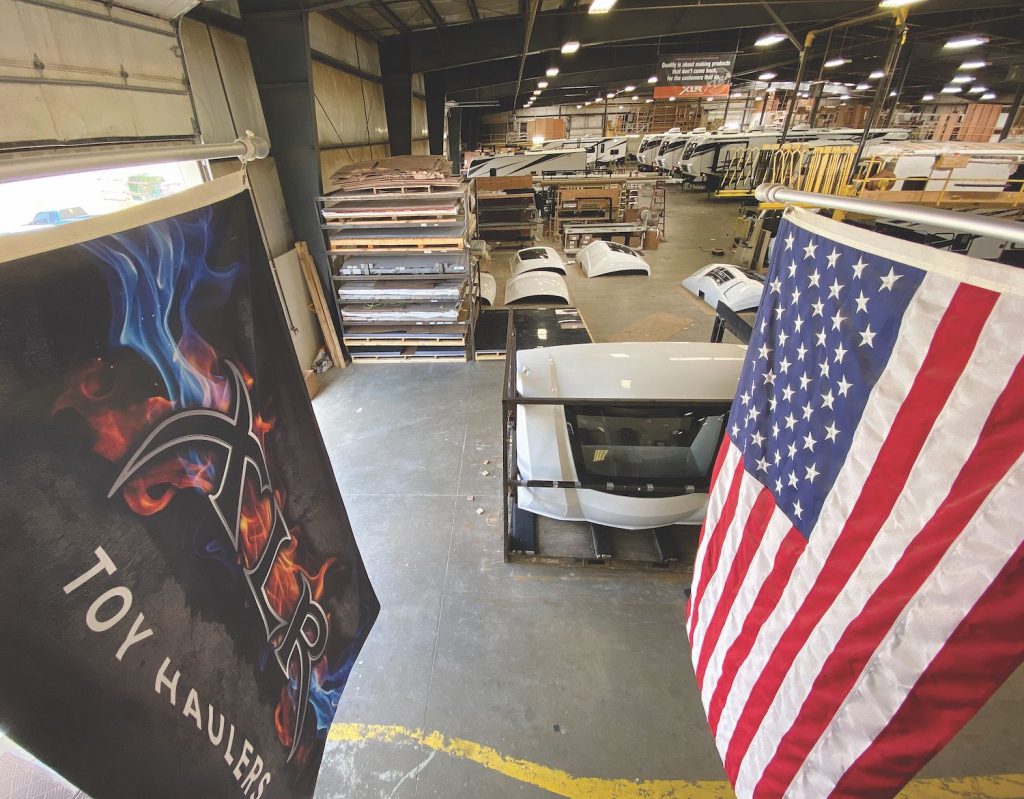 Forest River's XLR brand is unique in the marketplace, differentiating itself by being a family of toy hauler products that cover a range of offerings, he adds.
"From the entry-level customer who just wants to dip their toes into the toy hauler experience to seasoned veterans who live the lifestyle that toy haulers can afford, XLR has a trailer for them," Stevens says. "We have the ability to step our customers up along the way with each product."
The array of offerings include the entry-level Micro Boost and Boost, and XLR's laminated products, the mid-level Hyperlite and Nitro, as well as the Thunderbolt, XLR's high-end product – all of  which Stevens says are designed and manufactured for road and off-road traveling and are updated based upon the latest market research and a focus on constant innovation.
That strategy seems to be paying dividends, based upon Forest River's rankings in the toy hauler segment for North America in 2019. Specifically, Grand Rapids, Mich.-based market data firm Statistical Surveys shows Forest River ranks No. 1 in combined travel trailer and fifth wheel toy hauler sales with a 35 percent market share. (Of note: In addition to XLR, Forest River offerings in the toy hauler segment also include products made by its Cherokee and Vengeance brands.)
Yamaha Partnership Gives XLR a Charge
XLR recently partnered with MPS Yamaha for a three-year exclusive agreement with Forest River to use its generators in the company's RVs, including its XLR products.
"There are many unique advantages that this generator has that the (competing) brand doesn't," Stevens says. "It's 30 percent more fuel-efficient, which offers more camping time, and features a pull-start, allowing RVers charge dead batteries without having to jump anything. It also has a key-FOB system to start the generator remotely."
He adds that Yamaha also has the largest service network for an RV generator in the U.S.
"Yamaha has been developing this product for the past five years and they reached out to us last year," says Stevens, adding Forest River has been installing the products since June. "We began a lot of testing with it, from in-house and third-party testing to dealer feedback on its potential implementation, because it represents a big change for us with multiple considerations.
"It's going to give us a huge competitive advantage."
XLR also receives lot of input data from its retail customers through social media, which it now has the ability to access in a timely manner in order to inform its designs and builds, he says. As a result, XLR has innovated by introducing features such as a high-tech tire pressure monitoring system to help reduce blown tires and other related issues.
"The TPMS also monitors hubs in order to detect if bearings aren't properly greased, in which case the RVer will be alerted if there's a heat concern developing."
A component of XLR's (XLR is an acronym for Extended Living Recreation) rebranding is the company's "XTRA Built" initiative, which defines its mission to make products that last longer, function better and provide an improved RVing experience for toy hauler consumers, who place extra demands on their units.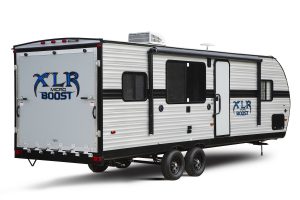 Each XLR series has its own XTRA Built features, although they share some commonalities, such as a wide-frame stance for cornering and avoiding tilting, and a 1-1/2-inch drain system that improves winterization by quickly evacuating and flushing out the entire freshwater system.
Other XTRA Built highlights across all XLR products include radiant-reflective insulation layers that are 97-percent efficient; Nitro-fill radial tires; XLR's vacuum-bonded technology for adhesion and durability; and weather-resistant tongue-and-groove plywood in all main living areas.
Toy Haulers for Every Need & Want
Stevens says XLR takes pride in offering toy haulers for nearly every need and want.
Those offerings start with the Boost, which comes in two variations: the Micro Boost, which is a lightweight, narrow-bodied, entry-level trailer; and the Boost, a wide-bodied product that is available in travel trailer and fifth wheel models. It typically caters to consumers ranging in age from 25 to 40 years old.
"The Micro Boost and Boost are a great 'bunkhouse' for a younger family," Stevens says. "If they want to buy an off-road toy when they can afford it, then they have the trailer ready for it. And the kids will never outgrow the bunks."
Kelly Green, XLR product and sales manager for the Boost, says the MSRP for the Micro Boost trailer begins at $16,000 and the Boost fifth wheel retails for $49,900.
Meanwhile, the Hyperlite is a travel trailer series that is a natural progression from the Boost series, although it does offer a few floorplans that lean toward younger families. It comes in 1/2-ton and 3/4-ton versions.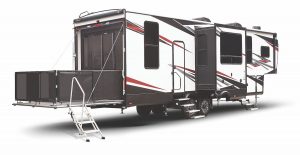 In the fifth wheel segment, XLR offers the Nitro, which is a mid-level price point toy hauler and features many of the amenities of the Hyperlite, and the Thunderbolt, which is the brand's flagship product and is designed for the more affluent buyer and that trends toward the 50- to 55-year-old consumer demographic.
The Thunderbolt comes equipped with all of the amenities consumers would expect in a luxury toy hauler, inside and out, including a Lippert Level Up six-point hydraulic system, a 42,000-BTU furnace, a MORryde Zero Gravity ramp door, dual electric awnings, a 21K
Roto-Flex pin box, dual-pane windows, a solar panel with an inverter, a 30,000-BTU A/C system, an electric fireplace, a Dyson cordless vacuum, and LED lighting and crown molding throughout. Optional features include an extreme weather package, LCI's OneControl automation system and the Max-View camera system.
The Hyperlite's MSRP begins at $33,000, while the Nitro starts at $53,000 and Thunderbolt's MSRP is $88,000.
"When it comes to product design, the old industry adage, 'research and duplicate,' doesn't apply to what we offer," says Rob McCartney, XLR product and sales manager for the Hyperlite, Nitro and Thunderbolt toy haulers. "Today's toy haulers incorporate the latest trends, but instead of waiting to see what those trends are, we wanted to 'jump the curve' and anticipate what they will be – why wait?"
McCartney says he spent months at night researching potential unique design elements with his wife, who has an interior design background, so they could incorporate them into the three products.
"We tracked what consumers are doing with their custom RV remodeling on social media. It was amazing to see what they changed to suit their preferences – right down to repainting the cabinetry."
Innovations include front kitchens, front automotive windshields for the Hyperlite and Nitro, which provide for a "massive amount" of natural light in the coaches, giving both lines a unique identity.
"Our front kitchen floorplans in our Hyperlite is an example of a feature no one has done before in a travel trailer with a garage – it's a first," McCartney says.
Stevens adds many on his team are toy hauler enthusiasts and motorsport fanatics, from those who build them, sell them, and service them.
"We have weekly service meetings with our plant manufacturing manager, where we review items that are causing issues so we can address them. We're all intimately involved in the process," he says.
Production for the Hyperlite, Nitro and Thunderbolt had doubled in the first quarter and McCartney was expecting an increase in June.
"They've been extremely well-received with a healthy backlog to carry us through the summer – we've dialed in and hit the mark."
XLR Dealers Share Optimistic Outlook for 2020
In view of the coronavirus pandemic and the market uncertainty it presents, Stevens, Green and McCartney reached out to their dealer partners to get a pulse on how consumer sales were progressing.
"We didn't know what was good in the backlog and what wasn't," Stevens says.
XLR executives contacted their biggest dealer, Fun Town RV in Cleburne, Texas, which decided to have an online sale amid the coronavirus pandemic, offering zero percent down, no payments for 90 days, and waived delivery fees.
"They had a huge response to that," McCartney says. "It really made us feel better about the direction the industry was headed despite the crisis."
Separately, the XLR execs learned from Brett Parris, of Parris RV in Murray, Utah, that the state's governor had opened campgrounds and the dealership sold north of 100 RVs across different manufacturers in seven days.
The XLR team was concerned there might have been initial apprehension as to whether consumers would have purchasing hesitation and delay an RV investment until there was a clearer economic picture.
"But the vast majority of our dealers told us, 'No, keep the units coming – let's go,'" McCartney shares.
"People realize that RVing is a safe way to vacation and be close to their family throughout the pandemic," Stevens says. "They don't want to get on a plane or hop on a cruise ship right now – there's too many uncertainties. RVs represent a key opportunity."