Features
Safer Braking Technology – A Match for Modern Vehicle Systems and Interiors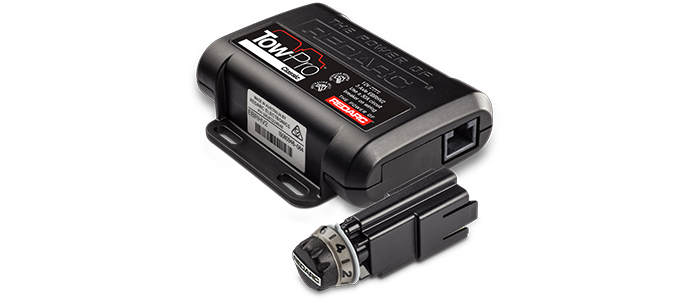 This article is from our older website archives. Some content may not be formatted or attributed properly. Please
Contact Us
if you feel it needs to be corrected. Thank you.
A match for modern vehicle systems
With RVs increasing in size and mass it is common to see a 10,000-pound fifth wheel being towed by a full-size pick-up truck. The importance of a high-tech brake controller that assists in safe and comfortable driving has never been so important.
By law, all trailers that are heavier than 3,000 pounds (more or less depending on the State) must be fitted with an electric brake controller to be able to progressively adjust the strength of the trailer braking system. Electric brake controllers detect when a driver is braking and will activate the electric brakes in your trailer or caravan independently of your vehicle's brakes. This means that a trailer can do a large proportion of its own braking without needing to rely on your vehicle brakes.
A match for modern vehicle interiors
But the problem with many modern dashboards is limited real estate. With their curved surfaces, shrinking driver space, and implementation of numerous airbags around the driver and passengers, "knee knocking" is often cited as a common issue with today's electric brake controllers.
The Australian made, Tow-Pro electric trailer brake controller range by REDARC solves this issue by having a compact box which holds the "brains" of the unit, a rotary control knob and override push button integrated into a single control, and an LED indicator, all remote from the box.
This means that the "brains" of the unit can be tucked away behind the dashboard, mounted in any orientation or plane, leaving only the control knob and LED visible through the neat decal fitted to the dash. The visible parts are small enough to fit into a factory pop out switch panel, away from the harm of being knocked inadvertently, or becoming a hazard in an accident, while remaining within easy reach and view of the driver.
Ease of installation
In addition, the award-winning Tow-Pro Elite features a three-axis accelerometer, where the main unit can also be mounted in any orientation and still sense the brake level accordingly. Once installed you can adjust the control knob depending on the weight of the trailer.
The installation process of the control knob requires only one hole to be drilled into the dash delivering improved illumination, increased visibility and diffused light, ultimately providing better clarity of the braking force selected.
For a neat and simpler fitment of the control knob into the dash, there are universal, and vehicle specific Switch Inserts available. Using a REDARC Wiring Harness when installing a Tow-Pro Elite into a modern vehicle, also assures a quality fitment, without fear of setting fault codes or damaging sensitive electronics within the vehicle.
These features have garnered national and international recognition and awards since its release.
For ultimate safety at your fingertips, visit www.redarcelectronics.com/towpro.