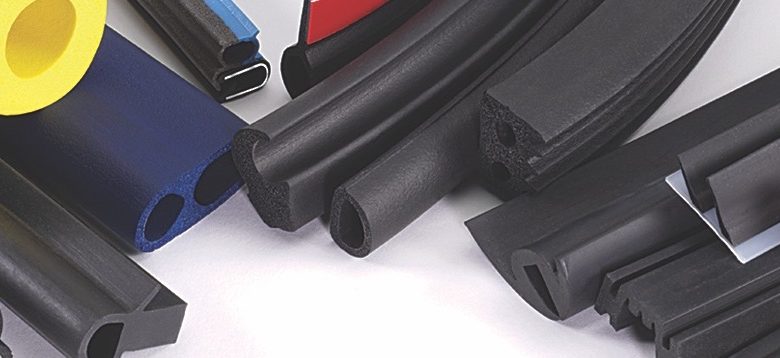 In the 1967 movie "The Graduate", protagonist Benjamin Braddock (played by Dustin Hoffman) struggles to define the direction of his post-college life, prompting a friend of his parents to offer a single word of advice: "Plastics."
It's solid advice, as far as it goes. Just ask the founders of Steele Rubber Products and Trim-Lok. The two companies have made places for themselves in the RV industry manufacturing a range of plastic and rubber products.
Although the two companies both came to the market with similar backgrounds, Lynn Steele with Steele Rubber Products and Gary Whitener with Trim-Lok have seen their companies grow in different directions to serve different segments of the RV pie. However, their successors are confident there's plenty more they can be doing with these not-so-glamorous but important products.
Tool-and-Die Guys
Both Steele and Whitener came to launch their businesses from backgrounds in tool-and-die manufacturing. However, one grew out of a hobby, while the other came from a change in direction.
As the older of two operations, the Denver, N.C.-based Steele Rubber Products celebrated its 60th anniversary in 2018. Now under the direction of a third generation of the Steele family, Matt Misener, the company's project coordinator for new markets, says its start dates to a purchase Steele made of a 1930s-era Cadillac.
"It did not have the proper rubber products, and he wanted to replace them as part of his restoration efforts," Misener says. "Being a tool-and-die guy, he gained access to the actual rubber compounds and some injection machines and started making the rubber parts to restore his car."
Because of his background, Lynn Steele was very exacting in the pieces he made – a fact that wasn't lost on his friends in car restoration circles. Before long, he was being asked to manufacture different pieces for others.
Initially, Steele would make custom orders, or construct some extra pieces and sell them out of the trunk of his car at car shows. Later, that expanded to a trailer, and later still to a booth for direct sales, primarily at car shows.
As the business grew, the company also expanded its focus.
"There's a lot of market crossover," Misener says. "The car enthusiast might go to a car show in an RV, where he'd come to our booth and say, 'I have this RV and it has a leak,' or 'This seal is cracked or broken or rotted away; do you have something?' That same response has also led us to the marine market."
Although Trim-Lok is a newer kid on the block, comparatively, it still boasts more than four decades in business. Gary Whitener launched his company in 1971 in Buena Park, Calif., and still holds the title of president. His son, Dan Whitener, who serves as the operation's vice president, explains that his dad had been making the equipment that made trim and seal products for several industries.
What got the company going was a request from a man who was looking for a piece of plastic trim for motorcycle helmets. Rather than provide the machine to make the trim, the senior Whitener decided to make the trim and sell it to the would-be customer on a piece-by-piece basis.
Dan Whitener says even his grandfather thought the change was a bad idea. And, at least in its earliest days, it put a lot of stress on his dad.
"I can remember when he would sleep on the floor next to a machine," the younger Whitener says. "When it would run out of material, it would stop, he'd wake up and load more material in it, then go back to sleep."
As with Steele Rubber, Trim-Lok grew organically. Today, it has clients in several industries that encompass not just auto- motive and RV, but heavy equipment – think Deere Mfg., Caterpillar and Ditch Witch Co. – to name just a few.
"If you've ever thrown away trash at O'Hare Airport in Chicago, you've seen our gaskets on the trash containers," Whitener says.
Divergent Paths 
Because Trim-Lok has always had a business-to-business focus, it's grown in different ways than Steele Rubber Products, and today one of its strengths is in the RV industry.
It's telling that, along with its Buena Park headquarters, which employs almost 200 people, the company also has a facility and 20-person staff in Elkhart, Ind., that includes manufacturing, sales and quality control people.
"That's the primary source of our plastic extrusions," Dan Whitener says. "We have a patented design on our slide-out seals and we manufacture them in Elkhart. However, it also allows us to keep product as a just-in-time for all the OEMs."
Along with its slide-out seals, the company also provides plastic edge protectors, trim seals, rubber seals and locking gaskets for the RV industry.
And, while Trim-Lok is happy to work with OEMs on specific items for a make or model, the company has reached a point where it's also working on coming up with innovative products its customers may not have thought of.
"Over the last three years, I've taken our engineering talent and dedicated them to innovation," Whitener says. "We're not just creating a better mousetrap, but in some cases we're building a brand-new mousetrap."
An example he cites is a screw cap cover that often runs the length of a coach on the top. Typically made of aluminum with a vinyl insert, it's not unheard of for the wind to catch the vinyl insert, eventually peeling off the aluminum strip and leaving it hanging from the coach or by the side of the road.
By integrating the aluminum with an extruded piece of plastic that snaps into the entire length of the screw cap, it virtually eliminates the aluminum pulling out.
Separately, just now coming on the market is a fender flair treatment that Trim-Lok's R&D team designed to replace the way numerous companies (Whitener cites Thor, as one example) trim with rubber that has to be drilled and bolted every few inches.
"What we're doing is integrating our trim with a peel-and-stick 3M tape," Whitener says. "There's no hole drilling because that creates a place for the fender to rust. And, you have to keep in mind that this crosses so many different industries: RVs, buses and utility trucks, to name a few."
Having built the business on hobbyists – what Misener describes it as the do-it-yourself individual – that remains the bulk of Steele Rubber Products' customer base. And, just as Lynn Steele initially needed some rubber parts for his car restoration project, the company continues to put plenty of emphasis on items that might not be readily available from others. He estimates the company can easily manufacture some 12,000 different parts.
Why so many?
With cars, one piece may be specific to a single make or one model year. He says there's a lot more universality in the RV market.
"There's also a lot of crossover from the automotive industry," Misener says. "If you look at the market from the 1960s and '70s, many of the trailers and RVs were being manufactured by some of the automakers, and they were pulling parts and working with designs they were already familiar with."
Today, he adds, while the company does get obscure requests from individuals doing RV restorations, there's more of an interest in doing modifications to existing vehicles, either to add functionality or luxury.
"In fact, that's a segment of the RV market that's growing pretty rapidly," he says. "They're buying old school buses or old commercial-type buses and redoing them to build their own campers."
Thanks to the universality of some parts, Misener says Steele Rubber Products has been serving the RV industry for several years. However, it's only been in the past four years or so that it's begun to focus specifically on the market, and it only launched a separate website for the industry in early 2018.
A Broader Perspective
That's not to say either company is limiting its sales to its primary market, however.
Misener estimates that these days Steele Rubber Products probably still sells 70 percent of its RV products to individuals, with the rest going to OEMs and dealers and repair shops. And, he says with the OEMs, it's typically the smaller manufacturers.
"They know they can work project-to-project, call us up, and we'll send them another 100 feet of a particular seal," he says. "They don't have to worry about overhead or stocking. And, in most cases, we never require minimums. Selling it by the foot makes it very convenient for our end-user customer." The company's 65 employees include an R&D department, and Misener says Steele Rubber is happy to work with its OEM counterparts to provide the best solution for a specific problem. "We recently had an RV manufacturer contact us about a specific seal that would provide more positive weatherproofing to a compartment," he says. "Our R&D guy, who does the computer-based drawings, spoke directly with their R&D guy who does the same thing, and they were able to work out what they were looking for."
Additionally, the company is beginning to package some of its products for retail sales through dealers.
"We're offering what we call kits, and it can be anything from a specific car kit to RV kits to marine kits," Misener says. "These not only include the product, but adhesives and tools, and always with instruction sheets. However, you aren't going to walk into a big-box retail store and see our product."
Select Trim-Lok aftermarket products can be found on the shelf at places such as Camping World, however.
Yet another way Trim-Lok assists its customers includes providing isometric views of its products on its catalog pages. "We used to offer trim, then we extruded rubber tube and stuck those together and it's a trim seal," Whitener says. "We took that rubber capability and made crown parts and put them on it, and that's a rubber seal. Then we took that and put a wire carrier in it, and it's a co-extruded trim seal.
"Yes, trim seals are always the last thing the customer things about," he adds. "But I'd like us to be thought of as exceeding our customers' needs."
Steele Rubber's Misener agrees that seals and trim aren't high on many people's lists – but he says the company treats them that way anyway.
"If you're looking for the best price or the cheapest product out there, there's a lot of overseas stuff that's available," he says. "That's not who we are. We stand behind a high-quality product, and we have a wide knowledge base we're willing to share. We're going to continue to make it easy and convenient for our customers and get them what they're looking for."