Features
RV Women in Business
Shasta RV Is Reaching for the Summit
With 18 years in the RV industry, Shasta RV General Manager Meg Grierson has learned that teamwork, and keeping your eyes and ears open, breeds success.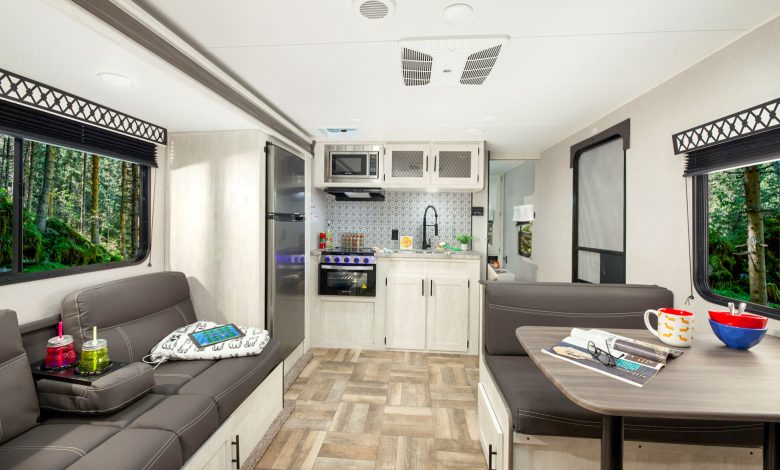 As the general manager for Shasta RV, a division of Forest River, Meg Grierson says she builds a "conventional" unit – but her interiors are anything but. RV PRO sat down with Grierson for a conversation about designing RVs that satisfy everyone from first-time buyers to seasoned road warriors.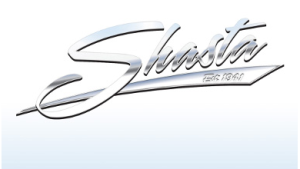 RV PRO: Please tell me about your background and your career path to becoming the Shasta RV General Manager.
Grierson: I started off in the grocery business, and I was in the grocery business for about 20 years. I worked for several years with a retailer as a buyer and a merchandiser for a large chain in our area, and then I transitioned to the wholesale side. And I was a perishable consultant, so I went out and worked with retail stores and I did consulting on how they can be more efficient.
Then in 2004, I came to work for Coachmen, so I've been here about 18 and a half years. I started as a sales coordinator trainee… then I went into the sales side of things after a year, where I really wanted to be anyway, then in 2009 Forest River bought us. That was quite the change for us.
By 2009, I was a sales rep for the Catalina division, then in 2012, I was promoted to sales manager for the Freedom Express division… in 2019, I got the opportunity to come to Shasta. It was awesome. We didn't have a lot of female general managers, but it was great to be able to explore my own avenue. In 2021, when the pandemic hit it was crazy, but that leads us to today, where we're trying to figure things out.
Can you explain to me your role as a general manager – what does that encompass?
Well, it definitely is a lot of different hats. For Forest River, the general manager is basically in charge of their own business, their own entity. We're responsible for everything that happens within our building – production,
sales, maintenance, purchasing, a little bit of everything, which luckily I feel like my path as a consultant and sales and buyer really helped me to get where I am today.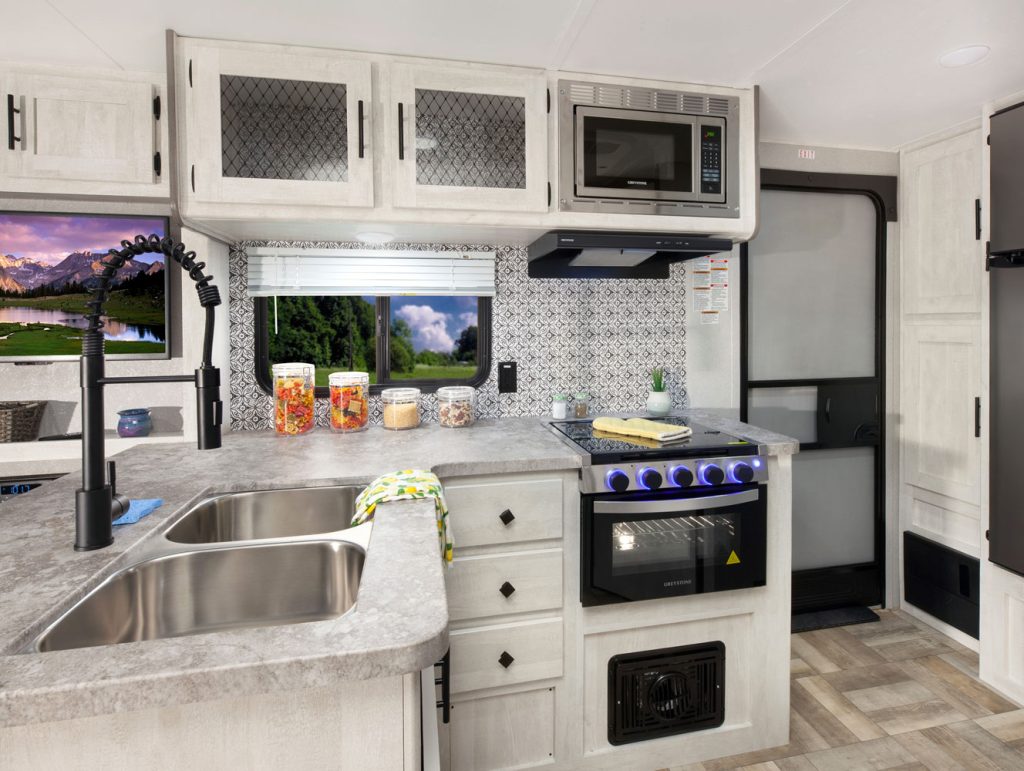 How are you and your team involved in designing RV interiors?
When I was a sales manager at Freedom Express, the interior and the exterior – basically, the total design of the unit – was on the sales manager and the sales team. It is exactly the same way now; from where I'm at now, I actually work with an interior designer because of being a general manager and all the hats I wear, and I have a fairly new sales manager that I work with, so I took the step to hire an interior designer for us. She basically coordinates everything – she'll say, "here's the cycle and here's where we're at, you should probably look at changing the wall board or look at changing the wood color or the flooring or whatever." So, I will have her pick some things out that are popular and somewhat neutral, and then I'll get the sales team together and the sales team – since they're the ones who sell the product and they're the first contact with our dealer body and our retail body – [they] will help make the decision on which direction we're going to go.
We tend to do things in a two-year-type cycle but we also try to stay ahead of it as much as we can. Thinking back to how we used to do it, it seemed the RV industry was always five years behind the housing industry, so I think it got a little frustrating for retail customers because you wouldn't see any cool, innovative things in RVs the way you would in the housing industry.
Now I think there are females involved, and the guys are on Pinterest and maybe forced to watch HGTV with their wives, so I think they're on top of that a lot more than we used to be and maybe we don't have that gap like we used to.
Where do you do your research or get your inspiration for the designs?
Everything! From boats to new construction to you name it. We try to listen to the retail customers, and hopefully people within your network do some camping. We listen to the customers when they say "oh, I wish
they could of done this" or "why would they have put something this old into the unit?" You need to almost live it to realize what they're looking at or looking for.
Also, being at shows – the Hershey show, the Tampa show or Boston or California – those help out tremendously for our group.
Do you do formal surveys or focus groups?
It's mostly just interacting with the customers. It's hard to gauge that right now because the last two years have been so crazy. I can remember in the past when I first got Freedom Express, we'd call dealers with questionnaires and say, "hey, what about this, how's our quality or how's our warranty, how's this or how's that?"
Now's a good time to get back into that, because it is important what our retail customers think. There are people in the last couple of years that are first-time buyers, so we want to know how their experience has been.
What are you seeing that's trendy right now?
We're in the beginning of deciding what we're going to do for next year. We've been meeting with some forums but I feel like the first-time buyers the past couple of years probably just didn't get enough training. You get into an RV – there's a lot to learn – you have a house on wheels, things aren't going to stay together as if it was staying in one spot, and it might be something that's easy that they can look at on their own.
From an interior side, people want their RV to feel homey and feel like it's not much of a transition from being at home, so as much as we can give them that makes them feel like they're going away on a luxury vacation, the better off we are.
There's different levels out there; I build a conventional trailer, whereas there's different levels you can go to from a price standpoint. But the more we can stay current with what our customers want, the better off we are.
We look and see what's going in houses, and the lighter cabinets have definitely been a popular item. Everyone's personal taste is really hard to figure out at some points in time, so we went where the masses
are – and since the lighter colors have been really popular, we went in that direction.
We like to have coordinating or accent colors be blacks, maybe gold, some satin – in design right now, you can do just about anything at your house and call it shabby chic or barnyard chic or so many different designs.
Being the smaller division, we're trying to capture that 80% of our customers that we can, so we won't always please everyone. If we can be somewhat neutral but flashy, we try to do that.
People want to do things with their phone to control their devices, they want to have Bluetooth and we have gone more in that direction with the Lippert One Control. We put that in ours so people can use their phones to put their awnings out or their lights – as much as we can, we try to do some of that.
When it comes to choices you make for materials that will be family-friendly or wear well, how much does that weigh in when making those choices?
It weighs in a lot – we want this to last a long time and we don't know how the customer is going to use it.
As a young salesperson, someone would say, "I'm looking for a trailer." [I learned to say,] well, OK, but do you have kids, do you have pets, how much will you use it? Is it going to be a twice-a-year deal, or will you be going every weekend? I really think those questions will dictate which way that retail customer wants to go.
With my line, we don't have a lot of options; we want to make it very simple and we try to get as many things in that are standard as we can.
As you move up into different models, whether its fifth wheels or motorized, that's where you tend to see more options where you might be able to get different fabrics, different floors, different cabinets.
Who has been your mentor in your career? What have you learned from him/her?
I've worked with a lot of great people; there hasn't just been one. The time that I was at Coachmen – Mike Terlep was here for 38 years and has always been an inspiration and an awesome president of the company, and friend and great father and grandfather.
Surrounding yourself with fabulous people and great mentors makes you who you are. As long as you pick and choose from those people the things that make you better, I think that's what makes a great person.
I pride myself in making sure that my team – because we are truly a great team – we work together and communicate together and I don't make all the decisions. I really count on hearing all the different opinions, and then I try to decipher what the best is.
I surrounded myself with really great guys to help me, and they've taught me a lot of different things throughout the years, and I really think that's the key. I feel so blessed to be a part of this company and the people I have worked with.
How have you prepared for what was expected to be a shift in the industry this year?
We're keeping all of our options open. We're at a very unique time right now, where business has shifted so much. We're just trying to stay ahead as much as we can.
Knowing prices have inflated so much in the last couple of years, we've come out with a price leader-type line – our i-5 line. Shasta was created from Shasta Mountain out in California – that's on the Interstate 5 freeway. The i-5 edition is our more price-friendly option.
We basically have a lot of the same interiors in there, but we've changed up a couple of things. We changed the exterior to be a little different, and we've taken some things out that customers won't notice in that model to try to save some money.
I think right now, and the next couple of years or at least a year, we need to really watch where we are from a price standpoint. So, we're going to keep our eyes and ears open to add as much value as we can at a great price.