Features
Sonny's RVs Set to Eclipse 2018 Sales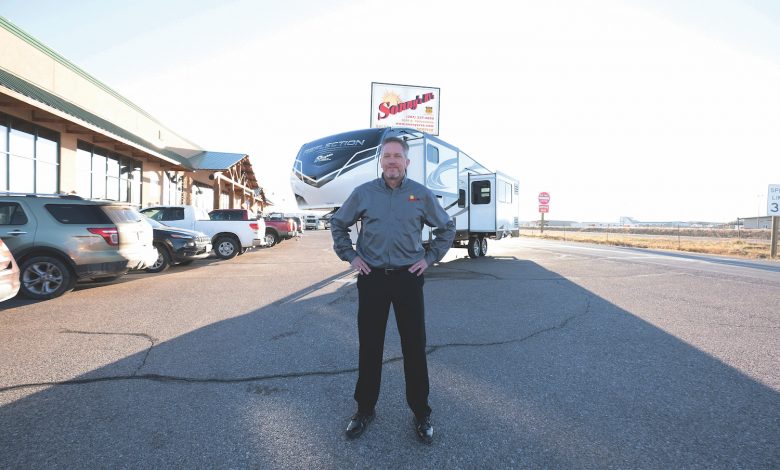 Mike Rone is quick to say that Sonny's RVs in central Wyoming has a unique market that's resistant to current market fluctuations, even as industry-wide wholesale RV shipments slip and unit sales level off.
Why?
"Wyoming is a different animal," says Rone, who is the general manager of Sonny's RV in Evansville, Wyo., a small community of about 3,000 that neighbors the state's second-largest city, Casper, with a population of about 58,000. "A lot of our business is associated with our natural resources: oil, wind turbines, natural gas and coal."
Many of the workers employed in those industries arrive from out of state and live in their RVs for five to six months at a time.
"They can make a lot of money in their jobs," Rone says, "and they often want to upgrade and buy new product. Our market has revolving growth with a rotation of people, because the industries' customer base moves on after a few months, and the companies will bring in new workers, who become our new customers. I have to say, it's a unique market."
Sonny's RVs had its second-best year in 2018, and 2019 is tracking to eclipse those sales numbers, so Rone has ordered more units than last year.
While that customer base carries the lion's share of business, the dealership's relatively close proximity to Yellowstone National Park allows for a healthy nugget of profit in sales of parts and service, as well as an RV rental fleet business for RVers who fly into Casper to explore the park and Montana.
Catering to those customers are the dealership's employees, who are trained to greet customers and assist as needed regardless of what department they work in, something that Rone's father, Sonny, instituted early on.
"It was driven by my dad's business philosophy foundation – to be there for the customer. It's one of several standards that have become incorporated into our culture to succeed," Rone says. "Being a small, family-owned company, we have to set ourselves apart from big retail stores," he explains. "Customers feel comfortable when they come in, and that's our main- stay to growing the business."
Since Sonny Rone opened his dealership in 1999 on a 2-acre site with six to 10 units, the dealership has expanded to 15 acres, of which 12 are paved. In that time, the dealership has grown from four employees to 25.
The dealership also features a 15,000-square-foot indoor showroom with floor-to-ceiling windows where up to 17 RVs are on display and showcases an inventory that's in the regions' top-three in size, according to Rone.
The dealership's annual sales average about $15 million, coming from sales of new and used inventory. The dealership typically showcases between 100 and 220 RVs on its sales lot, depending upon the season. The dealership retails some motorhomes, but primarily retails new towables.
"We've been with Grand Design since they started," Rone says. "My dad had a good relationship with the Fenech brothers (founding partners with company President Don Clark) and the Montana line, so when we were able to jump onboard, we did it immediately. It's one of the fastest-growing companies and we've had great experiences with them – there's minimal warranty issues and they stand behind their product."
Keystone also has been a longstanding manufacturer/partner for the same reasons. "They go above and beyond for us because we've carried them for so long," Rone says. "A customer might be one month out of warranty, and if we call Keystone and explain the nature of the specific issue, they'll often help us out with some goodwill – it builds a good reputation for us and them with the consumer, who have spent their hard-earned money with us. If you can't stand behind your product, people will shop elsewhere."
Route 66 RV Network 
To help stand behind the dealership's product, Sonny's RVs in 2009 joined the Route 66 RV Network of 150 dealerships, which is dedicated to providing service and repair to their combined customer bases of RV club members throughout the country. And the dealership hasn't looked back.
"There's good value in becoming a member dealer and it helps to compete with 'Camping Worlds' of the industry," says Rone, who adds that members strive to have each others' customers in and out of service and repair within 48 hours. "We have a good group of dealers who stick together, and it also sells some units."
Route 66 also affords dealer members opportunities to meet and discuss best business practices, operations, bounce ideas around and help one another in a non-competitive environment.
"It helps to build relationships," Rone says. "And I agree with Rob Merrill, one of our founding partners, who says, 'Route 66 is basically a 20 Group on steroids.'"
Rone attended the Route 66 RV Network's recent annual meeting in Florida, where discussions revolved around new dealers expanding into Canada, recently launched dealer programs, and how new products can increase profitability.
"We address a lot of F&I programs with new ideas and insights, such as getting customers funded who have poor credit scores by thinking outside of the box and getting them approved," he says. Rone says Route 66 also provides RV club members with extended warrantees, GAP coverage, paint/ fabric protection, and a roadside assistance program, among several other benefits that can be upsold.
Capitalizing on Niche Service, Fleets 
Meeting service and repair turnaround times as part of the Route 66 RV Network and his own customer base can be challenging, Rone says, but with a trained six-man technician crew, Sonny's RVs rarely misses its mark by prioritizing its six indoor RV bays and workloads. Much of the service is customer-pay compared to warranty (10 percent) with annual revenues of $650,000.
As manufacturers have stepped up and slowed down manufacturing to focus more on quality, Sonny's RVs has intensified focus on preventative maintenance with detailed menu plans, but Rone says the onus is on dealers to educate customers about its importance. "Customers need to know what should be done so there aren't any problems down the road," he says. "If we don't tell them, then we're at fault for not educating them." Sonny's RVs also features two indoor truck bays, which in recent years have become a new profit center. "Typically, everyone who comes in
arrives with a truck tow vehicle, and aside from the usual hitch installation, we realized we could also sell other products, such as grille guards, floor liners and spray-in bedliners," he says.
Rone notes that Sonny's RVs also profits from fleet work from the oil field companies.
"They'll bring us 100 trucks, which we'll upfit with many of those products, as well as toolboxes and fuel transfer tanks," he says. "We've hit that target very well and selling into that market demand. We really capitalize on it."
Competing for Workers 
New technician training for dealership employees is obtained from manufacturers in Indiana, while seasoned veterans attend courses within a 300-mile radius. YouTube, online training and industry articles are additional sources. Sonny's RVs also has hosted training for dealers throughout the state.
In addition, the dealership's staff makes an annual pilgrimage to the RV Dealers Convention/ Expo in Las Vegas. This year, Rone took along a salesperson, the shop foreman and a parts department employee.
Finding technicians to train can be difficult, however, as there's direct competition for labor from the oil fields.
"As I mentioned, they pay a lot of money to bring people on, but the downside for those employees is that the work fluctuates so much that they sometimes never know how long the job will last," he says. "We'll bring them into the dealership, fresh with very little skills, and we sculpt them into an RV technician and help them make a career."
Dealership Gives Back 
The RV industry runs through three family generations, beginning with Rone's grandfather in the 1960s, who introduced it to his father, who had arrived in Wyoming to work in the oil fields.
In turn, Sonny Rone would employ his then 14-year-old son, Mike, at a dealership he was managing, where he cleaned trailers and soon progressed into other departments, cutting his teeth learning the basics of service and repair and sales. After a career in the medical field, Mike joined his father at Sonny's RVs in 2008.
Rone is quick to note that the dealership's success wouldn't be possible without its customers and the surrounding community, so the dealership pays it forward through donations to such organizations as the local Make-A-Wish Foundation and a child development center.
"We also set up a foundation in honor of my young stepbrother, Adam, who passed away eight years ago, to support less fortunate children, and it also hosts an annual Christmas dinner for families in need with four to five gifts for each child," Rone says.
Sonny's RVs also sponsors a Little League team and provides 4-H scholarships. "If we didn't have our customers, who belong to all of these organizations, then we wouldn't be here, so it's a way for us to give back," Rone says.
What's Next 
After the dealership expanded to its current 15 acres, it's now "land-locked" and further contiguous physical expansion isn't possible. So, Rone is considering moving its on-site RV storage to an off-site location to increase inventory space and make way for a service department expansion.
As Rone grows the dealership business, as well as its contributions to its community, he's also focused on the RV industry at large, having just joined the RV Dealers Convention/Expo board.
"I don't know what to expect yet," he says, "but I'm excited about it because it's one more step for me in this industry to make it better."