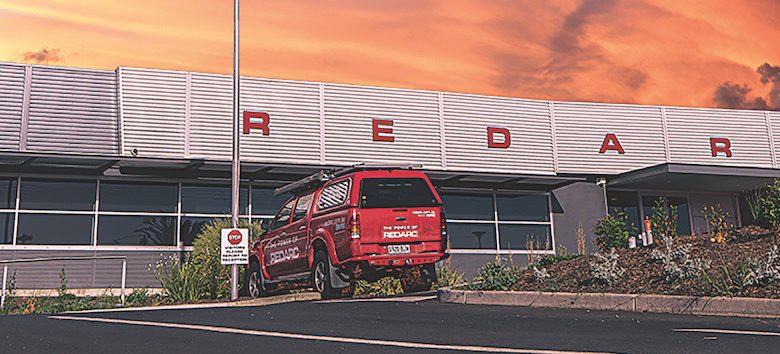 This article is from our older website archives. Some content may not be formatted or attributed properly. Please
Contact Us
if you feel it needs to be corrected. Thank you.
The late Bob Mackie was an electronics engineer whose passion for innovation led to the founding of REDARC, an Australian company manufacturing vehicle ignition systems and voltage converters, many of those products designed with the country's tradition of overlanding, self-reliant adventure travel to remote destinations in mind, where the journey is the primary goal.
The business began humbly in 1979, with eight employees working out of a tin shed in Lonsdale, South Australia. With a talent for invention, Mackie established the core products for a brand with enormous potential.
However, it would take a new generation of leadership to transform that groundwork into a powerhouse with global reach – most recently in the North American RV market, where the company has exclusively partnered with Keystone/ NTP-STAG.
Rejuvenated Brand
As sometimes happens with small businesses, cracks began to surface after Mackie's unexpected death in 1995.
"The company was struggling by the time we stepped in, and the products were getting a bit tired," says Anthony Kittel, owner and CEO of REDARC since 1997. Among the challenges were antiquated manufacturing processes, mounting warranty issues and poor customer service policies.
Despite that, Kittel chose to invest in a company that seemingly lost its way because he believed the untapped potential of the small power-conversion manufacturer outweighed the risk.
Today, REDARC remains family-owned and operated, but its portfolio has grown to span various industries and market segments, from military, mining and emergency services to OEM, automotive aftermarket and RV.
The exponential growth of REDARC can be attributed to many factors, including substantial investments in R&D, the development of versatile products guaranteed to perform in any condition and a genuine focus on customer service, according to Kittel.
"I am passionate about innovation and product development. Nothing gives me more satisfaction than developing a product that customers love and ask for by name," he says, "but I am also passionate about establishing a culture in the business that allows people to enjoy coming to work every day."
Power to the People 
To achieve the high-quality finished product on shelves today, Kittel chose to look within first. At the onset of this new business venture, and armed with the fortitude to face change head on, Kittel focused on creating a corporate culture that values the people behind the brand as much as the product itself. Personal experience – combined with a higher education that taught him the theory behind empowering a workforce – prepared Kittel to do what it takes to return the power to the people.
"Over the years, I saw the good, bad and ugly of manufacturing. I wanted to make sure that the people were the No. 1 priority. So many times, it comes down to dollars and cents. We forget about the people, yet that's where the strength of the company lies – it's all created and driven by them," he says.
Case in point: "While working in the steel sector as an engineer, I quickly learned if you want to achieve great things (that means taking something from design to implementation), then the only way to guarantee its success was to make sure all the people embraced the idea as their own," Kittel says.
These life lessons are the backbone of REDARC, where there is constant brainstorming between employees and management, according to Kittel.
"It's why I have an open-door policy or look forward to sharing a coffee with staff and maintaining a pulse on the culture," he says. He says he believes a workforce that feels appreciated and engaged will take ownership, helping to steer the ship in a positive direction.
This philosophy extends straight through to the customer. In fact, his first order of business as CEO was a "no questions asked" warranty policy.
"We have such a great relationship with our customers and are always acting on their valuable feedback," says Kittel, who views suggestions as opportunities for growth.
Quality & Innovation
For REDARC, the proof is in the standards of product innovation and quality. "You can't have a person at the top relying on what they did 10 to 15-plus years ago. I work every day to continually define and redefine why I do what I do," says Kittel, who most recently completed the Owner, President, Manager Program (OPM) at Harvard University.
In a technology-driven world, Kittel says he consistently evaluates how REDARC can rely less on fossil fuels, extend the life of batteries, improve the lives of customers and do so in a socially responsible manner. As just one example of that latter, the company installed a 100-kilowatt solar power plant on the roof its Lonsdale plant that's capable of generating 140 megawatt hours of energy per year.
"If you forget to survey the fabric of your makeup, you'll eventually forget the why behind your actions," Kittel says. Therefore, to be an internationally renowned, award-winning power conversion specialist, the company lives within a comfort zone of discomfort – because growth is not achieved amongst the content.
"Our philosophy," Kittel says, "is that we want something to be different when we come into work every day – 1 percent incremental change; it's the little improvements that make big differences at the end of the year. That's innovation because now you have a major change in your business."
With this mentality serving as a pillar of the company, Kittel set out to implement REDARC's first five-year plan.
"Around 2000, we created our first significant business plan, and as part of that plan we created an innovation arm of our business called REDARC Technologies," he says. "We etched in stone an investment of 15 percent of sales back into R&D every year. That's three to four times our competitors, and it's how we innovate so rapidly."
A year later, REDARC was a recipient of Australia's BRW Fast 100 Award, honoring the fastest-growing companies by revenue growth over a three-year period. Since then, REDARC has received additional recognition and awards, most recently 2018 Exporter of the Year, 2017 Manufacturer of the Year, 2017 Global Supply Chain Integration of the Year and SEMA 2017 Global Media Award Winner for the Tow-Pro Elite Electric Trailer Brake Controller.
Currently, about half of REDARC's revenue can be attributed to new products released in the past three years.
"Since we measure this every year, we always have an idea of the success rate of individual products, and it gives us a health check on R&D," Kittel says.
A team-oriented operation, significant investments in R&D and a customer-first commitment are textbook examples of companies like REDARC. These pillars for success led REDARC to new benchmarks in product ingenuity, according to Kittel.
Perhaps now more than ever, "People are craving freedom. They want to get away from large groups, and we're giving them the power to do that," he says. "We have been growing strongly in recent years by targeting the North American and European automotive aftermarket with our dual battery chargers and our award-winning Tow-Pro Elite brake controller."
Portable Power Solutions 
Australian overlanders and American RVers alike face a variety of potential electrical-related problems, with unequal charging and power surges being at the top of the list.
Designed to address this headache are REDARC's range of compact charge equalizers and DC power supplies. The former are designed to allow for an even distribution of battery power by monitoring and managing flow across the vehicle's electrical system, while the latter are built to regulate voltage to ensure nothing is damaged by an unexpected surge or spike in power.
Separately, the company's Manager30 system – which is specially designed for the North American market – takes power accessibility a step further by allowing users to charge their batteries via multiple power sources simultaneously, including AC, DC and solar. Drawing from the company's
proven track record in overlanding, the Manager30 is intended for true off-grid living. It is a convenient product for those who desire all the creature comforts of home while exploring a little further from home base, according to Kittel.
"Customers are guaranteed to get to their destination, enjoy their holiday and return home safely," he says, adding that REDARC engineers and builds its product line to handle the fluctuations of very hot and cold temperatures across North America. "Generally, we test to minus 4C in Australia, but we modified that to minus 20C as a benchmark for Canada and similar climates."
Tested and approved in the Australian outback, REDARC products are designed to accommodate military vehicles, so they are built to the highest standards, according to Kittel.
"Whether it's being fitted for the OEM or the RV industry, every product is guaranteed to perform as intended under the most extreme conditions," he says.
Innovative Brake Controllers 
Brake controllers are yet another product category where REDARC sees strong crossover potential for the North American RV market.
The company is the manufacturer of the Tow-Pro Classic, which debuted in June 2014, and the Tow-Pro Elite, which was released in September 2015.
All of the company's brake controllers feature a clever design that allows them to be placed on the dash, rather than mounted by a driver's legs, which could compromise comfort or interfere with factory-mounted lower airbags. The company says its brake controllers are designed to be easy to install and operate.
The Tow-Pro Elite offers both proportional braking for roads and user-controlled braking for off-road driving.
In Expansion Mode 
To grow the markets it serves, REDARC has expanded its presence at home and abroad.
In North America, the company has a new warehouse in Smithfield, N.C., to grow its brand. And the company has exclusively partnered with national distributor Keystone/ NTP-STAG to make its products available to the market here.
Meanwhile, in Australia, the company is looking to hire more than 100 engineers, data specialists and other professionals after completing an approximately $20 million expansion to its Lonsdale facility. The company says the addition of 33,000 square feet of advanced manufacturing space included such state-of- the-art equipment as a new surface-mount technology line for loading electronic components, an electromagnetic compatibility chamber and a vibration test lab that enables highly accelerated lifetime testing of products that can simulate 10 years of life in just two days. Three new Universal Collaborative Robots, or "Cobots", also have been purchased.
Kittel says that expansion will allow the company to increase its manufacturing capacity by 250 percent and significantly increase its productivity.
"I believe this is the best electronics manufacturing facility in the southern hemisphere," he says. "It's amazing how a little business can go from a tin shed with eight staff hand-making product to a state-of-the-art facility with advanced manufacturing equipment and 170 staff making products for global markets," Kittel says proudly. "Now, our goal is to leverage that tech to create great products that delight our customers around the world."