Features
Spartan RV Chassis Continues to Innovate
The company has churned out key technological advancements over the past several years.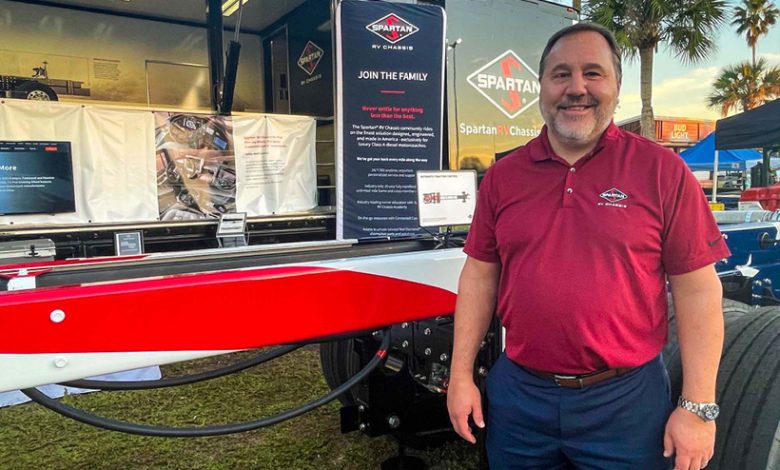 Constant innovation is essential to success in the highly competitive motorhome chassis sector. Spartan RV Chassis, part of The Shyft Group, has regularly churned out key technological advancements over the past several years, enabling it to dramatically increase its market share. Shyft is the new name for the company previously known as Spartan Motors. The name change followed the divestiture of its emergency response vehicles division in 2020 to the REV Group.
Spartan debuted several advancements during 2022. Chief among them was Premier Drive, designed for each individual chassis it produces. This includes a new 20,000-pound suspension that Steve Guillaume, president of Shyft Group Specialty Vehicles, describes as the "next evolution in world-class ride quality" with an array of new features, including custom-tuned shock absorbers.
"We transitioned to Koni shocks, giving us a nice competitive advantage there," he says. "We have done some significant work in improving the overall level of ride and handling."
There's also the new Tri-Pod Steering Wheel, which made its debut at the 2022 Hershey RV Show. The innovation added nine more controls to the steering wheel.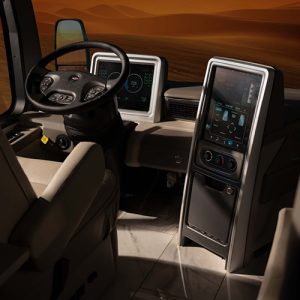 "Customers do not have to reach up to the dash or to the armrest in order to control a number of functionalities with the steering wheel," Guillaume says. "That was a big one. We are able to customize these to each individual OEM. They are able to make the decision based upon how they want their controls within the coach set up, specifically the ones they want on the wheel."
The additions include wiper controls and the ability to toggle through the high-resolution digital dash, which is customizable. Also included is media volume control and the ability to toggle through specific media and phone controls.
Seeing Into the Future
Product development at Spartan is continuous, following a "road map" that sets an innovation course three to five years into the future. Once a need is established, major advancements, such as the Tri-Pod Steering Wheel, typically emerge from a two-year development cycle from the time Spartan evaluates the need.
"We are looking about three years out for items that are already approved and awaiting execution," he says. "It is more like a five-year window for projects such as improving technology that we are evaluating. As things mature from a technology perspective, we launch them into the three-year cycle."
OEMs and end users both have input into innovations. RV trade shows and trends in the automotive industry often help generate ideas that wind up in chassis improvements.
"The other space that we keep a really close watch on is the commercial vehicle industry, because globally that is a very large space, and has a lot of synergy with what we are doing," Guillaume says.
Guillaume predicts 2023 will see a similar release of chassis advancements. The idea is to keep things fresh by unveiling several developments each year. There has also been a movement of innovations into new models. Similar to the automotive industry, new developments debut in higher-end models and over a few years, they transition into lower-price point chassis.
"That happened with our safety system – advance protection – where we introduced collision mitigation and adaptive cruise," Guillaume says.
Spartan prefers to let its customers unveil its innovations, usually at RV consumer trade shows such as the Florida RV SuperShow and the Hershey RV Show. OEMs also debut models
with new Spartan technology at their individual company events. For example, the Premier Drive system debuted at the Entegra Coach Diesel Owner's Homecoming event last May.
"We like to remain tight-lipped on new innovations before they are released, out of respect for our relationship with the coach manufacturer, until they are ready to launch," Guillaume explains. "It is exciting to see the end products. We build the high-quality luxury chassis that then turns into a gorgeous motorhome, the finished product with its functionality and overall aesthetics."
Home Base
Spartan builds all of its chassis at its facility in Charlotte, Michigan, a city with a population of less than 10,000 located about 110 miles west of Detroit. Charlotte has been Spartan's home for nearly 40 years and has a well-established supply base in the region. The company builds about 1,300 chassis annually, depending on industry conditions. Guillaume says Spartan's market share has risen consistently since 2015, effectively doubling. Spartan has more than 30% of the market in the more than 400 horsepower category and more than 20% in Class A diesel, he says.
Until 2020, Spartan had its manufacturing line and sub-assembly located in two separate buildings. The company then consolidated it all under one roof, giving it a continuous flow through the plant. There is also room for expansion, as the company is currently running at about 60% of the facility's capacity.
"All of our sub-assemblies are now line side," Guillaume says. "That was the big update that we made. We build our chassis from the ground up. We do a 100% dyno test on every chassis we build, then take it into final inspection and alignment. Then it is ready to ship to our customers."
With a mantra of "never settle," Spartan promotes itself as a luxury brand. Guillaume likes to talk about the Spartan experience.
"When you buy a Spartan chassis, you are buying a premium product, with best-in-class ride and handling," he says. "We believe we have the best safety systems in the marketplace and we continue to innovate on those."
Spartan emphasizes customer support, with about 300 service centers across the United States that are certified for Spartan chassis.
"We have a fully dedicated service center in Charlotte where a lot of our customers come back to get their service," Guillaume says. "This includes a training academy, where we do about 25 sessions a year in the spring and summer."
Spartan also views RV consumer trade shows as a vital platform to enhance the brand with customers.
"Attending shows allows us to answer questions our owners may have about their chassis, as well as provide technical support to our dealer and OEM partners when needed," says Keith Shockey, Spartan's vice president and general manager. "Depending on the show, we also make it a priority to offer parts and service for our chassis owners."
Spartan works closely with its four partner OEMs – Entegra, Newmar, Foretravel and Jayco – with the goal of making the integration between chassis and coach seamless. Spartan meets monthly with their customers regarding execution of new technologies.
"We interface very closely with them on the sales and marketing side of things, to be sure we are communicating all the functionalities to our customers," Guillaume says. "We have a nice benefit with our geographic location, being about two hours from Elkhart, where many of the RV manufacturers are."
Adding On the Aftermarket
Spartan recently expanded its footprint in the aftermarket, providing a broader portfolio.
Shockey points to Spartan's new Red Diamond Aftermarket Solutions as an important safety-focused addition to its aftermarket offerings.
"Products like the Red Diamond RunFlat system, that helps drivers steer and brake during a tire blowout, are important safety innovations that we're proud to offer to not only Spartan RV Chassis owners, but all owners across the Class A market," he says.
The RunFlat product offers a solution to guard against front-tire blowouts.
"We have heard about, over the years, the anxiety customers have over having a blowout in the front tires, so this new technology effectively provides sort of an inner doughnut around the rim," Guillaume says. "You can drive on that if you have to, so that assists in allowing them to maintain control until getting the vehicle to a safe location."
Fulfilling Demand
A reliable supply chain is key to any manufacturer's success. Like many companies, Spartan had to navigate supply chain challenges during the throes of the COVID-19 pandemic.
"We are a U.S. company and we have a very strong U.S. supply base, so we perhaps had fewer challenges than some," Guillaume says. "There has been some labor disruption across the entire U.S. market, and that has had an impact, but we have worked through it. We have worked very hard to address these issues as they have come up, to make sure we don't disrupt our customers."
Spartan keeps close watch on its supply base to ensure it is able to fulfill its demands. The company recently switched one supplier in favor of one that is closer, about 90 minutes away. Spartan also double sources in some cases to ensure supply continuity.
Looking ahead to the remainder of 2023, Guillaume notes the RV industry is seeing some softening compared to last year.
"Towables have taken the biggest hit, for sure," he says. "With what is going on with general consumer confidence and concerns about recession, and then the significant increase in interest rates, all this will have some impact on our business in 2023. It is being softened somewhat due to some constraints on the motorized segment, so not just Class A, but Class B and C as well."