Features
Sponsored Content: What the Smell? How to Grow Your Stinkin' Sales
Sponsored by Star brite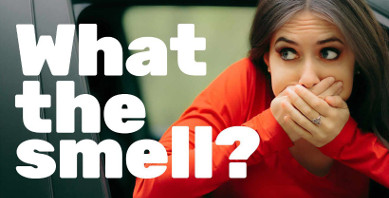 Your Customers' RVs Stink
As far as bad smells go, RVs are quite the brewing pot. Where else does someone cook, sweat, smoke, shower, sleep, poop, fart, sit for hours and hours and hours on end, and even light a campfire? Wet dogs, wet towels, wet swimsuits, wet showers. Fish, skunks, roadkill.
At some point, every RV will stink.
And if you have a rental fleet? "Who cares?" … says every customer.
Now that rentals have skyrocketed, sales of pre-owned units have soared, and your customers are even renting out their own units as short-terms, the time for you to cash in on odor removal as an add-on service is here.
What the Smell? 
Did you know one of the leading causes of foul odors in RVs is bacteria? Every spill, every food wrapper, every passenger leaves their own trace of bacteria, and the breakdown of that bacteria is what causes odors—some worse than others. Combine that with smoke odors or mold and mildew odors and you've got a stinky mess. But where is it? How do you get rid of it?
Most familiar methods of deodorizing include air fresheners, aerosol air sanitizers, or even bleach. Hanging up air fresheners or spraying down fabrics will only temporarily cover up foul odor; when they wear off, the smell is still there. Some aerosol sanitizers can leave a residue that must be wiped up or expose you to unwanted toxins, especially in the kitchen or on the dinette table where food is present. Bleach is caustic. It damages fabrics, upholstery, vinyl, laminates, and can corrode metals.
But none of these methods get to the heart of the smell.
The Solution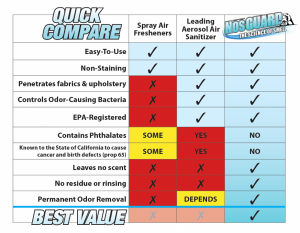 Instead, reach for Star brite NosGUARD RV Odor Eliminator. It employs an EPA-registered chlorine dioxide vapor. Chlorine dioxide (or ClO2) is a potent oxidizing agent that attacks and destroys foul odors at the molecular level, killing odor-causing bacteria on surfaces or in fabric. It permeates every area of the RV, eliminating the foul odors without the need to locate the source of the smell.
NosGUARD RV Odor Eliminator
is the first product for RVs and campers designed to generate this powerful vapor with our patented water-activated, easy-to-use Smart Generato pouch. Fast and efficient, a single treatment will restore most RV's interior air quality in as little as 4-6 hours.
CIO2 kills odor-causing bacteria, mold and mildew and chemical odors. Unlike bleach or other methods, it has no lasting unpleasant smell, nor does it leave any poisonous residue.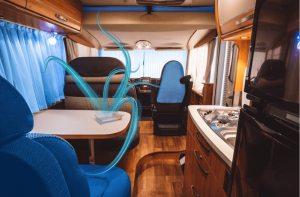 Smell the Upsell
Are you looking for more turnkey services to offer? Detailing services are charging upward of $375 for odor elimination. If you keep or service an RV for over four hours, then you too have time to offer NosGUARDS odor treatment as a great add-on value to your customers.
If you have retail space, you can also easily add it into any planogram to generate additional sales. The packaging can be pegged or free-standing and requires little space.
Odor elimination is a no-brainer. Cashing in on additional sales from it? Even better. Star brite NosGUARD RV Odor Eliminator is available now at all major distributors. Contact us or your rep for more information. www.starbrite.com.