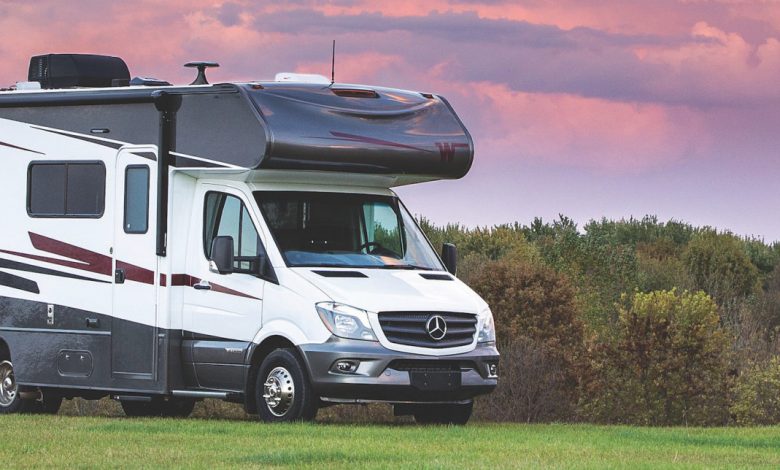 Russ Garfin, director of product management for Class B and C motorhomes at Winnebago Industries, still vividly recalls back in 2006 when he showed the company's first Sprinter-based Class C to his district sales managers.
"That was our first serious effort at a more European-style of a Class C motorhome. They all liked it but were nervous whether it would sell or not. They all said that's pretty cool-looking – but it's too expensive," he recalls.
"'It's fun to have something new, but who's going to buy it?' they asked," he says now.
Winnebago's View and Navion – the first Class C's ever built on the Sprinter chassis for the North American market – did attract buyers and stood for years as the top-selling brand in their class.
The rest of the industry eventually began building on the Sprinter platform and slowly caught up, however, necessitating a new review of the market. The result of that review at Winnebago is a new series comprised of the Vita and Porto, built on a Sprinter chassis that is 13 inches shorter than the View/Navion and retails for some $25,000 to $30,000 less.
"We've given customers another choice," Garfin says simply. The difference between View/Navion and Vita/Porto is basically in the level of amenities offered between the two products.
"Something we still do better than anybody else is we provide more carrying capacity, so whether it's a Vita or Porto or even a View or Navion, if you equip them the same as competitor coaches, you're always going to find more carrying capacity in a Winnebago motorhome and that's because we design in weight savings.
"Our styling on the 2020 View and Navion is gorgeous with all-new walnut and white interiors and an all-new front cap," Garfin says. "From top to bottom, we're second to none as far as appointments and in comfort."
How will these new brands fare in the current marketplace?
"I think it was the right decision, but it's too early to say how successful it will be," says Garfin. "A lot of people shopping for a Winnebago motorhome on a Sprinter chassis are going to consider a new View or Navion first before they look at anything else. It's going to take a little bit of time for the new brands to build some momentum, but we're seeing that. We've made quite a few upgrades to the interiors and the exteriors on the Vita and Porto since we launched it with options like full-body paint, theater seating and hydraulic leveling jacks, which are well-received features. It really did change the position on our dealers' lots."
By the start of 2020, Winnebago Sprinter brands were gaining traction in the marketplace, Garfin stresses. "We are confident we will grow our share."
Like all RVs, floorplans are king. Leading the way for Winnebago is View and Navion's 24D floorplan, the No. 1-selling Sprinter floorplan in North America, featuring a full-size slide with a Murphy bed.
"People really like the openness of that full-size slide. When the Murphy bed is up, you have a couch and a big, U-shaped lounge so you have lots of seating and dining choices," Garfin says.
Following the 35th Annual Florida RV Supershow in Tampa in January, Garfin reported, "We saw excellent response to our new Sprinter products, retailing the new Boldt, Vita and View models starting with the first day of the show. Our Sprinter sales well surpassed our sales at this show last year."
According to market data firm Statistical Surveys, Tiffin Motorhome's Wayfarer stood as the top-selling Sprinter-based Class C motorhome through last fall, topping the longstanding top dog View.
"The View and Navion created the Sprinter market here – and even though the market has a ton of more competitor models, with everyone looking to mirror Winnebago's success – we are now gaining momentum with our new products and we expect Winnebago's identical sister brands the View and Navion will continue leading the market going forward," Garfin says.
Coachmen Views Prism as Growth Vehicle 
Coachmen's Prism was first produced on the diesel Sprinter chassis about a year after the chassis' debut at Winnebago for about the same price as Winnebago's View, according to Mike Bear, general manager over the Coachmen Class C product line. It was unveiled as a high-end brand, but shortly after its soft launch, Coachmen repositioned the product to retail about $10,000 below Winnebago.
"We've always been value-minded," Bear says. "We can be competitive with the high-end product in the market, but our sweet spot is being the value leader. We'd rather market a high-value product to the masses than to focus on the higher-dollar products. Our standard Prism is a great value and we're working to keep it that value in the marketplace with our new Prism Select and Prism Elite product just rolling out."
Final pricing was not complete when Bear spoke with RV PRO, but he says, "We are confident the Prism Select – like today's standard Prism – will still be able to be marketed and retailed under $100K; the Elite with full paint, all the bells and whistles, will run about $20K more. We will be very competitive."
This year may become a major turning point for the Coachmen brand.
"The new Prism will be a fresh remodel of the traditional and successful Prism line," predicts Nate Saunders, sales manager for Prism and Crosstrek Class C's. "Driven by the changes to the new Mercedes Sprinter chassis and what we have received from customer and dealer feedback, the newly designed Prisms will feature particularly functional floorplans that offer some of the largest kitchen counters, kitchen cabinets and interior closet spaces. Coupling the livable interiors with large exterior storage and class-leading propane, water and cargo carrying capacity, the new Prism will be designed to meet any customer's needs."
How Class C sales overall fare this year is anyone's guess.
"Even if we have a slight decline, we should be in a position now where we're doing a better job as manufacturers managing our yards and fields. I think our dealers are doing a better job of managing their inventory," says Bear.
"If you look at the stats, 2017 was a really good year. 2018 was great, but not a growth year, but everybody treated it like it was going to grow like it did between 2016 and 2017.
"There was a lot of capacity in the marketplace. Even though the Forest River business model is to only build what we have orders for, a lot of the players jammed and crammed dealers. Dealers bought inventory heavily early in the year because there was a shortage of readily available product."
He adds, "I believe this year we'll have consistent run rates that will allow us to be efficient. It will help us with distribution and strengthen our relationships with dealers. I'm looking forward to a year where we can deliver product timely and take even better care of our customers."
Too Many Competitors in Niche Market? 
The Sprinter market is different now than it was after the RV industry emerged from the Great Recession.
"If you look at that market today versus five years ago, there's probably two to three times the amount of people in that business, so we have a lot of people competing for a relatively small segment of the Class C market," says Bear. "I think that's still a good, solid segment and we're committed to staying and winning in that segment. I think it's just going to get a little convoluted as we come through this last change in Mercedes chassis.
"One of my biggest concerns is where this huge price increase in chassis is going to leave us as an industry. We are all in the same boat, but ultimately, it's going to be a $10,000 increase to the retail customer," Bear adds. "In all fairness, the customer will get more safety features, but when you think about it, whenever you get a product – whether it be a car, a boat or an RV that takes that big of a jump all in one bite – I think we should be concerned."
The differentiator will be the amenities each OEM offers, Bear speculates.
"For our next generation Prism, it will feature a new front cap, new front windows, new flooring and storage compartments. It will have a new and more attractive, high-end exterior look with a great, rich interior and a high-standard feature content."
Besides Coachmen, other Forest River brands building on the Sprinter chassis are Dynamax, Sunseeker and Forrester.
On a positive note, Mercedes-Benz is predicting OEMs will not face challenges obtaining Sprinter chassis in 2020.
Renegade RV Promotes Updated Villagio, Vienna 
Renegade RV ranks among the top OEMs building a Class C motorhome on any type of diesel platform, but it's not a high-volume manufacturer of Sprinter-based Class C's. Chris Cook, regional sales manager for Renegade's Villagio and Vienna brands, freely concedes that point up front.
"The Renegade Sprinter will not show favorably in a 'Sprinter-Only Sold' stat, but that doesn't bother me," he says.
Cook has a quick explanation, noting that 2019 was "a rebuilding year" for Renegade's Sprinter line. One reason is that Villagio and Vienna underwent major overhauls for model year 2020. In a nutshell, the Bristol, Ind.-based manufacturer simplified its product lineup and created some space in pricing for the two brands. MSRPs start at $138,000 for the Villagio and $160,000 for the Vienna.
The new approach generated excitement immediately: Retail sales at last fall's Hershey Show were triple the 2018 results – and dealers took a closer look a few weeks later at Open House. The fresh-looking product and aggressive wholesale pricing are reviving the dealer network, Cook adds.
The responses point to an encouraging 2020, as Cook says Renegade was "knocking it out of the park!" as the workforce assigned to build the Sprinter brands has nearly doubled.
Renegade's Sprinter models have been a priority for Cook since he assumed his new role last June. He and his product team took a look at the Villagio, which Renegade first introduced in 2014, and the Vienna, which came along in April 2015, and decided to simplify the brands by dropping three underperforming floorplans.
Now, Villagio and Vienna each offer two basic floorplans, with the only variation being a cabover bunk, which is new for 2020.
"Until we can have another great-selling floorplan – which we're working on – we'll wait and hold on to those two because those are the majority of what was purchased anyway," Cook says. "This is easier for dealers; they appreciate it."
The brands offer several new features for 2020, including a Truma hot water system, a full multiplex system with color touch panel and Bluetooth app control, central command system with four remote controls, motorized skylight, larger LP tank (20.3 gallons versus 13.2) and an automatic generator starter.
"We're the only ones with an automatic starter for a diesel generator," Cook says.
Consumer response has been interesting, he adds. "There are people who had owned a coach less than year and are trading them in to get all the new safety features. That's impactful, I kid you not," he says. "With all that said, we are still taking people that are buying coaches and saying, 'I don't necessarily want all those safety features.' Some don't want that expense, because it did add cost to the coach."
Cook says several factors set Renegade apart from its competition. Renegade uses Azdel composite substrate on the exterior and interior sidewalls, roof and slide room boxes of all the Sprinter-based models, compared to "most manufacturers who use Azdel use it only on the outside. I don't know of any manufacturer who uses it on the inside. Renegade has been using that for as long as I'm aware of. It's part of the Renegade way."
Cook expands on the "Renegade way."
"Without a doubt, when I see the way Renegades are built, we take the same DNA that we use in building a Class C that may cost $750,000. That same DNA build comes all the way down to the Sprinter," he says. "Our attention to detail is off the charts. When you say Renegade, they understand this product is built better and the expectation is that it's built better than anybody else's."