Features
Stromberg Carlson has made a reputation out of being able to fill customers' varied product requests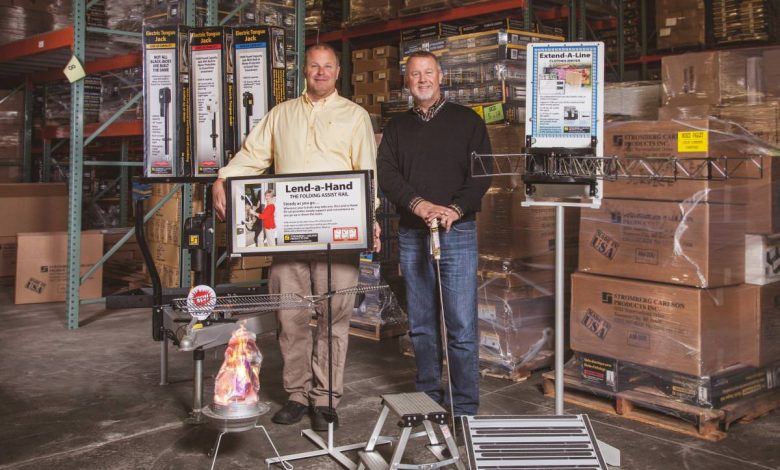 This article is from our older website archives. Some content may not be formatted or attributed properly. Please
Contact Us
if you feel it needs to be corrected. Thank you.
Sure, Stromberg Carlson Products has a catalog full of offerings. Of course, the company produces a number of quality RVing and camping products that dealers know they can order at any time.
However, as they say on late night TV, "But wait, there's more."
Company President Bob Brammer Jr. takes great pride in making his company nimble on its feet. As such, Traverse City, Mich.-based Stromberg Carlson makes it known to customers that if they have an idea for a product or have a specific need for a product that isn't being met, the company is more than willing to look into producing such a product on its own if it will help customers and can be profitable.
"We make what our customers ask us to make," Brammer says. "People will pay for good products."
Happy to Lend A Hand
Outdoor products account for the majority of Stromberg Carlson's RV business, and the company's biggest seller is the well-known Lend-a-Hand folding handrail.
"We have about 10 different styles of rails, and each of those is usually offered in multiple colors and finishes," Brammer says. "As for the Lend-a-Hand, I bet about 80 percent of RV dealers around the country have them in stock and many others
are installed on higher-end units."
Being able to come up with a new or improved product has proven to be vital to the continued success and growth of Stromberg Carlson, which has a business history stretching as far back as the 1930s and family ownership spanning three generations.
Among the company's newest products is the Extend-a-Line, a clothesline originally designed to be mounted to 1-inch or 1.5-inch exterior ladders. A family-size model was introduced in 2014 and was
unveiled at the Atlas Show in Niagara Falls, Canada, where it was an immediate success.
"Extend-a-Line was in my brain for over a year because I had a buyer press me to develop something," Brammer says. "When you have a good relationship with your customers, they come to you and say, 'We are really frustrated with the supplier; the supplier makes a nice product, but the supplier can't ship on time, doesn't support us with marketing money, or is backordered all the time. Can you look at developing something in that line?'"
Brammer and his engineer worked hard to find good ways to install the line on each unit in a quick fashion, how to hold more weight than the other products available, and how to best extend and retract the arms so the clothesline comes off for easy storage.
Stromberg doesn't disclose sales figures for Extend-a-Line or any Stromberg Carlson products, but Brammer estimates 35 to 40 percent of RV dealers nationwide offer the Extend-a-Line and another 25 to 30 percent will carry the item in the next year or so.
"It usually takes two to three years to get a product into the marketplace," he says. "We have a lot of dealers who love going to the shows and really want to see new products, but there are other dealers who hold back and want to wait."
Sales are strong enough that more sizes of Extend-a-Line will be added this year. A smaller version, aimed at couples, was previewed at the 2015 National RV Trade Show in Louisville, Ky. Also showcased was hardware that allows the line to be mounted to posts on the A-frame of a trailer or a bumper in a matter of seconds.
In addition to the Extend-a-Line, Stromberg Carlson introduced the Bumper Hitch Adaptor, a 2-inch hitch-mounted receiver that attaches to a bumper. The company also unveiled the 5,000-pound Stromberg Carlson Electric Tongue Jack, a high-capacity version of its popular smaller models.
Long Legacy of Success
Stromberg Carlson has a long history of adapting and changing to meet the needs of the marketplace.
Founded by David Stromberg in the 1930s as a tool and die company, Stromberg Carlson entered the RV industry in 1959. Stromberg's son-in-law, Bob Brammer Sr., used sales acumen to help the company grow to become a major supplier and manufacturer of tailgates, leveling jacks and stacker jacks for RVs, manufactured housing and other industries.
Run by Bob Jr. and his brother, Charlie, since their father's death in 1993, most of the business is dedicated to the RV market now and the rest focuses on manufactured housing and mobile office products.
"There are only so many toys you can make for a manufactured home, but toys in the RV business are pretty much unlimited," Brammer says. "If you can make the camping experience better, you can sell products."
A solid, mid-size player in the RV aftermarket, Stromberg Carlson has 32 employees and operates out of a 45,000-square- foot facility.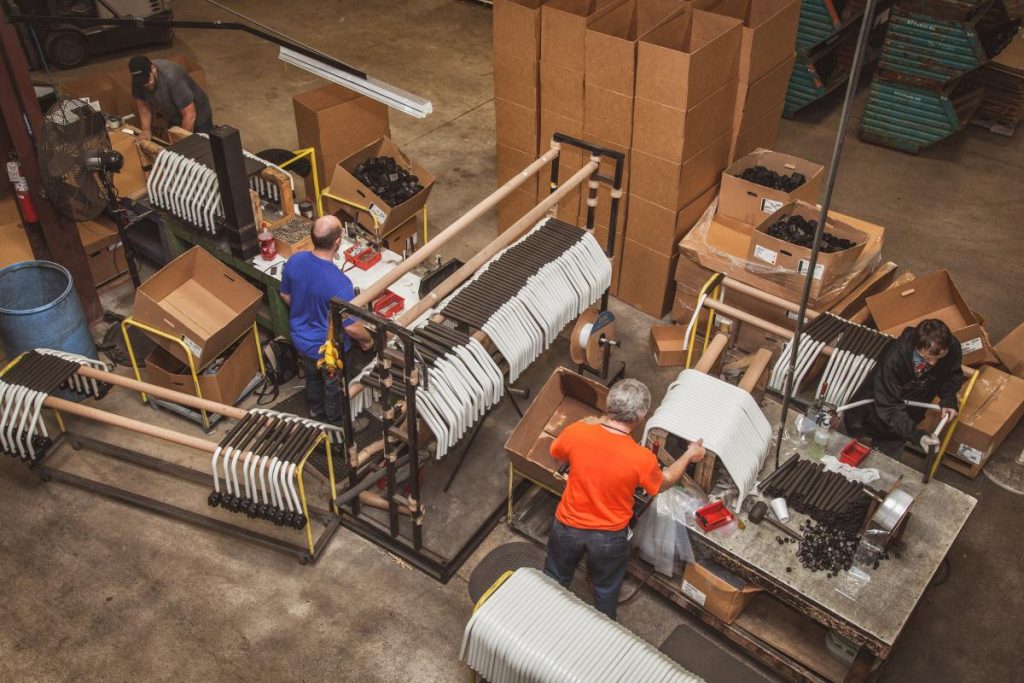 Much like Extend-a-Line's beginnings, Lend-a-Hand's conception came after a dealer in Florida approached Brammer at a show in the late 1980s and reported many of his elderly customers had trouble getting in and out of their RVs. The dealer asked Stromberg Carlson to develop a handrail that could be swung away or moved, but would not require tools.
"People don't want to have to pull out toolboxes right at the time they are setting up their RV," he says. "They want things that are easily taken on and off."
It took six months or so to develop the Lend-a-Hand. Sales were about $12,000 the first year.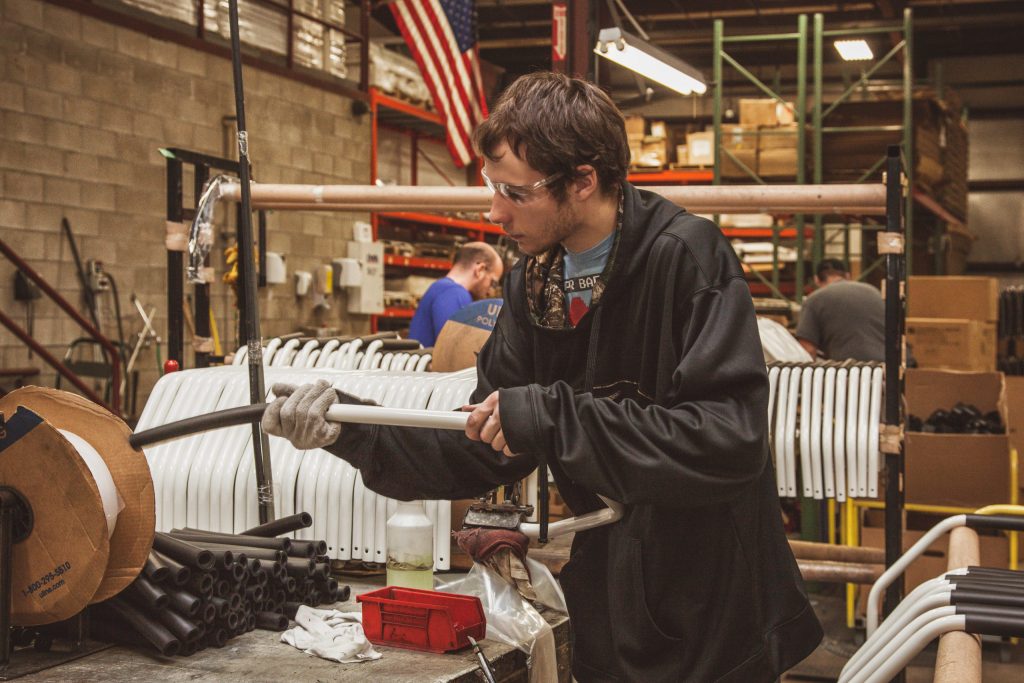 Still, Stromberg's ability to adjust a product on the paid off when slide-outs became a major part of the RV industry, requiring some redesign work to take place for the Lend-a-Hand. Engineers got to work on the product and also increased the efficiency of production.
"The amount we used to produce and sell in a year, we can produce in a day now," Brammer says.
While still popular with elderly customers, Lend-a-Hand also has many younger devotees. It's even seen on trailers in Hollywood; Stromberg Carlson's website proudly shows a picture of actor John Stamos posing next to the handrail on the set of the new show "Fuller House" and a similar picture features cast of the popular zombie television series "The Walking Dead" shooting a scene next to their apocalypse-withstanding RV and rail.
The Pecking Order
Brammer says successful RV businesses know their places in the industry's pecking order. Top-tier companies, such as Thetford and Suburban, do a great job because they know their product niches and stay focused in those product categories.
Second-tier businesses, including Stromberg Carlson, must be more aggressive about adding new items and improving existing products.
"Keep making products and building your categories," Brammer says. "We are looking for something that's a little unique and upscale."
He says about two-thirds of the products Stromberg Carlson brings to market aren't items the company developed. Instead, the company provides better manufacturing or inventory capabilities. Brammer deems it "blocking and tackling" – keeping products in stock, offering replacement parts and shipping on time.
And he says more CEOs need to answer their phones when fledgling inventors call with potential business opportunities.
"They are often campers, but they don't know how to get their ideas and products in front of the right people," he says. "If CEOs are so busy balancing their lines of credit, making payrolls and doing their payroll deductions for Blue Cross and Blue Shield and blah, blah, blah, they can't take time to be salesmen."
Stromberg Carlson's increasingly popular Stake & Grill was the result of a developer who could not ship efficiently after moving production to China. After looking at several grills on the market, Stromberg Carlson chose to offer the product with a single-stake design to keep hamburgers and steaks away from flames, give it a rectangular and extra-long shape for more efficient grilling, and upturning the edges of the grill to keep hotdogs from sliding off. For storage convenience, the company sells the Stake & Grill with a heavy-duty bag.
"It keeps the mess of the grill away from everything else. You don't care if the inside of the bag has oil, ash or soot, so long as it stays inside the bag" Brammer says.
Stake & Grill was introduced about 18 months ago. It's carried by an estimated 40 percent of dealers nationwide.
Stake & Grill's market is owners of travel trailers and fifth wheels," Brammer says. "Many of them have children who want fires and to eat s'mores on the weekend camping trips."
To complement the grill, Stromberg Carlson also introduced The Hot Stick, a fire poker that's slowly gaining interest from dealers and campers. The 42-inch poker features a hooked-shaft end and non- conductive wooden handle.
"It didn't barnstorm out of my inventory like I had hoped it would," Brammer says. "But I know it will continue to grow, and the dealers who have been buying them are increasing their orders."
Ideas Come from Many Sources
Brammer says ideas for new products don't just come from outside the company. In addition to developers employed by the company, both Brammer and his brother Charlie are avid RVers. They not only see the potential for new products from their own adventures, but also when they talk to other campers when they go RVing.
Brammer fancies himself a bit of a campground chef, so Stake & Grill is one of his favorite products for personal reasons.
Also in the Extend-a-Line category is the Hose Caddy, which is used to manage a fresh water hose in the storage compartment of an RV.
"Hoses are generally thrown into storage and simply look messy," Brammer says. "Our Caddy cleans this up and helps make using the hose easier and more efficient for any camper."
The product will launch in the summer.
RV products change to meet evolving demands.
"The older generations were using their RVs for three- and four-day weekends, sure, but they were also using them in Florida for four months and were living in their RVs," Brammer says. "Whereas, the younger people are looking for short, fun experiences; they want to create family bonding."
While Stromberg Carlson's products will continue to evolve, Brammer says one thing that won't change is the company's strong commitment to customer service.
"I reinforce to my employees daily to do what it takes to resolve customer concerns," he says. "Spend $10, $20 or $50 a day — just solve that guy's problem."