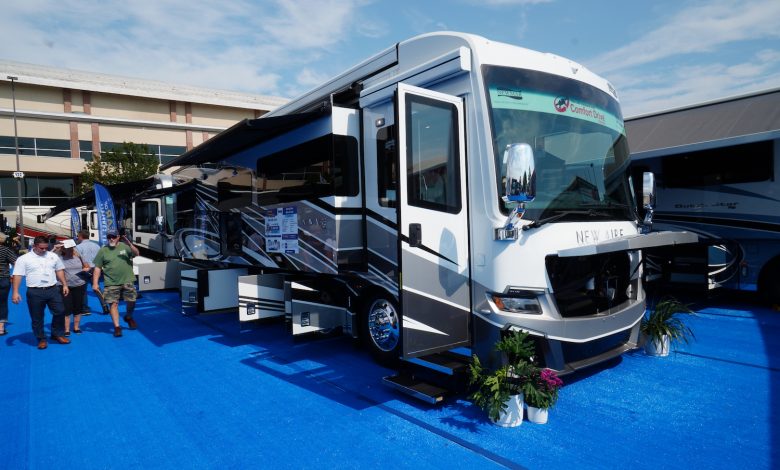 By Bob Zagami
The prospects and customers are back! The Hershey show has set the standard for consumer RV shows going forward. If we are honest with each other, nobody really knew what to expect when this show opened, but they loved what took place in Hershey in September. Going forward, dealers should embrace their local RV shows and provide a showcase of ideas, technology, and great RVs for all the new RVers adopting some aspect of the RV lifestyle. The result: their second largest crowd in the history of this show.
Type B and Van Campers are no longer a niche market, they are mainstream and enjoying great success, especially with Millennials and Gen Z young adults and families. The enhanced solar and lithium battery technology gets better and more affordable each year.
There appeared to be a larger selection of Super C motorhomes in the show. We may be seeing a shift to this product group – both from traditional Type C owners wanting something bigger and more powerful and Type A diesel pusher fans stepping down to something smaller but just as luxurious.
The three-day pass offered at the Hershey show was very popular. The audience for this show spends a lot of time in the display area over several days. These are serious buyers, and they do their homework.
Camping World was not missed, despite their radio, television, airplane banner in the sky and billboard advertisements throughout the show hoping to draw attendees to their Harrisburg locations with a "we won't be undersold" and "we'll give you $1000 if we can't beat your show deal" messaging … not sure it was very effective.
There is always an incredible variety of parts, accessories, and complimentary products on display in Hershey. Campers Inn RV stepped up and took the space vacated by Camping World on the arena floor and maintained several displays just outside the Giant Center entrance. Consumers continue to "buy a lot of stuff" at this show.
Even though the manufacturers and suppliers have been challenged this year to supply all the inventory the dealers have ordered, they still managed to present several new products, new floorplans and increased the amount of new "technology" in their product offerings.
Solar is going mainstream. A few years ago, it was an option, then the manufacturers started providing a pre-wired terminal for portable solar systems. Now we have solar panels as standard equipment on many RVs on display this year. The most talked about new system at the show was Keystone's SolarFlex offerings.
I'm not sure I've ever been at a consumer RV show with such a diversity of attendees across all demographics, from young adults to those enjoying the benefits of retirement – all of them wanting to do what they want to do from the comfort of an RV. We saw young couples just starting a family, and multi-generation families looking for an RV that would meet their camping needs. The success of our Go RVing industry marketing campaign was seen with the smiles on the faces of the attendees – RVs are hot, but we already knew that. They are about to get a lot hotter in the months and years ahead.
We want to congratulate Heather Leach, Executive Director of PRVCA, and her team, for the incredible work they did behind the scenes in a changing post-pandemic environment that caused many to question the success of a major consumer show as new variants of the virus and new local and national mandates caused others to cancel their plans – including the second year in a row where the industry cancelled the Elkhart Dealer Open House festivities. It only took about an hour to see that their hard work paid off, and the public was banging on the door to enter the display area and see over 1200 RVs – putting Covid and all its challenges behind us and enjoying a great show produced by great people, many volunteers, manufacturers, suppliers, dealers, and campgrounds ready to rock the RV world. And they did.
– Bob Zagami is a Principal Consultant at RV Insights.