Features
The Future of Power
Input from six companies and two organizations on what's next in power, plus insight on how California's EV legislation may affect the industry.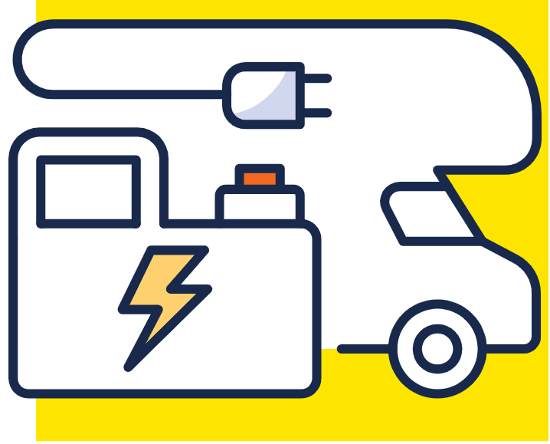 RV PRO solicited input from the experts as it asks the questions: What's the future of power in the RV industry? And what are forces outside the industry that are helping shape the future?
Q: What is new and innovative in power solutions for the RV industry right now?
Dragonfly Energy: The RV industry is in the midst of a revolution for power solutions, and it starts with solar and lithium-ion batteries. RVers look for an efficient, cost-effective, and reliable way to bring the luxuries of everyday living to their travels off the grid, and that requires ideal power solutions. At Dragonfly Energy, we're working on power solutions for RV and towable units that expand the way customers can use their units. Dragonfly Energy lithium-ion battery technology offers a 10-times longer lifespan, 3-times the power, 5-times the energy density and 5-times the charging speed compared to traditional lead-acid batteries that are currently standard in most RVs and travel trailers. This means customers can stay off-grid longer and still have the comforts they desire.
Go Power!: Panel efficiencies are improving, as well as solar charge controller efficiency and connectivity. Connectivity is getting easier to adopt, which aims to not only improve end user experience but tech support as well with at-the-ready diagnostics and over-the-air firmware updates.
Danielle Ferguson, Brand Marketing Director, RELiON Battery: The RV industry has been one of the quickest to adopt lithium batteries due to the many benefits specific to the RV lifestyle. As the usage by RV users has increased, the technology available within the world of lithium batteries, especially when it comes to how they integrate into the overall power management system, has increased as well. Lithium power solutions that offer the ability to communicate with multiple components are catching the attention of RVers because they're much more capable than your common lithium battery. For example, RELiON's InSight Series batteries are an innovative drop-in lithium solution that can communicate to a common network (RVC) providing the user better visibility into what is happening with their power management system. Another popular solution in the RV industry right now are lithium generator replacement solutions. Many manufacturers had a challenging time getting generators over the last year and had to look into alternative power solutions. As a result, we are seeing complete lithium-ion power management systems being developed that eliminate the need for traditional generators.
RV Industry Association (RVIA): Similar to other motorized industries, the RV industry is currently experiencing varying levels of power systems solutions in our market, from packaging of Lithium-Ion Storage Systems to the introduction of high voltage electrified chassis. As with any innovation facing the RV industry, our focus on self-regulation will drive development of standards in these areas. The RV Industry Association routinely participates in committee work with NFPA, ANSI, and SAE on development of codes and standards, to identify a roadmap for new power solutions of industry vehicles.
Samlex America: With the increased demand for campgrounds, we're seeing more and more RV customers adding solar to their rigs so they can explore dry camping locations that are more private and secluded. Higher wattage panels are the way to go if you want to maximize your time dry camping – when it comes to solar, bigger really is better. Dealers should make sure they're offering the biggest solar power systems available that can be expanded in the future. We're also seeing power inverters becoming more popular in RVs of all sizes. Everyone has a mobile device, tablet or camera that needs to be charged nowadays, so pure sine inverters are the way to go to ensure you're getting clean, efficient electricity that matches your outlets at home.
Bobby Raatz, Managing Director, WFCO Electronics: We are seeing demand for off grid power systems and components increase significantly over the past two years. As the industry navigates a shortage of campsites due to record setting RV sales and usage, RVers are finding alternative locations to set up camp with limited hookups to the power grid.  This trend is leading to increased energy storage needs and access to the stored power, creating demand for larger inverters, use of lithium-ion batteries, and larger solar power systems. We expect this trend to continue to grow, especially with the RVing experience the younger generations of RV owners prefer.
Winnebago Industries: Enhanced consumer expectations are driving the RV industry toward fundamental technology changes, and the industry needs to keep pushing forward to ensure future RV consumers can continue to enjoy the great outdoors on their terms. Currently, the focus is on alternate power solutions driven by growing interest in electrification, as well as recent and pending legislation. The RV industry needs to consider power solution improvements holistically, including electric propulsion, "house" power generation, and overall connectivity and energy management. Winnebago Industries continues to innovate in this space, producing all-electric commercial vehicle solutions for Winnebago Specialty Vehicles since 2018, and, earlier this year, launching an eRV concept vehicle, the first all-electric zero emission motorhome from a major RV manufacturer. As the industry introduces more systems, OEMs and their suppliers will need to innovate on the integration of multiple general use components that consolidate ecosystem control and improve the customer experience. More specifically on power solutions, there will need to be innovation around centralized energy (power and load) management and optimization of power and energy consumption. Consumers are starting to expect high efficiency systems, higher voltage, and larger energy sources as they desire to boondock further and as electrification becomes the norm. Future innovations around rapid charging will need to be developed to support the overall electrification transition.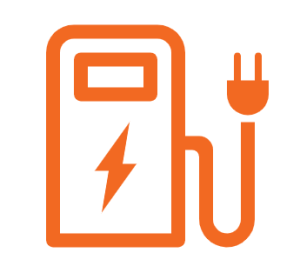 Q: How do you see the new ruling in California (to allow electric vehicle sales only by 2035) impacting the RV industry as a whole?
Dragonfly Energy: As for RVs, the regulations require all operations of medium- and heavy-duty vehicles to be 100% zero-emission by 2045, where feasible. The RV industry has work to do on feasibility determinations, innovations, and, potentially, making a case that electrification is just not feasible for RV's. As for Dragonfly Energy, to ensure needed infrastructure to support zero-emission vehicles, the order requires state agencies, in partnership with the private sector, to accelerate deployment of affordable fueling and charging options. Our business has partnerships to provide convenient stored energy that's ready for use at any time; our batteries are capable of storing energy from solar or other sources to provide charging stations with affordable and ready power.
Go Power!: This will have an impact, but the more recent ruling of banning generators in California 2024(25) is having a more short term impact.  This is leading the OEM's to look at high DC system voltages and working on creative ways to make the RV's more efficient and less reliant on fossil fuels.  By 2035, I hope that the technology has advanced enough that we could have a Class B or C or even a Class A be all electric and be able to travel a decent distance when fully loaded.
Danielle Ferguson, Brand Marketing Director, RELiON Battery: The ruling is going to push battery manufacturers to innovate more. It's clear as more states and countries consider and implement these types of rulings, batteries are going to play a pivotal role. This certainly creates opportunity for RELiON, especially given we're already focused on the safest lithium-ion chemistry, lithium iron phosphate.
RV Industry Association (RVIA): The RV Industry Association would always oppose any legislation that would negatively impact ONLY the RV industry. The current law applies to all motorized products. With RV OEMs working directly with the automobile and trucking industries on the chassis they produce, if motorized vehicles are able to meet the target, RVs will as well. Used internal combustion engine (ICE) vehicles and new ICE vehicles sold in other states would still be allowed to visit California. Our biggest challenge as an industry is how quickly 2035 will be here. As a nation we are not even close, via the national grid or EV recharging infrastructure, to being able to handle an overwhelming number of EVs, and EV RVs that would require extensive infrastructure into the backcountry.
Samlex: This will be a good thing for the RV industry long term and will drive a lot of innovation in all industries to support this legislation. Samlex products have always empowered our customers to have electricity anywhere and anytime without the use of fossil fuels. We're excited to see more states and nations working together to make positive change in emission reductions.
Bobby Raatz, Managing Director, WFCO Electronics: The key impact we see for the RV industry resulting from the ruling in California will be in the type of RV that will need to be developed to allow EVs to functionally tow travel trailers and fifth wheels.  Today's towable RV is not at all suitable for towing behind an electric vehicle.  While there is development currently in process to address the needs of electric tow vehicles, a major question for the future of the industry with the affordability of a towable RV that will allow electric vehicles to not sacrifice battery range while towing. While the 2035 effective date is significantly down the road, we are keeping a pulse on the developments and direction the industry is moving in to address the change in landscape. Power systems will become even more critical with the shift to electric vehicles as the need for energy storage and conversion will need to increase. We expect traditional power system components to be part of the industry, however there will be an overall growth in this category.
Winnebago Industries: The recent California Air Resource Board (CARB) announcement regarding a ban on new gas-powered cars by 2035 is specific to light duty vehicles with gross vehicle weight ratings (GVWR) under 8,500 pounds. Medium (8,501- to 14,000-pound GVWR) and heavy duty (above 14,001-pound GVWR) are currently not planned to be subject to CARB zero emission vehicle (ZEV) standards until 2045. While our current motorhome product offerings are considered medium and heavy duty, certain vehicles commonly used to tow our non-motorized products will be impacted. Currently 15 other states are anticipated to mirror the CARB-based standards and these established target deadlines will drive the automotive industry to further develop and refine platforms that comply and meet consumer expectations and demands. The associated acceleration of componentry and technology improvements will be driving factors for the RV industry, ultimately accelerating the growth and commercial viability of electric RVs. It will also accelerate the needed charging infrastructure to support consumer demands of an electric RV experience. As everyday vehicles transition to electric, the prevalence of this power source will become the standard expectation of consumers; an electric lifestyle, regardless of auto or RV, will be the status quo of consumer expectation.
Q: Where do you see this type of legislation heading in the future, in California and beyond?
Dragonfly Energy: California has always been a trend-setter in environmental legislation, and there is no doubt these regulations will serve as a model in other jurisdictions. Just like we saw with catalytic converters, once manufacturers are producing California-compliant products, it's easier to make those cleaner products available in other jurisdictions.
Go Power!: Well hard to say but since I know the OEM's are already looking at California's ruling on generators it could mean a revolution in the way they manufacture and work on making the RV's more efficient.  All technologies will need to import.  Air Conditioners will need to be more efficient. Maybe this is a combination with RV roofs being flat to allow more solar to help recharge batteries. Then the batteries need to be more powerful and more affordable, but hopefully these will all come soon.
RV Industry Association (RVIA): Look for a legal challenge or adjustments to the implementation schedule in the years to come. However, it's clear the conversation around and push towards alternative fuel vehicles is not going away. There are about a dozen or more states that typically mirror what California does in the area of environmental policy making, especially motor vehicle emissions and overall clean air policy, and some of those states would be expected to follow suit should the legislation carry through. Others will likely reconsider California's somewhat extreme policy and determine what works best in their own state.
Samlex: Similar initiatives are being pushed forward in other states and countries and I think we'll start to see changes happening a lot more quickly now. A lot of innovation and infrastructure development can happen in 13 years with the right support behind it.
Bobby Raatz, Managing Director, WFCO Electronics: The writing is on the wall that the ban on combustion engine vehicles will spread well beyond California into many other states, perhaps even a majority of states. Car manufacturers are quickly moving in this direction to address the expected future of vehicle drive systems. With that being said, there is a critical component to all of this and it lies in the power grid being able to support a mass transition to electric vehicles. There is a need for a substantial investment in the infrastructure of the power grid, charging stations, and campgrounds in order to accommodate the transition.
Winnebago Industries: The electrification transition is one of the largest pivots of technology in a hundred years; there are a significant number of unknowns, and the RV industry needs to be prepared with flexibility and agility as we support a sustainable future.
Already, fifteen states are anticipated to follow California's CARB ruling and based on the large percentage of new vehicle sales in these states, zero emission vehicles will likely become the dominant offering.  The real question is the overall ability to support the transition; not just EV supply chain considerations on batteries, semiconductors, and raw materials; but even more importantly, the country's infrastructure and power grid.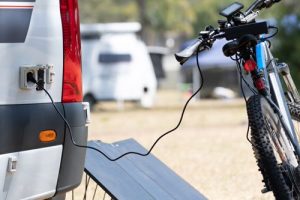 Q: What is a challenge for RV manufacturers, dealers or customers for adopting alternative power sources?
Dragonfly Energy: The biggest challenge in adopting alternative power sources is often cost. The investment in lithium-ion batteries is significant, but the benefits surely make that investment worth it. A lithium-ion battery can last more than 10 years, while traditional lead-acid batteries must be replaced every few years. Not only this, but lithium-ion batteries provide more power and allow users to camp off-grid using their rig as much as they would at home or while plugged into power at a RV site. That freedom and flexibility doesn't have a price.
Go Power!: Weight is a big issue, RV's are also not the most aerodynamic so trying to build an all-electric Class A with multi AC's with some actual usable driving range is going to be a challenge.
Danielle Ferguson, Brand Marketing Director, RELiON Battery: Although the first commercial lithium-ion battery was developed over three decades ago, the use of lithium iron phosphate (LFP) batteries in high power applications, such as RVs, is still relatively new. Until they're the standard power solution in the industry, dealers and end users are going to naturally have questions or hesitation. Lithium systems contain much more sophisticated technology than lead-acid and require specific components to ensure the battery maintains safe operational conditions. With this comes the need for all customers – dealers and consumers – to be educated on the technology in order to adopt it themselves. Especially when it comes to understanding the application and the lithium battery system needed to support. For this reason, customers should work with lithium battery manufacturers with longevity and expertise. Designing, engineering, testing, and manufacturing high quality lithium batteries requires niche and highly technical expertise, skills and experience. As lithium batteries have become more abundant in the marketplace, so too have the manufacturers offering products without the expertise or know-how, making it even more challenging for customers to implement alternative power sources, such as lithium.
RV Industry Association (RVIA): There are many challenges the country faces in adopting to alternative energy sources, but one of the biggest is infrastructure. The issue of EV charging infrastructure was a centerpiece of our Advocacy Day efforts in Washington, DC during RVs Move America Week, and continues to be one of our biggest policy pushes. While we recognize and support the move to alternative fuel sources, there is a major need for robust EV charging infrastructure – especially in more rural areas and our national and state parks. Our members are already developing zero-emission RVs, and we need the administration to support the establishment of grant and incentive programs for state and local governments, as well as the private sector, to build a national network of EV charging stations to ensure electric vehicles of all types can effectively be used in private and public campgrounds across the country.
Samlex: The challenge is always to make sure the customer gets an RV and power system that is right for the kind of camping they plan to do now, and in the future. Samlex products are designed to provide electricity and charging while away from shore power, and with the right battery bank and energy storage system RVers can stay off-grid as long as they like.
Bobby Raatz, Managing Director, WFCO Electronics: The primary challenge currently within the alternative energy segment is the inefficiency of generating energy from wind and solar with a secondary challenge of providing enough space for energy capture and energy storage to maximize the utilization of alternative energy sources. Like all technology, we anticipate there to be improvements in both of these areas moving forward. In order for the industry to be able to take a step forward within this space, there needs to be more education, training, and awareness of not just the individual systems and components, but also on how all of it works together within the RV.
Winnebago Industries: There are multiple hurdles for full adoption of alternative power sources, but Winnebago Industries is committed to clearing those hurdles within its control.
Three of these challenges that the RV industry is facing for adopting alternative power sources include:
Near-Term Affordability: No different that automotive companies, in the near term, price for such technologies will be higher than ICE / LP counterparts. Regardless, Winnebago Industries has completed significant EV research, which highlights a growing set of early adopters that are comfortable with paying a premium for new technology and who will lead the way, with a larger set of consumers potentially adopting new, alternative house power solutions.
Infrastructure: Infrastructure currently is a significant challenge for all players, not only the RV industry. While recent legislation supports significant investment, the ramp cycle to support EV charging at a similar level to gas stations is years if not decades away. Many of the solutions today and those planned are focused on everyday automotive use vs. specifically focused on development to support an RV lifestyle. Fortunately, most RV parks have 50-amp chargers, though this still would limit some RV use cases.
Holistic Solutions: Winnebago Industries' research indicates that those consumers that look to buy EVs are not simply looking to purchase electrical propulsion. Their expectations include integrated technology solutions on par with Tesla, Ford and the automotive OEMs. Those RV companies that look to win will need to focus on building an overall ecosystem of technology solutions.