Features
The Grand Popularity of Fifth Wheels
Customers are seeking out Solitude and Reflection, in more ways than one.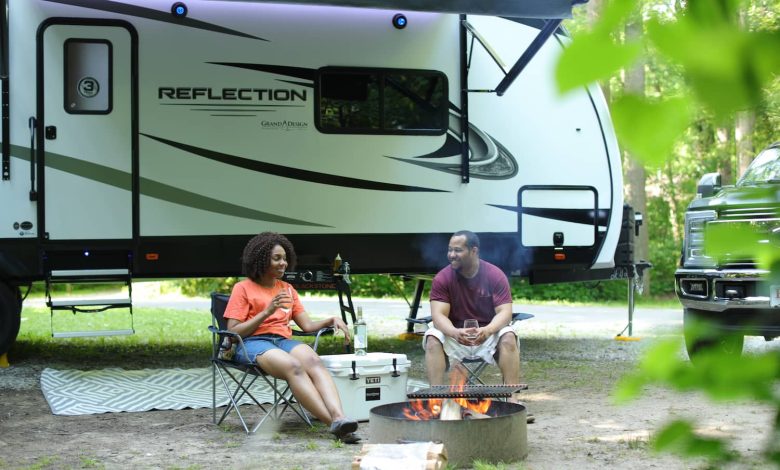 Grand Design RV rolled out its first product in 2013, the first version of the Solitude fifth wheel. The Reflection fifth wheel brand soon joined Solitude in Grand Design's product mix. Over the past decade, the two brands have established themselves as significant factors in the highly competitive fifth wheel category. 
Grand Design's fifth wheel product managers describe the Reflection line as a mid-profile fifth wheel that is more "cost-sensitive" with fewer features and is a relatively smaller unit. They describe Solitude as a full-profile luxury unit, equipped with more residential features, a bigger frame, chassis, wheels and cab area.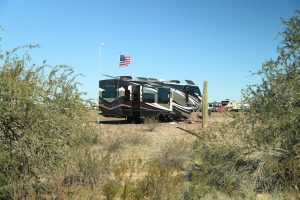 The two brands are built in two different plants, both located in Middlebury, Indiana. Both use the same dealer network, which numbers around 270 across North America. 
Tony Lizzi, product manager for Reflection, notes that the RV industry as a whole is undergoing a right-sizing due to economic uncertainties. However, Reflection is enjoying improved sales in 2023. Lizzi was busy in early 2023 attending consumer RV shows. Robust sales during shows gives him confidence 2023 will be a strong year for the brands. 
"Our brand, from our internal reporting, is showing being up, year over year," Lizzi says. "I feel like our brand is still performing well in a more challenging market, which is something to be really proud of." 
Lizzi says Grand Design's philosophy has always been to learn what customers are seeking in a product, rather than being concerned about what competitors are doing. The brand also offers customers scalability in terms of product options. 
"Over the years, we have seen demand shift and customers' wants change," he says. "We've gone to 12-volt fridges. We've added solar panels on board, and charge controllers. We've given customers the chance to add even more solar panels, and to add an inverter, and to choose whatever batteries they want to meet their needs." 
Lizzi predicts there will be increasing interest in solar panels and 12-volt refrigerators as interest grows in energy storage capabilities and the growth of off-grid camping. Input from consumers drives Grand Design's innovations. Feedback comes largely from RV shows and social media. 
"When we are at shows, we are listening to feedback," he says. "The neat thing is that a lot of our current owners will come to shows and seek out our representatives and offer feedback. We've got resources here within Grand Design that monitor our very active Facebook pages and help convey feedback to our product design team." 
Reflection went through a massive interior change last August. Lizzi says if consumers were to start voicing ideas for further changes, the company would listen, but Reflection will stay with the newer, lighter décor launched last August. 
Products evolve constantly, and Lizzi says Grand Design doesn't necessarily time upgrades to coincide with shows and events. 
"We will add some new floorplans and perhaps some new features before the annual Open House, but if we feel we need to improve the product by making a tweak next week, we don't hold out on giving the customer the best possible unit we can deliver, just because of an arbitrary timeline. We don't hold back." 
Reflection's MSRP starts at $68,423 for the Reflection 150 Series and $85,184 for Reflection. There are differences other than the price. 
"The Reflection 150 series is built on a platform to be shorter in length, lighter in weight, and a little bit lower price point than the regular Reflection," Lizzi says. "It is geared towards being more half-ton towable, while being more price conscious at the same time, compared to the regular Reflection, that has more slide-outs, a longer length and more square footage, with a more robust feature offering." 
The pandemic was a catalyst for more people to discover the world of RVs. The accompanying trend toward remote working prompted Grand Design to craft a desk setup in the Reflection 320 MKS. The move was designed to boost versatility and functionality with its coaches. 
Looking for Solitude 
Tommy Hall, product manager for Solitude, notes the brand was the No. 2 seller in retail in November among all fifth wheels. To build on that momentum, some upgrades are in the works for this summer. 
"We are studying our production, and we are studying retail trends. We are trying to be super sensitive, trying to balance production with what is happening in retail. We want to keep the pace as well as complete all of our product changes by July." 
Hall says Solitude is the only luxury fifth wheel that offers anti-lock brakes.  
"To some, that might seem like old technology. A lot of people assume they have it, but we are the only company that offers it on our Reflection, Solitude and Momentum models," Hall says. "As of last month, Solitude has the option to offer independent suspension, which is hugely popular in our segment of buyers in the luxury area. We are the only manufacturer in our price point that offers that option direct from the factory."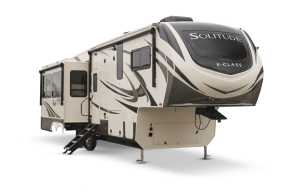 Hall notes that Solitude customers are typically 55 and older, generally empty nesters, and often use the unit for a full-time living setup. But the Solitude demographic may be changing somewhat, as young families and couples are becoming interested. 
There will be some new Solitude introductions at this year's Elkhart Open House. Hall says his staff is currently solidifying design and feature details. 
"Last year, we made upgrades to both the interior and exterior of Solitude, and we really gave it a fresher look. This year, there will not be as much updating to the look, but we will have some new features and new add-ons in place before Open House." 
Like Reflection, Solitude has two base models: Solitude, with an MSRP starting at $116,786, and Solitude S-Class, with a MSRP of $107,647. Hall says there are more than a dozen differences between the Solitude and the Solitude S-Class, one being the hitch. The Solitude has a full-body paint option and a dishwasher prep option. The Solitude also offers a few floorplans that have an elevated rear area with a slide-out tray storage compartment area.  
"The S-class is the product that sits directly in between the Reflection and the traditional Solitude," Hall says. "Compared to Reflection, you will see on the S-class things such as a generator option, bigger wheels. Then when you jump up to Solitude, you get a bit more residential." 
Hall attends RV consumer shows in Tampa, Florida; Hershey, Pennsylvania; Denver, Colorado; and California. The shows are valuable in terms of receiving customer feedback and can serve as a springboard for potential future changes.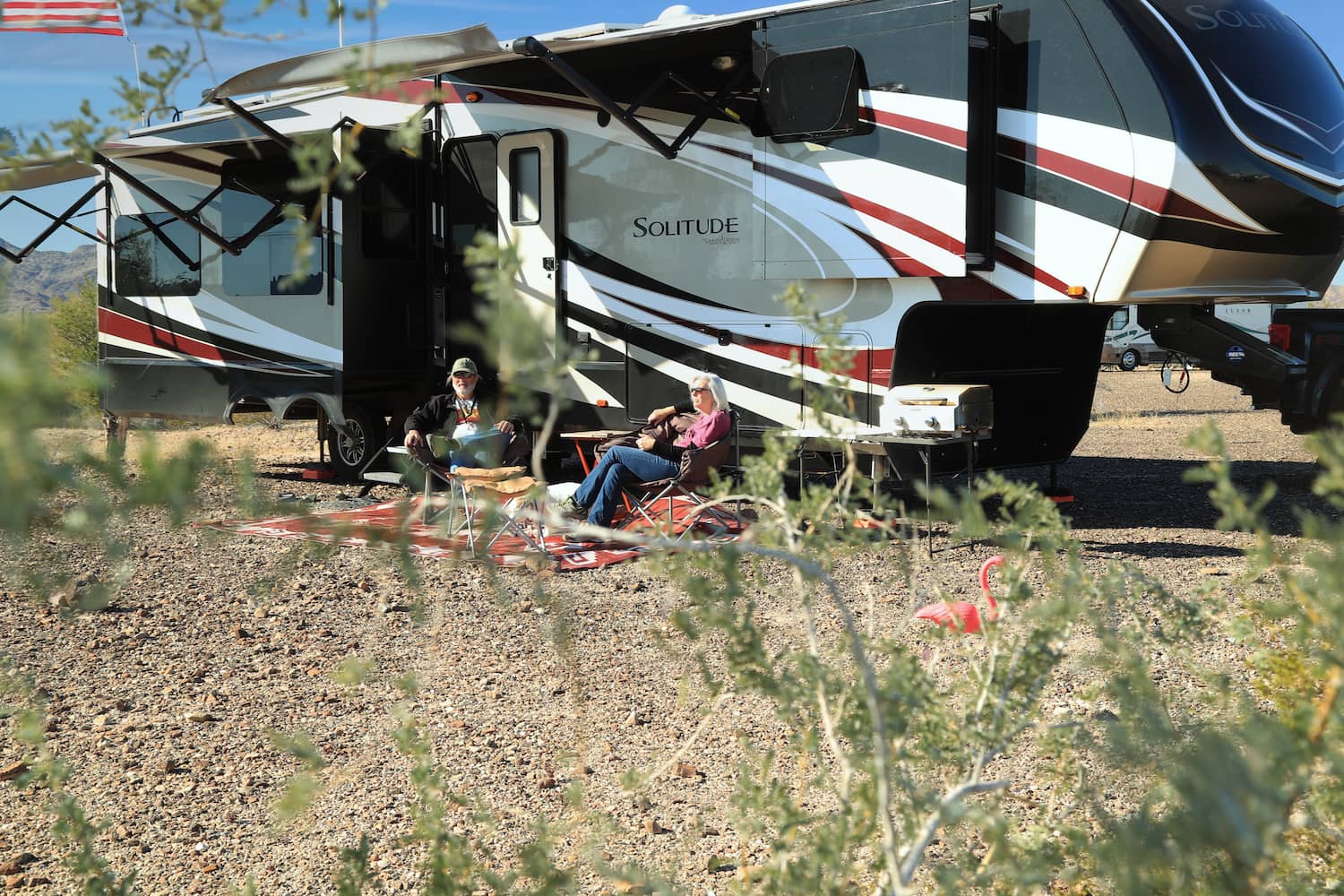 "In my segment, residential is a huge thing," Hall says. "I try to be a part of home and garden shows, kitchen and bath shows, and do research outside of the RV industry, to see what residential trends can be applied to Solitude and the recreational space. 
"Heading into this year, we have all new woods, and we have all new wall colors, top to bottom. That was the big overhaul that we did in the fall and into the new year this year. And we will have some feature add-ons this year. Our goal is to make our units easily identifiable and to make the units easier to use."  
As spring approached, Hall reported seeing an increase in sales – a normal occurrence, but encouraging nonetheless. 
"Starting April 1, we normally see an uptick, through the spring and summer," he says. "We are starting to see some good retail action. We are anticipating a really good summer, all things considered. Our goal is to keep ahead of the changing game. It's important to keep a new face to the product and to keep doing what customers want."