Features
The Inspectors
Husband-and-wife team Lisa and Jason Carletti find their career calling as NRVIA master-certified RV inspectors.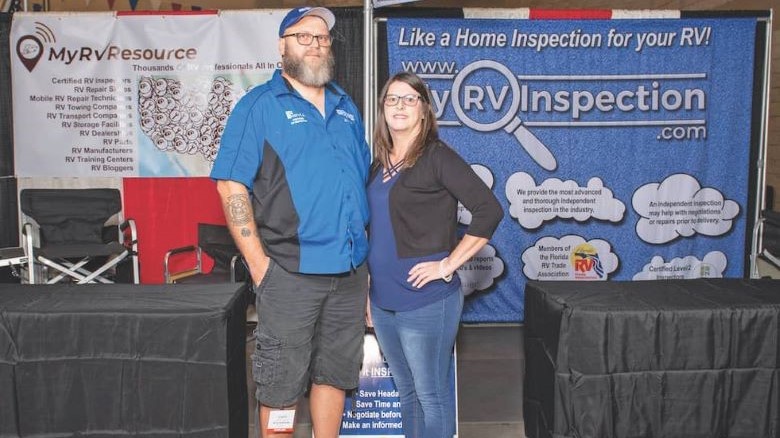 It was a fateful dinner in 2016 with some friends who were full-time RVers that forever changed Lisa and Jason Carletti's lives and career paths, although they didn't recognize it at the time.
The dinner with RVer friends went so well that it prompted the Carlettis to try out full-time RVing for themselves, to see if they were cut out for it.
"We wanted to test the waters and see if we were going to kill each other in the RV," Lisa Carletti laughs. Jason Carletti's parents had owned a camper and Lisa Carletti had tent camped as a child, but neither one of them had much experience with RVing. Still, they took the plunge and bought a Class A motorhome to live in.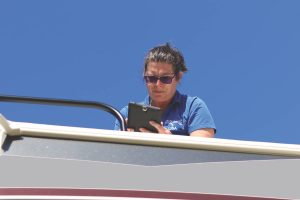 At the time, Lisa Carletti had been in the health care field for 22 years and had spent the past five years as a traveling certified surgical technologist; her husband was working an AV tech job.
"I was taking three-month contracts at hospitals," Lisa Carletti says. "Jason quit his AV tech job and wanted to figure out something to do while working on the road. It happened to be an ad from the NRVIA (National RV Inspection Association) that I saw on Facebook. Jason looked into it and decided to try it."
So, Lisa Carlettti took a technologist contract in Texas so her husband could attend the NRVIA certification course from the National RV Training Academy (NRVTA), which is based in Athens, Texas. He graduated on Aug. 3, 2017.
Meanwhile, Lisa Carletti's next contract took them back to Florida.
"I started the contract the week that Hurricane Irma hit the Florida Keys. Jason got a call from the association (NRVIA) and (they) asked Jason, 'How would you like to do a FEMA project down in the Florida Keys?' He jumped in with both feet. He worked down there for basically two-and-a-half months," Lisa Carletti says.
She worked at her hospital job Mondays through Thursdays, driving down Thursday evenings to help her husband on Fridays through Sundays.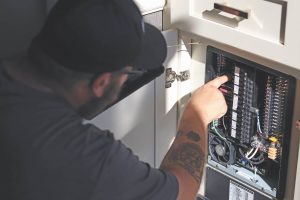 The work appealed to Lisa Carletti – prompting her to become a certified RV inspector and RV Technical Institute registered technician in January 2018, even as she continued to work in the health care field.
"I was now an inspector, too, so I did inspections while he performed repairs," Lisa Carletti says. "We came back to the Tampa area at the beginning of 2019, when Jason was in a bad rear-end accident that halted all the repair work he was doing. We've solely been doing inspections ever since."
Around that same time, Lisa Carletti says she determined working in the health care field was taking its toll on her, prompting her decision to do RV inspections full-time, too.
"I was burnt out and looking for something else to do, which is why I became a traveling technologist. It's easier to take health care in small bites," she says. "I'm thankful with everything going on in the world today that I'm not in it anymore. I'm so happy to be out of health care."
As the couple focused entirely on the RV inspection business, they went on to achieve master-certified status in July 2021. According to NRVIA, the couple is the first-ever husband-and-wife team of inspectors and Lisa Carletti is the first female to become a master-certified inspector.
RV inspectors in the Tampa area since 2017 and the owners of My RV Inspection.com, the couple has performed more than 700 RV inspections to date.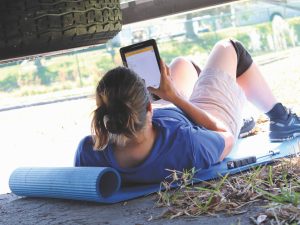 Becoming RV Masters
Becoming a master RV technician isn't simply performing lots of inspections, although that is a requirement, according to the Carlettis.
"You have to prove to NRVIA that you've had insurance for at least two years; that you've had your business up and running properly for at least two years. You have to have a website and you also have to be a certified or registered technician," says Jason Carletti. "You have to send the association a set number of inspection reports to be peer reviewed and graded. They give you feedback and determine if the inspection followed the code of ethics."
Being an NRVIA master-certified RV inspector means that a person has excelled not only in their own inspection business, but also for their work within the RV industry. In order to become NRVIA master certified, the Carlettis had to meet a specific list of requirements, including:
Operate an active and insured inspection business for at least two consecutive years.
Complete 50 verifiable advanced RV inspections. Evaluations performed for warranty or repair verification, life-safety only or for the Federal Emergency Management Agency do not count in that total.
Possess active credentials as a registered or certified RV technician from a sanctioned training school.
Obtain at least 10 verifiable reviews from clients with a satisfaction rating of 80 percent or higher. The reviews must be listed on a third-party platform such as Google, Yelp, Facebook Business Page, HomeGauge, etc.
Inspectors must have either published an article in an industry publication relevant to RV inspections or RV systems training, or presented a similar topic at an industry rally, conference or expo.
Maintain a professional business website promoting RV inspection services.
In addition to NRVIA master-certified inspectors, Jason and Lisa Carletti are also both certified RV Technical Institute Level One technicians, which they make use of.
"We do our own repairs on our unit. We also just helped both neighbors on either side with some repairs," Lisa Carletti says.
As part of maintaining Level One certification, the couple are required to earn 24 credit hours of training and education per year.
"You can get hours by watching educational videos, going on factory tours, attending the association convention and presenting," Lisa Carletti says. "Keeping up to date with everything is really what it's all about."
Meanwhile, the couple gives back to the RV industry by teaching other certified RV inspectors in the proper use of HomeGauge, a software program used for generating inspection reports, and by offering advice on RV inspection report writing.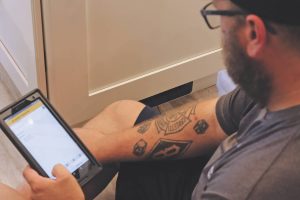 "We became the gurus of HomeGauge," Lisa Carletti says. "With NRVIA, we tweaked it and perfected it to make the processes better for all RV inspectors who use it. We also recorded video lessons that are available on our website. We presented at the 2018 inspector conference and for a whole day at the 2019 inspector conference."
The husband-and-wife inspector team – who traded their Class A motorhome for a Highland Ridge Open Range fifth wheel for more living space and storage – primarily live in an RV park in Tampa but have taken their RV on trips to Texas and the Carolinas for training and the occasional family reunion.
As Florida residents, the Carlettis are members of the Florida RV Trade Association, attending monthly meetings and taking exhibit space at the annual Florida RV SuperShow.
"The public has been really receptive to what we had to say. We participate in three shows a year and now we have a second booth. At this last show, there were about 7,000 attendees, and I gave away 900 business cards," Lisa Carletti says.
Performing Inspections
Lisa Carletti says many inspectors may travel more than 100 miles to perform an inspection. However, because of the area where they live, Lisa Carletti says the couple usually doesn't have to travel very far.
"There are five large dealerships within 20 minutes of us, so we can usually stay close to home for inspections," she says. "We perform third-party, unbiased inspections for customers. Dealers here in central Florida are accommodating for us to perform our inspections. We hear that in other parts of the country they can be less accommodating, but we haven't had many negative experiences."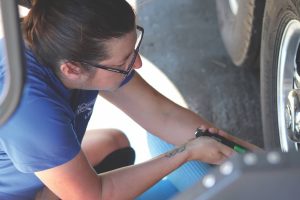 Lisa Carletti says she and her husband typically tag team an inspection, with one of them performing the outside inspections and one performing the inside inspection. She says the most common issue discovered during inspections is that the rubber grommet, on the exterior behind the water heater, is not sealed.
"It's supposed to be sealed so carbon monoxide can't get into the coach. Quite often, it's unsealed," she says. "And there is almost always something with the roof. On both brand-new and used units, I'd say 95 percent of the time (it) has issues.
"In brand-new units, sometimes the lap sealant isn't cured or there's gaps in the lap sealant. It's the nature of the beast," she adds. "On used units, if the previous owners haven't maintained them, then the lap sealant usually needs to be reapplied or scraped and redone."
Jason Carletti says the couple also uses a local fluid analysis lab as an extra inspection point, for an additional fee for motorized units. The inspectors can take 3-ounce samples of up to five different fluids, submit them to the local lab and have results ready the next day.
"We mostly perform the fluid analysis for units that are a little bit older. If the unit is too new, fluid issues will show up in its break-in period," he says. "The analysis tells us the different metals in those fluids and can tell us what components in the motor might be wearing. We can see if there are needed concentrations to be added to coolants, if there is a wrong fluid, or if there is watered-down coolant."
Lisa Carletti says one of the benefits of the HomeGauge software is the ability to create a punch list. She says there are usually more than 100 pages and 100 pictures in an inspection report. That can be overwhelming to a potential buyer, she admits.
"We usually guide our customers to do a CRL (Create Request List). In layman's terms, we tell them to make a punch list that points out the issues. They can then take that and negotiate with the private seller or dealer," she says.
To assist customers even more, the couple has been working to create a website, My RV Resource. The online directory boasts more than 6,000 company listings across 15 categories, including RVs for sale and RV-related job postings. The website will offer many resources, as implied in the name, including classified ads, information about where to get repairs and more. (The inspector's code of ethics states that an inspector is unable to perform repairs on a unit for one year after the inspection, so it won't be a conflict of interest.)
"As far as training, we'll leave the formal training to the NRVIA and the NRVTA. What we would like to do is to help mentor people and build a community of those individuals to give them support after training," Lisa Carletti says. "As an inspector, you not only get training, but you get camaraderie and a family feeling. We've spent two disaster relief efforts living in an airport with peers."
Jason Carletti says that if anyone is looking for a career, being an RV inspector is a great option.
"I'm thankful to NRVTA for everything they've given us," he says. "It's a great opportunity to start your own business – to go out there and do what you love."