Features
The Place to B&B in the Mile High City
Denver-based B&B RV isn't a traditional dealership – its successful blend of off-grid sales, rentals and sustainable business practices make this shop the "place to be."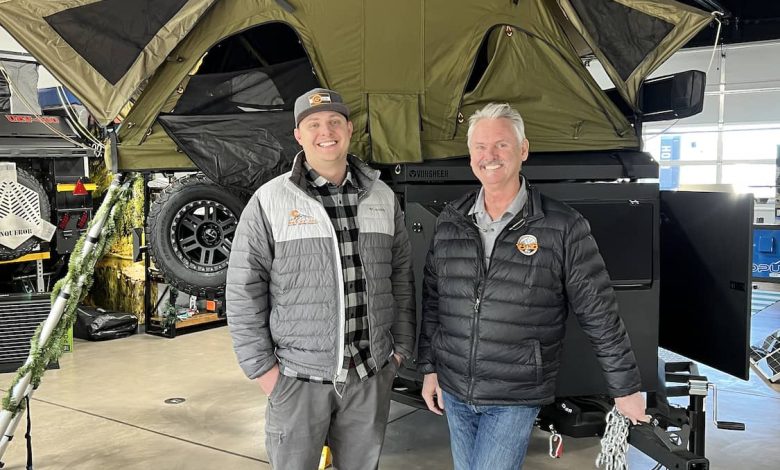 Off-road travel trailer enthusiasts love adventure, living off the grid and traveling to rugged, remote places that intimidate others. Enduring extreme weather conditions, uneven terrain and mud-caked tires are all part of the fun.
That same risk-taking spirit has kept B&B RV successful for nearly 25 years. The family-owned, boutique dealer in Denver's trendy Central Park area specializes in both selling off-road, off-grid, lightweight towables and renting Class C RVs, camper vans and Mercedes diesels. Timothy Beckett and fellow owners Steve and Jay Beyer have one of the largest single-location rental fleets in the United States, drawing customers nationwide and even some internationally.
In fact, 40% to 60% of B&B's rental customers fly into Denver to rent RVs such as a 24-foot Class C Conquest or a 24-foot Mercedes Diesel Quantum. They find B&B through the website, but also via the dealership's TikTok, Instagram and Facebook accounts. Meanwhile, lovers of off-roading vehicles such as Opus OP15 hybrid campers and Vorsheer XOC teardrops flock to B&B's Pinterest site for pictures of cool models and available products, do-it-yourself projects and travel suggestions; those customers are looking to get away from the crowds, not leisurely camp in fifth wheels.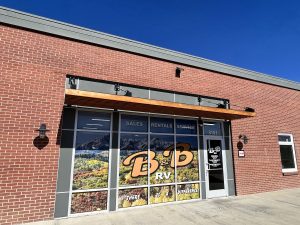 "We don't want to feel like a car dealership or even a traditional RV dealership," says Nicholas Beckett, B&B's general manager and Timothy's son. "So, especially with the marketing, one of the things we focus on is how we can promote the lifestyle. … We want to be a resource for people who already own RVs or already rent, even if they rent from somewhere else."
That means watching trends and consistently being an early adopter. Such was the case when B&B started carrying the then-innovative LivinLite's CampLite in 2010, the dealership's first new trailer-sales offering. The line of wood-free, all-aluminum, hard-side models were introduced by Scott Tuttle in mid-2010 as an entry level, ultra-lightweight towable option and the units were popular for a few years.
B&B's RV sales side really took off when it became one of initial dealers to offer TAXA Outdoors' Cricket habitats, then Tigermoth and Mantis models too. Now, B&B offers both OPUS and inTech units and has for several years, because the manufacturers focus on providing quality products and customer service, Beckett says. B&B also sells The Black Series, Encores and To Extremes.
"We are constantly looking for something new, but the number one thing for us is how it's built," says Beckett, who says even retirees are seeking off-road options. "If you are building something that's high quality, that's something we are interested in."
B&B recently became the exclusive U.S. dealer for Arkto Campers G12, a 20-foot hybrid unit that sleeps two to three people. The Canadian product is built with all composite materials.
"The Arkto is intriguing to campers looking for a unit that does well in all seasons and gives the luxuries of a camper with none of the unnecessary fluff," Beckett says. "Arkto hopes to build 20-plus units in the first year of production designated for the United States market."
Tackling Trends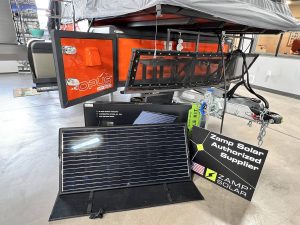 Sustainability practices matter to both B&B and its customers, many of whom choose to be off the grid during their travels.
"We advocate for using solar, when possible, in place of shore power or generators, and we are in the process of trying to eliminate paper from our sales and rental processes," Beckett says.
Those purchasing off-road units spend a lot of time researching options – they know what they want before entering the dealership. B&B sells more than 200 RVs each year and recently moved to a larger location to accommodate both the increased inventory and growing staff. B&B has about 20 employees.
Beckett says OPUS and inTech account for about three-fourths of all sales, and most customers hail from within Colorado. However, B&B has attracted customers from as far away as North Carolina and Alaska.
"People will travel for this type of product," Beckett says.
While it fluctuates from year to year, B&B's rental business and its sales activity usually are evenly split. There are about 65 to 75 rental units available at any time. Popular units include 24-foot Class C THOR Compasses, 24-foot Class C THOR Chateaus and 30-foot and 32-foot Class C Gulf Stream Coach Conquests. With a nod to sustainable practices, multiple models have lithium upgrades to limit the need for outside power; with 800 amp-hours of lithium, the Sequence 20K fully eliminates the need for a generator.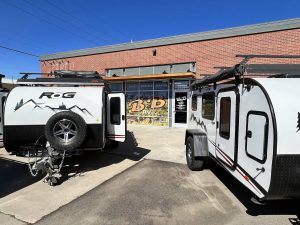 Tim Beckett, who entered the RV industry after a successful career in information technology, says part of B&B's rental success is attributed to selling the rental units after two seasons, keeping the fleet fresh. B&B's first rental was a Fleetwood Class C to an Italian family in April 2000, who found the dealership through its website – something relatively rare for dealerships at the time.
Over the years, the elder Beckett watched as larger dealers and chains tried to profit from rental sales. They wanted used inventory to sell but didn't offer customers guidance and support.
"Having rentals is a separate business and much more work than simply tossing the keys to a rental customer," he says. "Consequently, almost all of them gave up their efforts to rent."
He adds, there are some fairly large differences between renting from an individual meeting at Walmart to exchange a unit and the service a renter gets from an established dealer with on-site maintenance.
B&B has a small service department, mostly dedicated to servicing its own units. However, the dealership does sell some products; among the most popular items are solar panels from Zamp and wireless brake controllers from Prodigy, Nick Beckett says. B&B also carries Mountainsmith outdoor gear and many manufacturer-specific components.
"We continue to adjust with the market trends and grow our advertising in an effort to be one of the best values available," Timothy Beckett says. "We are a five-star member of RVRD (RV Rental Dealers), allowing us to collaborate with many of the best independent rental companies in the country; this helps us to be aware of the trends and changes."