Features
The Rise of Adventure-Ready Travel Trailers
Manufacturers deliver practical and rugged RVs designed to meet a growing demand for off-grid camping.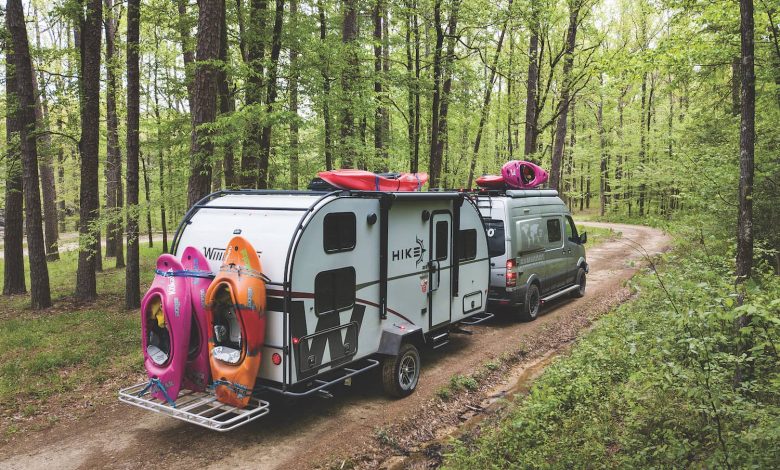 Adventure-ready, lightweight travel trailers spent the past decade as an up-and-coming segment.
Growing consumer interest in off-grid camping is helping fuel the demand for lightweight travel trailers that can travel off the beaten path.
In 2020, the future arrived for products such as the new Forest River IBEX, the Winnebago HIKE and the Jayco Jay Feather Micro, which were developed last year for the small but growing off-grid camping market. With off-road tires, rugged construction and advanced solar capabilities, these trail-ready coaches were aimed at adventurous consumers whose idea of camping doesn't involve campgrounds.
As the COVID-19 pandemic took hold in 2020, a wave of new consumers flooded dealers' sales lots, many of whom were looking to buy something they could take off the beaten path.
For these consumers, off-road trailers seemed tailor-made for adventures in social distancing.
Adventure trailer manufacturers now find themselves in the novel position of bringing to market the exact right product at the exact right time, according to John Fisher, director of product development for Jayco's lightweight lines.
"We designed the Jay Feather Micro to go off-road and be off-grid," Fisher says. "That was back in the 2019 calendar year. Now we've got this influx of new campers who want to go off-grid. Lo and behold, Jayco had the perfect vehicle for them."
While the prime consumer demographic for adventure trailers skews younger, Winnebago Towables General Manager Joel Eberlein says the off-road demographic driving sales of the Winnebago HIKE is defined less by age than by mindset.
"They could be a younger family or younger couple in their 20s, or they could be in their 50s," he says. "It's that adventurous spirit that defines them – that drive to find adventure off the beaten path."
Many off-road trailer owners use their coaches as mobile bases of operation for outdoor pursuits, such as mountain biking expeditions and kayaking adventures, according to Forest River IBEX Product Manager Cody Schade.
"When our parents and their parents went camping, camping was the main activity," Schade says. "These days, folks have lifestyles and activities they love. We want to provide the versatility and peace of mind for our customers to know they can comfortably camp outside a campground."
With the market for off-road ready trailers coming into its own, RV PRO decided the timing was perfect to highlight some of the newer, notable players in this segment.
Winnebago HIKE Designed for 'Rugged Nomads'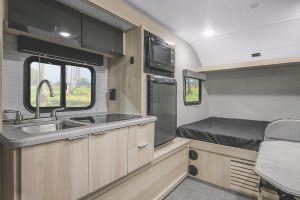 The powder-coated rail "exoskeleton" mounted to the exterior of the Winnebago HIKE is more than a handy storage system for transporting kayaks and the like – it is the signature design element that is rapidly coming to define the new brand's visual identity.
The patented exoskeleton is one of many features that instantly tells consumers HIKE is a new breed of Winnebago towable. Fender flares, off-road tires and spare tire are clear signs the coach is ready to go off the beaten path, while Dexter torsion axles ensure it won't be rattled by rough roads. At the front of the coach, a diamond-plated steel external storage box is a handy place for anything from hiking gear, to ratchet straps, to LP tanks and batteries.
All floorplans have dry weights below 5,000 pounds. The trailers are just under 8 feet wide and are 20 to 25 feet long.
"Every aspect of HIKE has an aggressive footprint," Winnebago's Eberlein says. "HIKE is differentiating Winnebago as a forward-thinking manufacturer, whereas before we were on the conservative side."
Being aggressive sometimes means being ahead of your time, he adds. That was the case with HIKE, which originated several years ago as a top-secret off-road concept prototyped for an annual dealer advisory board meeting.
"Our engineering team built this concept trailer and shipped it to the meeting under a tarp on a flatbed truck," Eberlein says. "We showed it to a select group of dealers who signed confidentiality agreements. They thought we were onto something, but they weren't sure the market was ready for it."
Winnebago kept the HIKE prototype under its tarp, waiting until the time was ripe for its official unveiling. Meanwhile, Winnebago commissioned a third-party firm to create a "demand landscape" marketing study to identify what consumer segments exist and what drives their buying habits.
"Traditionally, consumers were classified in generational terms: Baby Boomers, Generation X, Millennials," Eberlein says. "But the demand landscape showed us something else: A group of consumers we call 'rugged nomads.'"
"Rugged nomads" have a strong independent streak and a sense of adventure. Eberlein says research shows they love having the freedom to venture into the wild to camp at non-traditional sites – something that draws them to RVs like the Winnebago Revel Class B van, which owes much of its success to its rugged nomad fanbase.
"As soon as that demand landscape came out, we realized not every rugged nomad can afford a $160,000 B van," Eberlein says. "We thought, there's got to be something for rugged nomads with an MSRP in the mid-$30,000's."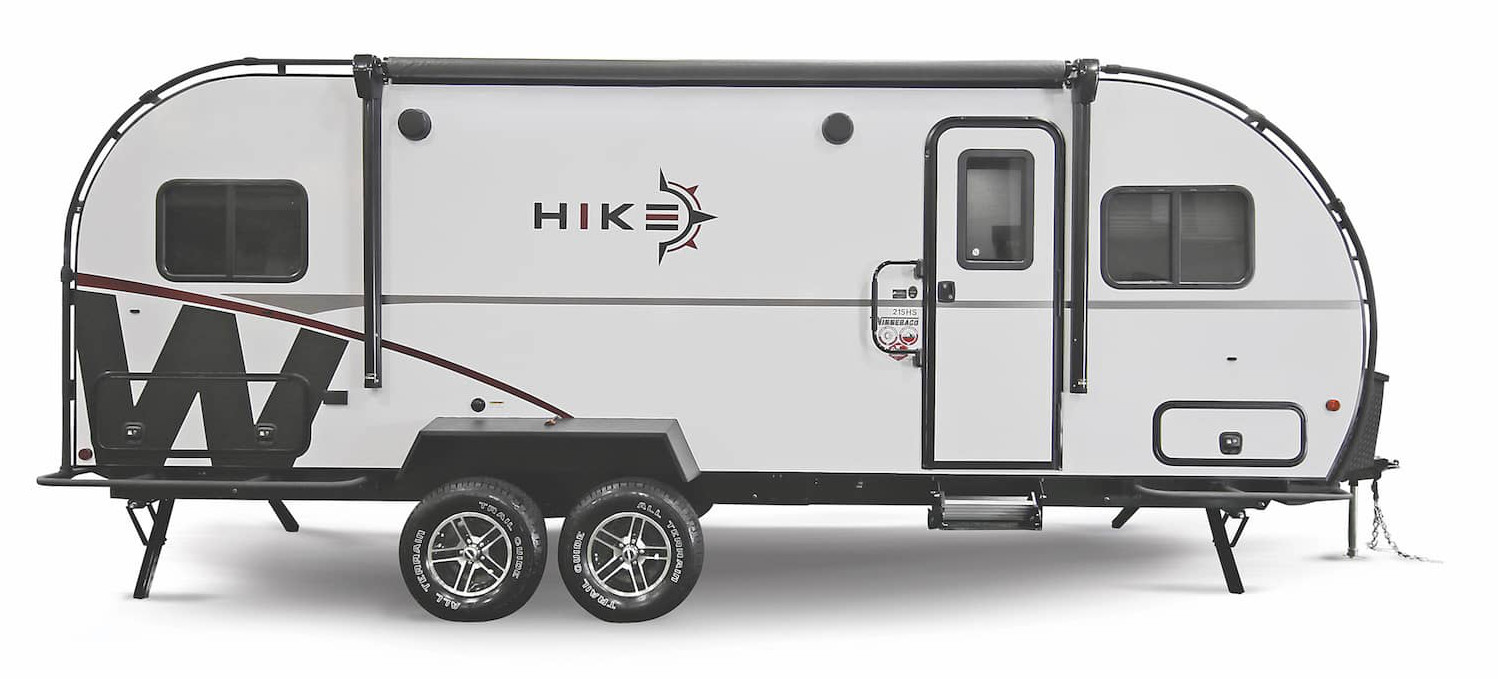 That was the cue for the HIKE to emerge from its tarp and get its design refined and finalized just in time to debut at the 2019 Elkhart Open House. The first units shipped in early 2020 – just before the initial COVID-19 outbreak, but sales really kicked off when lockdowns started being lifted this spring.
"With every aspect," Eberlein says, "we thought of how a rugged nomad would want to use a trailer."
In designing the HIKE, Winnebago Towables Product Manager Adam Christoffersen envisioned clean, straight lines with a modern, European-inspired aesthetic. Because the HIKE and Winnebago's Class B vans have similar interior design elements targeted at a similar demographic, Christoffersen consulted his Winnebago motorized colleagues to draw on research and development that group had already done.
Developing the HIKE has fostered synergies between Winnebago's towable and motorized sides that Christoffersen says he finds particularly exciting. He notes that a consumer-submitted photo of a Winnebago Revel hauling a Winnebago HIKE posted on the manufacturer's social media channels quickly garnered more likes and shares than any social media post in the company's history.
Forest River IBEX Finds Its Footing
The Forest River IBEX is a classic case of an overnight success a decade in the making.
IBEX launched in May, but its pedigree stretches back more than a decade. It is manufactured by the Forest River division that produces the popular r-pod and No Boundaries (NO-BO) lightweight travel trailers.
"I think IBEX comes from a long-term evolution of the style of camping we've seen develop over the last 10 or 15 years," IBEX's Schade says. "The last couple of seasons it's been accelerating."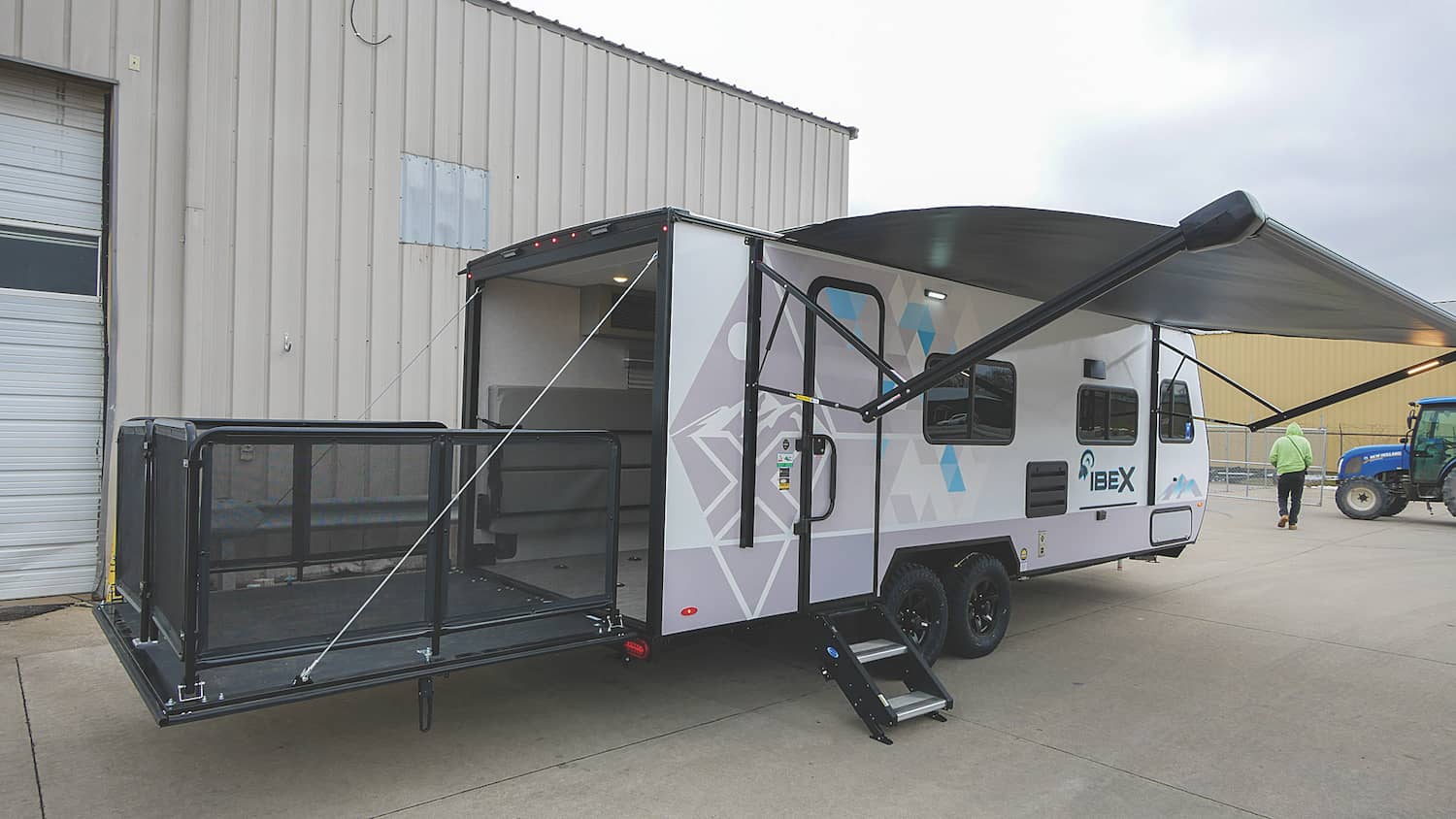 IBEX's family tree began with the launch of the teardrop-style r-pod in 2009. The r-pod's recipe for success was to put the amenities of a full-size trailer into a package light enough to tow with an SUV. Schade credits the r-pod with helping spark an explosion in the sub-3,500-pound market.
Lightweight teardrop-style trailers started the process of evolving into full-fledged off-road adventure trailers with the r-pod Hood River Edition, which was produced for the West Coast market. The Hood River models kept the SUV-towability of the original r-pod, but added such features as off-road tires and increased ground clearance.
"The Hood River Edition r-pod was our first introduction into this 'off-the-pavement' style of camper," Schade says. "It opened our eyes to that segment. We started to see there's a market of people out there attracted to this style of camping."
Inspired by the success in the adventure market, Forest River introduced the No Boundaries (NO- BO) line with even more off-road features and storage capabilities.
IBEX picks up where NO-BO leaves off, according to Schade.
"Some of our r-pod and NO-BO folks have a bigger family, more children, more equipment," he says. "IBEX is the full-size adventure solution."
Whereas NO-BO focuses exclusively on the under-5,000-pound range, with dry weights as low as 1,570 pounds, IBEX focuses on the under-5,000-pound and 7,000-pound weight categories. Both 7- and 8-foot-wide IBEX units are available; initial floorplans are between 23 and 25 feet long. Units retail from the mid-$25,000 to mid-$35,000 range.
Like many in the off-road lightweight segment, Schade says he expects adventure trailers to become a much bigger part of the RV market in the near future. He notes that 10 years ago off- road trailers were mainly popular in the West, where vast tracts of public land offer abundant nontraditional camping opportunities. However, Schade says that the geographic divide has become far less pronounced now.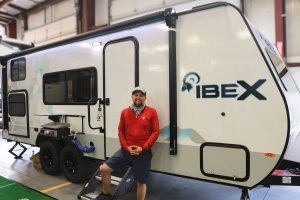 "We're seeing it come out East, especially as campgrounds fill up," he says. "I camp myself. If you're going to campgrounds these days, a lot of time you've got to plan it out a year in advance."
The market for adventure trailers is expanding quickly as new apps like Harvest Hosts and Boondockers Welcome help East Coast consumers find off-grid campsites on private land, according to Schade.
"If the industry is going to sell over 500,000 units next year (2021), there have got to be places for folks to camp," he says. "Apps that allow people to camp outside the campground are accelerating the growth of the camping lifestyle."
Schade says IBEX has all the features that have come to define the emerging "adventure trailer" category: all-terrain tires; high ground clearance (13 inches or more); enclosed underbelly and termination system; heated tank pads; integrated solar system (standard 100-watt solar panel, 1,000-watt inverter and solar controller); and an advanced storage rack system.
Gear racks also have become a hugely important part of the off-road RV experience. Being able to haul kayaks, skis, bikes and surfboards on the outside of an adventure trailer is often as important to consumers as being able to camp inside of them.
Recognizing that, Forest River struck an exclusive deal to put integrated Rhino-Rack RTV tracks on the exterior of all IBEX units. The tracks allow consumers to install hundreds of customizable aftermarket rack options for toting all manner of outdoor toys.
Jayco Jay Feather Micro Takes Flight
Jayco jumped with both feet into the off-road segment with the July launch of the Jay Feather Micro. The tough little trailer is equipped with brush guards (also known as nerf bars) to protect the sidewalls, as well as front and rear diamond plating to protect the coach from rocks and road hazards. The rugged 16-inch Goodyear Wrangler TrailRunner AT tires are built for action on unpaved terrain, where the unit's rubber torsion axles also come in handy.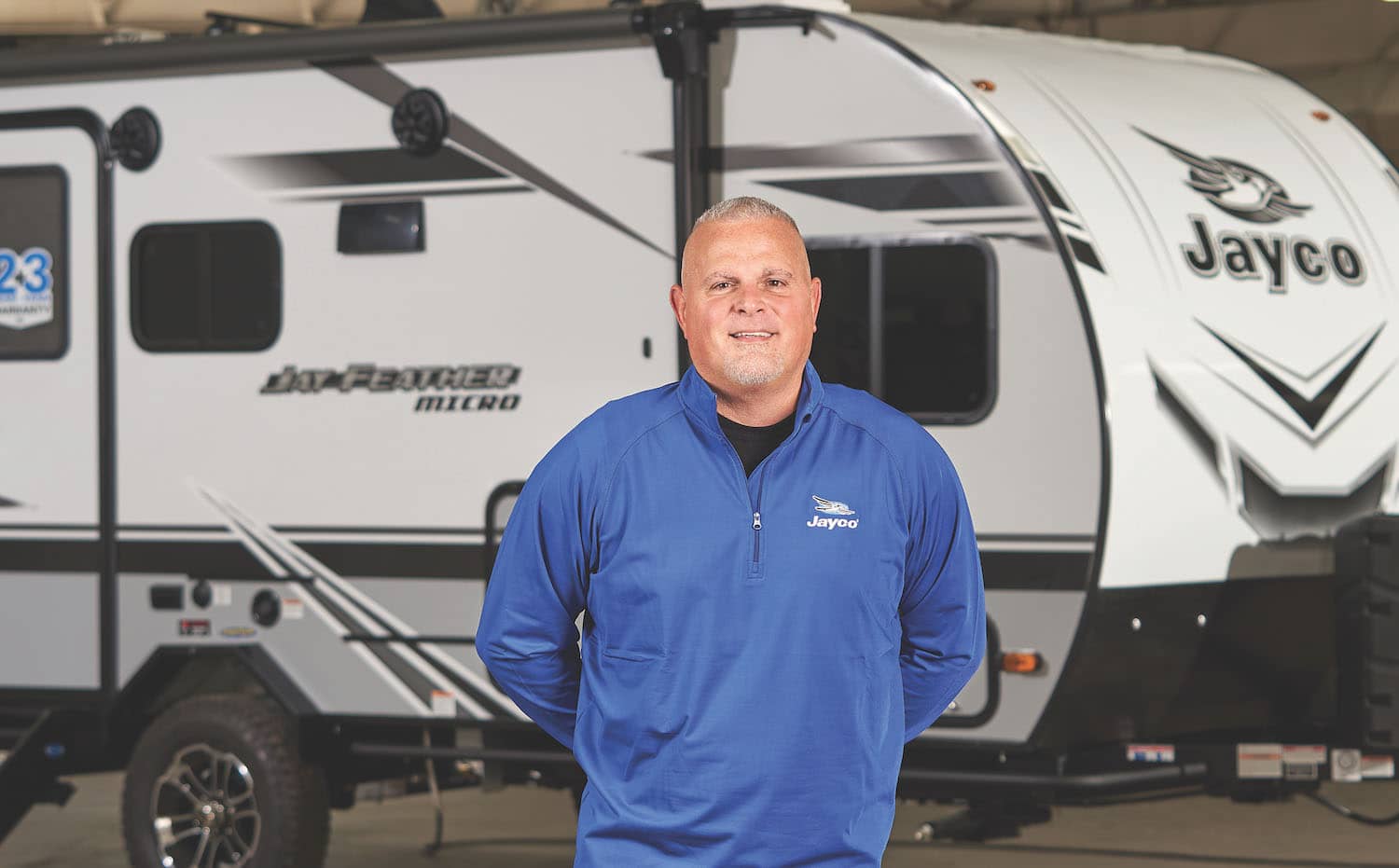 With dry weights between 1,500 and 4,500 pounds and lengths between 13 and 20 feet for its debut floorplans, Jay Feather Micro is now Jayco's smallest model.
Jay Feather Micro is an evolutionary step forward from the Jayco Hummingbird, which was the smallest trailer in the Jayco lineup until being discontinued after the 2020 model year, according to Fisher, Jayco's director of product development for lightweights.
"The Hummingbird had super results right out of the gate when we launched it in 2017, But by 2018 and 2019, we were seeing an overall decline in that segment," he says.
Although the teardrop-style Hummingbird still sold fairly well, Fisher says dealer and consumer feedback suggested the lightweight market was shifting toward bigger, stronger trailers.
"Consumers were saying they want to go off-grid," he says. "They love the off-road, rougher-terrain product, but they wanted bigger single-axles with more living space. For families with a couple of kids, teardrops were just too small."
While Jayco designed the Jay Feather Micro to address those concerns, Fisher says, that's not to say
floorplans got dramatically larger. In fact, clever design allows the 2021 Jay Feather Micro 12SRK to feel bigger than the 2020 Hummingbird – even though they have the exact same dimensions.
Inside the 13-foot Hummingbird model, there wasn't enough room for consumers to stand up. The two choices were to sit on the bed or sleep on the bed. That's not the case for the 13-foot Jay Feather Micro, however, where consumers can fold the bed into a futon sofa to free up enough space to stand and move around, Fisher says.
He adds that he and his team worked hard to differentiate Jay Feather Micro from the competition. For example, all but the smallest floorplan has 55-gallon freshwater tanks, which is significantly larger than industry standard for off-road trailers, according to Fisher.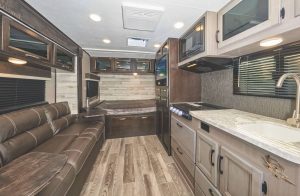 Meanwhile, the Magnum Truss roof system is "absolutely the strongest in the industry," Fisher says, and all Micros have ladders and fully walkable roofs. Also, the JaySMART lighting system improves safety in transit with integrated turn signals, backup and brake lights and the trailers come prepped for rear and side cameras, Fisher notes.
Standard equipment also includes a 17-inch Blackstone griddle and 12V/120V cooler – both of which are removable to use away from the coach, or even at consumers' homes when they are not camping. Units are prewired for solar power.
Options include heated tank pads, roof racks, bike racks and a solar power package with 190-watt solar panel and 30-amp solar controller. Bike racks had a high take rate in Jay Feather Micro's first production run. That came as no surprise to Fisher. What did come as a surprise was a solar package take rate north of 95 percent, which Fisher says is yet more evidence of the off-road segment leading the industry into the future.
"I've been in the industry 15 years, and I've seen ups and down, and different trends come and go. What's happening now is different. The whole RVing lifestyle is going to explode," Fisher says. "I've launched different brands throughout my career, but this is the one I'm most excited about."