Features
Thetford Elevates RVing Experience
The manufacturer of sanitation, kitchen and convenience products continually adds new products while it emphasizes customer service that's grounded in its Midwest roots.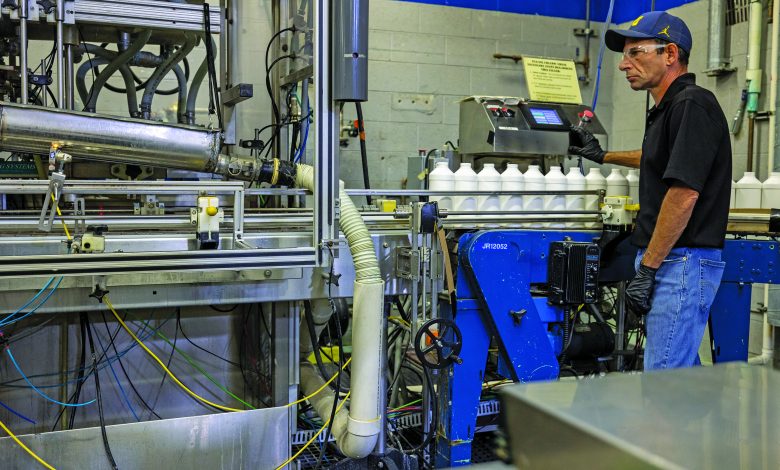 Sanitation products may lack the appeal of the latest RV tech gadget, but they are a necessary part of the RV experience – one that can make or break a camping trip.
As a leading manufacturer of sanitation products for the RV and marine markets, Thetford knows and understands its impact on the RVing experience.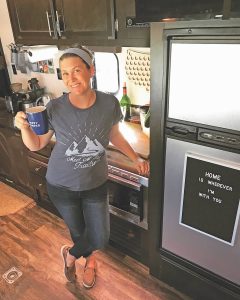 "We have a lot of new RVers who just spent money on an RV they plan to use on family vacations," says Mary Pouliot, vice president of sales and marketing at Thetford. "We want their vacations to be stress-free. If there's an issue, we want to get them back on the road as quickly as possible."
The 60-year-old company strives to deliver that premium experience through innovative products for the sanitation market, plus kitchen and RV convenience segments, with a focus on quality and excellent customer service.
Meeting Customers' Needs
RV industry shipments are projected to reach 600,000 units in 2022, building upon several prior years of strong shipments and sales. The RV owners who take delivery of these units in 2022 must consider sanitation and kitchen products as carefully as they did their RV purchases, according to Pouliot, who adds that this is an area where Thetford really shines.
"We spend a lot of time understanding RV consumers to ensure our products appeal to everyone, regardless of the demographic," she says. "Our No. 1 priorities are to build trust with our customers and make sure their outdoor experience is enjoyable."
This starts with an investment in researching and developing product lines that satisfy customers' specific needs and demands. Thetford connects with customers via the Thetford Camper Crew, a Facebook group that shares needs and discusses products with company leaders, and consumer surveys that guide efforts to develop products the industry needs and consumers want.
These endeavors lead to innovations that change the industry, according to Pouliot, citing the company's recently launched Titan Tote premium portable wastewater tanks as an example. The company developed this product line in response to camper requests for an easy-to-use and durable tote. The solution helps RVers without direct waste hookups empty waste tanks without tearing down camp.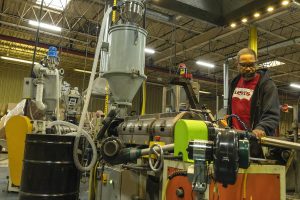 The company based its Titan Totes on customer research and feedback to develop a design that features handles on all four sides, rugged all-terrain wheels, and a low fill height to connect to RV waste valves easily. The product comes in three capacities: 21 gallons, 27 gallons and 35 gallons.
Other recent innovations emerging from customer connections include Thetford's new 15-cubic-foot DC Norcold refrigerator, which launched this fall, and a larger size sister product that will launch in early 2022.
"Customers were asking for a larger refrigerator as they take out their RVs for longer periods of time," Pouliot says.
Thetford also released a slow-close toilet seat that now comes standard on all major RVs. It will release a line of new toilets in 2022. As the Biden Administration puts a greater emphasis on going green, Thetford is already several steps ahead. Its AquaMAX line of holding tank treatments are formaldehyde- and bronopol-free. "We will continue to launch products that are environmentally friendly, like AquaMAX, which is safe for marine and RV holding tanks and septic systems," Pouliot says.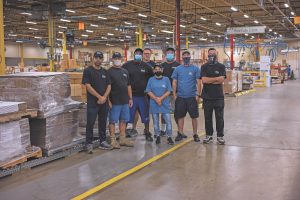 The company has grown through new product development and company acquisitions over the last 15 years and will continue along this path, she adds. "Our portfolio has changed, we've acquired new brands, and we've expanded our manufacturing capabilities, but our focus on quality and our commitment to customers and employees has never wavered," she says.
A Strong Focus on Education
Educating consumers also helps Thetford improve customers' RV sanitation experiences. Thetford educates customers on social media, offers training at the dealer level, and provides point-of-purchase displays that allow customers to touch, feel and operate products.
"Customers can pick up a product on a shelf and the packaging clearly shows them how to use it. Point-of-sale displays allow them to touch and feel the product as well. They can role our Totes around the store and check them out prior to purchasing them," she says. "The education dealers provide is a Thetford 101 of sorts. 'How do I use my RV toilet? What kind of holding tank should I use? What's the difference between an enzyme base or a formaldehyde base?' Things like that."
She adds, "We also provide education and other services to our OEM partners. We view our OEM customers as partners, whether it's in product design, support, marketing or customer service training. We work closely with them to satisfy their needs."
Pouliot, who serves as chairman of the board for the RV Industry Association's RV Technical Institute, also is a big believer in promoting education and training for the RV industry at large. That's particularly important when it comes to ensuring quality training new technicians who are going to be critical to the industry's success as more people are embracing the RV lifestyle, she says.
Meeting Industry Challenges
Pouliot sits on the executive committee of the RVIA Board of Directors, where she chairs the supplier committee. She is also an executive member of the Michigan RV & Campgrounds (MARVAC) Board of Directors. In these capacities, she networks with peers about key problems facing the industry.
Lately, these groups have identified the supply chain crisis as a top challenge, she says.
The global shortage of semiconductor chips has delayed production of new RVs. Other raw material shortages also stress the industry. For instance, earlier this year, a shortage of foam used to produce RV seats challenged production.
Although Thetford does not manufacture RVs, Pouliot says shortages still challenge the company.
"We have run into supply chain issues relating to raw materials, but overall we've done an excellent job keeping the pipeline full," she says, adding that Thetford remained resilient throughout the pandemic and has kept product flowing to dealers and customers by adding production shifts to increase capacity and inventory levels.
"Our offices are in Michigan, which was shut down longer than most states," Pouliot adds. "But we returned to working in offices using a hybrid model. Manufacturing and operations are back full time and most of our office staff works 60/40 schedules to allow for extra social distancing."
When Pouliot looks out a few years, she predicts Thetford will remain successful and continue to grow if the company keeps meeting the challenges of a booming industry.
"We will continue to seek growth – and that includes keeping the supply chain full, working on consumer retainment, and addressing the lack of RV technicians in the industry," she says.
Happy Employees Equal Happy Customers
Employees are not customers, but Thetford sees keeping employees happy as a key part of successful customer relationships, according to Pouliot.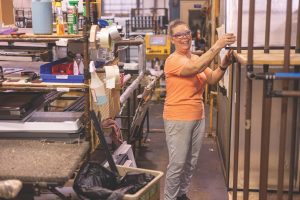 She shares her own story as an example of how the company produces happy employees. She started in 2006 as the director of customer service, then moved on to director of OEM sales. Currently, she is the vice president of sales and marketing in the Americas, a role that includes sales, marketing, customer service and product management.
Her upward trajectory is something any Thetford employee can achieve, according to Pouliot.
"I've always prided myself on being willing to learn and grow within an organization," she says. "I set performance goals for each of my positions and raised my hand when I was ready for more. I encourage my staff to do the same. Those interested in advancing their careers just need to let me know when they're ready to move up or to develop a new skill."
She adds that "Thetford prides itself in developing talent and promoting from within. In my team alone, I have three direct reports who were promoted to higher-level positions within the organization."
It is opportunities for employee development – and a culture based on Midwest values – that keeps employees with Thetford a long time, according to Pouliot, who notes her 15 years with the business makes her a relative newbie when compared to the longevity of others.
"We have some people who have been here 40 years," she says.
Employees live out what Pouliot calls Midwest values internally and externally. These values include entrepreneurial spirit, at ease in challenging times, ownership (being self-reliant), customer-focused, having a passion for winning and being simple and direct.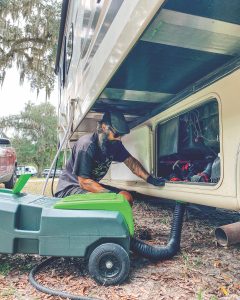 "We are Midwest nice, but also direct," Pouliot says. "We reflect those characteristics in our corporate values and in everything we do."
The company celebrates and recognizes employees who exemplify those values in annual awards that include recognition for entrepreneurial spirit, exemplifying company values, most customer-focused and most passionate.
However, it's one thing to list values but quite another to live them out, she adds, noting it is living them out that translates to better customer service and a premium customer experience.
"Our top value is being customer-focused," she says. "It helps us create trust with our customers. We are walking the talk. Getting to know customers better so we can understand and fulfill their needs. We do these things with honesty and real integrity. They know what they are getting when they work with Thetford."