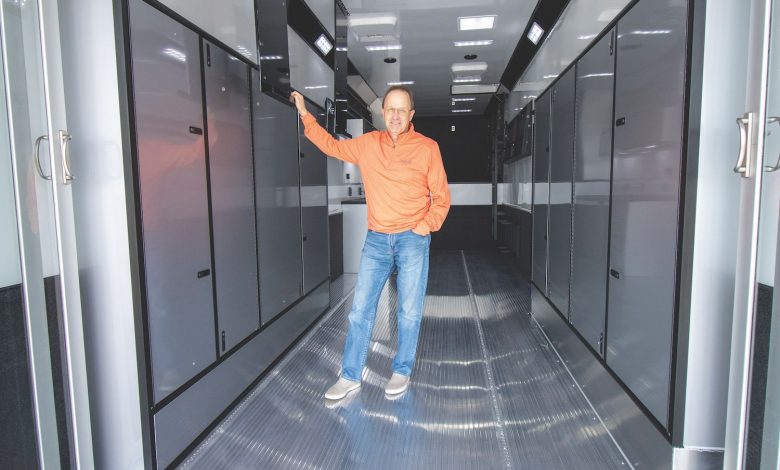 When it comes to today's enclosed cargo trailers, manufacturers say they are not boxed in by the four walls around those haulers.
In fact, by employing ingenuity and technical know-how with state-of-the-art manufacturing techniques – plus the ability to offer customers nearly endless customization options – representatives for cargo trailer manufacturers say they can offer something for everyone, from basic haulers selling for a few thousand dollars to completely customized models retailing for north of $200,000.
Customers clearly appreciate the wide variety of uses and vers tility of today's enclosed cargo trailers, based upon their increasing popularity. Data from Grand Rapids, Mich.-based market data firm Statistical Surveys finds that the market for enclosed cargo trailers grew by nearly 23 percent from 2014 to 2019. Last year was the third-best year on record for enclosed cargo trailer sales, coming off a very successful 2018 – which was the best year ever for sales, according to Stat Surveys data.
Those numbers come as no surprise to representatives for three manufacturers – Forest River, inTech Trailers and LOOK Trailers – who see the enclosed trailer market as having solid growth potential moving forward. Representatives from the three companies recently spoke at length with RV PRO about their products, their manufacturing prowess and how they seek to differentiate themselves in a crowded marketplace for enclosed cargo haulers.
Dealer Feedback Drives LOOK Trailers
When LOOK Trailers launched in 2010, company officials saw a need in the enclosed cargo trailer market that wasn't being addressed, according to Steve Hartman, the company's vice president of sales, who is one of the Middlebury, Ind.-based manufacturer's founders.
"At the time, the cargo trailer market had manufacturers that were basically telling dealers what to stock and how they were going to run their business," he says. "We came along to work with the dealers as partners and helping them with their inventories and letting them know what was selling – we didn't come in with a heavy hand. We listened to what their customers were asking for."
The company now leads U.S. enclosed trailer manufacturers with a 10.2 percent market share, based on 2019 retail registrations, according to Statistical Surveys. The company has grown from its original two facilities to five manufacturing locations across the U.S., from Arizona to Pennsylvania, and employs 500 people.
"Dealers also sought innovation, which is what we've focused on since we launched," Hartman says, pointing to one of the company's patent-pending innovations: auto haulers with an escape door where the door opens up and the fender raises up with the door.
Dealer feedback also informed LOOK Trailers as the manufacturer was seeking a full breadth of trailers – from entry-level to high-end units. Today, the company offers trailers for a variety of segments: cargo, motorcycle, auto, racecars, snowmobile and ATV, aluminum, goosenecks and fifth wheels, mobile office, vending trailers, portable laundry trailers and oil field trailers.
One of LOOK's most recent introductions is the Moab UTV Trailer, which comes in a variety of sizes and options. The 2021 Moab UTV/Camp Trailer Slickrock Edition is designed for consumers who don't require a "full-blown" RV, Hartman says.
"Families can take it off the grid and run it on 12 volts. It doesn't have all the 'creature comforts' of a typical RV, but it gets them by and allows them to venture into the wilderness. It's particularly popular in the Northwest and Southwest," he says.
The Moab's "Weekend Package" includes amenities such as a toilet, a shower, a sink and vanity, and a HappiJac bed with a queen mattress, as well as room for side-by-side UTVs. It also comes equipped with LT 235 tires and is lifted to clear uneven terrain.
The Moab was first introduced at the NATDA Trailer Show last September and comes with five floorplans in sizes from 6-1/2 feet by 14 feet up to 7-1/2 feet by 20 feet. Models can come in basic configurations or be equipped with an abundance of features.
Although it caters to the RV dealer market, Hartman says the Moab also is popular among cargo trailer dealers.
"They're selling them well because of its lower price-point," he says. "The entry- level model is stripped down and made specifically for UTVs and motorcycles – it's an easy trailer for people to get into, price-wise."
LOOK manufactures all of its trailers with heavy-duty, box main frame construction – both steel and aluminum – and installs axles from 3,500-pound capacity up to 10,000-pound tandem axles, depending on trailer type and use.
"You can tell our quality by how we construct our products from between the walls and skin of the trailers, as well as the way we build our frames – we pride ourselves on that," Hartman says, adding that LOOK uses various components in its sidewalls, such as tube-wall construction and additional posts. "We strive to be the safest trailer in the industry."
The manufacturing process involves product inspections throughout the assembly process and at completion, starting in the weld shop and ending with an exhaustive inspection before they are delivered, according to Hartman.
"We can produce products to fit almost all cargo capacities and for end-consumers who might use a cargo trailer four times a year or daily. We can custom build any trailer for a specific use and application; we don't just offer floorplans," he says, adding that LOOK's sales representatives will take customer calls from across the country and partner with them and a local dealer to meet their needs.
"We can work with both the end-user and the dealer. If the trailer order becomes specialized, we have draftsmen and engineers who will develop a print so the customer can see how everything is going to be laid out to their exact specifications," he says.
The company has an extensive options department, he says, which is becoming unique in the industry.
"A lot of manufacturers are increasingly building 'cookie-cutter' trailers, but we're staying true to our mission of innovating and customizing for our customers," Hartman says. "When we started in 2010 with just a couple locations, we weren't focused on being the biggest. We set out to be the most reliable, safest and putting the dealer and customer first."
inTech Brings High-Fidelity Design to Trailers
Nappanee, Ind.-based inTech Trailers is known throughout the industry for manufacturing high-quality, all-aluminum trailers that are built to last a very long time,
according to Jim McConnell, inTech's head of sales for motor-sport trailers.
"We have several different lines of motorsport trailers and 90 percent of what we do is custom," he says.
McConnell says the company's typical end-consumer buyers are discriminating and often affluent, and have owned trailers in the past.
"They know what they want – and they know we can meet their expectations," he says, adding that the majority of inTech's customers are car racers, classic car buffs and Porsche enthusiasts.
"Sprint car trailers are a large market for us," says McConnell, who notes that's a particularly impressive accomplishment given that three years ago inTech was not even in that market. "Now, we're the leader, or close to being the leader, in manufacturing them."
The quality of construction and manufacturing, available options, packages and custom-builds are what drive buyers to inTech Trailers, according to McConnell.
"We do all we can to give them exactly what they want," he says. "Everything from frames to cabinetry are made in-house because we like to control quality. We have an incredible, talented workforce that has little to no turnover, who pays attention to detail, and we give them the time they need to do each build."
Every employee from the top down is paid based on profit sharing, according to McConnell, who is quick to note the impact that has on the company's employees.
"And it's critical that every decision we make is for the good of the bottom line and our quality – our fit and finish is unprecedented from our master craftsmen," he says. "It's a culture driven by our president, Adam Maxwell."
inTech's motorsport trailer line includes the Lite, Tag, Gooseneck, Stacker, and customs. Bestsellers are the 24-foot and 28-foot Tag models, which are used to haul single cars. MSRPs for those trailers, which come nicely equipped, start at $28,000.
Among the packages available, the Icon is the most popular, and provides a strong base for customization, which can be extensive. "We don't have a printed option sheet, because it would be about 45 pages long," McConnell says.
inTech is a dealer-based company with 14 nationwide partners, although he says 95 percent of its customers never meet their dealer. Most of the sales process is conducted via email or phone after a customer views the company's photo-rich website.
The dealer and customer then develop a quote using inTech's dealer software, and inTech will develop 2D and 3D CAD prints for customer review and approval.
"Taking pictures is probably one of the biggest things we do and differentiates us," McConnell says.
Once a motorsport trailer enters production, inTech begins documenting its build with photos, which are shared with the customer and dealer through an online portal using an access code, then the customer either approves the work or requests changes before it continues production. Upon completion, another 25 to 30 pictures are taken. Each shoot takes about 90 minutes.
"It's a great selling tool for us; nobody else is doing it," McConnell says. "And we benefit from it, too, because if there's an issue a few years down the road, we can drill down into the pictures to figure out what's going on. It's a great history book."
Meanwhile, the Lite Series is a limited-option trailer designed for a buyer who wants an inTech trailer, but can't afford a customized model, according to McConnell.
"It has about 17 available options, but is still very well- equipped," he says. "We do quite well with it."
Pricing for the Lite Series begins at $15,700 for a 20-foot model and maxes out at $24,000. Goosenecks start in the $25,000 range but can escalate up to $250,000 in a highly customized version.
inTech offers a "stage" model where the sidewall folds down to create a stage, which is popular for professional fishing tournaments and presentations, McConnell says. "They're also used for performances and mobile stores – they're fun trailers," he adds.
When customers buy an inTech cargo hauler, they must be patient, McConnell says.
"Most manufacturers' lead times are shorter than ours, which can be lengthy, but we let the customer know that upfront," he says. "But they know what they're getting when it's built and delivered."
Forest River Offers Abundance of Trailers
As the second-largest enclosed cargo trailer manufacturer in North America, Forest River was just a hair shy of leading market sales for the segment at 10 percent, according to Statistical Surveys' data for 2019.
"Our bread-and-butter units are smaller trailers: the 5-foot by 8-foot, 6-foot by 12-foot and 7-foot by 14-foot, says Lawton Tinley, general manager of Elkhart, Ind.-based Forest River's cargo trailer operations. "People can use them to take their daughter to college and such."
However, the cargo trailer industry has a lot more to it "than being a box on wheels that hauls air around," he adds.
Forest River builds a "tremendous" amount of models of all sizes for all purposes. The company also manufactures a vast variety of commercial enclosed trailers for industries such as plumbing, electrical, construction and other contractors.
Another profitable segment is the concession trailer segment, particularly food trucks, as well as racecar and auto trailers, featuring lift systems, tool cabinetry and storage areas, according to Tinley.
"The trailer industry is very unique, and our guys can engineer just about anything," he says. "It's an interesting business and there's always opportunity out there, but it takes a little more time building and selling than an RV because every trailer satisfies a specific need.
"We figure out a way to make things happen. Our team is always up for a challenge and knows what questions to ask when a customer seeks a unique build," he adds. "I've been blessed with seven general managers who have a great deal of experience, and our purchasing folks can find just about anything. We buy the best brands because we're Forest River and we have great leaders."
Forest River has a plethora of trailer brands, including Amera Lite, CargoMate, Continental Cargo, Lightning All Aluminum and Range Aluminum Trailers.
"Each standalone brand serves its own unique market with different price points and
features," Tinley says. "Dealers can often carry more than one (model) in some instances, but we try not to get into competition with ourselves. We want to be the one-stop shop and keep our ear to the ground as to our customers' needs and expectations.
"We're not the cheapest – and never will be – because our belief is someone can always make something of lesser quality and sell it cheaper. We're also not the most expensive. We want to be right in the sweet spot of the market with a great value proposition," he says, adding that the average Forest River trailers sell for $6,000 to $7,000, but can reach as high as $90,000 for a custom trailer, depending on a customer's requests.
Depending on trailer type, Forest River trailer warranties span from one to three years. "We pay about 30 percent of our warranties out of warranty," Tinley says. "If it's something that we know we did wrong, we're going to fix it. A lot of our business is repeat business and we take care of our folks."
In most cases, RV dealers aren't the typical purveyor of Forest River enclosed cargo trailers, according to Tinley.
"Our dealers are trailer experts in parts and service, and the owner is often the sales manager, service manager and the parts guy, and the wife keeps the books and their son works in the shop – they're close-knit, family businesses. They do it all, and they do it well," he says. "We're a leader in the industry, whether we're manufacturing trailers, RVs, buses or pontoon boats, and we follow the most stringent safety guidelines with our products. Every unit is meticulously produced and safety-checked – we hold ourselves accountable. We work hard and earn business. Our goal isn't to sell 10 trailers – our goal is to have business partners and long-term relationships with our dealers."