Features
Thriving 'Outside of the Hub'
Aliner, Colorado Teardrops and Foretravel Motorcoach have all charted successful courses for themselves far from the RV manufacturing capital of northern Indiana.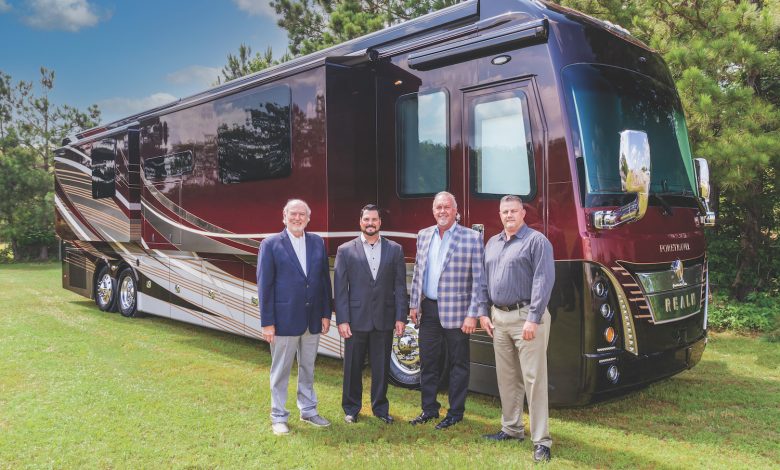 Elkhart, Ind. has long been dubbed the "RV Capital of the World" for good reason – about 80 percent of all RVs manufactured in North America are made there, according to data from the RV Industry Association.
Not only are the three RV manufacturers profiled in this article geographically far from northern Indiana, the companies are also philosophically unique when it comes to things such as product design and innovation. Challenges are often turned into opportunity, setting these RV makers apart in terms of the motorhomes and trailers they produce.
RV PRO recently spoke with the following manufacturers to find out how they operate and what makes them successful "outside of the hub."
Aliner Sees Success with Renewed Focus on A-Frames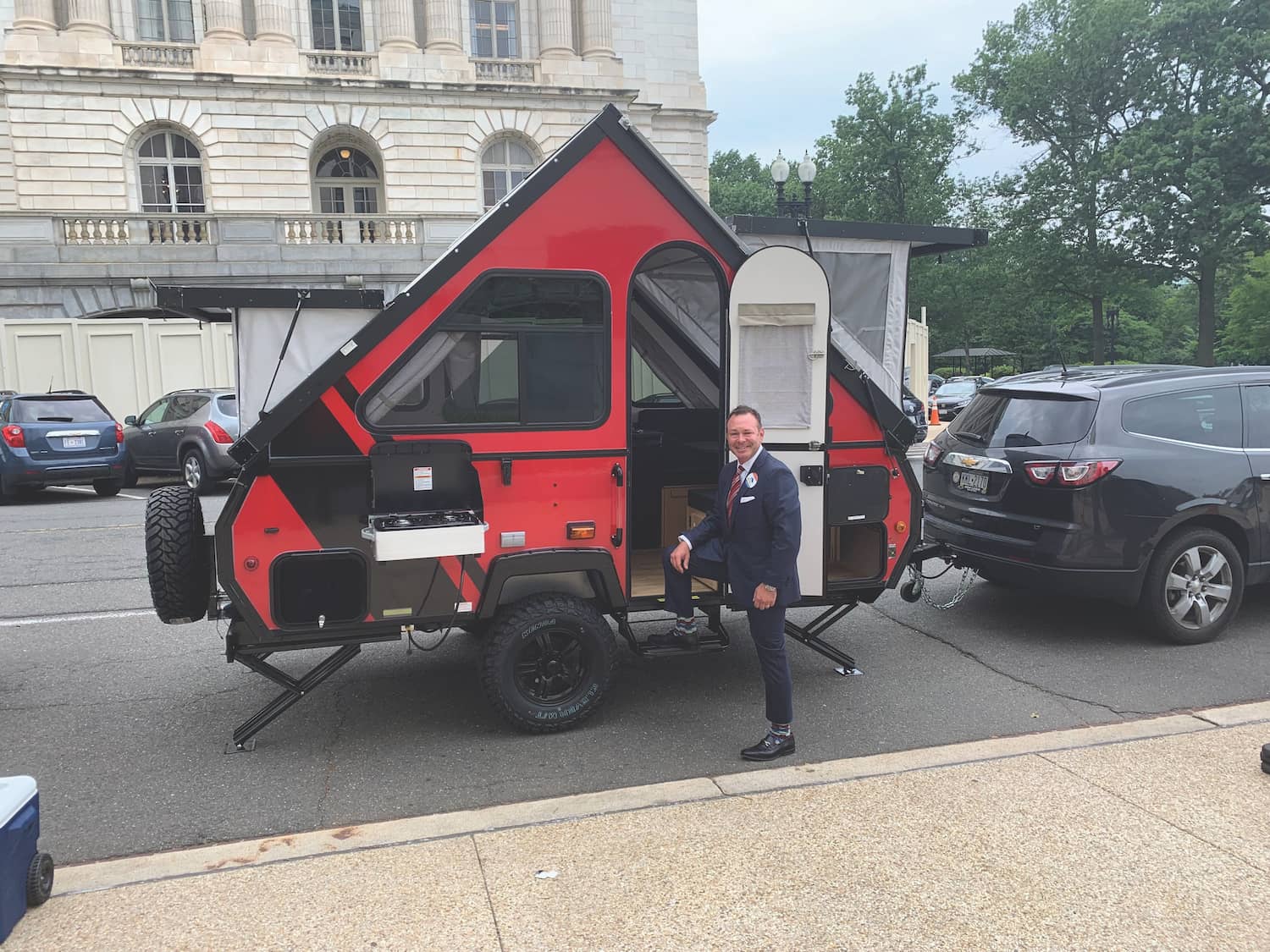 Aliner is enjoying increased demand for its popular A-frame trailers, proudly manufactured in Mt. Pleasant, Pa.
The company's founding family started the business in the early 1970s in Bend, Ore., before eventually moving to its current home in the Keystone state. Private investors acquired the company in 2007. The business experienced some struggles until 2014, after current CEO and President Brett Randall took the helm.
"We turned it around," Randall says, adding that he bought out the majority of shareholders in 2019. As COVID-19 took hold, Aliner saw sales boom, as did the vast majority of RV manufacturers.
Not only has the pandemic resulted in many first-time buyers, it also brought back many former RVers, according to Randall.
"They had enjoyed RVing earlier in their lives and had gotten away from it. Now they're back," he says. "And we're at a price point that's very attractive for young families who want to explore the RV lifestyle.
"They probably didn't know if the pandemic was temporary or something that was going to last longer. We saw a tremendous rush toward our products, particularly our pop-up A-frames."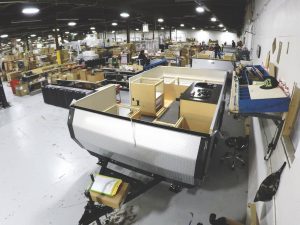 Randall adds that the "garage-ability" of Aliner's products is very attractive to consumers who live in communities where homeowner associations forbid the long-term parking of RVs in driveways. "They can have it when they want it and not have to pay storage," he notes.
As demand continued to rise, Aliner made substantial investments in its facility to ramp up production.
"We're at 125 percent capacity from where we were pre-COVID," Randall says.
Rather than expand the footprint of its 100,000-square-foot facility, Aliner chose a different path. Investments in new equipment were made, including new CNC machines, new lifts and lighting, among other capital improvements. The RV manufacturer incorporated smart workflow efficiencies and adopted Lean production practices.
On top of those improvements and investments, Randall says Aliner is meeting demand and ensuring quality by streamlining its product portfolio for 2021.
"It became more about quantity than variety. We sought to focus on floorplans that had a high level of productivity while maintaining our quality levels," he says. "For 2021, we reduced floorplans from 23 to 13.
"Even with our streamlined floorplans, we still have a broad level of offerings that include three floorplans that can comfortably sleep a family of four, which is somewhat unique to us."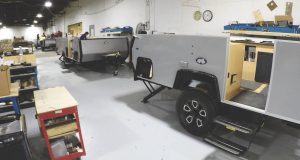 The company also has temporarily suspended production of its Ascape lightweight travel trailer to focus on its A-frame Aliner pop-up products.
"It was a strategic business decision to meet demand," Randall says, adding, "We're putting plans in place right now to relaunch the Ascape in the fall."
Aliner also manufactures a tent trailer product, the Somerset Camper, which it typically produces in batch runs twice a year, but that, too, is on hold in order for the company to exclusively focus on producing A-frame models.
Taken together, even with a nine-week shutdown at the onset of COVID, Aliner still produced about 1,000 units, which range in price from just south of $10,000 to $25,000.
"And we're going to push 2,000 units this year," Randall says. In addition to facility upgrades, Aligner added 35 new employees. "We would add more staff if we could get them," he says, chuckling.
The company, located in southwestern Pennsylvania, doesn't have a source of veteran industry talent to draw upon when it wants to staff up, although the area does have its benefits.
"Obviously, we're not in Elkhart, so this isn't an RV hotbed, but our region is strong in manufacturing in general," Randall says. Rather than source talent from Elkhart, as the company had done previously, Aliner began to strategically source individuals from other manufacturing sectors locally five years ago, and more so today, when some of those manufacturers didn't recover quickly from the pandemic, according to Randall.
The company has a strong following for its brand that manifests itself in the Aliner Owners Club, which regularly holds rallies throughout the country and has a following on both Facebook and Instagram.
"We view ourselves as a top-of-the-line A-frame towable travel trailer – and we're the best in our category," Randall says. "We're also taking direct suggestions and ideas from members of the Club."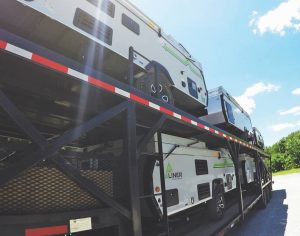 When Aliner considers product development, design and improvement, it's done so in two ways: the market perspective – identifying opportunities and demands, as well as conversations with dealers and focus groups – and internal company considerations to ensure that what is designed can be successfully manufactured with high levels of efficiency and quality, according to Randall.
"We believe in working hard with a strong team foundation, including a core group that's been with us for more than 10 years," he says. "It's collaboration – we preach involvement for all our folks, including those who work on the floor, because they know the best way to do it. Everyone's feedback is valuable for innovations in product design and improvement."
Aliner's products are sold throughout North America and are now being sold in Europe, having just received European certification.
"We're a small, independent manufacturer, which I think is important to have in this industry. And we're growing – and we'll continue to grow," Randall says. "We're having some fun."
Foretravel Tailors RVs to Ultra-Luxury Market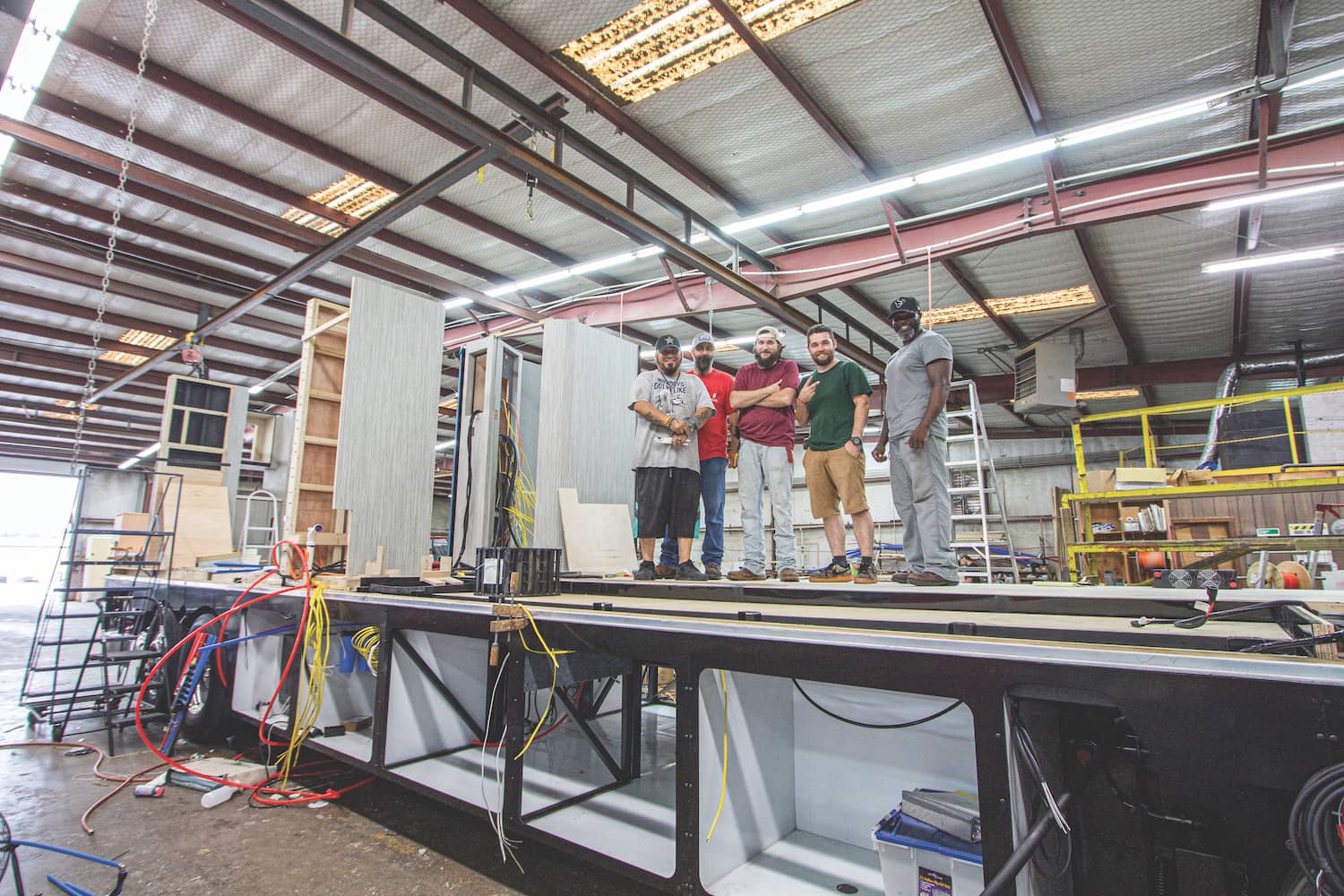 The two words to best describe Foretravel Motorhome's coaches?
"Ultra-luxury," says Tyle Fore, who grew up in the family business, which began in 1967 and has since been acquired by investors. Today, Fore is president of Foretravel of Texas and vice president of dealer relations.
Foretravel's current lineup of high-end, luxury motorhomes include the Realm FS450, the Realm FS605, and the Presidential Series Realm FS605 – all of which escalate in amenities, offerings and price, respectively. The motorhomes are built at the company's facility in Nacogdoches, Texas.
"We're typically not the first coach for someone," Fore says. "We're more of a company where people come in and expect to pay a little bit more – but with that extra expense, they get more luxury, comfort and a more unique coach than what is mass produced in the standard marketplace."
Up until two years ago, Foretravel primarily sold factory-direct, but built the Realm for Dallas-Fort Worth metro area mega-dealer Motor Home Specialist. When RV Retailer acquired Motor Home Specialist, and then RV One Superstores, Foretravel was approached by RV Retailer to build specific models for certain locations.
"It was at that point in time that we started changing our model lineup by working on more standardized units and increasing production to fulfill our needs," Fore says. "It's been a great relationship and they're wonderful to work with as business partners. We value their opinions greatly and talk with the dealer principles daily.
"It's given us more market share and coverage – more than what can be sold direct from the factory."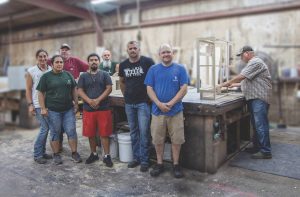 Foretravel's facility is about 230,000 square feet and is located on 30 acres. Taken together, there's six different production buildings and service and corporate offices, where nearly 200 staff are employed.
"We produced 32 units in 2020 as 2021 models – all of which sold – and this year we're slated to produce 40 for 2022," Fore says, adding, "We had every intention of manufacturing more, but with parts availability that everyone is facing and vendor-related issues, we've had to sit tight."
There are pros and cons to being located in Texas and away from Elkhart's hub, Fore acknowledges.
"Our workforce gives us a different look and feel than those who manufacture in the 'Mecca,' as I often refer to Elkhart. But it also creates some challenges with parts availability, shipping increases, lead times – all of which can come into play with the production cycle. We rely a lot on our purchasing department, which does a very good job that is very challenging in today's marketplace."
The Realm FS450 is a 37-foot, 5-inch triple-slide coach, available in two floor- plans, three interior color packages and four exterior color selections. The units are built with natural wood, either African Mahogany, Black Walnut or a stained wood that's dark gray, often referred to by Foretravel as "Polished Stone." The MSRP is between $830,000 and $850,000, depending on options and the floorplan.
The Realm FS605 is a 45-foot unit with quad slides. It features either a bath-and-a-half or two full baths. There are six floorplans available (two floorplans are available for two full baths in the coach, along with two full-size bunks) and nine exterior options. Its MSRP ranges from $1.3 to $1.35 million.
The Presidential Realm FS605 Series, also 45 feet, features a laminate interior coach, as opposed to solid-wood cabinetry and different color packages.
"The laminate really gives it a different look and feel," Fore says, adding that the countertops are 2 centimeters and the leathers are different, as are the color packages. Six floorplans are available with eight exterior color choices and three interior color packages. MSRP for the Presidential Series is about $1.5 million.
Foretravel Motorhomes began as a high school concept project by Fore's father, which led his father and Tyle's grandfather to put the concept into action and build the first 50 units in their backyard, until they moved operations to Nacogdoches.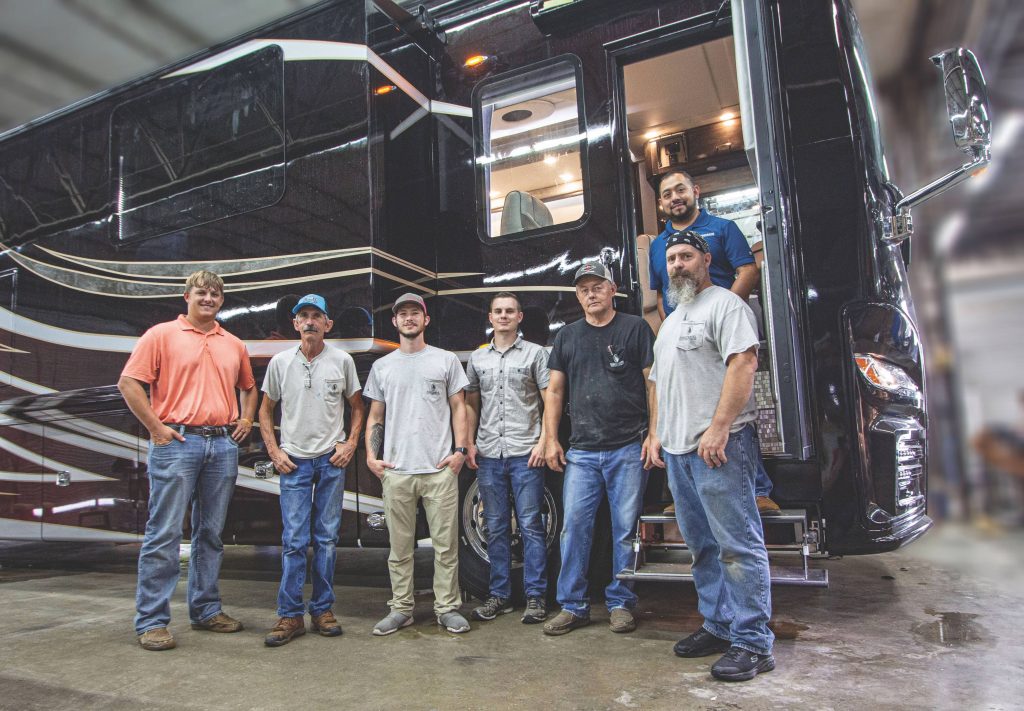 Tyle Fore began working at Foretravel at a "very" early age in and out of various departments and traveling across the country with his father and grandfather, testing out different model prototypes. Fast forward to 2005, and the company was sold to current owners Lyle Reed, president and chairman, and other investors.
And to what does Fore attribute to the company's success?
"It's the pride that we take in our products, our craftsmanship, our ride and drive and handling, our cabinetry – it's how we build everything from the ground up and the partners we work with to produce the best coach for the end user."
Colorado Teardrops: Focused on Innovation, Durability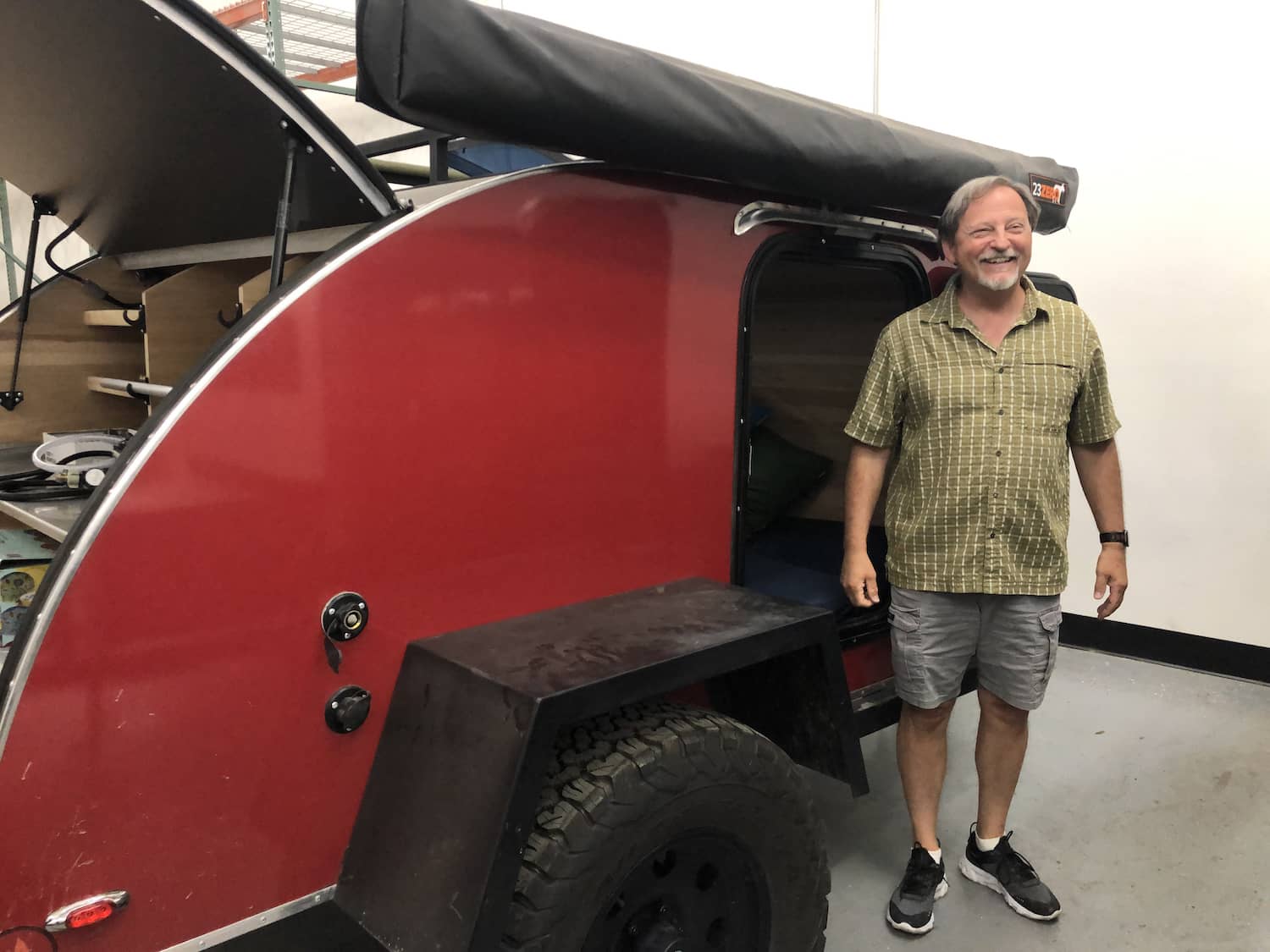 Colorado is a long way from Elkhart and there's not much in the way of RV manufacturing compared to northern Indiana, notes Dean Wiltshire, founder and president of Boulder-based Colorado Teardrops.
"You can swing a dead cat around here and not hit an RV professional here – there are very few RV manufacturers. We're the oldest manufacturer in the state, having launched in 2014. My son and I began building teardrops because no one else was, and we learned through the 'school of hard knocks.'"
The company is driven by innovation, outside- of-the-box ingenuity, and design with function for its on and off-road travel trailer teardrops. Wiltshire grew up in Silicon Valley and was in product development in the tech industry. He says his background lends itself to inventing and driving design.
Newly hired Josh Robinson is the company's director of marketing, having come from the high-tech industry involved with the U.S. Air Force. He is also cut from the same cloth. "Josh will bring innovation to us here in Colorado that our friends in northern Indiana haven't even considered," Wiltshire says.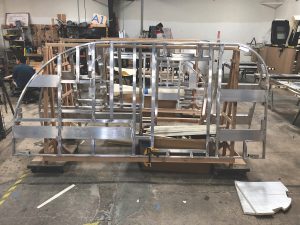 Elkhart, Wiltshire says, is a little bit like Silicon Valley. "There's always the rumor mill – who's doing what and where – and the negative aspect of that is it promotes 'group-think.' Many of the same innovations and design trends end up being used by multiple manufacturers who are also sharing many of the same suppliers."
By contrast, Colorado Teardrops is constantly moving forward and testing what's possible in product design, according to Wiltshire.
"We might not get it right at first, but we're optimizing, we're doing it differently, and then we're coming up with a better way."
Originally, the company made teardrop trailers like many other manufacturers, with 3/4-inch plywood sidewalls, wood spars, and wrapped in metal.
"They're beautiful and shiny," Wiltshire says of competing brands, "but they're not going to last forever – that's the 'gotcha.'" Today, Colorado Teardrops' trailer cabins are built like cabins of a DC-3 plane, featuring a welded aluminum structure. "Just like how the DC-3s were over-engineered, we also over-engineer our products. It could be involved in a rollover and still be all intact," Wiltshire says.
Other details include endcaps made of steel, so water doesn't get into the tongue and rust from within, skid plates, plus numerous other amenities, such as double doors and thick insulation.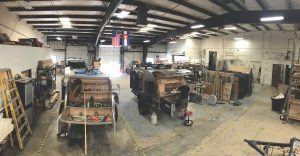 "I wanted to make something for the children whose parents bought one of our trailers so their stories and camping adventures will be with them for generations. Our tagline is 'Built for Generations' – and we mean it."
Among its seven models, MSRP begin at $15,000 for its entry- level trailer with the high-end product closer to $35,000. This year's unit count is expected to be 175.
The company's productivity will begin to increase later this month, when it ramps up additional manufacturing in expanded space. Wiltshire anticipates 275 units will be produced annually moving forward.
Colorado Teardrops' customer demographic typically has a higher income, Wiltshire says, adding that many are college professors, married couples with combined incomes of $200,000 and have young children, from newborns to teenagers.
"I would rather make fewer trailers with higher quality and endurance. They're an investment that can last generations," he says. Not only is Colorado Teardrops far removed from Elkhart philosophically in terms of doing things differently, the manufacturer is removed geographically and away from the traditional workforce. The vast majority of the Wiltshire's employees never worked on an RV trailer previously.
"But they learn quickly," he says. "We have documented procedures and we just got Shoptech's E2 shop system, so that instructions – some with video – are readily available on the shop floor within its software."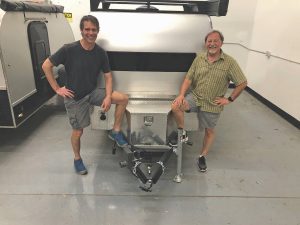 One recent hire is a college student who was working his way through school in the restaurant business until the pandemic hit. "We reached out to that industry and invited them (workers) to join us if they knew how to use a tape measure and have something of a background in building and/or leadership. We've hired auto detailers who are now asked to perform light final assembly with an eye on quality. We 'grow our own' because we have to. Above all, emotional intelligence and initiative are very important to us." The company currently has about 30 employees, but Wiltshire says the business will be quickly ramping up to about 50 employees due to demand for Colorado Teardrop's trailers. Ideas and innovations for product design often come from customers. (The company currently sells factory direct, with no dealer network).
"We loosely ask open-ended questions about new things without steering them. We ask them what they would like to see in their trailers when they're camping," Wiltshire says.
The company's desire to produce a product with longevity was inspired by Wiltshire's longtime admiration for Airstreams. "Our customers don't need a campsite reservation to go camping. We make our products as tough as Colorado," he says. "Customers can take them off-road and down gulches. If their tow vehicle can make it, then our teardrops can make it."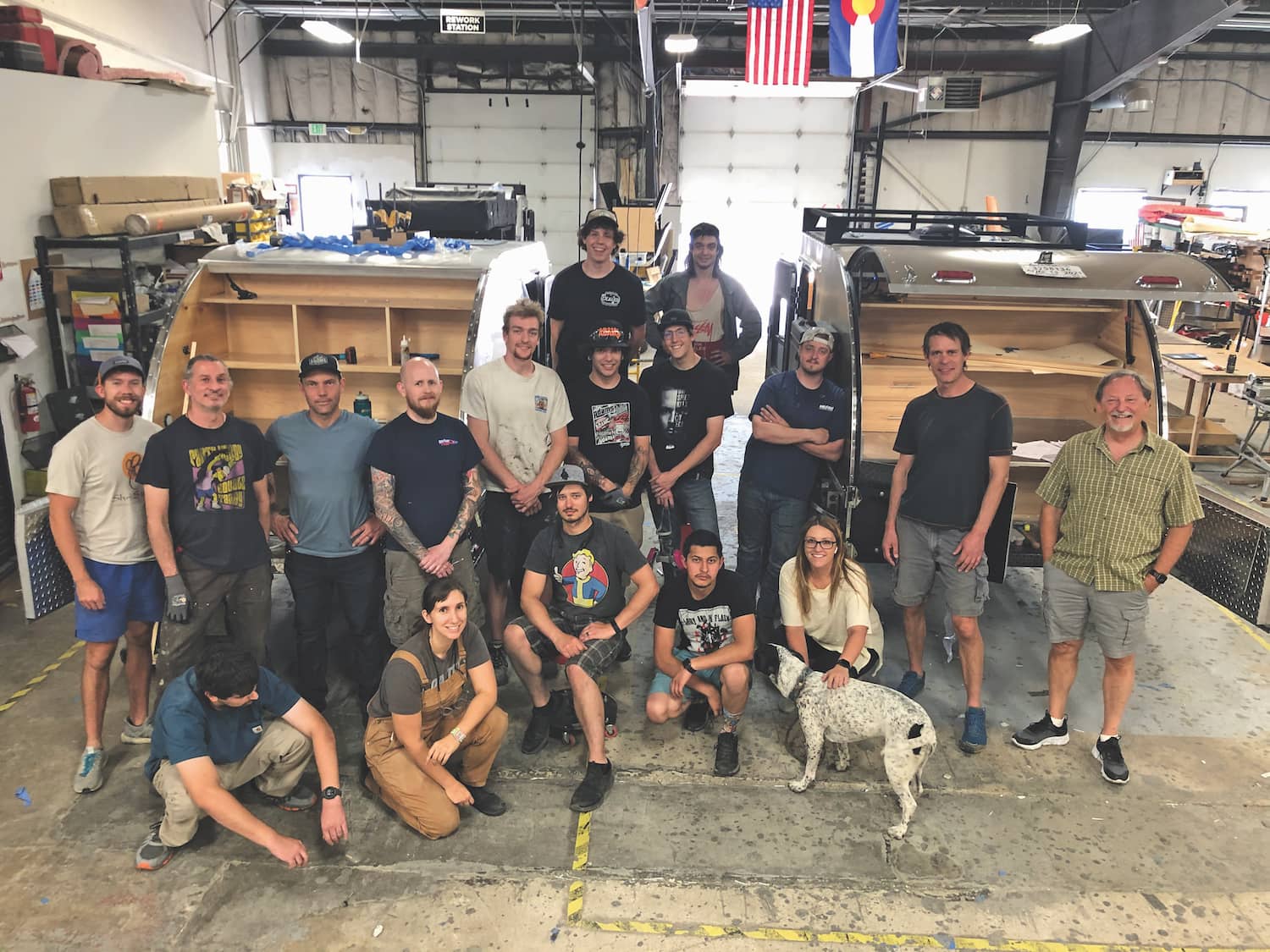 Photos of Colorado Teardrops by Rob Merwin/Aliner and Foretravel photos courtesy of Aliner and Foretravel, respectively