Features
Tiffin's New Horizons
The future continues to grow brighter for Tiffin Motorhomes, especially after recently being acquired by THOR Industries, with plans for growth and expanding into new RV classes.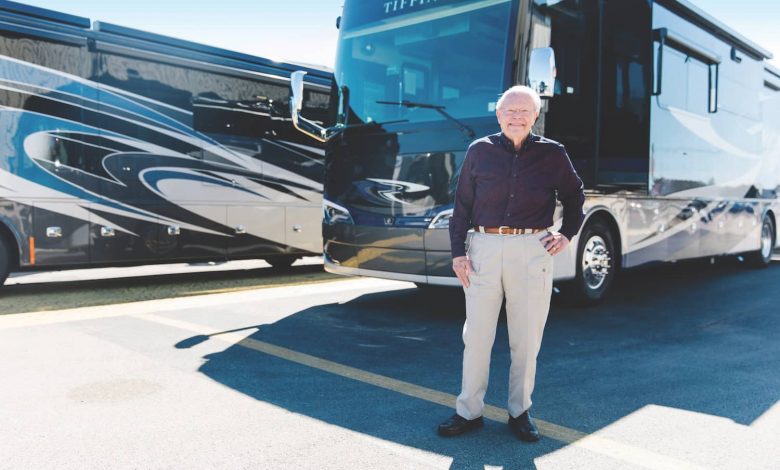 Looking back, perhaps it comes as no surprise that Bob Tiffin was destined to become the head of a successful, vertically integrated RV manufacturing company that bears his name.
Still, in the early 1970s, Tiffin had another job, helping run the family-owned home supply business. It was in that role, serving as a supplier to an established RV manufacturer located in Red Bay, Ala., that Tiffin recalls becoming fascinated with the RV business.
"When it got time to collect our bills every month for Tiffin Supply Co., I would look around and became interested in what they were doing and building," Tiffin says of the company, which built towables and manufactured homes.
One thing led to another, and when the manufacturer closed its doors, Tiffin saw an opportunity, founding Tiffin Motorhomes in September 1972. The business started modestly, building five Class A motorhomes in that first year.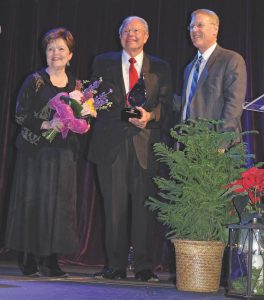 Just a year later, the business was building an average of one motorhome a day.
"We began by building motorhomes because everyone and their brother was manufacturing towables – I wanted something unique," Tiffin says. "And we've been successful through hard work. We come early in the morning and stay late in the evening – we're all very hands-on. There aren't many companies where the whole family works for the business.
"In some places, it can be hard to find an owner," Tiffin chuckles in his soft Southern accent. "If an RV customer has questions and wants to talk with one of us, then we talk with them. We're very concerned about the well-being of our customers."
It's hard to argue with the results of Tiffin's philosophy on work and customer service. Today, Tiffin is widely recognized as a premium manufacturer of luxury motorhomes and fifth wheels that are renowned for their product quality, customer service and brand loyalty. That's partly reflected in the fact that its three product lines all made the Top 5 in their respective categories for RV sales in 2020, according to market data firm Statistical Surveys (see Figures 1A, 1B and 1C at left).
As a privately held company for most of its existence, Tiffin Motorhomes' financial results were previously undisclosed. However, following the company's acquisition by THOR Industries for $300 million in late December, it was revealed that Tiffin generated $800 million in revenues in 2020. About 90 percent of those revenues came from the sale of motorhomes, while the remaining 10 percent came from sales of towables.
Under the new ownership of THOR, Tiffin Motorhomes operates as a standalone division and continues to be run by the Tiffin family.
Always Innovating, Always Improving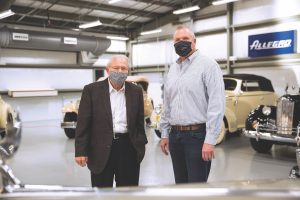 Tiffin Motorhomes' success is driven by hard work, but also by innovation, according to Bob Tiffin.
"We're always looking for new things to put into our motorhomes to make them more convenient, desirable and – just as important – last longer," he says. "We don't want to saddle our customers with problems and bog them down. From air conditioners and refrigerators to furnaces and water pumps, they can all have their own issues, and when you put them all into one big box, there's a real challenge to make it all work – but we do."
Given Tiffin Motorhomes' modest beginning almost five decades ago, Bob Tiffin says he had no idea at the time how big the company would become, although he says he did have a sense of what he needed to do to grow the business.
"I did know and understand manufacturing volume – and quickly learned what it took to scale up," he says.
Over the years, the RV manufacturing operation has branched out from Class A motorhomes, to include luxury fifth wheels through its Vanleigh division in 2015, and Wayfarer Class C diesel motorhomes in 2016.
"There was a lot of opportunity in Class C's because that market has been rapidly expanding over the years. The newer, younger buyers want something smaller to start with and to be able to maneuver around in," says Van Tiffin, one of Bob Tiffin's three sons.
Van's brother, Tim, who is the eldest son (Lex is the youngest son), was responsible for getting into that segment and runs the operation, which is based in Winfield, Ala.
"They're starting to get into Class B's – which is an enormous market right now – with a lot of opportunity," Van Tiffin adds. "My son, Leigh, in 2015, said he really wanted to be part of the manufacturing operations, and it was mainly his idea to enter the fifth wheel market. So, that's when we started Vanleigh RV with 'full-pro' and 'mid-pro' fifth wheels. We've continued to improve that product and we've done very, very well with it."
Vanleigh's operations are based in Belmont and Burnsville, Miss.
Van Tiffin says that, while there are no plans to enter the towable "bumper pull" market, the company remains firmly focused on the fifth wheel market and may yet opt to get into the toy hauler segment.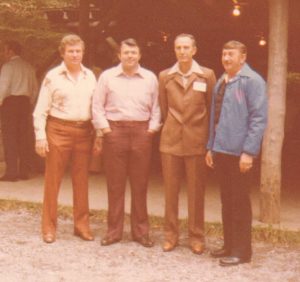 That "hands-on" approach, Bob Tiffin points out, also is reflected in the company's service department, which features nearly 180 employees, 50 service bays, Express Lanes with a three-hour turnaround, and a three- to four-day average turnaround for all other repairs and service.
"We have an average of 100 units a week in our service department – 100 customers come, 100 customers go – it's a huge deal and we've been doing that for years on end," Bob Tiffin says.
The Express Service has two dedicated technicians.
"We've found out through the years that a customer who comes by three or four times in the first couple years of RV ownership, then they avoid many issues down the road," he says.
Tiffin is capable of working on 56 motorhomes at a time, all of which is made possible by the collaboration of its service technicians, parts department and support staff.
"They'll answer and make about 2,000 calls in a week's time to keep up with our customers' needs, whether they are dealers or consumers – we don't differentiate between the two," he says. "Most everyone will take a call because, after all, if you don't have customers, then you can't build anything."
Joining Forces with THOR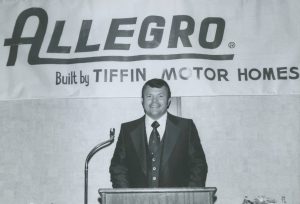 So, what led Tiffin Motorhomes to embark on this latest development in its company history?
Van Tiffin says he and his brother Lex approached their father one day and said they thought selling the company could be a good idea.
"So, I said, 'Well, do we have a buyer?'" Bob Tiffin recalls. It was THOR, and it turns out being acquired by THOR was one of the best decisions his company has ever made, he says, adding that it has been business as usual since the sale.
For his part, THOR President and CEO Bob Martin says he was pleasantly surprised to receive a call from the Tiffins in July 2020 to gauge THOR's interest in pursuing an acquisition. He says he had previously heard through mutual acquaintances that Tiffin Motorhomes had no interest in being acquired, so out of respect for Bob Tiffin, he says never broached the subject.
"When they asked if we were interested, I said, 'Definitely,'" Martin says, adding, "When Bob Tiffin calls, you pick up the phone."
The appeal of adding Tiffin's brand to THOR's product line was readily apparent, according to Martin.
"For me, Tiffin is and always has been one of those iconic brands in the industry; they are a 48-year-old company with just a stellar reputation," he says. "They've always been known for high quality and brand loyalty."
Still, Martin says it was important to him that make sure that the two company cultures were compatible. And he says he had another concern that was equally important.
"To me, it was paramount that Bob (Tiffin) still wanted to be there; that he wanted to stay and continue doing what he's doing," Martin says. "If the family wasn't going to be involved, we would probably not have done the deal."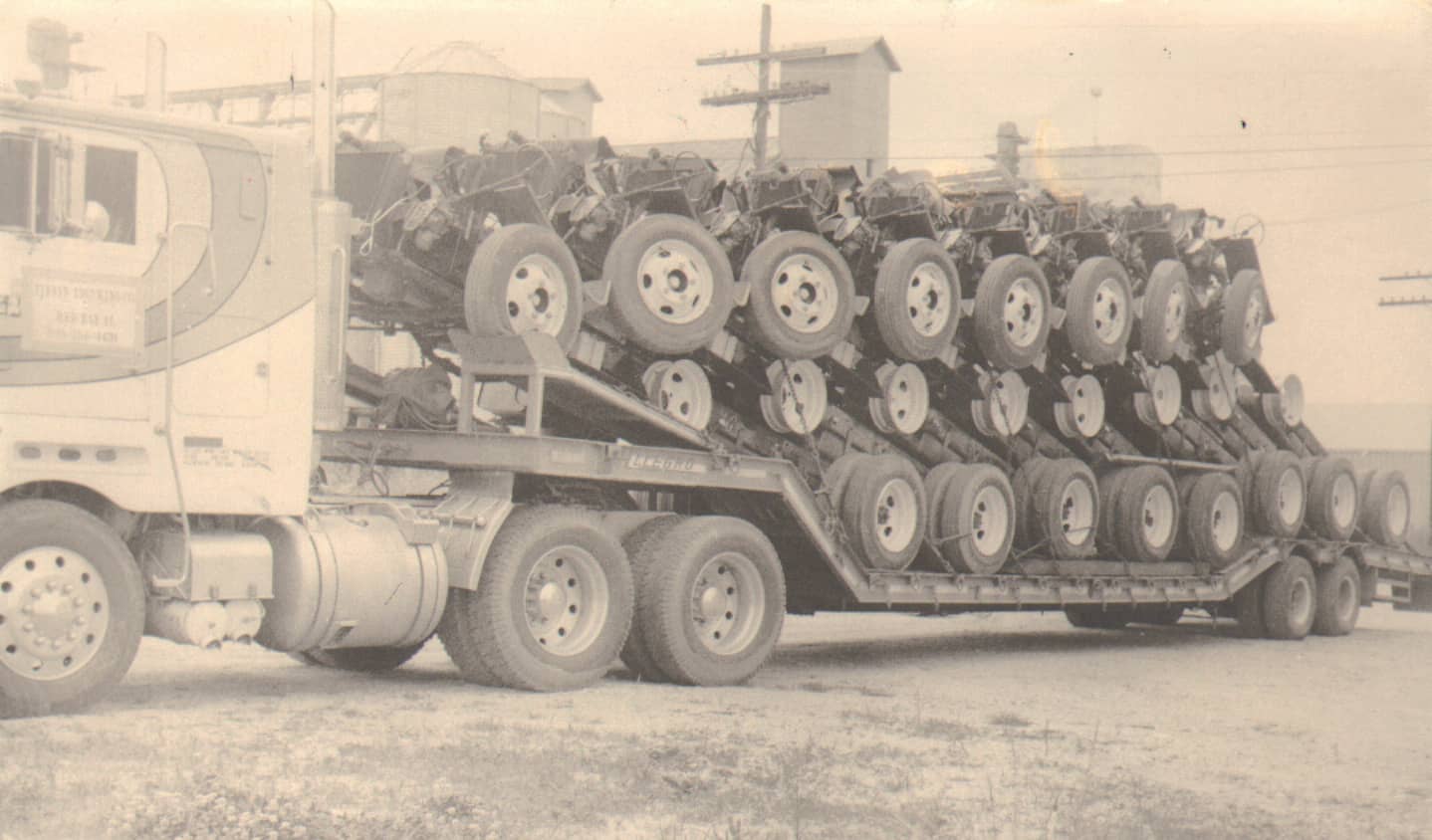 Reflecting the Tiffin family's desire to continue their involvement running the business, after the acquisition was announced, Tiffin Motorhomes issued a statement saying, "Three generations of the Tiffin family will continue to run the daily operations at our four locations – Red Bay, Winfield, Belmont, and Burnsville – as we continue to manufacture our distinct motorhomes. THOR Industries' acquisition of Tiffin Motorhomes allows us to continue our long-term growth and enables Bob Tiffin and the Tiffin family to remain in control and involved in our business, running it the way they want to for longer."
The path to a sale happened over a period of about six months, after a series of phone calls and in-person meetings with the Tiffins and other key managers at the company's various facilities, which left both sides feeling good about moving forward, according to Martin. He adds that terms of the deal were finalized fairly quickly given the size of the acquisition.
Martin says one development to come from the sale is that Tiffin products will be showcased at the THOR exhibit at the RV/MH Hall of Fame during September's Elkhart Open House Week.
For their part, Tiffin representatives are equally bullish on the company's acquisition.
Both companies should benefit from Tiffin Motorhomes' southern locale and its access to an expanded workforce, according to Bob Tiffin.
"In Elkhart, there's a bit of a squeeze on labor because they're trying to build so much product. Of course, it takes labor to do that – and they've pretty much used up all the labor," he says. "We have a much larger labor pool and we're very vertically integrated, which was out of necessity by not being up north."
Van Tiffin says that, with THOR's assistance, Tiffin Motorhomes can expand operations with more access to capital for things such as facilities and process improvements, allowing the company to increase its production volume.
"And THOR is just a great company to work with. Every acquisition they've ever made has flourished afterward, and we feel like that's what'll happen here," he says. "They let you continue to do what you did before to make you successful with their support, as they have with all their other acquisitions.
"We're going to be very successful with the family members staying here and being able to carry on – stronger and better," he adds.
THOR Industries also will assist with things such as distribution and marketing but will leave the things that made Tiffin successful intact, according to Van Tiffin.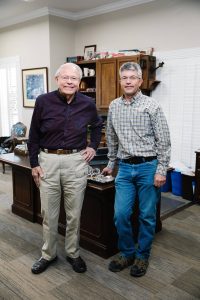 Another benefit that Van Tiffin says THOR brings to the table is that its leadership knows as much about the industry as the Tiffin team does.
"They don't come in and dictate how a product is to be designed and manufactured. They want us to continue to be creative as to how we operate the company, while they'll be hands-on on the accounting side for shareholders. Outside of that, we're very involved in the com- pany's development and continuing to do the things we do that brought us here."
While other companies in the industry have purchased RV businesses, Van Tiffin says THOR is different.
"In some of those cases, those other companies tend to make their acquisitions adapt to their products and how they do things – all that does is dilute the company and the product. We'll actually be able to compete with other THOR companies – it's very healthy," he says, adding, "We're really excited about being part of THOR industries."